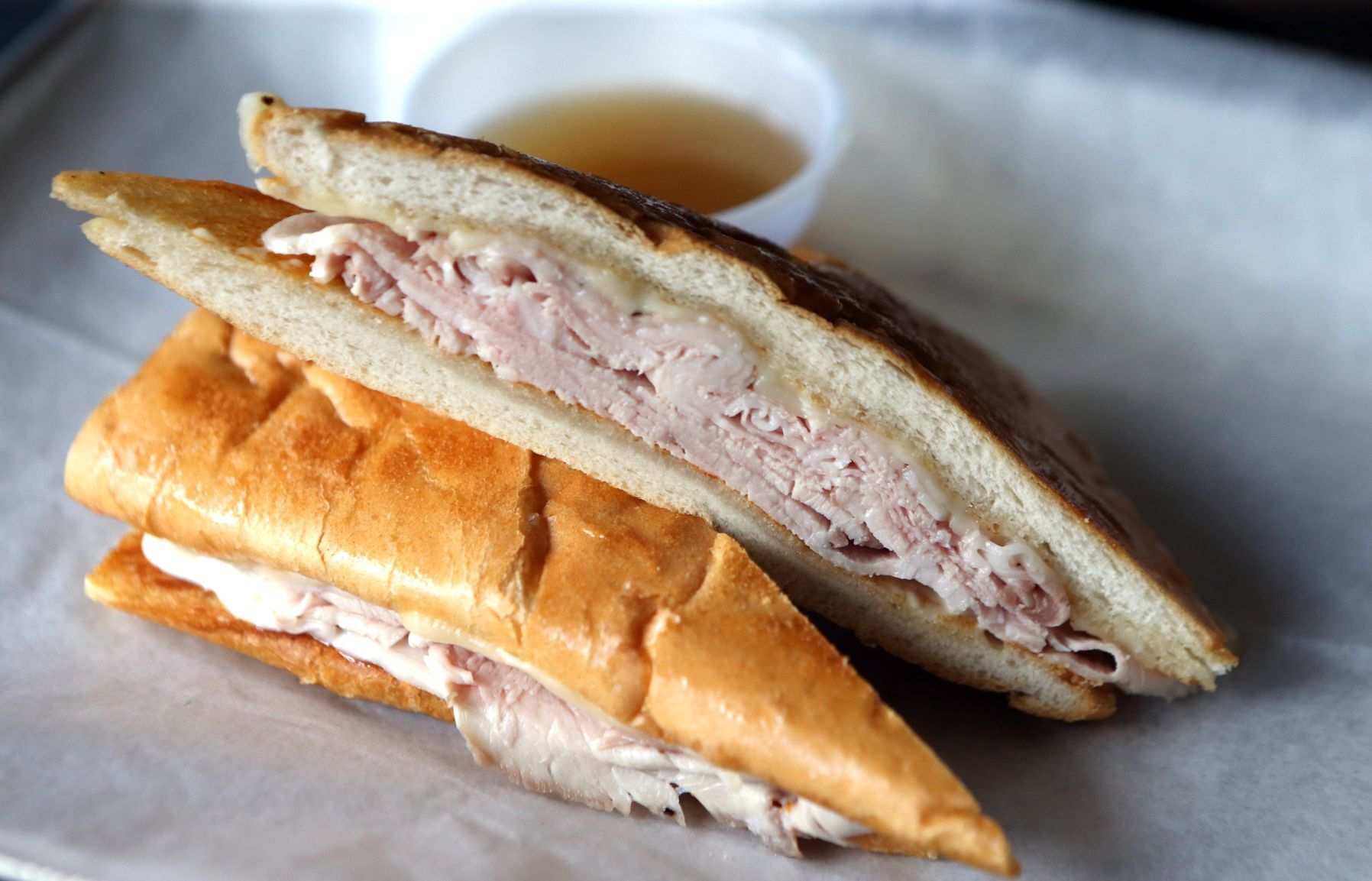 Yield: 8 large sandwiches
5 pounds meaty pork bones, preferably hocks, trotters and neck bones
1 large white onion, not sweet, unpeeled and cut into quarters
1 large carrot, unpeeled, washed and quartered
1 celery stalk, leaves removed, washed and quartered
For the horseradish aioli
½ teaspoon mustard powder or 1 teaspoon Dijon mustard
1 tablespoon freshly squeezed lemon juice
1 cup vegetable or canola oil
1 clove garlic, peeled and finely minced
1 tablespoon prepared horseradish – or more, to taste
4 cloves garlic, smashed flat
3 sprigs of fresh thyme, about 4-inches long
For roasted pork only: 1/3 cup vegetable oi
1 7-inch piece French baguette, sliced in half lenghtwise
1 tablespoon soft unsalted butter
1 ¾ ounce slice Provel cheese
5 ounces thinly sliced pork
¼ cup very thinly sliced sweet white onions (sliced on mandoline if possible)
2 tablespoons horseradish aioli
Notes: The pork stock should be made at least one day ahead of time. Finished pork stock will keep in the refrigerator for 4 days. Extra pork stock may be frozen in smaller units for future use for up to 1 year.
• The horseradish aioli should also be made a day ahead of time. You may substitute commercial mayonnaise mixed with horseradish if desired.
• Pasteurized eggs are available at most grocery stores. They are safe to eat uncooked if that is a concern.
• Choose a high-quality pork loin for this sandwich. Mac's uses local pork, humanely raised, from Meadowlark Farms.
• Mac's uses the sous vide method to cook its pork tenderloin. Food is sealed in bags and cooked in a circulating water bath at low temperatures for long cooking times. Small sous vide units are available for home use at prices from $100 to $500 each. The pork loin may be roasted or grilled for this recipe.
• For this sandwich, the pork slices are served cold.
1. Preheat oven to 450 degrees. Place pork bones in a single layer in roasting pans. Cook bones until charred and browned, which should take about an hour, checking once or twice to gauge progress. Remove from oven and set aside.
2. Place cooked bones in a large heavy-bottomed stockpot.
3. Deglaze the roasting pan on the stovetop, adding a cup or two of water and heat. Using a spatula, dislodge any browned bits remaining in the pan. Transfer to the stockpot.
4. Add cold water to the stockpot to cover the ingredients and cook, loosely covered, over medium high heat for 4 to 6 hours. Skim off any foam that rises to the top. Add boiling water to the stockpot as needed to keep ingredients covered.
5. Add onions, carrots and celery and cook for 1 additional hour.
6. Remove from heat and allow to cool slightly. Strain the stock into large bowls, using a colander lined with cheesecloth or other method to trap solids. Discard solids.
7. Taste cooled stock. Add salt and pepper as needed.
8. Store finished stock in the refrigerator overnight. Remove fats that solidify on the surface and discard.
9. Make the aioli: In a small mixing bowl, whisk egg yolk, mustard and lemon juice together until well-combined.
10. Begin whisking vigorously and very slowly drizzle in oil until all the oil is incorporated and fully emulsified.
11. Lightly whisk in garlic and horseradish. Taste. Add salt and pepper if needed. Store in the refrigerator in a tightly covered, airtight container for up to 1 week.
12. To cook using a sous vide circulator: Place pork loin, garlic and thyme in a plastic bag. Vacuum seal the bag. Place in circulator and cook for 3 hours in a 135-degree water bath. Remove loin from bag, rinse under cool water and pat dry and let cool. Slice meat into very thin slices.
13. To roast pork loin: About 24 hours ahead of roasting, place pork loan, garlic and rosemary and vegetable oil in a plastic storage bag with a seal. Squeeze out excess air, seal bag and place in the refrigerator to marinate overnight. To cook, preheat oven to 375 degrees. Remove loin from bag and place on a rack in rimmed sheet pan. Roast until the internal temperature reaches 135 degrees. Slice meet into very thin slices.
14. When you are ready to make the sandwiches, in a small saucepan, heat the pork stock and keep warm.
15. Heat a 9-inch cast iron skillet on the stove over medium high heat.
16. Spread soft butter on both flat sides of the sliced baguette. Grill in the skillet until melted and browned.
17. Turn on the broiler in the oven for the next step.
18. Top buttered bread with Provel slices and thinly sliced onions. Place under broiler until the cheese melts.
19. Add thinly sliced pork. Top with a squiggle of horseradish aioli.
20. Slice in half crosswise, on the bias for easier dipping.
21. Place pork stock in a small bowl.
22. Dip pork sandwich in the pork stock as you would an au jus sandwich.
Sous-Vide Pork Loin, per serving: 933 calories; 47g fat; 19g saturated fat; 164mg cholesterol; 58g protein; 69g carbohydrate; 5g sugar; 4g fiber; 1,177mg sodium; 403mg calcium
Roasted Pork Loin, per serving: 1,013 calories; 58g fat; 20g saturated fat; 164mg cholesterol; 58g protein; 69g carbohydrate; 5g sugar; 4g fiber; 1,177mg sodium; 403mg calcium
Recipe adapted for home kitchens by the Post-Dispatch.