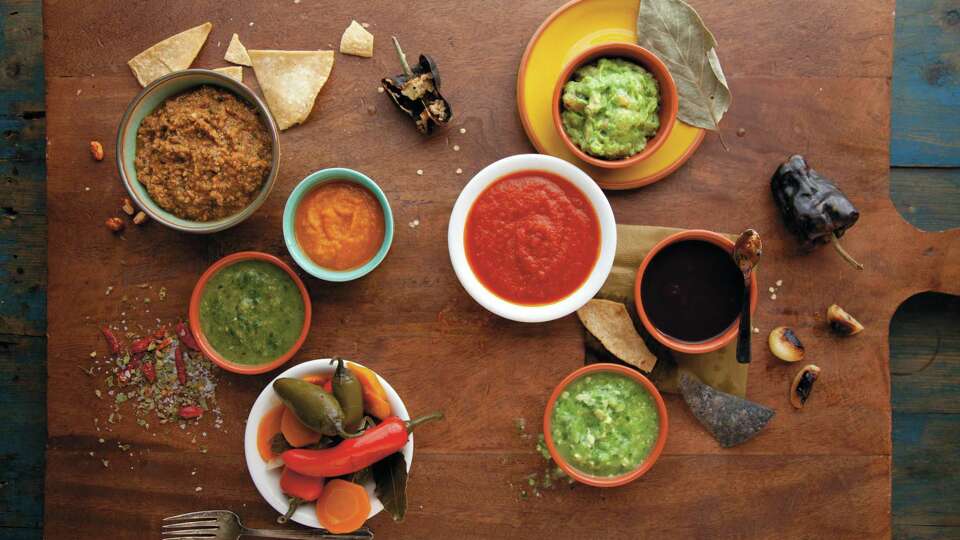 Get a taste of Houston with these 42 dishes from the city's most iconic chefs and restaurants.
By Greg Morago, Jody Schmal, Emma Balter, Melissa Aguilar and Mai Pham | 
It's safe to say that 2020 will be a year we won't forget. For home cooks throughout Houston, that's an understatement.
To celebrate the city's multicultural dining table, the Houston Chronicle Features Staff has compiled a cookbook of dishes and drinks from Houston's notable restaurants and chefs of distinction.
Read more
Entrees
Christine Ha's Sticky Chicken Wings
When Christine Ha won Season 3 of Fox's "MasterChef," she became an international culinary sensation — a blind cook who bested all other competitors in reality television's most intense food competition.
It also endeared her to the city she calls home. The second-generation Vietnamese American went on to write a cookbook and eventually realize her dream of a restaurant, a Vietnamese gastropub that she dubbed The Blind Goat, which opened in 2019 in Bravery Chef Hall.
Xin Chao, her second restaurant (and her first standalone venture), is a collaboration with chef Tony J. Nguyen of Saigon House. Together they are interpreting a modern Vietnamese menu with new spins on dishes they grew up eating.
Ha's sticky wings remain a menu favorite at The Blind Goat.
Starters & Side Dishes
Hugo Ortega's Salsas
Houston runs on salsa, and arguably nobody makes it better than James Beard Award-winning chef Hugo Ortega. A dozen recipes are featured in the Hugo's chef-owner's cookbook "Street Food of Mexico" (Bright Sky Press). We are calling out three here but encourage you to buy the book for the full arsenal.
Salsa Mexicana is a breeze to make and, according to Ortega, should be prepared as close to serving as possible. The tomatillo salsa, meanwhile, goes well on flautas or antojitos. Finally, the chunky salsa Tarasaca refers to Michoacan's indigenous people.
Desserts & Drinks
Anita Jaisinghani's Persimmon Pudding, served at Pondicheri
The common American persimmon grows wild across the South and as far west as the Colorado River in Texas. Pondicheri chef Anita Jaisinghani says it took her some time to understand how to enjoy the strange yet delicious orange fruit, and she discovered that the astringent varieties need to ripen and soften before eating.
In this recipe, combined with coconut and cardamom, she says, the tapioca pearls pick up the flavor of persimmon, making for a simple, sweet aromatic finish. The pudding can be enjoyed warm or cold.
Entrees
Sylvia Casares' Cheese Enchiladas with Chili Gravy
They don't call her the Enchilada Queen for nothing. Sylvia Casares, a product of Brownsville — is a frontera girl who grew up in a family of good cooks and whose own kitchen skills are prized in Houston.
The owner of Sylvia's Enchilada Kitchen restaurants, Casares is a master of Tex-Mex classics and South Texas comfort dishes such as grilled beef fajitas, queso flamedo, grilled quail and shrimp, cabrito tacos, chile rellenos and carne guisada. But it is her enchiladas (there are nearly two dozen varieties on the menu) that have endeared her to H-Town. Above all, the classic cheese enchilada with chili gravy reigns in noble fashion, as it should.
Entrees
Chris Williams' Shrimp and Grits, served at Lucille's
Classically trained chef Chris Williams opened Lucille's in 2012 as a love letter to his great-grandmother, Lucille B. Smith, a celebrated Texas educator, home economist, businesswoman and culinary juggernaut famous for her chili biscuits.
The Museum District restaurant remains a place of inspiration for Williams' distinctive brand of Southern comfort dishes, such as gumbo z'herbs, roasted Gulf fish with Hoppin' John, catfish and grits and fried chicken with smoked mashed potatoes and braised collard greens.
Lucille's also has emerged as a pandemic lifeline to the Houston bar industry, since Williams established a patio pop-up series providing much-needed income for city bartenders. A portion of the pop-up cocktail sales goes to Lucille's 1913, a nonprofit that Williams created to provide meals to elderly residents in impoverished neighborhoods in Houston.
Starters & Side Dishes
Vic & Anthony's Root Beer Glazed Black Pepper Bacon
The dining options that Landry's Inc. affords Houston is vast. But the company's Vic & Anthony's, snug by Minute Maid Park, remains a foodie favorite. Plush surroundings, expert service and a menu of beefy indulgence make it a restaurant jewel. One of the best-selling appetizers on the high-roller menu is the root-beer-glazed black pepper bacon.
Desserts & Drinks
Killen's Pecan Pie
Houston diners got acquainted with pastry chef Samantha Mendoza's talents during the four years she plied the sweets at chef Ryan Hildebrand's late lamented Triniti restaurant.
Mendoza's thrilling desserts matched the creative flair that made Triniti a hot spot. In 2016, she joined the team at Killen's Steakhouse and soon began turning out the kind of indulgent desserts high-end steakhouse diners expect. She also created a chocolate program designed to send guests home on a cacao high.
Today the Killen's empire has grown to multiple restaurant concepts, and Mendoza's work ranges from haute to homey, and sometimes a little of both. Witness the peaches and cream bread pudding with tres leches sauce she created for the new Killen's in the Heights. Her pecan pie recipe is out of this world. It's worth every calorie.
Entrees
Johnny Carrabba's Chicken "Bryan Texas"
Carrabba's Chicken "Bryan Texas" is a local classic. Featured in "With Gratitude, Johnny Carrabba" ($50, carrabbascookbook.com), the dish was created in homage to Johnny Carrabba's grandfather, a cotton farmer in Bryan.
It somehow tastes of both Italy and Texas, with a rich pucker of buttery lemon-white-wine sauce merging with sun-dried tomatoes. Softened by the smooth goat cheese atop grilled or seared chicken breast, the whole package is a textural, flavorful party.
Try to use small chicken breasts — the larger the breast, the less mileage you'll get out of the sauce and goat cheese.
Starters & Side Dishes
Goode Co.'s Campechana de Mariscos
Coastal Mexico gave us the coctel de mariscos (seafood cocktail), but it was the late restaurateur Jim Goode, founder of Goode Co. restaurants, who popularized the zesty concoction in Houston when he put it on the inaugural menu of Goode Co. Seafood in 1986.
Since then, the campechana de mariscos has earned its place among Houston's most iconic dishes. Though there are many outstanding versions in the city, the Goode cocktail remains the benchmark. A zippy mashup of chunky tomato sauce, seafood and avocado, campechana is usually served in a distinctive parfait goblet (an original Goode touch) along with tortilla chips.
Entrees
Chris Shepherd's Korean Braised Goat and Dumplings
Chef Chris Shepherd put Houston in the national culinary spotlight with Underbelly, the restaurant that championed the way Houston eats — a multicultural table set with creative new dishes drawn from the city's melting-pot cuisines. His work at Underbelly earned him the 2014 James Beard Award for Best Chef Southwest, only the second Houston chef after Robert Del Grande to bring the restaurant world's highest honor home (Justin Yu of Oxheart and Hugo Ortega of Hugo's would soon follow).
Shepherd's signature Korean Braised Goat Dumplings were among the dishes that made Underbelly famous (the chef even prepared them on "Jimmy Kimmel Live" upon the publication of his cookbook, "Cook Like a Local"). Underbelly is now home to Georgia James steakhouse, and Shepherd's Underbelly Hospitality continues the story of how Houston eats at UB Preserv and One Fifth.
Those goat dumplings? They still thrill Houstonians at Shepherd's The Hay Merchant.
Entrees
Drake Leonards' Crawfish Étouffée, served at Eunice
He came from Eunice, La., a town in the heart of Cajun country where rice fields and crawfish flourish. It's only fitting that chef Drake Leonards named his first Houston restaurant Eunice, a tribute not just to his hometown but to the cooking traditions of Acadiana as a whole.
Leonards has worked at some of New Orleans' most popular restaurants (August, Domenica, Borgne, Luke and Shaya), and he brings that sophistication to Eunice, a slick, bustling, brasserie-style space that opened in 2018.
The menu includes a shrimp étouffée over green pasta, but more true to his roots is his recipe for crawfish étouffée served over rice.
Starters & Side Dishes
Ninfa's and Felix's Classic Chile con Queso
In Houston, the great queso canon can almost be bookended by two classic styles — the slick, fireball-orange sludge served at the late, great Felix's Tex-Mex and the velvety elixir served at the Original Ninfa's on Navigation.
We turned to cookbook author Lisa Fain, author of the definitive "Queso! Regional Recipes for the World's Favorite Chile-Cheese Dip," to interpret restaurateur Felix Tijerina's treasured, nostalgic dip. For Mama Ninfa's version, we went straight to the source, executive chef Alex Padilla, under whose watchful guidance Ninfa's remains a beloved Houston icon.
Desserts & Drinks
Brennan's Bananas Foster
Bananas shipped into the bustling Port of New Orleans made their way into boundless Creole desserts. This star-studded one came about to honor Owen Brennan's pal, Dick Foster, who, as vice chairman of the Vice Committee, headed the cleanup of the French Quarter during the 1950s. This showstopper dessert is pure drama — and No. 1 in the hearts and appetites of legions of Brennan's of Houston guests.
Remember: Never pour liquor straight from the bottle into a hot pan. Refrain from even leaning toward the pan, so you are protected from any flame.
Starters & Side Dishes
Misty Roegels' Texas Caviar
When the craft-barbecue movement swept Houston several years ago, Roegels Barbecue Co. was at the forefront. As one of the city's premier smoked-meat joints, Roegels has distinguished itself with its signature smoked Prime brisket, whole chickens, pork ribs and pulled shoulder, sausages and turkey breast, fussed over by pitmaster Russell Roegels.
But Roegels has won just as many fans for side dishes prepared by co-owner Misty Roegels, who makes her own dill pickles, pickled jalapeños, dill pickle relish and even sauerkraut for the joint's famous smoked-pastrami sandwiches. Those sides — pinto beans, macaroni and cheese, potato salad, creamy cole slaw and Texas caviar — are as integral to barbecue success as smoke.
Entrees
Cuc Lam's Vietnamese Shrimp Spring Rolls
Self-taught cook Cuc Lam first gained the attention of Houston foodies by hosting pop-ups in her home and at local restaurants, preparing multicultural Asian dishes. That led to her first job as chef of Sing, the Heights Malaysian restaurant, now closed.
But Lam is still cooking, and her new restaurant, a banh mi and coffee shop called Yelo, is opening in Katy in a partnership with Alex Au-Yeung, proprietor of Phat Eatery, the Malaysian street-food restaurant in Katy Asian Town. At Yelo, next door to Phat Eatery, Lam serves classic banh mi and new interpretations including beef rendang and curry chicken, as well as a take on a French dip made with beef brisket dipped in pho broth.
Lam, of Chinese and Vietnamese descent, also is versed in shrimp spring rolls. This is her recipe.
Starters & Side Dishes
Luby's Carrot & Raisin Salad
Amid the summer's restaurant anxieties imposed by the coronavirus came news that sent a shiver through Houston diners. Luby's, beloved cafeteria restaurant chain, announced in June it was putting its assets up for sale in an effort to pay off $35 million of debt. The company's board later unanimously voted to liquidate and dissolve the company.
While Luby's ultimate disposition remains undecided, the brand's fans greeted the news with an overwhelming sense of nostalgia for dishes such as LuAnn platters, meatloaf, chicken-fried steak and grilled liver and onions. Home cooks began looking up Luby's recipes online, eager during pandemic cooking to regain a taste of comfort foods that Luby's was famous for since it was founded in San Antonio in 1947.
Desserts & Drinks
Victoria Rittinger's Fruit Kolaches
Victoria Rittinger, a Houston-based finance director at a manufacturing company, has earned such a reputation for her amazing kolaches that friends and family always expect her to bring some to special events. "Oh, we just had a baby, we get kolaches, right?" she says, jokingly imitating them. "I just adopted a cat. Kolaches?"
This kolache recipe goes back generations in the family of her stepmother, Karen Rittinger, who grew up in Texas' Czech belt. Victoria has fine-tuned it over the years. For the filling, she always uses whatever fruit looks good at the farmers market.
Entrees
Dawn Burrell's Roasted Chicken with Lemon Beurre Blanc, served at Kulture
Dawn Burrell's work at Kulture, the upscale soul food restaurant, not only thrilled diners and critics, it earned her a semifinals nomination for the James Beard Awards earlier this year.
But the summer's pandemic uncertainties led to the chef departing Kulture to set out on her own prepared meal service, Pivot.
Burrell's work with I'll Have What She's Having (the Houston women-led culinary network promoting women's health) and her efforts to draw attention to food deserts in the city's mostly low-income neighborhoods endeared her to many. Her food, however, remains her calling card — smart, accomplished global comfort cuisine.
Starters & Side Dishes
Mastro's Macaroni and Cheese, served at Post Oak Hotel
When it opened in December 2017, Mastro's Steakhouse became the culinary crown jewel of billionaire businessman Tilman Fertitta's Post Oak Hotel at Uptown Houston and the glitziest place for high-end socializing in town.
The $350 million luxury hotel remains the city's only AAA five-diamond inn. And Mastro's still reigns as a see-and-be-seen restaurant for steaks, seafood, sushi, raw-bar indulgences and rich side dishes, such as macaroni and cheese for high rollers.
Entrees
Ryan Pera's Cacio e Pepe, served at Coltivare
No chef in town does the classic Italian black-pepper-and-cheese pasta dish cacio e pepe better than Ryan Pera at Coltivare in the Heights. And his version is a cinch to re-create at home.
Tellicherry peppercorns are a must — regular black pepper will bring a noticeable decline in punch. Fresh Parmesan Reggiano is essential. To avoid clumpy sauce, use a fine-paddle grater or microplane.
Finally, stirring constantly after the pasta is combined with the butter/pepper mixture, then the cheese and olive oil, prevents the sauce from becoming thin and greasy. The silky result has a complex zing that blooms with each bite.
Desserts & Drinks
Baked by Beena's Nankhatai
After graduating from Trinity University with a business degree, Beena Hassan was ready to follow her dream. She went to pastry school at Culinary Institute LeNotre and opened Baked by Beena Chaat & Snacks, specializing in Indian sweets, in Sugar Land. Along with custom cakes and cupcakes, French macarons and eggless cakes, you'll find mango, pistachio and toasted coconut confections.
Her buttery Nankhatai, a classic Indian shortbread cookie, will melt in your mouth.
Entrees
Jack Tran's Beef Broccoli Pan-Fried Hor Fun
At Mein Chinese Restaurant in Asiatown, chef Jack Tran creates Cantonese for the soul. From one-bowl meals of authentic Hong Kong-style wonton noodle soup, to hand-pulled cold chicken, squid ink fried rice or the juiciest char siu barbecue pork, dishes are affordable and great for sharing family style.
Of the many excellent noodle options, one of the most popular is the beef with broccoli pan-fried hor fun. Tran riffs on the Vietnamese "pho ap chao" (pan-fried pho) to create a crispy pancake from the noodles, topping them off with stir-fried beef and broccoli in a savory brown gravy that softens the noodles in a wonderful contrast of flavors and textures.
Starters & Side Dishes
Ronnie Killen's Creamed Corn
When chef Ronnie Killen opened his first restaurant in 2006, he couldn't have known he would put Pearland on the culinary map of Texas. But he did.
With Killen's Steakhouse, the classically trained chef not only became one of Houston's most popular chefs, he created a restaurant group that would include two steakhouses, Killen's Barbecue, Killen's Burgers, Killen's STQ, Killen's TMX and his most recent project, Killen's, his first restaurant inside the Loop.
He built his reputation on goodwill and the kind of food that shoots straight to Houston's food-obsessed heart: big boy steaks, Texas comfort foods, superlative barbecue, old-fashioned burgers and Tex-Mex classics.
The Killen's story, though, began with the steakhouse, where his creamed corn helped make the chef a star.
Entrees
Kenny & Ziggy's Matzo Ball Soup
Kenny & Ziggy's owner Ziggy Gruber is a third-generation deli man. His grandfather, Max, immigrated to the U.S. from Hungary, landing on New York's Lower East Side. In 1927, he opened a Jewish deli there, where Ziggy's father, Gene, worked from an early age. Ziggy learned the deli business from both his grandfather and father, opening his own in Los Angeles and, eventually, in Houston in 1999 with partner Kenny Friedman.
Now with two locations, Kenny & Ziggy's continues the New York Jewish deli tradition by serving classics, such as pastrami sandwiches, knishes and this chicken matzo ball soup, the ultimate dish for Passover or whenever the mood strikes.
Desserts & Drinks
Rebecca Masson's Apple Pie, served at Fluff Bake Bar
If Houston had a sugar fairy, it would surely be Rebecca Masson. In fact, that's the pastry chef's nickname.
For years before she opened her first bakery, Fluff Bake Bar, in Midtown in 2015, Masson was a sweet presence on the Houston dining scene, known for her addictive cookies, cakes, brownies and bars. Her reputation as one of the city's best bakers was cemented in 2011, when she competed on Bravo's "Top Chef: Just Desserts."
Today, Masson has a new shop in the Heights called Fluff. And Masson is still waving her sugar wand. Here's her recipe for apple pie (with a buttery crumble topping), which she makes during the holiday season using pink-tinted Mountain Rose apples. It's also good using Granny Smiths.
Starters & Side Dishes
Manuel Pucha's Gazpacho, served at Maison Pucha Bistro
When chef Manuel Pucha decided to leave his longtime post at La Table in the Galleria and set out on his own, he knew his new venture would be a family affair.
Pucha recruited two of his brothers — Victor, a French-trained pastry chef, and Christian, an aspiring sommelier — to open Maison Pucha Bistro. Together, the Ecuadorian-American brothers have created a stylish Heights bistro where their combined skills shine. Ecuadorian dishes (shrimp and fish ceviche and beef empanadas) make nice with French classics such as gougères, onion soup, baked brie, steak frites and duck à l'orange.
Manuel Pucha's seasonal gazpacho is also a menu special.
Starters & Side Dishes
Irma Galvan's Guacamole
Her restaurant is called Irma's Original. And owner Irma Galvan is just that — a self-made businesswoman whose considerable hustle, outsize charm and homestyle cooking have made her downtown restaurant one of Houston's treasures.
Galvan's culinary path began with a small sandwich shop that segued into tacos, then plate lunches, then the homey Mexican fare that earned her widespread affection and recognition by the James Beard Foundation's American Classics Award, which recognizes beloved regional restaurants.
Famous for its lack of a printed menu, Irma's is known for enchiladas, tamales, chile rellenos and fruity limonada. But it's her guacamole that almost every table orders to start.
Entrees
MDK Noodles' Famous Korean Pork Dumplings
At MDK Noodles in Asiatown, Korean knife-cut noodles (kalguksu) and dumplings (mandu) are made fresh daily using time-honored family recipes that have been used since the original Myeongdong Kyoja opened in Korea 40-plus years ago.
The mandu steamed pork dumplings are a signature menu item and can be ordered as an appetizer or entree. Served steaming hot, the dumplings come 10 to an order and are best enjoyed with MDK Noodles' complimentary kimchi.
The family recipe has never before been shared and involves making the dumpling wrapper from scratch. This recipe has been adapted for the home cook.
Starters & Side Dishes
Carlos Ramos' Peruvian Ceviche, served at Latin Bites Kitchen
Ceviche and tiradito — raw seafood marinated in lime — can be found in abundance in Houston. But it is the Peruvian ceviche at Latin Bites Kitchen that remains one of the best examples of fresh cubed fish "cooked" in a zippy bath known as leche de tigre (tiger's milk).
Houstonians became acquainted with this ceviche Peruano when Latin Bites got its start in the Warehouse District in 2010. The business grew and eventually relocated to a much bigger and grander home on Woodway.
Today, Latin Bites Café has streamlined into Latin Bites Kitchen under the direction of its original proprietors, the husband-and-wife team of chef Carlos Ramos and general manager Rita Castre. The menu's star remains the ceviche preparations.
Desserts & Drinks
Picos' Shaker Margarita
The history of the margarita may be as cloudy as a tequila and lime slush. But its provenance makes no difference to Houstonians, who consume margaritas in every conceivable form — frozen, on the rocks, straight up, tinted blue, spiced with jalapeño, swirled with fruity colors and even with mini Corona bottles upended in an icy froth.
There are iconic margaritas in every corner of the city, but for aficionados, the perfect marriage of tequila, lime juice and orange-flavored triple sec is found at Arnaldo Richards' Picos, the Kirby restaurant that has perfected the shaker margarita. Beverage director Monica Richards de Osberg (daughter of the chef-owner) has created an enviable spirits menu with plenty of serious tequila and mezcal selections, high-end private barrel options and a wealth of creative, festive tequila-based libations.
But it is the simple, straightforward shaker margarita — poured from a plastic shaker that gives you a little extra elixir for topping off — that stands out in a crowd. It's a classic. A ritual. A gulp of heaven Houston calls its own.
Entrees
RayJay's BBQ Jackfruit Pulled "Poke" Sandwich
Janice and Rick Rodgers are U.S. Air Force veterans who made a switch to a 100-percent vegan diet about four years ago. Armed with a passion for plant-based food, they started RayJay's Feel Good Food, first as a pop-up, then as a food truck in February 2020. The truck still roams around Houston, but the couple has since secured a spot at Blodgett Food Hall, a ghost kitchen in Third Ward.
Jackfruit is a common meat substitute in vegan cuisine. RayJay's serves a barbecue jackfruit sandwich made in the style of a pulled pork sandwich. They make their own barbecue sauce and chipotle vegan mayonnaise, but you can substitute for your favorite brand.
Starters & Side Dishes
Gatlin's BBQ's Collard Greens
Gatlin's BBQ is the kind of restaurant success story Houston loves: a family-owned business where every hand's on deck. The Gatlins began smoking from a tiny shack on W. 19th St. in 2010, when the craft-barbecue movement first gained traction in Houston.
But the Gatlin style never wanted to fit the Central Texas mold. The Gatlins simply call their 'cue "old school," drawn from Texas, Louisiana and Southern traditions — invested with a craftsman know-how using all-wood-burning smokers chewing on hickory.
Houston fell hard for the Gatlin's brand of smoked meats and home-cooking side dishes such as collard greens, candied yams, potato salad, baked beans and swoon-worthy dirty rice. Led by pitmaster Greg Gatlin, operations moved to a grand new space on Ella in 2015. Along the way, it lost not an ounce of its charm.
Starters & Side Dishes
Ryan Lachaine's Potato and Cheese Pierogi, served at Riel
At Riel restaurant in Montrose, chef-owner Ryan Lachaine has liberally seasoned his modern Texas Gulf Coast menu with flavors from his native Canada and his Ukrainian grandmother's cooking. That means diners are just as likely to find a Canadian pork pie and velvety borscht as they are Gulf oysters and local fish bathed in a tomato and bacon consommé.
One of Lachaine's most popular dishes is hanger steak served with potato and cheddar cheese pierogi — half-moon dumplings that are boiled then pan-seared in butter. They are best enjoyed with a dollop of horseradish cream.
Entrees
Mark Holley's Muddled Stew
Mark Holley makes memories. His work at Brennan's of Houston, Pesce and Holley's Seafood Restaurant & Oyster Bar have endeared him to Houstonians who have come to his restaurants for his take on haute Creole, Gulf seafood and Tex-ified Southern comfort fare. His gumbo, fried chicken and coconut cake are the stuff of legend.
At Davis St. at Hermann Park, Holley continues to work his distinctly Houston culinary lexicon of Creole and global-infused Gulf Coast food, including his Muddled Stew, which has thankfully been revived from his Holley's days.
Starters & Side Dishes
Paul Petronella's Deep Pan Focaccia
The Italian-American fare from Paulie's is comfort food at its best: flavorful, generous portions of bucatini puttanesca, fettuccini Alfredo, shells with broccoli and garlic, fusilli with pesto and kalamata olives, rigatoni Bolognese, and spaghetti with meatballs.
Paul Petronella has been refining the menu since he took over the Montrose business from his parents in 2009. But his food, at its heart, remains inspired by the real-deal fare that his great-grandparents brought with them when they emigrated from Sicily to Galveston in the early 1900s.
Petronella's "Paulie's" cookbook, published in 2018, celebrates the food that has kept the restaurant bustling.
Starters & Side Dishes
Michael Sambrooks' Mustard Potato Salad, served at The Pit Room
The Pit Room in Montrose is known for its stellar barbecue, including house-made sausage and to-die-for meat-stuffed tacos on tortillas made with brisket fat. But we're big fans of its mustardy, creamy potato salad. It's perfect for a big outdoor gathering.
Entrees
Robert Del Grande's Tortilla Soup, served at Annie Cafe & Bar
Robert Del Grande is one of the pioneers of America's Southwestern cuisine movement, the first chef to bring to Houston the coveted James Beard Award, and his Cafe Annie was the nexus of Houston's social whirl for decades.
The restaurant later moved and morphed into RDG & Bar Annie and now exists as the Annie Cafe & Bar. And through it all, the restaurant's tortilla soup has remained a constant.
Though tortilla soup is available in many iterations throughout the city, Del Grande's is regarded by many as the peerless original. Although the chef created his without chicken, you can plate yours with a mound of shredded chicken in the center of the bowl before you ladle on the chile-stoked, corn tortilla-enriched tomato broth.
Desserts & Drinks
Kiran Verma's Chai Tea
When Kiran Verma opened Kiran's on Westheimer in 2005, she ushered in a new era of Indian cuisine in Houston. Verma promised (and delivered) a refined, elegant interpretation of the flavors of her native India. The white-tablecloth restaurant soon became a favorite of the River Oaks and Galleria crowd as a place for traditional Indian fair and Verma's increasingly creative, beautifully composed dishes. Kiran's also became known for its sumptuous afternoon tea service, a rarity in Houston, where her Chai tea rules.
Today, Kiran's is in a new location, and Verma continues to push in new directions (check out her Indian-flavored pizzas) while remaining true to her roots presenting a decidedly haute Indian experience.
Starters & Side Dishes
State Fare's Southwest Caesar Salad
State Fare Kitchen & Bar, with locations in Memorial and Sugar Land, serves Southern cuisine under the direction of chef Justin Yoakum.
The Culinary Khancepts venture offers Texas and Gulf Coast favorites, including this easy Southwest Caesar Salad with a nice kick.
Entrees
Kaiser Lashkari's Mughlai Chicken Korma, served at Himalaya
Korma is a classic Indo-Pakistani dish with origins in Mughlai cuisine. A Muslim wedding would be incomplete without a banquet serving korma and biryani, said chef Kaiser Lashkari, who runs the popular Himalaya restaurant with his wife, Azra.
Both dishes, and a dizzying array of Indian and Pakistani classics, can be found at Himalaya, where Lashkari's work earned him a 2019 semifinalist nod for the James Beard Awards.
His home version of korma takes some planning and a trip to one of Houston's Indian markets for ingredients. The dish's creamy sauce does not come from cream, as some might guess. Lashkari says anyone who adds cream to korma should be jailed in Guantanamo Bay — the richness instead comes from the slow marriage of its many ingredients.
Desserts & Drinks
Alba Huerta's Mint Julep
Alba Huerta is cocktail royalty. When it comes to the boozy alchemy that is craft cocktails, she has an international reputation. She earned it for her creative passion, respect for history and unerring spirits palate, which can be seen in the lineup of cocktails at her Julep, the jewel box bar she opened in 2014 on Washington Avenue.
Her work at Anvil and Pastry War led to Julep, known for its dedication to Southern spirits and cocktail culture. It's where Houstonians can find a perfect Mint Julep, as well as Huerta's takes on classic sippers such as the Pimm's Cup, Sazerac, Vieux Carre and the Old Fashioned. Those drinks and others, such as cobblers and crustas, can be found in "Julep: Southern Cocktails Refashioned" which Huerta wrote with Marah Stets.
Starters & Side Dishes
Treebeards' Red Beans
When Treebeards announced it was closing the restaurant at 315 Travis in June, it sent a shudder through Houston, months into a pandemic lockdown when so many of the city's restaurants and retail businesses were in jeopardy.
But the closure of the historical Market Square location was a lease issue. Treebeards is very much in play downtown with four locations. In fact, the owners, Jolie and Charles Stinneford, recently opened their first full-service restaurant outside downtown. The new restaurant off the Katy Freeway at Bunker Hill continues the Treebeards story, offering the popular Cajun/Creole menu that it has been serving since 1978.
When Houstonians crave comfort foods such as red beans and rice, Treebeards is there to provide.