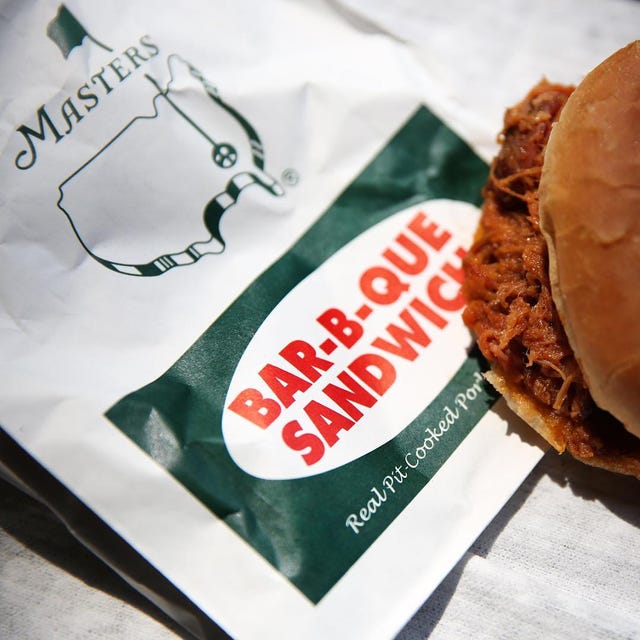 Courtesy of Augusta National Golf Club / Marianna Massey
It's hard not to love the Masters Tournament. Of course getting to see someone nab that clutch Birdie is exhilarating, but if we're being 100% honest, we're in it for the food just as much as we're in it for the golf. The snacks and bites at the Masters have become an iconic part of the experience every year in Augusta. Though this year might be a little different (it's happening in November?!), we have whipped up a few recipes that will give you those Georgia vibes. Tournament coverage is live starting at 1 PM ET on ESPN, November 12 and 13. Try one (or all) of these Augusta-inspired eats at home to get that same feeling of watching the green on a warm Georgia day in April.
Advertisement – Continue Reading Below
1
Pimento Cheese Sandwich
Pimento cheese—a mixture of mayo, cheese and pimento peppers—is also referred to as the "Caviar of the South". There's nothing better to eat at a high class event (like the biggest golf tournament in the country) than a sandwich slathered with the stuff. These pimento cheese sliders are a fun way to reimagine the popular sandwich while watching the tournament on TV.
2
Barbecue Sandwiches
Few things can beat savory-sweet barbecue pork tucked into a squishy, yet delicious bun. We've yet to crack the recipe of the amazing version they whip up at the Masters tournament but we think this oven-roasted pulled pork recipe will you give you a big, sauce-covered smile.
3
Peach Ice Cream Sandwiches
Unfortunately, this year the Masters Tournament falls outside of peach season, but we think we've come up with a solution! Baking peaches can help brighten and sweeten slightly unseasonal peaches. Chop them up, fold them into some vanilla ice cream and sandwich a scoop between two sugar cookies to make the best homemade version of this Augusta classic.
4
Oatmeal Raisin Cookies
Can't find peaches but still want something sweet? Oatmeal raisin cookies are a great way to satiate your sweet tooth (while also pretending to be healthy!). Plus if you bake them at home you can eat them warm, straight from the oven.
5
Azalea Cocktail
This cocktail, named after the 13th hole at Augusta, is a slight twist on a boozy lemonade. We think it's the perfect way to pretend like you're cooling down after a hot April afternoon watching the Masters. Simply mix 1 1/4 ounces vodka, 5 ounces lemonade and 1/2 ounce grenadine in a glass. Cover with ice and garnish with an orange slice and a cherry, and you have a homemade version of the tournament drink.
This content is created and maintained by a third party, and imported onto this page to help users provide their email addresses. You may be able to find more information about this and similar content at piano.io
Advertisement – Continue Reading Below