Move over, mashed potatoes: There's a new side dish worthy of a spot on your holiday table. Duchess potatoes are everything you love about mashed potatoes, piped into picture-perfect mounds and baked until crisp. Did I mention they're filled with cheese and bathed in melted butter? Here's how to make 'em.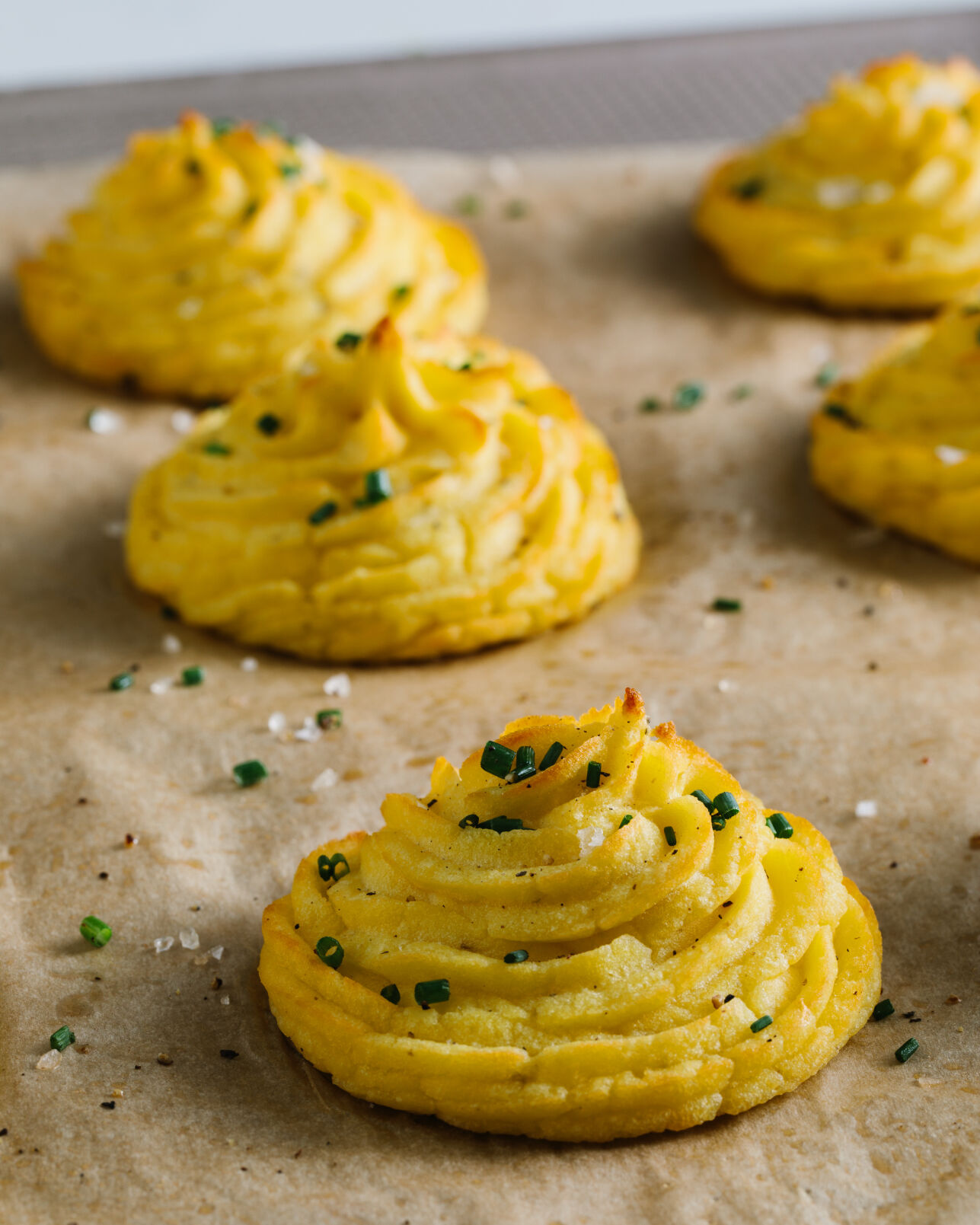 What are duchess potatoes?
Duchess potatoes is a French potato dish believed to be named after a British duchess who visited France. They're crispy on the outside, soft and fluffy on the inside, and they boast adorable ruffled edges that brown in the oven.
Duchess potatoes are made by boiling potatoes until tender, then mashing them with butter, dairy (in the form of milk, half-and-half or cream) and egg yolks. We prefer to use Yukon Gold potatoes, which have a buttery, creamy texture that makes the mixture super smooth and lends the piped mounds a pretty golden color. The egg yolks help set the potatoes and give them a light texture, while the dairy keeps the interior moist and creamy.
Some recipes also add cheese to the mix — we like Gruyere for its strong aroma and bold, nutty flavor, but Comte, Jarlsberg and Swiss are all great options.
Using a piping tip will give these potatoes a fancy ruffled look, but it's not necessary. If you don't have one, you can just load them into a large zip-top baggie, cut the tip off, and pipe them into smooth mounds. They won't have the distinct ruffled edges, but they will be just as delicious.
Cheesy Garlic Duchess Potatoes
2 1/2 pounds (about 15) medium Yukon Gold potatoes
1 tablespoon plus 3/4 teaspoon kosher salt, divided
2 ounces Gruyere cheese, finely grated (about 1/2 cup)
3 cloves garlic
6 tablespoons unsalted butter, divided
3 tablespoons whole milk, heavy cream or half-and-half
3/4 teaspoon freshly ground black pepper
4 large egg yolks
1 tablespoon finely chopped fresh chives
1. Arrange a rack in the middle of the oven and heat the oven to 400 F. Line a baking sheet with parchment paper.
2. Peel 2 1/2 pounds Yukon Gold potatoes and quarter each potato. Place the potatoes and 1 tablespoon of the kosher salt in a large pot and add enough cold water to cover them by 1 inch. Bring to a boil over high heat, then reduce the heat and simmer until the potatoes are very tender and can be easily pierced with a fork with no resistance, 14 to 16 minutes. Meanwhile, finely grate 2 ounces Gruyere cheese (about 1/2 cup) and mince 3 garlic cloves.
3. When the potatoes are ready, drain through a colander. Place the empty pot back over medium heat and add 3 tablespoons of the unsalted butter. When the butter is melted, add the garlic and cook, stirring often, until fragrant, 30 seconds to 1 minute. Add 3 tablespoons milk, the remaining 3/4 teaspoon kosher salt, and 3/4 teaspoon black pepper and bring to a simmer. Turn off the heat.
4. Add the cooked potatoes and mash with a potato masher until smooth. (Alternatively, pass the potatoes through a ricer or food mill into the milk mixture.) Add the Gruyere and stir until melted. Add 4 large egg yolks and vigorously stir until they are fully incorporated.
5. Transfer the potatoes into a large piping bag fitted with a star tip or a large zip-top bag with the corner cut off. Pipe the potatoes into 12 (2-inch high, 2-inch wide) mounds on the prepared baking sheet, spacing them at least 1-inch apart. If the bag is too hot to handle, wrap a kitchen towel around the piping bag.
6. Place the remaining 3 tablespoons unsalted butter in a small microwave-safe bowl and microwave in 10-second bursts until completely melted. (Alternatively, melt on the stove.) Brush all of the butter over the tops of the potatoes.
7. Bake until the potatoes are golden brown, 15 to 18 minutes. Meanwhile, finely chop until you have 1 tablespoon fresh chives. Sprinkle the chives over the potatoes and serve immediately.
Recipe note: Leftovers can be refrigerated in an airtight container for up to four days.
(Jesse Szewczyk is studio food editor for TheKitchn.com, a nationally known blog for people who love food and home cooking. Submit any comments or questions to [email protected].)