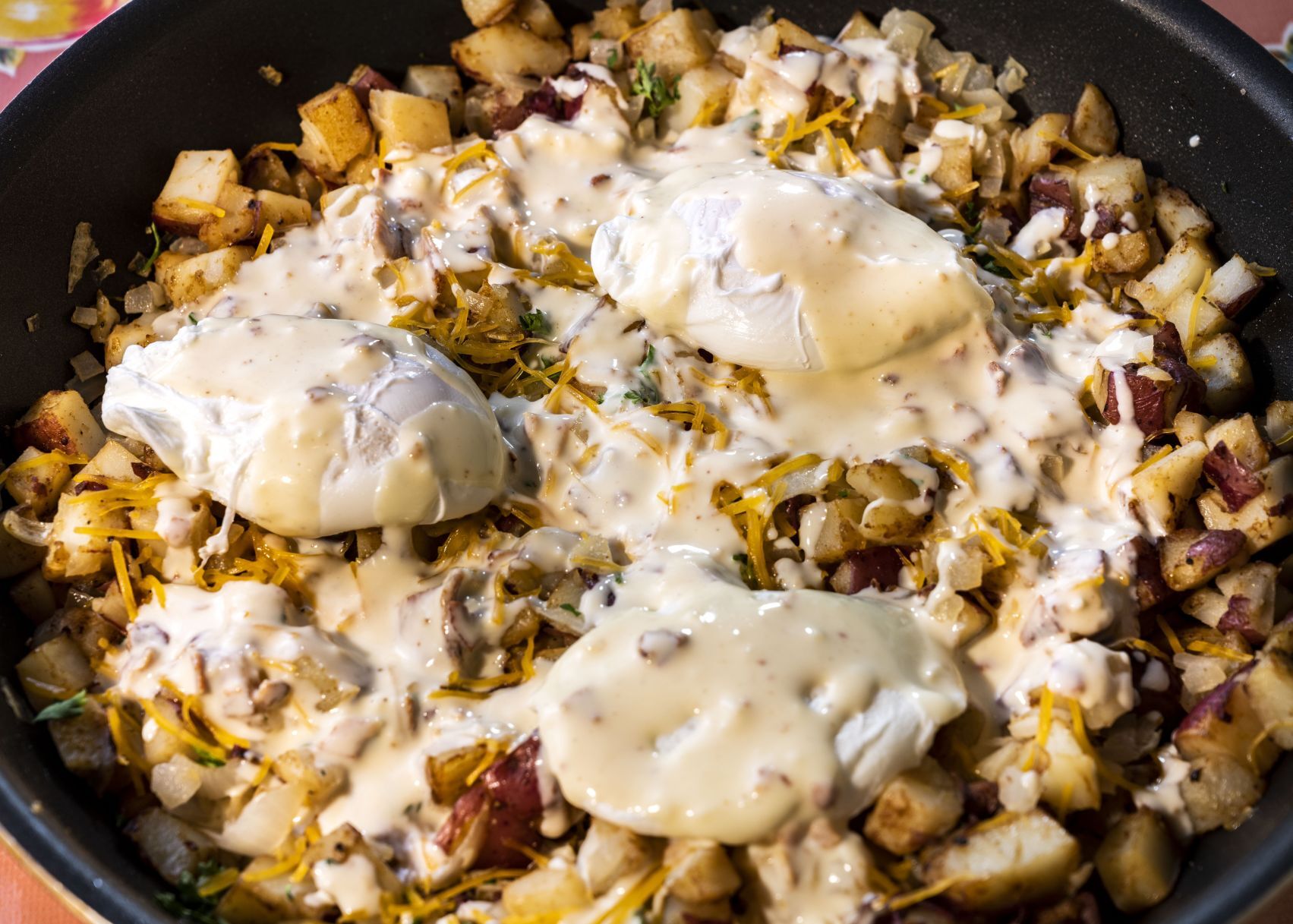 4 tablespoons butter, divided
Salt and pepper, to taste
3 tablespoons chopped parsley
2 tablespoons all-purpose flour
1 cup half-and-half, or more if needed
¼ cup crumbled cooked bacon, optional
1½ cups grated cheddar cheese, divided
1 tablespoon white vinegar
1. Boil potatoes in large pot of boiling water until easily pierced with a knife or fork. Drain and dice; set aside. Preheat oven to 350 degrees.
2. Melt 1 tablespoon of the butter in a large skillet over medium heat. Add onions and cook until soft. Remove onions and set aside. Melt 1 tablespoon of the butter with the oil in the large skillet. Add potatoes, paprika and salt and pepper to taste. Cook, stirring as little as possible, until potatoes are browned and crisp. Stir in parsley and potatoes.
3. Melt the remaining 2 tablespoons of the butter in a saucepan over medium heat. Add flour and cook, stirring constantly, for 2 to 3 minutes. Add half-and-half and cook, stirring, until thickened; add more half-and-half (or milk) if needed. Add lemon juice and bacon pieces if using. Add ¾ cup of the cheese; cook until melted and combined. Keep warm.
4. Sprinkle the remaining ¾ cup of cheese over the potatoes and place in oven until cheese melts. Remove from oven — remember, the skillet handle will be hot.
5. Meanwhile, fill a saucepan half-full with water and add the vinegar. Bring to a simmer, then crack eggs gently into the water (do this in batches). Poach eggs for about 3 minutes; remove carefully with a slotted spoon. Gently place poached eggs on top of the potatoes. Top with cream sauce.
Per serving: 548 calories; 26g fat; 13g saturated fat; 242mg cholesterol; 22g protein; 59g carbohydrate; 7g sugar; 6g fiber; 785mg sodium; 342mg calcium
Adapted from "California Bed & Breakfast Cookbook" by Melissa Craven and Jordan Salcito; recipe from Green Gables Inn