TikTokers are ready to tell you how to prepare the perfect Thanksgiving meal this holiday, and if you're ready to trust them, you might end up with the best meal of your life.
Along with dancers, pranksters, adorable dogs and painfully honest storytimes, TikTok is a platform that allows famous chefs and homemade cooks to shine. Chances are, while scrolling through your "For You" Page, you've already come across a few meal ideas. But when you decide to really step into the food side of TikTok, you're in for serious inspiration, great tastes and cooking hacks to make your life so much easier.
You might have a few Thanksgiving staple dishes that you can't go a holiday without. But if you're looking for replacements, or simple tips to make cooking your beloved recipes easier, look no further than the eight ideas we've discovered.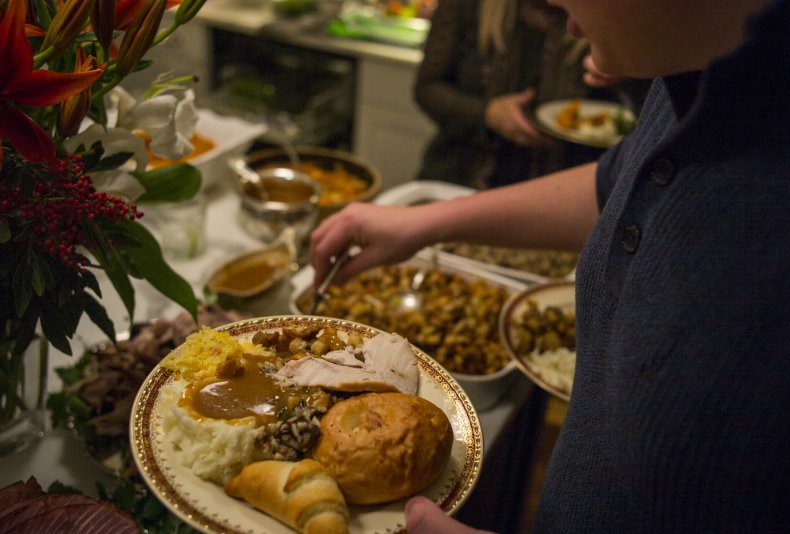 Sharpen Your Knives
If there's one way to make sure your cooking skills are on point this Thanksgiving, it's by putting your safety first. Not only will a sharp knife help you cut smoothly, but it will assure you're not fumbling the blade in a way that could be harmful to you or those around you.
This TikTok by @lockdowncuisine shows a beautifully sharpened knife and how easily it cuts through a carrot. Just watching the slicing movements may be therapeutic for some, so while keeping the cooking tip in mind, this video may also help with holiday anxiety.
Don't Forget the Pie
Baking pie can be tricky, and if you're a beginner baker, chances are you're nervous about trying your own recipe. Enter @cookingwithshereen, an inspirational woman who is sure to boost your kitchen confidence.
The baker has uploaded an easy-to-follow video that focuses on how to make a pumpkin pie entirely from scratch. If you were looking for a recipe this year, you've found it.
Easy Turkeys By @TheBalesky
Not only does TikTok provide simple and direct cooking guides, but it also presents some interesting meal options. Have a taste for a classic, butter-basted turkey? Got it. What about a spicy variation? That's here, too.
User @TheBalesky has already uploaded two trustworthy videos that will help you perfect your 2020 Thanksgiving turkey, with perfect ingredient measurements and tips like using the stove alongside the oven to perfect the bird's temperature.
The Perfect Sides
No Thanksgiving table is complete without a few comfort foods for sides, so don't forget to plan ahead. These on-point mac and cheese and sweet potato casserole recipes have our mouths watering already.
Ditch the Pilsbury Rolls
If you're really trying to make a whole dinner from scratch, you can't forget the buns. While making any kind of bread is known to be challenging, TikToker @flakeysalt gives us hope that we can accomplish anything with the right mentor and mindset.
Don't Come Empty-Handed
If you're braving 2020's COVID climate to see family, don't forget to bring a dish. Thanksgiving TikTok started an adorable trend in 2019, which involved family members entering their holiday homes with the special addition they brought for the table. It had commenters appreciating each other's families—and that's exactly the sort of connection that many people might be miss in 2020.
Wherever you are, and whatever you have planned, we at Newsweek wish you a safe and healthy holiday full of delicious food and great times.