Alton Brown has revealed he has voted Republican "most of my life" in a tweet which has elicited much backlash from his fans online.
The celebrity chef and television personality of Food Network fame managed to upset legions of Democrat-minded fans Monday night with his admission, which comes just days after the 2020 U.S. presidential election.
"I have voted Republican most of my life," Brown tweeted. "I consider myself a conservative. I want to believe there are still 'very fine' people on both sides of the aisle but…if #GOP leaders don't get their collective noses out of that man's a**, we're gonna have words."
The 58-year-old is referring to Donald Trump and his allies who have not conceded defeat following Joe Biden's victory.
A number of top GOP figures—Senate Majority Leader Mitch McConnell, Senator Lindsey Graham—are standing by Trump's refusal to concede as the White House has continued to push baseless voter fraud allegations and a flurry of lawsuits launched by the Trump campaign.
In Brown's native Georgia, Republican US Sens. Kelly Loeffler and David Perdue called for the resignation of Georgia Secretary of State Brad Raffensperger while criticizing the state's election process.
Brown name-checked both Loeffler and Perdue in another tweet: "My family has been in Georgia for at least 5 generations. I own multiple businesses in Ga. I employ Georgians. My home is Georgia. And my senators are embarrassing me and the state they are supposed to represent. @sendavidperdue and @SenatorLoeffler. I am talking to you."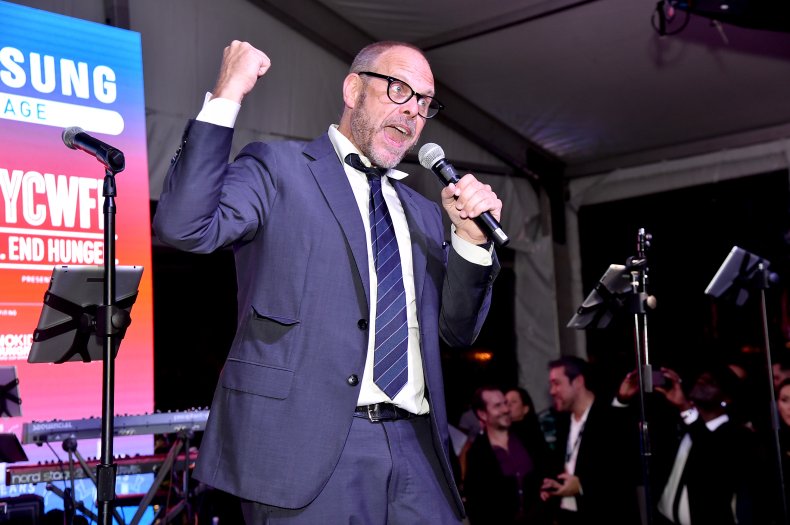 Brown has not stated whether he voted for Trump in this election but seemed to be just as stressed out as other Americans on election day, when he posted numerous unhinged tweets about stress eating and other bizarre musings, pending the outcome.
One angry response to Brown's political revelation reads: "Alton Brown said gay people have the right to brine but not the right to get married."
While another added: "But, but…they don't believe in science. how can you vote R?"
Another person responded: "As someone who used to wake up early Saturday morning to watch good eats, as someone whose life was immeasurably shaped by your show and the way you approached food, as someone who as looked up to you since a child, and as a gay woman, I can't express how disappointing this is."
Another fan said, "…and I really liked and still like your shows. You made me a better and more adventurous cook. I'm not angry….just incredibly disappointed." Brown responded to them by saying, "Frankly, you have no right to be disappointed in me. None whatsoever. I have used my own platform to speak my mind. You may dislike me, certainly but disappointment in me should be reserved for say…bad recipes."
Brown has spoken in the past about not wanting to a politically vocal celebrity.
Back in 2012, Alton simply tweeted: "Vote cast."
But when fans pressed him on who that vote was for, Brown responded with a picture of a post-it that read: "Nope! I hate it when entertainers get political. I stick to the 'shut up & play your guitar rule.' #ShutUpAndCook."
Correction: This article's headline has been changed to reflect that while Alton Brown has stated that he has previously voted Republican, he has not said that he is a member of the Republican party. Newsweek regrets the error.