Natasha Mesa's journey to Milady's, the legendary bar in Soho, proves this saying rings true; it's better to take a leap and ask than stay silent and be in a state of the unknown. 
Within ten years, Natasha Mesa has cultivated an impressive reputation in the cocktail world. She led the bars at Deadshot, Raven & Rose and the Benson Hotel and even won the World Title for Brugal's Nearly Neat 2019 competition. Now Mesa has another addition for impressive portfolio, she joins her icon Julie Reiner, owner of Milady and judge on Netflix's Drink Masters, to help lead the cocktail program at the legendary bar.
Tell us a little about yourself and joining the Milady's team.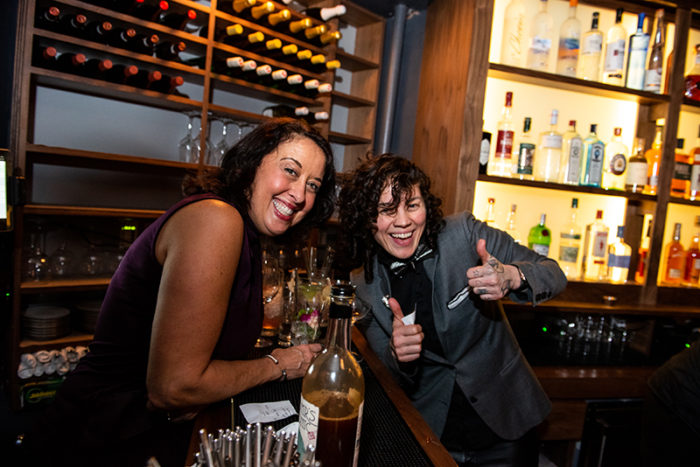 In June 2022, I contemplated leaving Portland for NYC. Before doing so, I reached out to one of my icons Julie Reiner. I had the pleasure of meeting Julie in 2019 in the Dominican Republic, where she was a judge for the World Finals of Brugal's Nearly Neat competition. I won the global title and was lucky to sit next to Julie during the celebratory dinner. I'm sure I talked her ear off that evening. Having few connections in New York, I decided to shoot Julie a text to see if I could pick her brain about the New York cocktail scene. Texting Julie was one of the best decisions I have ever made because it got me here, to Milady's! I have learned much from this bar legend and her business partners, Susan Fedroff and Christine Williams. We're already a family here at Milady's. And I couldn't be more excited about this team.
Can you recall when you first tried a Martini? What was your first impression?
My first Martini was really cold, shaken, super dirty, and vodka-based. Martinis have always been my first love—salty, cold, and easy to drink. Nowadays, my Martini order looks more like a 50/50 with a split vermouth base of Lustau Rose and Santoni.
What makes this Martini stand out from other cocktails on the menu?
The things that I notice when reading a menu are the spirit splits or the types of garnish called out. With apple-infused gin and vodka, brandy, and vermouth, The Big Apple Martini is both a well-balanced martini and a fun, colorful drink. It has a dehydrated apple garnish and edible glitter. The Martini's menu placement is also eye-catching. People tend to read menus left to right and top to bottom, and the menu lists the Big Apple Martini at the top within the Throwbacks section. 
What inspired the Big Apple Martini?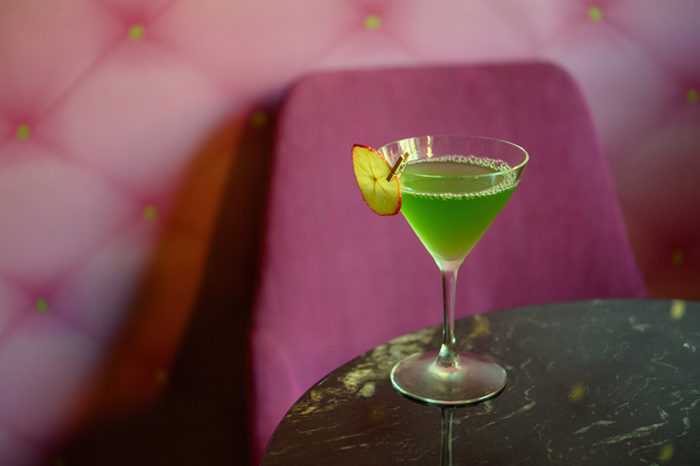 Julie made a version of the appletini in 2000 that used apple-infused vodka, apple liqueur, and sparkling cider. That earlier creation inspires this Big Apple Martini. It also plays into the overall effect of nostalgia we've created at Milady's. It pays homage to the spirit of the old Milady's from the 90s and 2000s.
What are the essentials for the Big Apple Martini?
Ingredients: Green apple infused gin and vodka (equal parts), Dolin Blanc Vermouth, Apple Brandy, and green apple liqueur
Tools: Shaker, hawthorn strainer without prongs, ice, jigger
Method: Throw the cocktail 6-7 times from tin to tin until chilled and diluted. Finish with a dehydrated apple chip and lemon oil.
In the 1940s, Milady's was the spot in Soho for greasy burgers and cheap beers. Then in 2014, it closed its doors, marking the end of an era. Eight years later, the legendary bar at the corner of Prince St. and Thompson St. is back thanks to powerful forces in the cocktail world. While Milady's leaves the cheap beers and pool tables behind, Julie Reiner and her team strive to make the bar as cherished as it once was. Milady's will be open Monday through Thursday, 12 p.m. to 12 a.m.; Fridays, noon until 2 a.m.; Saturdays, 11 a.m. until 2 a.m.; and Sundays, 11 a.m. until 12 a.m.