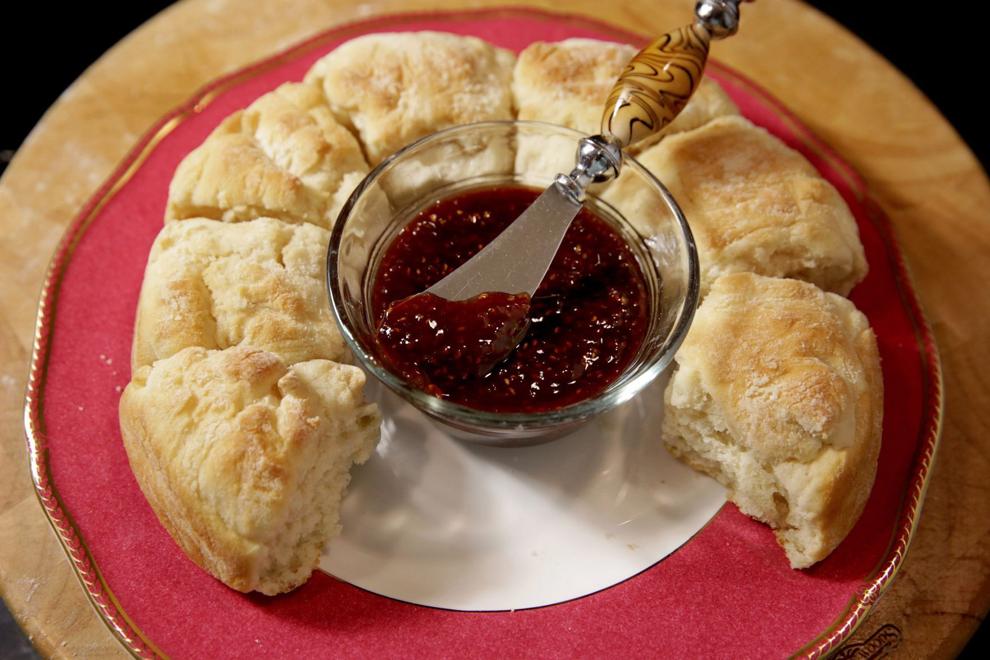 1½ cups Southern self-rising flour, such as White Lily, see note
1 tablespoon granulated sugar
1 to 1¼ cups buttermilk, or ¾ cup buttermilk and ½ cup heavy or whipping cream
1 cup all-purpose flour for shaping, see notes
2 tablespoons butter, melted
Notes: Not all White Lily four is self-rising.
• If Southern self-rising flour is not available, use 1 cup national brand self-rising all-purpose flour and ½ cup cake flour or instant flour (such as Shake & Bake or Wondra), plus ½ teaspoon baking powder. If self-rising flour is not available, use all-purpose flour and a total of 1½ teaspoons baking powder.
• Do not use self-rising flour for shaping because the leavener will give a bitter taste to the outside of the biscuits.
1. Preheat the oven to 475 degrees and spray an 8-inch round cake pan with nonstick cooking spray.
2. Combine the self-rising flour, baking soda, salt and sugar in a medium mixing bowl. With your fingers or a pastry cutter, work the shortening into the flour mixture until there are no shortening lumps larger than a big pea.
3. Stir in the buttermilk and let stand for 2 or 3 minutes. This dough is so wet that you cannot shape it in the usual manner.
4. Pour the cup of all-purpose flour onto a plate or pie tin. Flour your hands well. Spoon a biscuit-sized lump of wet dough into the flour and sprinkle some flour over the wet dough to coat the outside. Pick up the biscuit and shape it roughly into a soft round. At the same time, shake off the excess flour. Push the biscuits tightly against one another in the cake pan so that they will rise up and not spread out. Continue shaping biscuits in this manner until all of the dough is used.
5. Brush the biscuits with melted butter and bake just above the center of the oven until lightly browned, 15 to 20 minutes. Cool for 1 or 2 minutes in the pan, then dump out and cut the biscuits apart. Serve while hot.
Per serving: 200 calories; 7g fat; 3g saturated fat; 9mg cholesterol; 4g protein; 26g carbohydrate; 3g sugar; 1g fiber; 120mg sodium; 34mg calcium
Recipe from "CookWise" by Shirley O. Corriher