OGDEN — The first "Cops & Crops" event Tuesday made healthy, nutritious meals available for 1,000 Utah families who otherwise wouldn't be able to have Thanksgiving Day dinner on their own.
Families received donations of turkey, potatoes, apples, cheese, butter, milk, onions, flour, eggs, salami and boxed stuffing under a partnership forged with the Utah Farm Bureau's Farmers Feeding Utah campaign, and a vital assist from the Weber County Sheriff's Office and multiple other law enforcement agencies within the area.
"We're really excited to partner with our law enforcement friends in Weber County to distribute a Thanksgiving dinner to those in need before the holiday," said Ron Gibson, president of the Utah Farm Bureau. "This partnership helps show how many people care about helping meet the needs of hunger in our community. We know we have more work to do, but we hope this helps some families in the short term."
Since its launch in May, Farmers Feeding Utah has provided an estimated 600,000 pounds of food — with a retail value of more than $800,000 — to Utah residents in multiple communities including Vernal, the Navajo Nation and Salt Lake City's west side.
This latest effort involves police officers and sheriff's deputies helping to distribute food to families.
"When the Utah Farm Bureau pitched the idea of Cops & Crops, we felt it was a good idea and the right thing to do," said Weber County Sheriff Ryan Arbon. "We know there are those in the community who have those needs and we wanted to assist them and take the lead. … We are just really excited to be a part of it."
In addition to providing food directly to families in Tuesday's event, the program will also make donations of food to various food pantries in the region.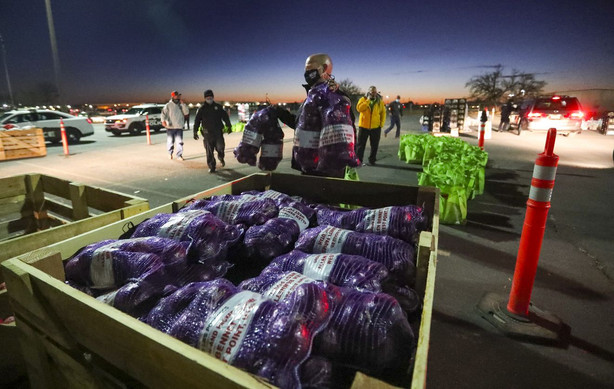 Farmers Feeding Utah is a campaign of the Miracle of Agriculture Foundation, a nonprofit organization set up as a charitable arm of the Utah Farm Bureau.
Logistical and in-kind support has come from a variety of corners, including Utah State University and its Hunger Solutions Institute & Create Better Health program, the Utah Department of Agriculture and Food, The Church of Jesus-Christ of Latter-day Saints and Farm Bureau Financial Services.
Ken White, dean of the USU College of Agriculture, said Cops & Crops is an example of teamwork at its best.
"The Hunger Solutions Institute and USU Extension honors the work of all who improve the communities they live in," he said. "Food Security is strengthened when communities work together to solve local problems."
×
Photos
More stories you may be interested in