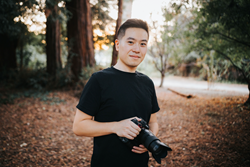 Tim Cheung is passionate about highlighting small restaurants – mom and pop joints, serving mouthwatering ethnic foods, mainly because "they have important stories to tell and recipes that are passed down for generations."

SAN FRANCISCO (PRWEB)
November 09, 2020
Tim Cheung, the founder of Bay Area Foodies, food photographer and influencer, explores popular dishes of minority owned restaurants in his latest photography series.
At the start of Covid-19 pandemic, Tim Cheung quickly understood that one of his favorite subjects to photograph – mom and pop joints, minority owned businesses – will be the ones affected the most from the disruption. His series features seven (7) Bay Area restaurants Smokin Woods BBQ, CA Bakehouse, Chick N' Bros, Con Sabor A Mexico, Pho Ha Noi, Rodericks BBQ, and Tacos El Compa. With over 144K followers on Instagram and 140K followers on TikTok, Tim Cheung's photography series of minority owned restaurants was a way to "give back to the community" and help mitigate the impact of coronavirus quarantine measures on small businesses.
Cheung's bright photos "make people hungry" and are usually coupled with humor. "I try to inject my personality in what I do," says Cheung, "humor can be therapeutic, especially now in times of Covid-19." Cheung is passionate about highlighting small restaurants – mom and pop joints, serving mouthwatering ethnic foods, mainly because "they have important stories to tell and recipes that are passed down for generations."
According to Cheung, before the pandemic, much of the food scene in the Bay Area was about restaurant type of food, dining experiences, and interior aesthetic. It is now shifting to aesthetic take-out, interesting foods for delivery, or comfort food made at home, as many people have developed a new cooking hobby.
"The universe is full of surprises – we were so worried about COVID and our business not making it through. It was extremely hard as CA Bakehouse is a fairly new business. While we were closed during the lockdown, we took the time to refine our recipes and created many new items. When we first opened back up we saw our community rally together to help small businesses like us during the peak of the lockdown. It was an amazing sight to see," said Kevin Lam of CA Bakehouse.
The global coronavirus outbreak has disrupted travel and countless daily activities. Having to cut back on going out, many people have been cooking more home meals for their families. From the huge movement of making home baked bread, to decorating intricate pastries, to trying new multicultural recipes, a considerable number of people have found solace in cooking and sharing recipes and photos of their edible creations with friends and family.
"The most important lesson I learned in 2020 is that you have to be ready to evolve with a rapidly changing world. The people that I see thriving most in the current climate are people that are willing to try new things. Those first few weeks people were trying anything like giving away toilet paper with every purchase. I really like to see all of the creative ways the business community responded to the difficulties of 2020. That's the most important lesson I learned is that being creative and the way you solve problems is going to always give you a competitive advantage," said Hugo Hernandez of Tacos El Compa.
Discover Tim Cheung's new photography series here.
Follow Tim Cheung on Instagram here.
Share article on social media or email: