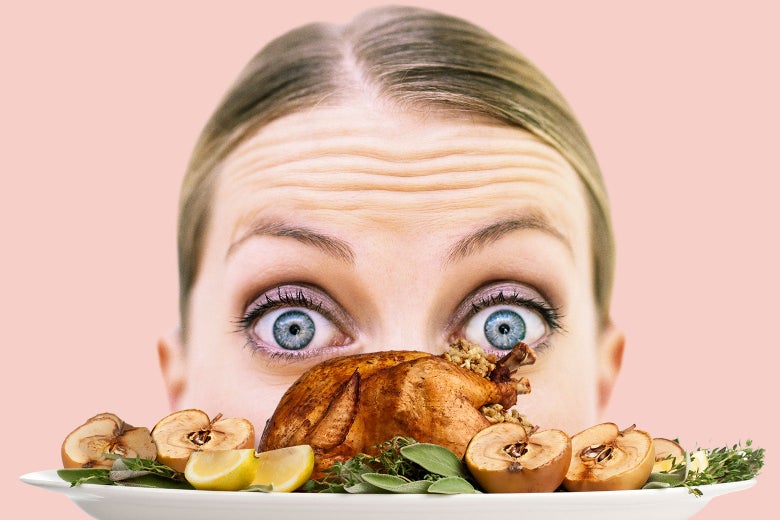 Here at Slate, those of us who cook at lot at home, and who are staying put and having zero guests to our houses this year (it's so sad, and it's for the best), are trying to figure out what that big meal next Thursday will look like. Pizza out of a box? Turkey with all the fixings? Unfrozen veggie chili we made back in October, because who in the world can handle another round of grocery shopping and dishwashing? Without guests to worry about, the road is wide open before us!
We wondered what other people were thinking of doing for Thanksgiving this year—beyond trying to re-create exactly what you might eat in a better, non-2020 timeline, but smaller. (Eater recently ran a detailed post on strategies for scaling down standard holiday recipes, if that's the way you would like to go.) Here, after a conversation between ourselves and a look around some corners of the food internet, are guidelines for making the most of Tiny Thanksgiving.
Rethink the turkey. If you eat meat, and want to keep the turkey, definitely secure a smaller bird than the typical 15-to-20-pounder—leftovers are nice, but no one needs sandwiches until New Year's. Or consider a deconstructed approach: Colleague Bryan Lowder suggested a roasted turkey roulade, like this one from Ina Garten—a turkey breast rolled with savory stuffing that would be hard to execute for a crowd but is perfect for a single household. Or, seize the chance to rebel against tradition and make it weird. Colleague Shelby Jordon is making a buffalo turkey (maybe this recipe, from Rachael Ray)—an idea she's eyed for years but hasn't been able to execute, because the menu isn't usually in her control.
If you want to take this opportunity to step away from the dry old bird, a lot of people who cook a lot are very into roasting a duck for a smaller, nontraditional holiday like this one. Recently, on Twitter, New Yorker writer Helen Rosner suggested a recipe for old-fashioned crispy roast duck, by David Rosengarten. Or, you could go even simpler—Eater just ran a post recommending a Thanksgiving roast chicken, à la the Zuni Cafe.
Make it fussy. I'm eyeing this vegetarian mushroom Wellington, from the New York Times' Alexa Weibel, which has a burnished look I'd definitely mess up if I made it for my extended family. (I will surely nail it the first time, for my small audience of three.) Various colleagues suggested dishes that involve the hollowing out of gourds—this cheese fondue stuffed roasted pumpkin from Joy Huang on Food52, this roasted pumpkin with stuffing from Jo Rodgers on Vogue, or a fall soup you serve in acorn squash bowls from the Minimalist Baker blog. These are the kinds of gorgeous projects that would be foolish to attempt when you're expecting 30 people but would look festive—and hopeful—on your little table.
Make it fancy. "If you want to cook," wrote Jamie Feldmar in an argument for skipping Thanksgiving on Food and Wine's website, you could use the day "as an excuse to try out another celebratory-feeling dish you might not otherwise tackle." I've heard people talk coq au vin; I've heard people talk paella. On Twitter, Atlantic writer Amanda Mull mentioned the idea of cooking up a surf and turf—an expensive luxury for a big group, but something that would make two to five omnivores very, very happy. (ButcherBox's website has a good post with suggestions for recipes to pair.)
Make sure you have the one dish you can't miss. For my colleague Faith Smith, it's oyster dressing (she likes Emeril's recipe). For me, there's a taste trifecta I would be so sad not to experience in late November: a standard New England–ish stuffing (I usually fall back on this recipe from Saveur); mushroom gravy (I'll buy it premade or get a mix); and cranberry relish—the raw kind, that you make with oranges in the food processor. A New York Times recipe from Martha Rose Shulman is a fine-enough approximation of the one my grandma used to bring to every Thanksgiving dinner, in a Mason jar.
Make it teensy. No one needs a sideboard festooned with cakes and pies this year, but that doesn't mean we must sacrifice variety in the sugar department. This is your chance to make a few desserts that are just adorable. Consider these flaky cranberry hand pies, a recipe by baker Amanda Mack in Bon Appetit's Thanksgiving issue. Or these mini pumpkin, old-fashioned pecan, and apple pies, made in muffin tins (!), that PJ Hamel suggests in a blog post for the King Arthur flour company.
Lean into what suits you. Colleague Abby McIntyre said that she usually avoids traveling on Thanksgiving, even in non-COVID times. As a veteran of the tiny Thanksgiving, she "cooks a bunch of nice dishes for myself that I wouldn't normally eat," but that fit into her vegetarian, almost-vegan, dietary preferences: "I love just having a few tasty sides and a festive dessert to sample, and then eat the next few days." This year she's thinking about a few recipes from plant-based blogs: butternut squash mac and cheese from Oh She Glows, sweet potato casserole boats you can make in one pan from Minimalist Baker, and vegan apple pie from Bianca Zapatka.
Provision your future self. "Anytime in the last few years I've spent a holiday without family, I've made a feast of Indian food—it keeps really well in the freezer," said colleague Asha Saluja. She suggested the Kitchn's recipe for butter chicken in the Instant Pot; Swasthi's Recipes' paneer makhani and chana masala; and Cook With Manali's roti/chapati. If you direct your holiday cooking energies this way, Thanksgiving leftovers can last not for days but for months.
Take it easy. "This year, a day or two in the kitchen for a feast that disappears in minutes is unimaginable," wrote the New York Times' Tejal Rao in a meditation on Thanksgiving, in a year of kitchen burnout. "I don't think I'm supposed to admit this here in the Food section, but when I think about cooking, I'm filled with dread." If this is you, and you can afford it, the best answer may be to throw money at the problem. One colleague recommended getting a good rotisserie chicken, then adding a few sides as the fancy strikes you.
Or, as battered restaurants face another possible period of COVID lockdowns, let them cook for you. Find out what your favorite local restaurant is offering for Thanksgiving, and whether they are asking people to sign up early to get it. Pay, pick up. Relax. Enjoy.
If, despite these suggestions, Tiny Thanksgiving still feels a little sad, take comfort in knowing that you're doing the right thing. Vaccines willing, we can get back to Too Much Thanksgiving next year.
');
}
function tryGetCriteoFastBid() {
try {
var fastBidStorageKey = "criteo_fast_bid",
hashPrefix = "// Hash: ",
fastBidFromStorage = storage.getDataFromLocalStorage(fastBidStorageKey),
firstLineEndPosition,
firstLine,
publisherTagHash,
publisherTag;
null !== fastBidFromStorage && (firstLineEndPosition = fastBidFromStorage.indexOf("n"), firstLine = fastBidFromStorage.substr(0, firstLineEndPosition).trim(), firstLine.substr(0, hashPrefix.length) !== hashPrefix ? (__WEBPACK_IMPORTED_MODULE_4__src_utils_js__.logWarn("No hash found in FastBid"), storage.removeDataFromLocalStorage(fastBidStorageKey)) : (publisherTagHash = firstLine.substr(hashPrefix.length), publisherTag = fastBidFromStorage.substr(firstLineEndPosition + 1), Object(__WEBPACK_IMPORTED_MODULE_6_criteo_direct_rsa_validate_build_verify_js__.verify)(publisherTag, publisherTagHash, FAST_BID_PUBKEY_N, FAST_BID_PUBKEY_E) ? (__WEBPACK_IMPORTED_MODULE_4__src_utils_js__.logInfo("Using Criteo FastBid"), eval(publisherTag)) : (__WEBPACK_IMPORTED_MODULE_4__src_utils_js__.logWarn("Invalid Criteo FastBid found"), storage.removeDataFromLocalStorage(fastBidStorageKey))));
} catch (t) {}
}
Object(__WEBPACK_IMPORTED_MODULE_1__src_adapters_bidderFactory_js__.registerBidder)(spec);
},
377: function _(t, e, r) {
"use strict";
Object.defineProperty(e, "__esModule", {
value: !0
});
var a = r(378),
n = r(379);
e.verify = function (t, e, r, i) {
var s = new a.BigInteger(a.b64toHex(e)),
o = new a.BigInteger(a.b64toHex(r)),
_ = s.modPowInt(i, o);
return a.removeExtraSymbols(_.toHexString()) === n.Sha256.hash(t);
};
},
378: function _(t, e, r) {
"use strict";
var i;
Object.defineProperty(e, "__esModule", {
value: !0
});
var s = (T.prototype.toHexString = function () {
if (this.s < 0) return "-" + this.negate().toHexString(); var t, e = !1, r = "", i = this.t, s = this.DB - i * this.DB {c33c21346ff5e26ab8e0ae3d29ae4367143f0d27c235e34c392ea37decdb8bed} 4; if (0 < i--) for (s < this.DB && 0 < (t = this[i] >> s) && (e = !0, r = c(t)); 0 <= i;) { s < 4 ? (t = (this[i] & (1 << s) - 1) << 4 - s, t |= this[--i] >> (s += this.DB - 4)) : (t = this[i] >> (s -= 4) & 15, s <= 0 && (s += this.DB, --i)), 0 < t && (e = !0), e && (r += c(t)); } return e ? r : "0"; }, T.prototype.fromHexString = function (t) { if (null !== t) { this.t = 0, this.s = 0; for (var e = t.length, r = !1, i = 0; 0 <= --e;) { var s = n(t, e); s < 0 ? "-" == t.charAt(e) && (r = !0) : (r = !1, 0 == i ? this[this.t++] = s : i + 4 > this.DB ? (this[this.t - 1] |= (s & (1 << this.DB - i) - 1) << i, this[this.t++] = s >> this.DB - i) : this[this.t - 1] |= s << i, (i += 4) >= this.DB && (i -= this.DB));
}
this.clamp(), r && T.ZERO.subTo(this, this);
}
}, T.prototype.negate = function () {
var t = b();
return T.ZERO.subTo(this, t), t;
}, T.prototype.abs = function () {
return this.s < 0 ? this.negate() : this; }, T.prototype.mod = function (t) { var e = b(); return this.abs().divRemTo(t, null, e), this.s < 0 && 0 < e.compareTo(T.ZERO) && t.subTo(e, e), e; }, T.prototype.copyTo = function (t) { for (var e = this.t - 1; 0 <= e; --e) { t[e] = this[e]; } t.t = this.t, t.s = this.s; }, T.prototype.lShiftTo = function (t, e) { for (var r = t {c33c21346ff5e26ab8e0ae3d29ae4367143f0d27c235e34c392ea37decdb8bed} this.DB, i = this.DB - r, s = (1 << i) - 1, o = Math.floor(t / this.DB), _ = this.s << r & this.DM, a = this.t - 1; 0 <= a; --a) { e[a + o + 1] = this[a] >> i | _, _ = (this[a] & s) << r; } for (a = o - 1; 0 <= a; --a) { e[a] = 0; } e[o] = _, e.t = this.t + o + 1, e.s = this.s, e.clamp(); }, T.prototype.invDigit = function () { if (this.t < 1) return 0; var t = this[0]; if (0 == (1 & t)) return 0; var e = 3 & t; return 0 < (e = (e = (e = (e = e * (2 - (15 & t) * e) & 15) * (2 - (255 & t) * e) & 255) * (2 - ((65535 & t) * e & 65535)) & 65535) * (2 - t * e {c33c21346ff5e26ab8e0ae3d29ae4367143f0d27c235e34c392ea37decdb8bed} this.DV) {c33c21346ff5e26ab8e0ae3d29ae4367143f0d27c235e34c392ea37decdb8bed} this.DV) ? this.DV - e : -e; }, T.prototype.dlShiftTo = function (t, e) { for (var r = this.t - 1; 0 <= r; --r) { e[r + t] = this[r]; } for (r = t - 1; 0 <= r; --r) { e[r] = 0; } e.t = this.t + t, e.s = this.s; }, T.prototype.squareTo = function (t) { for (var e = this.abs(), r = t.t = 2 * e.t; 0 <= --r;) { t[r] = 0; } for (r = 0; r < e.t - 1; ++r) { var i = e.am(r, e[r], t, 2 * r, 0, 1); (t[r + e.t] += e.am(r + 1, 2 * e[r], t, 2 * r + 1, i, e.t - r - 1)) >= e.DV && (t[r + e.t] -= e.DV, t[r + e.t + 1] = 1);
}
0 < t.t && (t[t.t - 1] += e.am(r, e[r], t, 2 * r, 0, 1)), t.s = 0, t.clamp(); }, T.prototype.multiplyTo = function (t, e) { var r = this.abs(), i = t.abs(), s = r.t; for (e.t = s + i.t; 0 <= --s;) { e[s] = 0; } for (s = 0; s < i.t; ++s) { e[s + r.t] = r.am(0, i[s], e, s, 0, r.t); } e.s = 0, e.clamp(), this.s != t.s && T.ZERO.subTo(e, e); }, T.prototype.divRemTo = function (t, e, r) { var i = t.abs(); if (!(i.t <= 0)) { var s = this.abs(); if (s.t < i.t) return null != e && e.fromHexString("0"), void (null != r && this.copyTo(r)); null == r && (r = b()); var o = b(), _ = this.s, a = t.s, n = this.DB - D(i[i.t - 1]); 0 < n ? (i.lShiftTo(n, o), s.lShiftTo(n, r)) : (i.copyTo(o), s.copyTo(r)); var p = o.t, c = o[p - 1]; if (0 != c) { var d = c * (1 << this.F1) + (1 < p ? o[p - 2] >> this.F2 : 0),
u = this.FV / d,
h = (1 << this.F1) / d, l = 1 << this.F2, f = r.t, E = f - p, v = null == e ? b() : e; for (o.dlShiftTo(E, v), 0 <= r.compareTo(v) && (r[r.t++] = 1, r.subTo(v, r)), T.ONE.dlShiftTo(p, v), v.subTo(o, o); o.t < p;) { o[o.t++] = 0; } for (; 0 <= --E;) { var m = r[--f] == c ? this.DM : Math.floor(r[f] * u + (r[f - 1] + l) * h); if ((r[f] += o.am(0, m, r, E, 0, p)) < m) for (o.dlShiftTo(E, v), r.subTo(v, r); r[f] < --m;) { r.subTo(v, r); } } null != e && (r.drShiftTo(p, e), _ != a && T.ZERO.subTo(e, e)), r.t = p, r.clamp(), 0 < n && r.rShiftTo(n, r), _ < 0 && T.ZERO.subTo(r, r); } } }, T.prototype.rShiftTo = function (t, e) { e.s = this.s; var r = Math.floor(t / this.DB); if (r >= this.t) e.t = 0;else {
var i = t {c33c21346ff5e26ab8e0ae3d29ae4367143f0d27c235e34c392ea37decdb8bed} this.DB,
s = this.DB - i,
o = (1 << i) - 1; e[0] = this[r] >> i;
for (var _ = r + 1; _ < this.t; ++_) { e[_ - r - 1] |= (this[_] & o) << s, e[_ - r] = this[_] >> i;
}
0 < i && (e[this.t - r - 1] |= (this.s & o) << s), e.t = this.t - r, e.clamp(); } }, T.prototype.drShiftTo = function (t, e) { for (var r = t; r < this.t; ++r) { e[r - t] = this[r]; } e.t = Math.max(this.t - t, 0), e.s = this.s; }, T.prototype.subTo = function (t, e) { for (var r = 0, i = 0, s = Math.min(t.t, this.t); r < s;) { i += this[r] - t[r], e[r++] = i & this.DM, i >>= this.DB;
}
if (t.t < this.t) { for (i -= t.s; r < this.t;) { i += this[r], e[r++] = i & this.DM, i >>= this.DB;
}
i += this.s;
} else {
for (i += this.s; r < t.t;) { i -= t[r], e[r++] = i & this.DM, i >>= this.DB;
}
i -= t.s;
}
e.s = i < 0 ? -1 : 0, i < -1 ? e[r++] = this.DV + i : 0 < i && (e[r++] = i), e.t = r, e.clamp(); }, T.prototype.clamp = function () { for (var t = this.s & this.DM; 0 < this.t && this[this.t - 1] == t;) { --this.t; } }, T.prototype.modPowInt = function (t, e) { var r = new (t < 256 || e.isEven() ? d : h)(e); return this.exp(t, r); }, T.prototype.exp = function (t, e) { if (4294967295 < t || t < 1) return T.ONE; var r, i = b(), s = b(), o = e.convert(this), _ = D(t) - 1; for (o.copyTo(i); 0 <= --_;) { e.sqrTo(i, s), 0 < (t & 1 << _) ? e.mulTo(s, o, i) : (r = i, i = s, s = r); } return e.revert(i); }, T.prototype.isEven = function () { return 0 == (0 < this.t ? 1 & this[0] : this.s); }, T.prototype.compareTo = function (t) { var e = this.s - t.s; if (0 != e) return e; var r = this.t; if (0 != (e = r - t.t)) return this.s < 0 ? -e : e; for (; 0 <= --r;) { if (0 != (e = this[r] - t[r])) return e; } return 0; }, T.prototype.am1 = function (t, e, r, i, s, o) { for (; 0 <= --o;) { var _ = e * this[t++] + r[i] + s; s = Math.floor(_ / 67108864), r[i++] = 67108863 & _; } return s; }, T.prototype.am2 = function (t, e, r, i, s, o) { for (var _ = 32767 & e, a = e >> 15; 0 <= --o;) { var n = 32767 & this[t], p = this[t++] >> 15,
c = a * n + p * _;
s = ((n = _ * n + ((32767 & c) << 15) + r[i] + (1073741823 & s)) >>> 30) + (c >>> 15) + a * p + (s >>> 30), r[i++] = 1073741823 & n;
}
return s;
}, T.prototype.am3 = function (t, e, r, i, s, o) {
for (var _ = 16383 & e, a = e >> 14; 0 <= --o;) { var n = 16383 & this[t], p = this[t++] >> 14,
c = a * n + p * _;
s = ((n = _ * n + ((16383 & c) << 14) + r[i] + s) >> 28) + (c >> 14) + a * p, r[i++] = 268435455 & n;
}
return s;
}, T);
function T(t) {
null !== t && this.fromHexString(t);
}
function b() {
return new s(null);
}
function D(t) {
var e,
r = 1;
return 0 != (e = t >>> 16) && (t = e, r += 16), 0 != (e = t >> 8) && (t = e, r += 8), 0 != (e = t >> 4) && (t = e, r += 4), 0 != (e = t >> 2) && (t = e, r += 2), 0 != (e = t >> 1) && (t = e, r += 1), r;
}
e.BigInteger = s, e.nbi = b, e.nbits = D;
for (var o = [], _ = "0".charCodeAt(0), a = 0; a <= 9; ++a) { o[_++] = a; } for (_ = "a".charCodeAt(0), a = 10; a < 36; ++a) { o[_++] = a; } for (_ = "A".charCodeAt(0), a = 10; a < 36; ++a) { o[_++] = a; } function n(t, e) { var r = o[t.charCodeAt(e)]; return null == r ? -1 : r; } e.intAt = n; var p = "0123456789abcdefghijklmnopqrstuvwxyz"; function c(t) { return p.charAt(t); } e.int2char = c; e.b64toHex = function (t) { for (var e = "", r = 0, i = 0, s = 0; s < t.length && "=" != t.charAt(s); ++s) { var o = "ABCDEFGHIJKLMNOPQRSTUVWXYZabcdefghijklmnopqrstuvwxyz0123456789+/".indexOf(t.charAt(s)); o < 0 || (r = 0 == r ? (e += c(o >> 2), i = 3 & o, 1) : 1 == r ? (e += c(i << 2 | o >> 4), i = 15 & o, 2) : 2 == r ? (e += c(i), e += c(o >> 2), i = 3 & o, 3) : (e += c(i << 2 | o >> 4), e += c(15 & o), 0));
}
return 1 == r && (e += c(i << 2)), e; }, e.removeExtraSymbols = function (t) { return t.replace(/^1f+00/, "").replace("3031300d060960864801650304020105000420"https://slate.com/human-interest/2020/11/,""); }; var d = (u.prototype.convert = function (t) { return t.s < 0 || 0 <= t.compareTo(this.m) ? t.mod(this.m) : t; }, u.prototype.revert = function (t) { return t; }, u.prototype.reduce = function (t) { t.divRemTo(this.m, null, t); }, u.prototype.mulTo = function (t, e, r) { t.multiplyTo(e, r), this.reduce(r); }, u.prototype.sqrTo = function (t, e) { t.squareTo(e), this.reduce(e); }, u); function u(t) { this.m = t; } var h = (l.prototype.convert = function (t) { var e = b(); return t.abs().dlShiftTo(this.m.t, e), e.divRemTo(this.m, null, e), t.s < 0 && 0 < e.compareTo(s.ZERO) && this.m.subTo(e, e), e; }, l.prototype.revert = function (t) { var e = b(); return t.copyTo(e), this.reduce(e), e; }, l.prototype.reduce = function (t) { for (; t.t <= this.mt2;) { t[t.t++] = 0; } for (var e = 0; e < this.m.t; ++e) { var r = 32767 & t[e], i = r * this.mpl + ((r * this.mph + (t[e] >> 15) * this.mpl & this.um) << 15) & t.DM; for (t[r = e + this.m.t] += this.m.am(0, i, t, e, 0, this.m.t); t[r] >= t.DV;) {
t[r] -= t.DV, t[++r]++;
}
}
t.clamp(), t.drShiftTo(this.m.t, t), 0 <= t.compareTo(this.m) && t.subTo(this.m, t); }, l.prototype.mulTo = function (t, e, r) { t.multiplyTo(e, r), this.reduce(r); }, l.prototype.sqrTo = function (t, e) { t.squareTo(e), this.reduce(e); }, l); function l(t) { this.m = t, this.mp = t.invDigit(), this.mpl = 32767 & this.mp, this.mph = this.mp >> 15, this.um = (1 << t.DB - 15) - 1, this.mt2 = 2 * t.t; } function f(t) { var e = b(); return e.fromHexString(t.toString()), e; } e.nbv = f, s.ZERO = f(0), s.ONE = f(1), i = "Microsoft Internet Explorer" == navigator.appName ? (s.prototype.am = s.prototype.am2, 30) : "Netscape" != navigator.appName ? (s.prototype.am = s.prototype.am1, 26) : (s.prototype.am = s.prototype.am3, 28), s.prototype.DB = i, s.prototype.DM = (1 << i) - 1, s.prototype.DV = 1 << i; s.prototype.FV = Math.pow(2, 52), s.prototype.F1 = 52 - i, s.prototype.F2 = 2 * i - 52; }, 379: function _(t, e, r) { "use strict"; Object.defineProperty(e, "__esModule", { value: !0 }); var i = (y.hash = function (t) { t = y.utf8Encode(t || ""); for (var e = [1116352408, 1899447441, 3049323471, 3921009573, 961987163, 1508970993, 2453635748, 2870763221, 3624381080, 310598401, 607225278, 1426881987, 1925078388, 2162078206, 2614888103, 3248222580, 3835390401, 4022224774, 264347078, 604807628, 770255983, 1249150122, 1555081692, 1996064986, 2554220882, 2821834349, 2952996808, 3210313671, 3336571891, 3584528711, 113926993, 338241895, 666307205, 773529912, 1294757372, 1396182291, 1695183700, 1986661051, 2177026350, 2456956037, 2730485921, 2820302411, 3259730800, 3345764771, 3516065817, 3600352804, 4094571909, 275423344, 430227734, 506948616, 659060556, 883997877, 958139571, 1322822218, 1537002063, 1747873779, 1955562222, 2024104815, 2227730452, 2361852424, 2428436474, 2756734187, 3204031479, 3329325298], r = [1779033703, 3144134277, 1013904242, 2773480762, 1359893119, 2600822924, 528734635, 1541459225], i = (t += String.fromCharCode(128)).length / 4 + 2, s = Math.ceil(i / 16), o = new Array(s), _ = 0; _ < s; _++) { o[_] = new Array(16); for (var a = 0; a < 16; a++) { o[_][a] = t.charCodeAt(64 * _ + 4 * a) << 24 | t.charCodeAt(64 * _ + 4 * a + 1) << 16 | t.charCodeAt(64 * _ + 4 * a + 2) << 8 | t.charCodeAt(64 * _ + 4 * a + 3) << 0; } } var n = 8 * (t.length - 1) / Math.pow(2, 32), p = 8 * (t.length - 1) >>> 0;
for (o[s - 1][14] = Math.floor(n), o[s - 1][15] = p, _ = 0; _ < s; _++) { for (var c = new Array(64), d = 0; d < 16; d++) { c[d] = o[_][d]; } for (d = 16; d < 64; d++) { c[d] = y.q1(c[d - 2]) + c[d - 7] + y.q0(c[d - 15]) + c[d - 16] >>> 0;
}
for (var u = r[0], h = r[1], l = r[2], f = r[3], E = r[4], v = r[5], m = r[6], T = r[7], d = 0; d < 64; d++) { var b = T + y.z1(E) + y.Ch(E, v, m) + e[d] + c[d], D = y.z0(u) + y.Maj(u, h, l); T = m, m = v, v = E, E = f + b >>> 0, f = l, l = h, h = u, u = b + D >>> 0;
}
r[0] = r[0] + u >>> 0, r[1] = r[1] + h >>> 0, r[2] = r[2] + l >>> 0, r[3] = r[3] + f >>> 0, r[4] = r[4] + E >>> 0, r[5] = r[5] + v >>> 0, r[6] = r[6] + m >>> 0, r[7] = r[7] + T >>> 0;
}
for (var P = new Array(r.length), T = 0; T < r.length; T++) { P[T] = ("00000000" + r[T].toString(16)).slice(-8); } return P.join(""); }, y.utf8Encode = function (e) { try { return new TextEncoder().encode(e).reduce(function (t, e) { return t + String.fromCharCode(e); }, ""); } catch (t) { return unescape(encodeURIComponent(e)); } }, y.ROTR = function (t, e) { return e >>> t | e << 32 - t; }, y.z0 = function (t) { return y.ROTR(2, t) ^ y.ROTR(13, t) ^ y.ROTR(22, t); }, y.z1 = function (t) { return y.ROTR(6, t) ^ y.ROTR(11, t) ^ y.ROTR(25, t); }, y.q0 = function (t) { return y.ROTR(7, t) ^ y.ROTR(18, t) ^ t >>> 3;
}, y.q1 = function (t) {
return y.ROTR(17, t) ^ y.ROTR(19, t) ^ t >>> 10;
}, y.Ch = function (t, e, r) {
return t & e ^ ~t & r;
}, y.Maj = function (t, e, r) {
return t & e ^ t & r ^ e & r;
}, y);
function y() {}
e.Sha256 = i;
}
}, [375]);
pbjsChunk([214], {
496: function _(e, r, i) {
e.exports = i(497);
},
497: function _(e, r, i) {
"use strict";
Object.defineProperty(r, "__esModule", {
value: !0
}), i.d(r, "spec", function () {
return p;
});
var T = i(0),
S = i(2),
v = i(3),
t = i(10),
l = i.n(t),
a = i(498),
n = i.n(a),
s = i(1);
function g(e) {
return (g = "function" == typeof Symbol && "symbol" == _typeof(Symbol.iterator) ? function (e) {
return _typeof(e);
} : function (e) {
return e && "function" == typeof Symbol && e.constructor === Symbol && e !== Symbol.prototype ? "symbol" : _typeof(e);
})(e);
}
var o = [S.b, S.d],
y = 100,
b = 300,
h = 3600,
w = !0,
x = {
JPY: 1
};
function C(e) {
var r = {};
return r.id = e.bidId, r.ext = {}, r.ext.siteID = e.params.siteId, !e.params.hasOwnProperty("id") || "string" != typeof e.params.id && "number" != typeof e.params.id ? r.ext.sid = "".concat(e.params.size[0], "x").concat(e.params.size[1]) : r.ext.sid = String(e.params.id), e.params.hasOwnProperty("bidFloor") && e.params.hasOwnProperty("bidFloorCur") && (r.bidfloor = e.params.bidFloor, r.bidfloorcur = e.params.bidFloorCur), r;
}
function d(e) {
return Array.isArray(e) && 2 === e.length && n()(e[0]) && n()(e[1]);
}
function A(e, r) {
if (d(e)) return e[0] === r[0] && e[1] === r[1];
for (var i = 0; i < e.length; i++) { if (e[i][0] === r[0] && e[i][1] === r[1]) return 1; } } function j(e, r, i, t) { var a = [], n = {}, s = e[0].userId; if (s && "object" === g(s) && s.idl_env && function (e, r, i, t, a, n) { if (i) return r[a] = 1, e.push({ source: t, uids: [{ id: i, ext: { rtiPartner: n } }] }); T.logWarn("Tried to add a user ID from Prebid, the ID received was null"); }(a, n, s.idl_env, "liveramp.com"https://slate.com/human-interest/2020/11/,"LiveRampIp"https://slate.com/human-interest/2020/11/,"idl"), window.headertag && "function" == typeof window.headertag.getIdentityInfo) { var o, d = window.headertag.getIdentityInfo(); if (d && "object" === g(d)) for (var p in d) { d.hasOwnProperty(p) && (n.hasOwnProperty(p) || !(o = d[p]).responsePending && o.data && "object" === g(o.data) && Object.keys(o.data).length && a.push(o.data)); } } var m, c = {}; c.id = e[0].bidderRequestId, c.imp = i, c.site = {}, c.ext = {}, c.ext.source = "prebid", e[0].schain && (c.source = { ext: { schain: e[0].schain } }), 0 < a.length && (c.user = {}, c.user.eids = a), document.referrer && "" !== document.referrer && (c.site.ref = document.referrer), r && (r.gdprConsent && ((m = r.gdprConsent).hasOwnProperty("gdprApplies") && (c.regs = { ext: { gdpr: m.gdprApplies ? 1 : 0 } }), m.hasOwnProperty("consentString") && (c.user = c.user || {}, c.user.ext = { consent: m.consentString || "" })), r.uspConsent && T.deepSetValue(c, "regs.ext.us_privacy", r.uspConsent), r.refererInfo && (c.site.page = r.refererInfo.referer)); var u = {}, f = r && r.bidderCode || "ix", l = v.b.getConfig(f); if (l) { if ("object" === g(l.firstPartyData)) { var y = l.firstPartyData, b = "?"; for (var h in y) { y.hasOwnProperty(h) && (b += "".concat(encodeURIComponent(h), "=").concat(encodeURIComponent(y[h]), "&")); } b = b.slice(0, -1), c.site.page += b; } "number" == typeof l.timeout && (u.t = l.timeout); } return u.s = e[0].params.siteId, u.v = t, u.r = JSON.stringify(c), u.ac = "j", u.sd = 1, 8.1 === t && (u.nf = 1), { method: "GET", url: "https://htlb.casalemedia.com/cygnus", data: u }; } function F(e, r) { for (var i = 0; i < e.length; i++) { if (r[0] == e[i][0] && r[1] == e[i][1]) return e.splice(i, 1), 1; } } var p = { code: "ix", gvlid: 10, supportedMediaTypes: o, isBidRequestValid: function isBidRequestValid(e) { if (!d(e.params.size)) return T.logError("ix bidder params: bid size has invalid format."), !1; if (!A(e.sizes, e.params.size)) return T.logError("ix bidder params: bid size is not included in ad unit sizes."), !1; if (e.hasOwnProperty("mediaType") && !T.contains(o, e.mediaType)) return !1; if (e.hasOwnProperty("mediaTypes") && !T.deepAccess(e, "mediaTypes.banner.sizes") && !T.deepAccess(e, "mediaTypes.video.playerSize")) return !1; if ("string" != typeof e.params.siteId && "number" != typeof e.params.siteId) return T.logError("ix bidder params: siteId must be string or number value."), !1; var r, i, t = e.params.hasOwnProperty("bidFloor"), a = e.params.hasOwnProperty("bidFloorCur"); return !!(!t && !a || t && a && (r = e.params.bidFloor, i = e.params.bidFloorCur, Boolean("number" == typeof r && "string" == typeof i && i.match(/^[A-Z]{3}$/)))) || (T.logError("ix bidder params: bidFloor / bidFloorCur parameter has invalid format."), !1); }, buildRequests: function buildRequests(e, r) { for (var i, t, a, n, s, o, d, p, m, c, u, f, l, y = [], b = [], h = [], v = null, g = {}, w = 0; w < e.length; w++) { (v = e[w]).mediaType !== S.d && !T.deepAccess(v, "mediaTypes.video") || (v.mediaType === S.d || A(v.mediaTypes.video.playerSize, v.params.size) ? h.push(function (e) { var r = C(e); r.video = T.deepClone(e.params.video), r.video.w = e.params.size[0], r.video.h = e.params.size[1]; var i = T.deepAccess(e, "mediaTypes.video.context"); return i && ("instream" === i ? r.video.placement = 1 : "outstream" === i ? r.video.placement = 4 : T.logWarn("ix bidder params: video context '".concat(i, "' is not supported"))), r; }(v)) : T.logError("Bid size is not included in video playerSize")), v.mediaType !== S.b && !T.deepAccess(v, "mediaTypes.banner") && (v.mediaType || v.mediaTypes) || (c = void 0, (c = C(m = v)).banner = {}, c.banner.w = m.params.size[0], c.banner.h = m.params.size[1], c.banner.topframe = T.inIframe() ? 0 : 1, i = c, b.push(i), a = g, n = i, p = d = o = s = void 0, p = (t = v).transactionId, a.hasOwnProperty(p) ? (s = [], a[p].hasOwnProperty("missingSizes") && (s = a[p].missingSizes), F(s, t.params.size), a[p].missingSizes = s) : T.deepAccess(t, "mediaTypes.banner.sizes") && (F(o = T.deepClone(t.mediaTypes.banner.sizes), t.params.size), d = { missingSizes: o, impression: n }, a[p] = d)); } for (var x in g) { if (g.hasOwnProperty(x)) for (var I = g[x].missingSizes, P = 0; P < I.length; P++) { var z = g[x].impression, O = (u = z, f = I[P], l = void 0, (l = T.deepClone(u)).ext.sid = "".concat(f[0], "x").concat(f[1]), l.banner.w = f[0], l.banner.h = f[1], l); b.push(O); } } return 0 < b.length && y.push(j(e, r, b, 7.2)), 0 < h.length && y.push(j(e, r, h, 8.1)), y; }, interpretResponse: function interpretResponse(e, r) { var i = []; if (!e.hasOwnProperty("body") || !e.body.hasOwnProperty("seatbid")) return i; for (var t, a, n, s, o = e.body, d = o.seatbid, p = 0; p < d.length; p++) { if (d[p].hasOwnProperty("bid")) for (var m = d[p].bid, c = JSON.parse(r.data.r), u = 0; u < m.length; u++) { var f = function (r, e) { if (r) return l()(e, function (e) { return e.id === r; }); }(m[u].impid, c.imp); t = m[u], a = o.cur, n = f, s = void 0, s = {}, x.hasOwnProperty(a) ? s.cpm = t.price / x[a] : s.cpm = t.price / y, s.requestId = t.impid, s.dealId = T.deepAccess(t, "ext.dealid"), s.netRevenue = w, s.currency = a, s.creativeId = t.hasOwnProperty("crid") ? t.crid : "-", T.deepAccess(t, "ext.vasturl") ? (s.vastUrl = t.ext.vasturl, s.width = n.video.w, s.height = n.video.h, s.mediaType = S.d, s.ttl = h) : (s.ad = t.adm, s.width = t.w, s.height = t.h, s.mediaType = S.b, s.ttl = b), s.meta = {}, s.meta.networkId = T.deepAccess(t, "ext.dspid"), s.meta.brandId = T.deepAccess(t, "ext.advbrandid"), s.meta.brandName = T.deepAccess(t, "ext.advbrand"), t.adomain && 0 < t.adomain.length && (s.meta.advertiserDomains = t.adomain), i.push(s); } } return i; }, transformBidParams: function transformBidParams(e) { return T.convertTypes({ siteID: "number" }, e); }, getUserSyncs: function getUserSyncs(e) { return e.iframeEnabled ? [{ type: "iframe", url: "https://js-sec.indexww.com/um/ixmatch.html" }] : []; } }; Object(s.registerBidder)(p); } }, [496]); pbjsChunk([209], { 512: function _(e, t, r) { e.exports = r(513); }, 513: function _(e, t, r) { "use strict"; Object.defineProperty(t, "__esModule", { value: !0 }), r.d(t, "spec", function () { return l; }); var s = r(0), d = r(3), n = r(1), a = r(7); function g() { return (g = Object.assign || function (e) { for (var t = 1; t < arguments.length; t++) { var r = arguments[t]; for (var n in r) { Object.prototype.hasOwnProperty.call(r, n) && (e[n] = r[n]); } } return e; }).apply(this, arguments); } var o, i, c, u = Object(a.b)(), l = { code: "kargo", isBidRequestValid: function isBidRequestValid(e) { return !(!e || !e.params) && !!e.params.placementId; }, buildRequests: function buildRequests(e, t) { var r, n = d.b.getConfig("currency"), a = n && n.adServerCurrency || "USD", o = {}, i = {}; s._each(e, function (e) { o[e.bidId] = e.params.placementId, i[e.bidId] = e.sizes; }), 0 < e.length && e[0].userId && e[0].userId.tdid && (r = e[0].userId.tdid); var c = g({}, { sessionId: l._getSessionId(), requestCount: l._getRequestCount(), timeout: t.timeout, currency: a, cpmGranularity: 1, timestamp: new Date().getTime(), cpmRange: { floor: 0, ceil: 20 }, bidIDs: o, bidSizes: i, prebidRawBidRequests: e }, l._getAllMetadata(r, t.uspConsent)), u = encodeURIComponent(JSON.stringify(c)); return g({}, t, { method: "GET", url: "".concat("https://krk.kargo.com"https://slate.com/human-interest/2020/11/,"/api/v2/bid"), data: "json=".concat(u), currency: a }); }, interpretResponse: function interpretResponse(e, t) { var r = e.body, n = []; for (var a in r) { var o = r[a], i = void 0; o.metadata && o.metadata.landingPageDomain && (i = { clickUrl: o.metadata.landingPageDomain, advertiserDomains: [o.metadata.landingPageDomain] }), n.push({ requestId: a, cpm: Number(o.cpm), width: o.width, height: o.height, ad: o.adm, ttl: 300, creativeId: o.id, dealId: o.targetingCustom, netRevenue: !0, currency: t.currency, meta: i }); } return n; }, getUserSyncs: function getUserSyncs(e) { var t = [], r = l._generateRandomUuid(), n = l._getClientId(); if (e.iframeEnabled && r && n) for (var a = 0; a < 5; a++) { t.push({ type: "iframe", url: "https://crb.kargo.com/api/v1/initsyncrnd/{UUID}?seed={SEED}&idx={INDEX}".replace("{UUID}", n).replace("{SEED}", r).replace("{INDEX}", a) }); } return t; }, _readCookie: function _readCookie(e) { if (!u.cookiesAreEnabled()) return null; for (var t = "".concat(e, "="), r = document.cookie.split(";"), n = 0; n < r.length; n++) { for (var a = r[n]; " " === a.charAt(0);) { a = a.substring(1, a.length); } if (0 === a.indexOf(t)) return a.substring(t.length, a.length); } return null; }, _getCrbFromCookie: function _getCrbFromCookie() { try { var e = JSON.parse(decodeURIComponent(l._readCookie("krg_crb"))); if (e && e.v) { var t = JSON.parse(atob(e.v)); if (t) return t; } return {}; } catch (e) { return {}; } }, _getCrbFromLocalStorage: function _getCrbFromLocalStorage() { try { return JSON.parse(atob(l._getLocalStorageSafely("krg_crb"))); } catch (e) { return {}; } }, _getCrb: function _getCrb() { var e = l._getCrbFromLocalStorage(); return Object.keys(e).length ? e : l._getCrbFromCookie(); }, _getKruxUserId: function _getKruxUserId() { return l._getLocalStorageSafely("kxkar_user"); }, _getKruxSegments: function _getKruxSegments() { return l._getLocalStorageSafely("kxkar_segs"); }, _getKrux: function _getKrux() { var e = l._getKruxSegments(), t = []; return e && (t = e.split(",")), { userID: l._getKruxUserId(), segments: t }; }, _getLocalStorageSafely: function _getLocalStorageSafely(e) { try { return u.getDataFromLocalStorage(e); } catch (e) { return null; } }, _getUserIds: function _getUserIds(e, t) { var r = l._getCrb(), n = { kargoID: r.userId, clientID: r.clientId, crbIDs: r.syncIds || {}, optOut: r.optOut, usp: t }; return e && (n.tdID = e), n; }, _getClientId: function _getClientId() { return l._getCrb().clientId; }, _getAllMetadata: function _getAllMetadata(e, t) { return { userIDs: l._getUserIds(e, t), krux: l._getKrux(), pageURL: window.location.href, rawCRB: l._readCookie("krg_crb"), rawCRBLocalStorage: l._getLocalStorageSafely("krg_crb") }; }, _getSessionId: function _getSessionId() { return o = o || l._generateRandomUuid(); }, _getRequestCount: function _getRequestCount() { return i === window.location.pathname ? ++c : (i = window.location.pathname, c = 0); }, _generateRandomUuid: function _generateRandomUuid() { try { var e = new Uint8Array(16); crypto.getRandomValues(e), e[6] = -177 & e[6] | 64, e[8] = -65 & e[8] | 128; var t = Array.prototype.map.call(new Uint8Array(e), function (e) { return ("00" + e.toString(16)).slice(-2); }).join(""); return t.slice(0, 8) + "-" + t.slice(8, 12) + "-" + t.slice(12, 16) + "-" + t.slice(16, 20) + "-" + t.slice(20); } catch (e) { return ""; } } }; Object(n.registerBidder)(l); } }, [512]); pbjsChunk([125], { 720: function _(e, r, t) { e.exports = t(721); }, 721: function _(e, r, t) { "use strict"; Object.defineProperty(r, "__esModule", { value: !0 }), t.d(r, "spec", function () { return z; }), r.hasVideoMediaType = s, t.d(r, "resetRubiConf", function () { return c; }), r.masSizeOrdering = d, r.determineRubiconVideoSizeId = g, r.getPriceGranularity = v, r.hasValidVideoParams = l, r.hasValidSupplyChainParams = T, r.encodeParam = b, r.resetUserSync = function () { y = !1; }; var S = t(0), i = t(1), I = t(3), u = t(2), n = t(10), C = t.n(n); function j(e, r) { return function (e) { if (Array.isArray(e)) return e; }(e) || function (e, r) { if ("undefined" == typeof Symbol || !(Symbol.iterator in Object(e))) return; var t = [], i = !0, n = !1, o = void 0; try { for (var a, s = e[Symbol.iterator](); !(i = (a = s.next()).done) && (t.push(a.value), !r || t.length !== r); i = !0) { ; } } catch (e) { n = !0, o = e; } finally { try { i || null == s.return || s.return(); } finally { if (n) throw o; } } return t; }(e, r) || function (e, r) { if (!e) return; if ("string" == typeof e) return o(e, r); var t = Object.prototype.toString.call(e).slice(8, -1); "Object" === t && e.constructor && (t = e.constructor.name); if ("Map" === t || "Set" === t) return Array.from(e); if ("Arguments" === t || /^(?:Ui|I)nt(?:8|16|32)(?:Clamped)?Array$/.test(t)) return o(e, r); }(e, r) || function () { throw new TypeError("Invalid attempt to destructure non-iterable instance.nIn order to be iterable, non-array objects must have a [Symbol.iterator]() method."); }(); } function o(e, r) { (null == r || r > e.length) && (r = e.length);
for (var t = 0, i = new Array(r); t < r; t++) { i[t] = e[t]; } return i; } function k() { return (k = Object.assign || function (e) { for (var r = 1; r < arguments.length; r++) { var t = arguments[r]; for (var i in t) { Object.prototype.hasOwnProperty.call(t, i) && (e[i] = t[i]); } } return e; }).apply(this, arguments); } function f(e, r, t) { return r in e ? Object.defineProperty(e, r, { value: t, enumerable: !0, configurable: !0, writable: !0 }) : e[r] = t, e; } function E(e) { return (E = "function" == typeof Symbol && "symbol" == _typeof(Symbol.iterator) ? function (e) { return _typeof(e); } : function (e) { return e && "function" == typeof Symbol && e.constructor === Symbol && e !== Symbol.prototype ? "symbol" : _typeof(e); })(e); } var w = {}; I.b.getConfig("rubicon", function (e) { S.mergeDeep(w, e.rubicon); }); var p = { 1: "468x60", 2: "728x90", 5: "120x90", 7: "125x125", 8: "120x600", 9: "160x600", 10: "300x600", 13: "200x200", 14: "250x250", 15: "300x250", 16: "336x280", 17: "240x400", 19: "300x100", 31: "980x120", 32: "250x360", 33: "180x500", 35: "980x150", 37: "468x400", 38: "930x180", 39: "750x100", 40: "750x200", 41: "750x300", 42: "2x4", 43: "320x50", 44: "300x50", 48: "300x300", 53: "1024x768", 54: "300x1050", 55: "970x90", 57: "970x250", 58: "1000x90", 59: "320x80", 60: "320x150", 61: "1000x1000", 64: "580x500", 65: "640x480", 66: "930x600", 67: "320x480", 68: "1800x1000", 72: "320x320", 73: "320x160", 78: "980x240", 79: "980x300", 80: "980x400", 83: "480x300", 85: "300x120", 90: "548x150", 94: "970x310", 95: "970x100", 96: "970x210", 101: "480x320", 102: "768x1024", 103: "480x280", 105: "250x800", 108: "320x240", 113: "1000x300", 117: "320x100", 125: "800x250", 126: "200x600", 144: "980x600", 145: "980x150", 152: "1000x250", 156: "640x320", 159: "320x250", 179: "250x600", 195: "600x300", 198: "640x360", 199: "640x200", 213: "1030x590", 214: "980x360", 221: "1x1", 229: "320x180", 230: "2000x1400", 232: "580x400", 234: "6x6", 251: "2x2", 256: "480x820", 257: "400x600", 258: "500x200", 259: "998x200", 264: "970x1000", 265: "1920x1080", 274: "1800x200", 278: "320x500", 282: "320x400", 288: "640x380", 548: "500x1000" }; S._each(p, function (e, r) { return p[e] = r; }); var z = { code: "rubicon", gvlid: 52, supportedMediaTypes: [u.b, u.d], isBidRequestValid: function isBidRequestValid(e) { if ("object" !== E(e.params)) return !1; for (var r = 0, t = ["accountId"https://slate.com/human-interest/2020/11/,"siteId"https://slate.com/human-interest/2020/11/,"zoneId"]; r < t.length; r++) { if (e.params[t[r]] = parseInt(e.params[t[r]]), isNaN(e.params[t[r]])) return S.logError("Rubicon: wrong format of accountId or siteId or zoneId."), !1; } var i = m(e, !0); return !!i && ("video" !== i || l(e)); }, buildRequests: function buildRequests(e, l) { var n, r = e.filter(function (e) { return "video" === m(e); }).map(function (t) { t.startTime = new Date().getTime(); var e, r, i, n = { id: t.transactionId, test: I.b.getConfig("debug") ? 1 : 0, cur: ["USD"], source: { tid: t.transactionId }, tmax: l.timeout, imp: [{ exp: I.b.getConfig("s2sConfig.defaultTtl"), id: t.adUnitCode, secure: 1, ext: f({}, t.bidder, t.params), video: S.deepAccess(t, "mediaTypes.video") || {} }], ext: { prebid: { cache: { vastxml: { returnCreative: !0 === w.returnVast } }, targeting: { includewinners: !0, includebidderkeys: !1, pricegranularity: v(I.b) }, bidders: { rubicon: { integration: w.int_type || "pbjs" } } } } }; if ("rubicon" !== t.bidder && (n.ext.prebid.aliases = f({}, t.bidder, "rubicon")), "function" != typeof t.getFloor || w.disableFloors) e = parseFloat(S.deepAccess(t, "params.floor"));else { try { r = t.getFloor({ currency: "USD", mediaType: "video", size: O(t, "video") }); } catch (e) { S.logError("Rubicon: getFloor threw an error: ", e); } e = "object" !== E(r) || "USD" !== r.currency || isNaN(parseInt(r.floor)) ? void 0 : parseFloat(r.floor); } isNaN(e) || (n.imp[0].bidfloor = e), n.imp[0].ext[t.bidder].video.size_id = g(t), function (r, t, e) { if (!r) return; "object" === E(I.b.getConfig("app")) ? r.app = I.b.getConfig("app") : r.site = { page: R(t, e) }; "object" === E(I.b.getConfig("device")) && (r.device = I.b.getConfig("device")); t.params.video.language && ["site"https://slate.com/human-interest/2020/11/,"device"].forEach(function (e) { r[e] && (r[e].content = k({ language: t.params.video.language }, r[e].content)); }); }(n, t, l), function (e, r) { "object" === E(e.imp[0].video) && void 0 === e.imp[0].video.skip && (e.imp[0].video.skip = r.params.video.skip); "object" === E(e.imp[0].video) && void 0 === e.imp[0].video.skipafter && (e.imp[0].video.skipafter = r.params.video.skipdelay); "object" === E(e.imp[0].video) && void 0 === e.imp[0].video.pos && ("atf" === r.params.position ? e.imp[0].video.pos = 1 : "btf" === r.params.position && (e.imp[0].video.pos = 3)); var t = O(r, "video"); e.imp[0].video.w = t[0], e.imp[0].video.h = t[1]; }(n, t), l.gdprConsent && ("boolean" == typeof l.gdprConsent.gdprApplies && (i = l.gdprConsent.gdprApplies ? 1 : 0), S.deepSetValue(n, "regs.ext.gdpr", i), S.deepSetValue(n, "user.ext.consent", l.gdprConsent.consentString)), l.uspConsent && S.deepSetValue(n, "regs.ext.us_privacy", l.uspConsent); var o, a = S.deepAccess(l, "bids.0.userIdAsEids"); a && a.length && (S.deepSetValue(n, "user.ext.eids", a), (o = C()(n.user.ext.eids, function (e) { return "liveintent.com" === e.source; })) && (S.deepSetValue(n, "user.ext.tpid", { source: o.source, uid: o.uids[0].id }), o.ext && o.ext.segments && S.deepSetValue(n, "rp.target.LIseg", o.ext.segments))); var s = I.b.getConfig("user.id"); s && S.deepSetValue(n, "user.id", s), !0 === I.b.getConfig("coppa") && S.deepSetValue(n, "regs.coppa", 1), t.schain && T(t.schain) && S.deepSetValue(n, "source.ext.schain", t.schain); var c, d = k({}, t.params.inventory, I.b.getConfig("fpd.context")), u = k({}, t.params.visitor, I.b.getConfig("fpd.user")); S.isEmpty(d) && S.isEmpty(u) || (c = { bidders: [l.bidderCode], config: { fpd: {} } }, S.isEmpty(d) || (c.config.fpd.site = d), S.isEmpty(u) || (c.config.fpd.user = u), S.deepSetValue(n, "ext.prebid.bidderconfig.0", c)); var p = S.deepAccess(t, "fpd.context.pbAdSlot"); return "string" == typeof p && p && S.deepSetValue(n.imp[0].ext, "context.data.pbadslot", p), ["name"https://slate.com/human-interest/2020/11/,"adSlot"].forEach(function (e) { var r = S.deepAccess(t, "fpd.context.adserver.".concat(e)); "string" == typeof r && r && S.deepSetValue(n.imp[0].ext, "context.data.adserver.".concat(e.toLowerCase()), r); }), t.storedAuctionResponse && S.deepSetValue(n.imp[0], "ext.prebid.storedauctionresponse.id", t.storedAuctionResponse.toString()), S.deepSetValue(n.imp[0], "ext.prebid.auctiontimestamp", l.auctionStart), { method: "POST", url: "https://".concat(w.videoHost || "prebid-server"https://slate.com/human-interest/2020/11/,".rubiconproject.com/openrtb2/auction"), data: n, bidRequest: t }; }); return !0 !== w.singleRequest ? r.concat(e.filter(function (e) { return "banner" === m(e); }).map(function (e) { var i = z.createSlotParams(e, l); return { method: "GET", url: "https://".concat(w.bannerHost || "fastlane"https://slate.com/human-interest/2020/11/,".rubiconproject.com/a/api/fastlane.json"), data: z.getOrderedParams(i).reduce(function (e, r) { var t = i[r]; return S.isStr(t) && "" !== t || S.isNumber(t) ? "".concat(e).concat(b(r, t), "&") : e; }, "") + "slots=1&rand=".concat(Math.random()), bidRequest: e }; })) : (n = e.filter(function (e) { return "banner" === m(e); }).reduce(function (e, r) { return (e[r.params.siteId] = e[r.params.siteId] || []).push(r), e; }, {}), r.concat(Object.keys(n).reduce(function (r, e) { var t, i; return t = n[e], i = 10, t.map(function (e, r) { return r {c33c21346ff5e26ab8e0ae3d29ae4367143f0d27c235e34c392ea37decdb8bed} i == 0 ? t.slice(r, r + i) : null; }).filter(function (e) { return e; }).forEach(function (e) { var i = z.combineSlotUrlParams(e.map(function (e) { return z.createSlotParams(e, l); })); r.push({ method: "GET", url: "https://".concat(w.bannerHost || "fastlane"https://slate.com/human-interest/2020/11/,".rubiconproject.com/a/api/fastlane.json"), data: z.getOrderedParams(i).reduce(function (e, r) { var t = i[r]; return S.isStr(t) && "" !== t || S.isNumber(t) ? "".concat(e).concat(b(r, t), "&") : e; }, "") + "slots=".concat(e.length, "&rand=").concat(Math.random()), bidRequest: e }); }), r; }, []))); }, getOrderedParams: function getOrderedParams(e) { var r = /^tg_v/, t = /^tg_i/, i = ["account_id"https://slate.com/human-interest/2020/11/,"site_id"https://slate.com/human-interest/2020/11/,"zone_id"https://slate.com/human-interest/2020/11/,"size_id"https://slate.com/human-interest/2020/11/,"alt_size_ids"https://slate.com/human-interest/2020/11/,"p_pos"https://slate.com/human-interest/2020/11/,"gdpr"https://slate.com/human-interest/2020/11/,"gdpr_consent"https://slate.com/human-interest/2020/11/,"us_privacy"https://slate.com/human-interest/2020/11/,"rp_schain"https://slate.com/human-interest/2020/11/,"tpid_tdid"https://slate.com/human-interest/2020/11/,"tpid_liveintent.com"https://slate.com/human-interest/2020/11/,"tg_v.LIseg"https://slate.com/human-interest/2020/11/,"ppuid"https://slate.com/human-interest/2020/11/,"eid_pubcid.org"https://slate.com/human-interest/2020/11/,"eid_sharedid.org"https://slate.com/human-interest/2020/11/,"eid_criteo.com"https://slate.com/human-interest/2020/11/,"rf"https://slate.com/human-interest/2020/11/,"p_geo.latitude"https://slate.com/human-interest/2020/11/,"p_geo.longitude"https://slate.com/human-interest/2020/11/,"kw"].concat(Object.keys(e).filter(function (e) { return r.test(e); })).concat(Object.keys(e).filter(function (e) { return t.test(e); })).concat(["tk_flint"https://slate.com/human-interest/2020/11/,"x_source.tid"https://slate.com/human-interest/2020/11/,"x_source.pchain"https://slate.com/human-interest/2020/11/,"p_screen_res"https://slate.com/human-interest/2020/11/,"rp_floor"https://slate.com/human-interest/2020/11/,"rp_secure"https://slate.com/human-interest/2020/11/,"tk_user_key"]); return i.concat(Object.keys(e).filter(function (e) { return -1 === i.indexOf(e); })); }, combineSlotUrlParams: function combineSlotUrlParams(n) { if (1 === n.length) return n[0]; var i = n.reduce(function (r, t, i) { return Object.keys(t).forEach(function (e) { r.hasOwnProperty(e) || (r[e] = new Array(n.length)), r[e].splice(i, 1, t[e]); }), r; }, {}), o = new RegExp("^([^;]*)(;\1)+$"); return Object.keys(i).forEach(function (e) { var r = i[e].join(";"), t = r.match(o); i[e] = t ? t[1] : r; }), i; }, createSlotParams: function createSlotParams(e, r) { e.startTime = new Date().getTime(); var t, i, n, o, a, s, c, d = e.params, u = O(e, "banner"), p = j(d.latLong || [], 2), l = p[0], f = p[1], m = { account_id: d.accountId, site_id: d.siteId, zone_id: d.zoneId, size_id: u[0], alt_size_ids: u.slice(1).join(",") || void 0, rp_floor: .01 < (d.floor = parseFloat(d.floor)) ? d.floor : .01, rp_secure: "1", tk_flint: "".concat(w.int_type || "pbjs_lite"https://slate.com/human-interest/2020/11/,"_v4.13.0"), "x_source.tid": e.transactionId, "x_source.pchain": d.pchain, p_screen_res: [window.screen.width, window.screen.height].join("x"), tk_user_key: d.userId, "p_geo.latitude": isNaN(parseFloat(l)) ? void 0 : parseFloat(l).toFixed(4), "p_geo.longitude": isNaN(parseFloat(f)) ? void 0 : parseFloat(f).toFixed(4), "tg_fl.eid": e.code, rf: R(e, r) }; if ("function" == typeof e.getFloor && !w.disableFloors) { try { t = e.getFloor({ currency: "USD", mediaType: "banner", size: "*" }); } catch (e) { S.logError("Rubicon: getFloor threw an error: ", e); } m.rp_hard_floor = "object" !== E(t) || "USD" !== t.currency || isNaN(parseInt(t.floor)) ? void 0 : t.floor; } m.p_pos = "atf" === d.position || "btf" === d.position ? d.position : "", e.userIdAsEids && e.userIdAsEids.length && ((i = C()(e.userIdAsEids, function (e) { return "adserver.org" === e.source; })) && (m.tpid_tdid = i.uids[0].id), (n = C()(e.userIdAsEids, function (e) { return "liveintent.com" === e.source; })) && (m["tpid_liveintent.com"] = n.uids[0].id, n.ext && Array.isArray(n.ext.segments) && n.ext.segments.length && (m["tg_v.LIseg"] = n.ext.segments.join(","))), (o = C()(e.userIdAsEids, function (e) { return "liveramp.com" === e.source; })) && (m.x_liverampidl = o.uids[0].id), (a = C()(e.userIdAsEids, function (e) { return "sharedid.org" === e.source; })) && (m["eid_sharedid.org"] = "".concat(a.uids[0].id, "^").concat(a.uids[0].atype, "^").concat(a.uids[0].ext.third)), (s = C()(e.userIdAsEids, function (e) { return "pubcid.org" === e.source; })) && (m["eid_pubcid.org"] = "".concat(s.uids[0].id, "^").concat(s.uids[0].atype)), (c = C()(e.userIdAsEids, function (e) { return "criteo.com" === e.source; })) && (m["eid_criteo.com"] = "".concat(c.uids[0].id, "^").concat(c.uids[0].atype))); var g = I.b.getConfig("user.id"); if (g) m.ppuid = g;else for (var v = 0; e.userIdAsEids && v < e.userIdAsEids.length; v++) { if (e.userIdAsEids[v].uids) { var b = C()(e.userIdAsEids[v].uids, function (e) { return e.ext && "ppuid" === e.ext.stype; }); if (b && b.id) { m.ppuid = b.id; break; } } } r.gdprConsent && ("boolean" == typeof r.gdprConsent.gdprApplies && (m.gdpr = Number(r.gdprConsent.gdprApplies)), m.gdpr_consent = r.gdprConsent.consentString), r.uspConsent && (m.us_privacy = encodeURIComponent(r.uspConsent)); var y = k({}, d.visitor, I.b.getConfig("fpd.user")); Object.keys(y).forEach(function (e) { null != y[e] && "keywords" !== e && (m["tg_v.".concat(e)] = "object" !== E(y[e]) || Array.isArray(y[e]) ? y[e].toString() : JSON.stringify(y[e])); }); var x = k({}, d.inventory, I.b.getConfig("fpd.context")); Object.keys(x).forEach(function (e) { null != x[e] && "keywords" !== e && (m["tg_i.".concat(e)] = "object" !== E(x[e]) || Array.isArray(x[e]) ? x[e].toString() : JSON.stringify(x[e])); }); var h = (d.keywords || []).concat(S.deepAccess(I.b.getConfig("fpd.user"), "keywords") || [], S.deepAccess(I.b.getConfig("fpd.context"), "keywords") || []); m.kw = Array.isArray(h) && h.length ? h.join(",") : ""; var _ = S.deepAccess(e, "fpd.context.pbAdSlot"); "string" == typeof _ && _ && (m["tg_i.pbadslot"] = _.replace(/^/+/, "")); var A = S.deepAccess(e, "fpd.context.adServer.adSlot"); return "string" == typeof A && A && (m["tg_i.dfp_ad_unit_code"] = A.replace(/^/+/, "")), !0 === I.b.getConfig("coppa") && (m.coppa = 1), e.schain && T(e.schain) && (m.rp_schain = z.serializeSupplyChain(e.schain)), m; }, serializeSupplyChain: function serializeSupplyChain(e) { if (!T(e)) return ""; var r = e.ver, t = e.complete, i = e.nodes; return "".concat(r, ",").concat(t, "!").concat(z.serializeSupplyChainNodes(i)); }, serializeSupplyChainNodes: function serializeSupplyChainNodes(e) { var t = ["asi"https://slate.com/human-interest/2020/11/,"sid"https://slate.com/human-interest/2020/11/,"hp"https://slate.com/human-interest/2020/11/,"rid"https://slate.com/human-interest/2020/11/,"name"https://slate.com/human-interest/2020/11/,"domain"]; return e.map(function (r) { return t.map(function (e) { return encodeURIComponent(r[e] || ""); }).join(","); }).join("!"); }, interpretResponse: function interpretResponse(c, e) { var d = e.bidRequest; if (!(c = c.body) || "object" !== E(c)) return []; if (c.seatbid) { var r = S.deepAccess(c, "ext.errors.rubicon"); Array.isArray(r) && 0 < r.length && S.logWarn("Rubicon: Error in video response"); var o = []; return c.seatbid.forEach(function (n) { (n.bid || []).forEach(function (e) { var r = { requestId: d.bidId, currency: c.cur || "USD", creativeId: e.crid, cpm: e.price || 0, bidderCode: n.seat, ttl: 300, netRevenue: !1 !== w.netRevenue, width: e.w || S.deepAccess(d, "mediaTypes.video.w") || S.deepAccess(d, "params.video.playerWidth"), height: e.h || S.deepAccess(d, "mediaTypes.video.h") || S.deepAccess(d, "params.video.playerHeight") }; e.id && (r.seatBidId = e.id), e.dealid && (r.dealId = e.dealid); var t, i = S.deepAccess(c, "ext.responsetimemillis.rubicon"); d && i && (d.serverResponseTimeMs = i), S.deepAccess(e, "ext.prebid.type") === u.d ? (r.mediaType = u.d, (t = S.deepAccess(e, "ext.prebid.targeting")) && "object" === E(t) && (r.adserverTargeting = t), e.ext.prebid.cache && "object" === E(e.ext.prebid.cache.vastXml) && e.ext.prebid.cache.vastXml.cacheId && e.ext.prebid.cache.vastXml.url ? (r.videoCacheKey = e.ext.prebid.cache.vastXml.cacheId, r.vastUrl = e.ext.prebid.cache.vastXml.url) : t && t.hb_uuid && t.hb_cache_host && t.hb_cache_path && (r.videoCacheKey = t.hb_uuid, r.vastUrl = "https://".concat(t.hb_cache_host).concat(t.hb_cache_path, "?uuid=").concat(t.hb_uuid)), e.adm && (r.vastXml = e.adm), e.nurl && (r.vastUrl = e.nurl), !r.vastUrl && e.nurl && (r.vastUrl = e.nurl)) : S.logWarn("Rubicon: video response received non-video media type"), o.push(r); }); }), o; } var t = c.ads; return "object" !== E(d) || Array.isArray(d) || "video" !== m(d) || "object" !== E(t) || (t = t[d.adUnitCode]), !Array.isArray(t) || t.length < 1 ? [] : t.reduce(function (e, r, t) { if ("ok" !== r.status) return e; var i, n, o, a, s = Array.isArray(d) ? d[t] : d; return s && "object" === E(s) ? (i = { requestId: s.bidId, currency: "USD", creativeId: r.creative_id || "".concat(r.network || ""https://slate.com/human-interest/2020/11/,"-").concat(r.advertiser || ""), cpm: r.cpm || 0, dealId: r.deal, ttl: 300, netRevenue: !1 !== w.netRevenue, rubicon: { advertiserId: r.advertiser, networkId: r.network }, meta: { advertiserId: r.advertiser, networkId: r.network } }, r.creative_type && (i.mediaType = r.creative_type), r.creative_type === u.d ? (i.width = s.params.video.playerWidth, i.height = s.params.video.playerHeight, i.vastUrl = r.creative_depot_url, i.impression_id = r.impression_id, i.videoCacheKey = r.impression_id) : (i.ad = (o = r.script, a = r.impression_id, "n
nnx3c!-- Rubicon Project Ad Tag --x3en
nn
nn")), n = j(p[r.size_id].split("x").map(function (e) {
return Number(e);
}), 2), i.width = n[0], i.height = n[1]), i.rubiconTargeting = (Array.isArray(r.targeting) ? r.targeting : []).reduce(function (e, r) {
return e[r.key] = r.values[0], e;
}, {
rpfl_elemid: s.adUnitCode
}), e.push(i)) : S.logError("Rubicon: bidRequest undefined at index position:".concat(t), d, c), e;
}, []).sort(function (e, r) {
return (r.cpm || 0) - (e.cpm || 0);
});
},
getUserSyncs: function getUserSyncs(e, r, t, i) {
if (!y && e.iframeEnabled) {
var n = "";
return t && "string" == typeof t.consentString && ("boolean" == typeof t.gdprApplies ? n += "?gdpr=".concat(Number(t.gdprApplies), "&gdpr_consent=").concat(t.consentString) : n += "?gdpr_consent=".concat(t.consentString)), i && (n += "".concat(n ? "&" : "?"https://slate.com/human-interest/2020/11/,"us_privacy=").concat(encodeURIComponent(i))), y = !0, {
type: "iframe",
url: "https://".concat(w.syncHost || "eus"https://slate.com/human-interest/2020/11/,".rubiconproject.com/usync.html") + n
};
}
},
transformBidParams: function transformBidParams(e) {
return S.convertTypes({
accountId: "number",
siteId: "number",
zoneId: "number"
}, e);
}
};
function R(e, r) {
var t = I.b.getConfig("pageUrl"),
t = e.params.referrer ? e.params.referrer : t || r.refererInfo.referer;
return e.params.secure ? t.replace(/^https:/i, "https:") : t;
}
function O(e, r) {
var t = e.params;
if ("video" === r) {
var i = [];
return t.video && t.video.playerWidth && t.video.playerHeight ? i = [t.video.playerWidth, t.video.playerHeight] : Array.isArray(S.deepAccess(e, "mediaTypes.video.playerSize")) && 1 === e.mediaTypes.video.playerSize.length ? i = e.mediaTypes.video.playerSize[0] : Array.isArray(e.sizes) && 0 < e.sizes.length && Array.isArray(e.sizes[0]) && 1 < e.sizes[0].length && (i = e.sizes[0]), i; } var n = []; return Array.isArray(t.sizes) ? n = t.sizes : void 0 !== S.deepAccess(e, "mediaTypes.banner.sizes") ? n = a(e.mediaTypes.banner.sizes) : Array.isArray(e.sizes) && 0 < e.sizes.length ? n = a(e.sizes) : S.logWarn("Rubicon: no sizes are setup or found"), d(n); } function a(e) { return S.parseSizesInput(e).reduce(function (e, r) { var t = parseInt(p[r], 10); return t && e.push(t), e; }, []); } function s(e) { return "object" === E(S.deepAccess(e, "params.video")) && void 0 !== S.deepAccess(e, "mediaTypes.".concat(u.d)); } function m(e, r) { var t = 1 < arguments.length && void 0 !== r && r; return s(e) ? -1 === ["outstream"https://slate.com/human-interest/2020/11/,"instream"].indexOf(S.deepAccess(e, "mediaTypes.".concat(u.d, ".context"))) ? void (t && S.logError("Rubicon: mediaTypes.video.context must be outstream or instream")) : O(e, "video").length < 2 ? void (t && S.logError("Rubicon: could not determine the playerSize of the video")) : (t && S.logMessage("Rubicon: making video request for adUnit", e.adUnitCode), "video") : 0 === O(e, "banner").length ? void (t && S.logError("Rubicon: could not determine the sizes for banner request")) : (t && S.logMessage("Rubicon: making banner request for adUnit", e.adUnitCode), "banner"); } var c = function c() { return w = {}; }; function d(e) { var n = [15, 2, 9]; return e.sort(function (e, r) { var t = n.indexOf(e), i = n.indexOf(r); return -1 < t || -1 < i ? -1 === t ? 1 : -1 === i ? -1 : t - i : e - r; }); } function g(e) { var r = parseInt(S.deepAccess(e, "params.video.size_id")); return isNaN(r) ? "outstream" === S.deepAccess(e, "mediaTypes.".concat(u.d, ".context")) ? 203 : 201 : r; } function v(e) { return { ranges: { low: [{ max: 5, increment: .5 }], medium: [{ max: 20, increment: .1 }], high: [{ max: 20, increment: .01 }], auto: [{ max: 5, increment: .05 }, { min: 5, max: 10, increment: .1 }, { min: 10, max: 20, increment: .5 }], dense: [{ max: 3, increment: .01 }, { min: 3, max: 8, increment: .05 }, { min: 8, max: 20, increment: .5 }], custom: e.getConfig("customPriceBucket") && e.getConfig("customPriceBucket").buckets }[e.getConfig("priceGranularity")] }; } function l(r) { var t = !0, e = Object.prototype.toString.call([]), i = Object.prototype.toString.call(0), n = { mimes: e, protocols: e, maxduration: i, linearity: i, api: e }; return Object.keys(n).forEach(function (e) { Object.prototype.toString.call(S.deepAccess(r, "mediaTypes.video." + e)) !== n[e] && (t = !1, S.logError("Rubicon: mediaTypes.video." + e + " is required and must be of type: " + n[e])); }), t; } function T(e) { var r = !1, t = ["asi"https://slate.com/human-interest/2020/11/,"sid"https://slate.com/human-interest/2020/11/,"hp"]; return e.nodes && ((r = e.nodes.reduce(function (e, r) { return e ? t.every(function (e) { return r.hasOwnProperty(e); }) : e; }, !0)) || S.logError("Rubicon: required schain params missing")), r; } function b(e, r) { return "rp_schain" === e ? "rp_schain=".concat(r) : "".concat(e, "=").concat(encodeURIComponent(r)); } var y = !1; Object(i.registerBidder)(z); } }, [720]); pbjsChunk([105], { 770: function _(e, t, r) { e.exports = r(771); }, 771: function _(e, t, r) { "use strict"; Object.defineProperty(t, "__esModule", { value: !0 }), r.d(t, "spec", function () { return a; }), r.d(t, "_isInbounds", function () { return m; }), t._getPlatform = v; var n = r(1), y = r(0), i = r(2), o = r(3), g = r(11), c = r(43); function h(e, t) { return function (e) { if (Array.isArray(e)) return e; }(e) || function (e, t) { if ("undefined" == typeof Symbol || !(Symbol.iterator in Object(e))) return; var r = [], n = !0, i = !1, s = void 0; try { for (var a, o = e[Symbol.iterator](); !(n = (a = o.next()).done) && (r.push(a.value), !t || r.length !== t); n = !0) { ; } } catch (e) { i = !0, s = e; } finally { try { n || null == o.return || o.return(); } finally { if (i) throw s; } } return r; }(e, t) || function (e, t) { if (!e) return; if ("string" == typeof e) return s(e, t); var r = Object.prototype.toString.call(e).slice(8, -1); "Object" === r && e.constructor && (r = e.constructor.name); if ("Map" === r || "Set" === r) return Array.from(e); if ("Arguments" === r || /^(?:Ui|I)nt(?:8|16|32)(?:Clamped)?Array$/.test(r)) return s(e, t); }(e, t) || function () { throw new TypeError("Invalid attempt to destructure non-iterable instance.nIn order to be iterable, non-array objects must have a [Symbol.iterator]() method."); }(); } function s(e, t) { (null == t || t > e.length) && (t = e.length);
for (var r = 0, n = new Array(t); r < t; r++) { n[r] = e[r]; } return n; } function d() { return (d = Object.assign || function (e) { for (var t = 1; t < arguments.length; t++) { var r = arguments[t]; for (var n in r) { Object.prototype.hasOwnProperty.call(r, n) && (e[n] = r[n]); } } return e; }).apply(this, arguments); } function u(e, t, r) { return t in e ? Object.defineProperty(e, t, { value: r, enumerable: !0, configurable: !0, writable: !0 }) : e[t] = r, e; } var p = "sonobi", b = Object(y.generateUUID)(), a = { code: p, supportedMediaTypes: [i.b, i.d], isBidRequestValid: function isBidRequestValid(e) { if (!e.params) return !1; if (!e.params.ad_unit && !e.params.placement_id) return !1; if (!Object(y.deepAccess)(e, "mediaTypes.banner") && !Object(y.deepAccess)(e, "mediaTypes.video")) return !1; if (Object(y.deepAccess)(e, "mediaTypes.banner")) { if (!Object(y.deepAccess)(e, "mediaTypes.banner.sizes") && !e.params.sizes) return !1; } else if (Object(y.deepAccess)(e, "mediaTypes.video")) { if ("outstream" === Object(y.deepAccess)(e, "mediaTypes.video.context") && !e.params.sizes) return !1; if ("instream" === Object(y.deepAccess)(e, "mediaTypes.video.context") && !Object(y.deepAccess)(e, "mediaTypes.video.playerSize")) return !1; } return !0; }, buildRequests: function buildRequests(e, t) { var r = e.map(function (e) { var t = function (e) { if (e.params.ad_unit) return e.params.ad_unit; return e.params.placement_id; }(e); return /^[/]?[d]+[[/].+[/]?]?$/.test(t) ? (t = "/" === t.charAt(0) ? t : "/" + t, u({}, "".concat(t, "|").concat(e.bidId), "".concat(l(e)).concat(f(e)))) : /^[0-9a-fA-F]{20}$/.test(t) && 20 === t.length ? u({}, e.bidId, "".concat(t, "|").concat(l(e)).concat(f(e))) : void Object(y.logError)("The ad unit code or Sonobi Placement id for slot ".concat(e.bidId, " is invalid")); }), n = {}; r.forEach(function (e) { d(n, e); }); var i = { key_maker: JSON.stringify(n), ref: t.refererInfo.referer, s: Object(y.generateUUID)(), pv: b, vp: v(), lib_name: "prebid", lib_v: "4.13.0", us: 0 }; o.b.getConfig("userSync") && o.b.getConfig("userSync").syncsPerBidder && (i.us = o.b.getConfig("userSync").syncsPerBidder), c.a.canBidderRegisterSync("iframe", p) ? i.ius = 1 : i.ius = 0, Object(y.deepAccess)(e[0], "params.hfa") && (i.hfa = Object(y.deepAccess)(e[0], "params.hfa")), e[0].params.referrer && (i.ref = e[0].params.referrer), t && t.gdprConsent && (i.gdpr = t.gdprConsent.gdprApplies ? "true" : "false", t.gdprConsent.consentString && (i.consent_string = t.gdprConsent.consentString)), e[0].schain && (i.schain = JSON.stringify(e[0].schain)), Object(y.deepAccess)(e[0], "userId") && 0 < Object.keys(e[0].userId).length && (i.userid = JSON.stringify(e[0].userId)); var s = e[0].params.keywords; if (s && (i.kw = s), t && t.uspConsent && (i.us_privacy = t.uspConsent), Object(y.isEmpty)(n)) return null; var a = "https://apex.go.sonobi.com/trinity.json"; return Object(y.deepAccess)(e[0], "params.bid_request_url") && (a = Object(y.deepAccess)(e[0], "params.bid_request_url")), { method: "GET", url: a, withCredentials: !0, data: i, bidderRequests: e }; }, interpretResponse: function interpretResponse(e, l) { var f = e.body, m = [], v = l.data.ref; return 0 === Object.keys(f.slots).length || Object.keys(f.slots).forEach(function (e) { var t = f.slots[e], r = e.split("|").slice(-1)[0], n = function (e, t) { for (var r = 0; r < e.length; r++) { if (e[r].bidId === t) return e[r]; } }(l.bidderRequests, r), i = null; "video" === t.sbi_ct && (i = "video"https://slate.com/human-interest/2020/11/,"outstream" === Object(y.deepAccess)(n, "mediaTypes.video.context") && (i = "outstream")); var s, a, o, c, d, u, p, b = j(i, v); t.sbi_aid && t.sbi_mouse && t.sbi_size && (o = void 0 === (a = (s = h(t.sbi_size.split("x"), 2))[0]) ? 1 : a, d = void 0 === (c = s[1]) ? 1 : c, u = { requestId: r, cpm: Number(t.sbi_mouse), width: Number(o), height: Number(d), ad: b(f.sbi_dc, t.sbi_aid), ttl: 500, creativeId: t.sbi_crid || t.sbi_aid, aid: t.sbi_aid, netRevenue: !0, currency: "USD" }, t.sbi_dozer && (u.dealId = t.sbi_dozer), "video" === i ? (u.mediaType = "video", u.vastUrl = b(f.sbi_dc, t.sbi_aid), delete u.ad, delete u.width, delete u.height) : "outstream" === i && n && (u.mediaType = "video", u.vastUrl = b(f.sbi_dc, t.sbi_aid), u.renderer = function (e, t) { var r = 2 < arguments.length && void 0 !== arguments[2] ? arguments[2] : {}, n = g.a.install({ id: t.aid, url: "https://mtrx.go.sonobi.com/sbi_outstream_renderer.js", config: r, loaded: !1, adUnitCode: e }); try { n.setRender(O); } catch (e) { Object(y.logWarn)("Prebid Error calling setRender on renderer", e); } return n.setEventHandlers({ impression: function impression() { return Object(y.logMessage)("Sonobi outstream video impression event"); }, loaded: function loaded() { return Object(y.logMessage)("Sonobi outstream video loaded event"); }, ended: function ended() { Object(y.logMessage)("Sonobi outstream renderer video event"); } }), n; }(n.adUnitCode, u, Object(y.deepAccess)(n, "renderer.options")), p = Object(y.deepAccess)(n, "params.sizes"), Array.isArray(p) && Array.isArray(p[0]) && (p = p[0]), p && (u.width = p[0], u.height = p[1])), m.push(u)); }), m; }, getUserSyncs: function getUserSyncs(e, t) { var r = []; try { e.pixelEnabled && t[0].body.sbi_px.forEach(function (e) { r.push({ type: e.type, url: e.url }); }); } catch (e) {} return r; } }; function l(e) { return Object(y.deepAccess)(e, "mediaTypes.video") ? "" : e.params.sizes ? Object(y.parseSizesInput)(e.params.sizes).join(",") : Object(y.deepAccess)(e, "mediaTypes.banner.sizes") ? Object(y.parseSizesInput)(Object(y.deepAccess)(e, "mediaTypes.banner.sizes")).join(",") : e.sizes ? Object(y.parseSizesInput)(e.sizes).join(",") : void 0; } function f(e) { return e.params.floor ? "|f=".concat(e.params.floor) : ""; } var j = function j(i, s) { return function (e, t) { return "video" === i || "outstream" === i ? (r = t, n = s, "https://".concat(e, "apex.go.sonobi.com/vast.xml?vid=").concat(r, "&ref=").concat(encodeURIComponent(n))) : '';
var r, n;
};
};
var m = function m(e) {
var r = 0 < arguments.length && void 0 !== e ? e : window; return function () { var e = 0 < arguments.length && void 0 !== arguments[0] ? arguments[0] : 0, t = 1 < arguments.length && void 0 !== arguments[1] ? arguments[1] : Number.MAX_SAFE_INTEGER; return r.innerWidth >= e && r.innerWidth < t; }; }; function v() { var e = 0 < arguments.length && void 0 !== arguments[0] ? arguments[0] : window, t = m(e), r = 992, n = 768; return t(0, 768) ? "mobile" : t(n, r) ? "tablet" : "desktop"; } function O(i) { i.renderer.push(function () { var e = h(i.getSize().split("x"), 2), t = e[0], r = e[1], n = new window.SbiOutstreamRenderer(); n.init({ vastUrl: i.vastUrl, height: r, width: t }), n.setRootElement(i.adUnitCode); }); } Object(n.registerBidder)(a); } }, [770]); pbjsChunk([103], { 780: function _(e, t, r) { e.exports = r(781); }, 781: function _(e, t, r) { "use strict"; Object.defineProperty(t, "__esModule", { value: !0 }), r.d(t, "GOOGLE_CONSENT", function () { return B; }), r.d(t, "spec", function () { return n; }); var I = r(0), P = r(3), u = r(11), a = r(1), c = r(2); function d(e) { return (d = "function" == typeof Symbol && "symbol" == _typeof(Symbol.iterator) ? function (e) { return _typeof(e); } : function (e) { return e && "function" == typeof Symbol && e.constructor === Symbol && e !== Symbol.prototype ? "symbol" : _typeof(e); })(e); } var i = "spotx", B = { consented_providers: ["3"https://slate.com/human-interest/2020/11/,"7"https://slate.com/human-interest/2020/11/,"11"https://slate.com/human-interest/2020/11/,"12"https://slate.com/human-interest/2020/11/,"15"https://slate.com/human-interest/2020/11/,"20"https://slate.com/human-interest/2020/11/,"22"https://slate.com/human-interest/2020/11/,"35"https://slate.com/human-interest/2020/11/,"43"https://slate.com/human-interest/2020/11/,"46"https://slate.com/human-interest/2020/11/,"48"https://slate.com/human-interest/2020/11/,"55"https://slate.com/human-interest/2020/11/,"57"https://slate.com/human-interest/2020/11/,"61"https://slate.com/human-interest/2020/11/,"62"https://slate.com/human-interest/2020/11/,"66"https://slate.com/human-interest/2020/11/,"70"https://slate.com/human-interest/2020/11/,"80"https://slate.com/human-interest/2020/11/,"83"https://slate.com/human-interest/2020/11/,"85"https://slate.com/human-interest/2020/11/,"86"https://slate.com/human-interest/2020/11/,"89"https://slate.com/human-interest/2020/11/,"93"https://slate.com/human-interest/2020/11/,"108"https://slate.com/human-interest/2020/11/,"122"https://slate.com/human-interest/2020/11/,"124"https://slate.com/human-interest/2020/11/,"125"https://slate.com/human-interest/2020/11/,"126"https://slate.com/human-interest/2020/11/,"131"https://slate.com/human-interest/2020/11/,"134"https://slate.com/human-interest/2020/11/,"135"https://slate.com/human-interest/2020/11/,"136"https://slate.com/human-interest/2020/11/,"143"https://slate.com/human-interest/2020/11/,"144"https://slate.com/human-interest/2020/11/,"147"https://slate.com/human-interest/2020/11/,"149"https://slate.com/human-interest/2020/11/,"153"https://slate.com/human-interest/2020/11/,"154"https://slate.com/human-interest/2020/11/,"159"https://slate.com/human-interest/2020/11/,"161"https://slate.com/human-interest/2020/11/,"162"https://slate.com/human-interest/2020/11/,"165"https://slate.com/human-interest/2020/11/,"167"https://slate.com/human-interest/2020/11/,"171"https://slate.com/human-interest/2020/11/,"178"https://slate.com/human-interest/2020/11/,"184"https://slate.com/human-interest/2020/11/,"188"https://slate.com/human-interest/2020/11/,"192"https://slate.com/human-interest/2020/11/,"195"https://slate.com/human-interest/2020/11/,"196"https://slate.com/human-interest/2020/11/,"202"https://slate.com/human-interest/2020/11/,"209"https://slate.com/human-interest/2020/11/,"211"https://slate.com/human-interest/2020/11/,"218"https://slate.com/human-interest/2020/11/,"221"https://slate.com/human-interest/2020/11/,"228"https://slate.com/human-interest/2020/11/,"229"https://slate.com/human-interest/2020/11/,"230"https://slate.com/human-interest/2020/11/,"236"https://slate.com/human-interest/2020/11/,"239"https://slate.com/human-interest/2020/11/,"241"https://slate.com/human-interest/2020/11/,"253"https://slate.com/human-interest/2020/11/,"255"https://slate.com/human-interest/2020/11/,"259"https://slate.com/human-interest/2020/11/,"266"https://slate.com/human-interest/2020/11/,"271"https://slate.com/human-interest/2020/11/,"272"https://slate.com/human-interest/2020/11/,"274"https://slate.com/human-interest/2020/11/,"286"https://slate.com/human-interest/2020/11/,"291"https://slate.com/human-interest/2020/11/,"294"https://slate.com/human-interest/2020/11/,"303"https://slate.com/human-interest/2020/11/,"308"https://slate.com/human-interest/2020/11/,"310"https://slate.com/human-interest/2020/11/,"311"https://slate.com/human-interest/2020/11/,"313"https://slate.com/human-interest/2020/11/,"314"https://slate.com/human-interest/2020/11/,"316"https://slate.com/human-interest/2020/11/,"317"https://slate.com/human-interest/2020/11/,"322"https://slate.com/human-interest/2020/11/,"323"https://slate.com/human-interest/2020/11/,"327"https://slate.com/human-interest/2020/11/,"336"https://slate.com/human-interest/2020/11/,"338"https://slate.com/human-interest/2020/11/,"340"https://slate.com/human-interest/2020/11/,"348"https://slate.com/human-interest/2020/11/,"350"https://slate.com/human-interest/2020/11/,"358"https://slate.com/human-interest/2020/11/,"359"https://slate.com/human-interest/2020/11/,"363"https://slate.com/human-interest/2020/11/,"367"https://slate.com/human-interest/2020/11/,"370"https://slate.com/human-interest/2020/11/,"371"https://slate.com/human-interest/2020/11/,"384"https://slate.com/human-interest/2020/11/,"385"https://slate.com/human-interest/2020/11/,"389"https://slate.com/human-interest/2020/11/,"393"https://slate.com/human-interest/2020/11/,"394"https://slate.com/human-interest/2020/11/,"397"https://slate.com/human-interest/2020/11/,"398"https://slate.com/human-interest/2020/11/,"407"https://slate.com/human-interest/2020/11/,"414"https://slate.com/human-interest/2020/11/,"415"https://slate.com/human-interest/2020/11/,"424"https://slate.com/human-interest/2020/11/,"429"https://slate.com/human-interest/2020/11/,"430"https://slate.com/human-interest/2020/11/,"432"https://slate.com/human-interest/2020/11/,"436"https://slate.com/human-interest/2020/11/,"438"https://slate.com/human-interest/2020/11/,"440"https://slate.com/human-interest/2020/11/,"442"https://slate.com/human-interest/2020/11/,"443"https://slate.com/human-interest/2020/11/,"445"https://slate.com/human-interest/2020/11/,"448"https://slate.com/human-interest/2020/11/,"449"https://slate.com/human-interest/2020/11/,"453"https://slate.com/human-interest/2020/11/,"459"https://slate.com/human-interest/2020/11/,"479"https://slate.com/human-interest/2020/11/,"482"https://slate.com/human-interest/2020/11/,"486"https://slate.com/human-interest/2020/11/,"491"https://slate.com/human-interest/2020/11/,"492"https://slate.com/human-interest/2020/11/,"494"https://slate.com/human-interest/2020/11/,"495"https://slate.com/human-interest/2020/11/,"503"https://slate.com/human-interest/2020/11/,"505"https://slate.com/human-interest/2020/11/,"510"https://slate.com/human-interest/2020/11/,"522"https://slate.com/human-interest/2020/11/,"523"https://slate.com/human-interest/2020/11/,"528"https://slate.com/human-interest/2020/11/,"537"https://slate.com/human-interest/2020/11/,"540"https://slate.com/human-interest/2020/11/,"550"https://slate.com/human-interest/2020/11/,"559"https://slate.com/human-interest/2020/11/,"560"https://slate.com/human-interest/2020/11/,"568"https://slate.com/human-interest/2020/11/,"571"https://slate.com/human-interest/2020/11/,"574"https://slate.com/human-interest/2020/11/,"575"https://slate.com/human-interest/2020/11/,"576"https://slate.com/human-interest/2020/11/,"584"https://slate.com/human-interest/2020/11/,"585"https://slate.com/human-interest/2020/11/,"587"https://slate.com/human-interest/2020/11/,"588"https://slate.com/human-interest/2020/11/,"590"https://slate.com/human-interest/2020/11/,"591"https://slate.com/human-interest/2020/11/,"592"https://slate.com/human-interest/2020/11/,"595"https://slate.com/human-interest/2020/11/,"609"https://slate.com/human-interest/2020/11/,"621"https://slate.com/human-interest/2020/11/,"624"https://slate.com/human-interest/2020/11/,"723"https://slate.com/human-interest/2020/11/,"725"https://slate.com/human-interest/2020/11/,"733"https://slate.com/human-interest/2020/11/,"737"https://slate.com/human-interest/2020/11/,"776"https://slate.com/human-interest/2020/11/,"780"https://slate.com/human-interest/2020/11/,"782"https://slate.com/human-interest/2020/11/,"787"https://slate.com/human-interest/2020/11/,"797"https://slate.com/human-interest/2020/11/,"798"https://slate.com/human-interest/2020/11/,"802"https://slate.com/human-interest/2020/11/,"803"https://slate.com/human-interest/2020/11/,"814"https://slate.com/human-interest/2020/11/,"817"https://slate.com/human-interest/2020/11/,"820"https://slate.com/human-interest/2020/11/,"821"https://slate.com/human-interest/2020/11/,"827"https://slate.com/human-interest/2020/11/,"829"https://slate.com/human-interest/2020/11/,"839"https://slate.com/human-interest/2020/11/,"853"https://slate.com/human-interest/2020/11/,"864"https://slate.com/human-interest/2020/11/,"867"https://slate.com/human-interest/2020/11/,"874"https://slate.com/human-interest/2020/11/,"899"https://slate.com/human-interest/2020/11/,"904"https://slate.com/human-interest/2020/11/,"922"https://slate.com/human-interest/2020/11/,"926"https://slate.com/human-interest/2020/11/,"931"https://slate.com/human-interest/2020/11/,"932"https://slate.com/human-interest/2020/11/,"933"https://slate.com/human-interest/2020/11/,"938"https://slate.com/human-interest/2020/11/,"955"https://slate.com/human-interest/2020/11/,"973"https://slate.com/human-interest/2020/11/,"976"https://slate.com/human-interest/2020/11/,"979"https://slate.com/human-interest/2020/11/,"981"https://slate.com/human-interest/2020/11/,"985"https://slate.com/human-interest/2020/11/,"987"https://slate.com/human-interest/2020/11/,"991"https://slate.com/human-interest/2020/11/,"1003"https://slate.com/human-interest/2020/11/,"1024"https://slate.com/human-interest/2020/11/,"1025"https://slate.com/human-interest/2020/11/,"1027"https://slate.com/human-interest/2020/11/,"1028"https://slate.com/human-interest/2020/11/,"1029"https://slate.com/human-interest/2020/11/,"1033"https://slate.com/human-interest/2020/11/,"1034"https://slate.com/human-interest/2020/11/,"1040"https://slate.com/human-interest/2020/11/,"1047"https://slate.com/human-interest/2020/11/,"1048"https://slate.com/human-interest/2020/11/,"1051"https://slate.com/human-interest/2020/11/,"1052"https://slate.com/human-interest/2020/11/,"1053"https://slate.com/human-interest/2020/11/,"1054"https://slate.com/human-interest/2020/11/,"1062"https://slate.com/human-interest/2020/11/,"1063"https://slate.com/human-interest/2020/11/,"1067"https://slate.com/human-interest/2020/11/,"1072"https://slate.com/human-interest/2020/11/,"1085"https://slate.com/human-interest/2020/11/,"1092"https://slate.com/human-interest/2020/11/,"1095"https://slate.com/human-interest/2020/11/,"1097"https://slate.com/human-interest/2020/11/,"1099"https://slate.com/human-interest/2020/11/,"1100"https://slate.com/human-interest/2020/11/,"1107"https://slate.com/human-interest/2020/11/,"1126"https://slate.com/human-interest/2020/11/,"1127"https://slate.com/human-interest/2020/11/,"1143"https://slate.com/human-interest/2020/11/,"1149"https://slate.com/human-interest/2020/11/,"1152"https://slate.com/human-interest/2020/11/,"1162"https://slate.com/human-interest/2020/11/,"1166"https://slate.com/human-interest/2020/11/,"1167"https://slate.com/human-interest/2020/11/,"1170"https://slate.com/human-interest/2020/11/,"1171"https://slate.com/human-interest/2020/11/,"1172"https://slate.com/human-interest/2020/11/,"1188"https://slate.com/human-interest/2020/11/,"1192"https://slate.com/human-interest/2020/11/,"1199"https://slate.com/human-interest/2020/11/,"1201"https://slate.com/human-interest/2020/11/,"1204"https://slate.com/human-interest/2020/11/,"1205"https://slate.com/human-interest/2020/11/,"1211"https://slate.com/human-interest/2020/11/,"1212"https://slate.com/human-interest/2020/11/,"1215"https://slate.com/human-interest/2020/11/,"1220"https://slate.com/human-interest/2020/11/,"1225"https://slate.com/human-interest/2020/11/,"1226"https://slate.com/human-interest/2020/11/,"1227"https://slate.com/human-interest/2020/11/,"1230"https://slate.com/human-interest/2020/11/,"1232"https://slate.com/human-interest/2020/11/,"1236"https://slate.com/human-interest/2020/11/,"1241"https://slate.com/human-interest/2020/11/,"1248"https://slate.com/human-interest/2020/11/,"1250"https://slate.com/human-interest/2020/11/,"1252"https://slate.com/human-interest/2020/11/,"1268"https://slate.com/human-interest/2020/11/,"1275"https://slate.com/human-interest/2020/11/,"1276"https://slate.com/human-interest/2020/11/,"1284"https://slate.com/human-interest/2020/11/,"1286"https://slate.com/human-interest/2020/11/,"1298"https://slate.com/human-interest/2020/11/,"1301"https://slate.com/human-interest/2020/11/,"1307"https://slate.com/human-interest/2020/11/,"1312"https://slate.com/human-interest/2020/11/,"1313"https://slate.com/human-interest/2020/11/,"1317"https://slate.com/human-interest/2020/11/,"1329"https://slate.com/human-interest/2020/11/,"1336"https://slate.com/human-interest/2020/11/,"1344"https://slate.com/human-interest/2020/11/,"1345"https://slate.com/human-interest/2020/11/,"1356"https://slate.com/human-interest/2020/11/,"1362"https://slate.com/human-interest/2020/11/,"1365"https://slate.com/human-interest/2020/11/,"1375"https://slate.com/human-interest/2020/11/,"1403"https://slate.com/human-interest/2020/11/,"1409"https://slate.com/human-interest/2020/11/,"1411"https://slate.com/human-interest/2020/11/,"1415"https://slate.com/human-interest/2020/11/,"1416"https://slate.com/human-interest/2020/11/,"1419"https://slate.com/human-interest/2020/11/,"1423"https://slate.com/human-interest/2020/11/,"1440"https://slate.com/human-interest/2020/11/,"1442"https://slate.com/human-interest/2020/11/,"1449"https://slate.com/human-interest/2020/11/,"1451"https://slate.com/human-interest/2020/11/,"1455"https://slate.com/human-interest/2020/11/,"1456"https://slate.com/human-interest/2020/11/,"1468"https://slate.com/human-interest/2020/11/,"1496"https://slate.com/human-interest/2020/11/,"1503"https://slate.com/human-interest/2020/11/,"1509"https://slate.com/human-interest/2020/11/,"1512"https://slate.com/human-interest/2020/11/,"1514"https://slate.com/human-interest/2020/11/,"1517"https://slate.com/human-interest/2020/11/,"1520"https://slate.com/human-interest/2020/11/,"1525"https://slate.com/human-interest/2020/11/,"1540"https://slate.com/human-interest/2020/11/,"1547"https://slate.com/human-interest/2020/11/,"1548"https://slate.com/human-interest/2020/11/,"1555"https://slate.com/human-interest/2020/11/,"1558"https://slate.com/human-interest/2020/11/,"1570"https://slate.com/human-interest/2020/11/,"1575"https://slate.com/human-interest/2020/11/,"1577"https://slate.com/human-interest/2020/11/,"1579"https://slate.com/human-interest/2020/11/,"1583"https://slate.com/human-interest/2020/11/,"1584"https://slate.com/human-interest/2020/11/,"1591"https://slate.com/human-interest/2020/11/,"1598"https://slate.com/human-interest/2020/11/,"1603"https://slate.com/human-interest/2020/11/,"1608"https://slate.com/human-interest/2020/11/,"1613"https://slate.com/human-interest/2020/11/,"1616"https://slate.com/human-interest/2020/11/,"1626"https://slate.com/human-interest/2020/11/,"1631"https://slate.com/human-interest/2020/11/,"1633"https://slate.com/human-interest/2020/11/,"1638"https://slate.com/human-interest/2020/11/,"1642"https://slate.com/human-interest/2020/11/,"1648"https://slate.com/human-interest/2020/11/,"1651"https://slate.com/human-interest/2020/11/,"1652"https://slate.com/human-interest/2020/11/,"1653"https://slate.com/human-interest/2020/11/,"1660"https://slate.com/human-interest/2020/11/,"1665"https://slate.com/human-interest/2020/11/,"1667"https://slate.com/human-interest/2020/11/,"1669"https://slate.com/human-interest/2020/11/,"1671"https://slate.com/human-interest/2020/11/,"1674"https://slate.com/human-interest/2020/11/,"1677"https://slate.com/human-interest/2020/11/,"1678"https://slate.com/human-interest/2020/11/,"1682"https://slate.com/human-interest/2020/11/,"1684"https://slate.com/human-interest/2020/11/,"1697"https://slate.com/human-interest/2020/11/,"1703"https://slate.com/human-interest/2020/11/,"1705"https://slate.com/human-interest/2020/11/,"1716"https://slate.com/human-interest/2020/11/,"1720"https://slate.com/human-interest/2020/11/,"1721"https://slate.com/human-interest/2020/11/,"1722"https://slate.com/human-interest/2020/11/,"1725"https://slate.com/human-interest/2020/11/,"1732"https://slate.com/human-interest/2020/11/,"1733"https://slate.com/human-interest/2020/11/,"1735"https://slate.com/human-interest/2020/11/,"1739"https://slate.com/human-interest/2020/11/,"1741"https://slate.com/human-interest/2020/11/,"1745"https://slate.com/human-interest/2020/11/,"1750"https://slate.com/human-interest/2020/11/,"1753"https://slate.com/human-interest/2020/11/,"1760"https://slate.com/human-interest/2020/11/,"1765"https://slate.com/human-interest/2020/11/,"1769"https://slate.com/human-interest/2020/11/,"1776"https://slate.com/human-interest/2020/11/,"1780"https://slate.com/human-interest/2020/11/,"1782"https://slate.com/human-interest/2020/11/,"1786"https://slate.com/human-interest/2020/11/,"1791"https://slate.com/human-interest/2020/11/,"1794"https://slate.com/human-interest/2020/11/,"1799"https://slate.com/human-interest/2020/11/,"1800"https://slate.com/human-interest/2020/11/,"1801"https://slate.com/human-interest/2020/11/,"1810"https://slate.com/human-interest/2020/11/,"1827"https://slate.com/human-interest/2020/11/,"1831"https://slate.com/human-interest/2020/11/,"1832"https://slate.com/human-interest/2020/11/,"1834"https://slate.com/human-interest/2020/11/,"1837"https://slate.com/human-interest/2020/11/,"1840"https://slate.com/human-interest/2020/11/,"1843"https://slate.com/human-interest/2020/11/,"1844"https://slate.com/human-interest/2020/11/,"1845"https://slate.com/human-interest/2020/11/,"1858"https://slate.com/human-interest/2020/11/,"1859"https://slate.com/human-interest/2020/11/,"1863"https://slate.com/human-interest/2020/11/,"1866"https://slate.com/human-interest/2020/11/,"1870"https://slate.com/human-interest/2020/11/,"1872"https://slate.com/human-interest/2020/11/,"1875"https://slate.com/human-interest/2020/11/,"1878"https://slate.com/human-interest/2020/11/,"1880"https://slate.com/human-interest/2020/11/,"1882"https://slate.com/human-interest/2020/11/,"1883"https://slate.com/human-interest/2020/11/,"1889"https://slate.com/human-interest/2020/11/,"1892"https://slate.com/human-interest/2020/11/,"1896"https://slate.com/human-interest/2020/11/,"1898"https://slate.com/human-interest/2020/11/,"1899"https://slate.com/human-interest/2020/11/,"1902"https://slate.com/human-interest/2020/11/,"1905"https://slate.com/human-interest/2020/11/,"1911"https://slate.com/human-interest/2020/11/,"1922"https://slate.com/human-interest/2020/11/,"1928"https://slate.com/human-interest/2020/11/,"1929"https://slate.com/human-interest/2020/11/,"1934"https://slate.com/human-interest/2020/11/,"1942"https://slate.com/human-interest/2020/11/,"1943"https://slate.com/human-interest/2020/11/,"1944"https://slate.com/human-interest/2020/11/,"1945"https://slate.com/human-interest/2020/11/,"1958"https://slate.com/human-interest/2020/11/,"1960"https://slate.com/human-interest/2020/11/,"1962"https://slate.com/human-interest/2020/11/,"1963"https://slate.com/human-interest/2020/11/,"1964"https://slate.com/human-interest/2020/11/,"1967"https://slate.com/human-interest/2020/11/,"1968"https://slate.com/human-interest/2020/11/,"1978"https://slate.com/human-interest/2020/11/,"1985"https://slate.com/human-interest/2020/11/,"1986"https://slate.com/human-interest/2020/11/,"1987"https://slate.com/human-interest/2020/11/,"1998"https://slate.com/human-interest/2020/11/,"2003"https://slate.com/human-interest/2020/11/,"2007"https://slate.com/human-interest/2020/11/,"2012"https://slate.com/human-interest/2020/11/,"2013"https://slate.com/human-interest/2020/11/,"2027"https://slate.com/human-interest/2020/11/,"2035"https://slate.com/human-interest/2020/11/,"2038"https://slate.com/human-interest/2020/11/,"2039"https://slate.com/human-interest/2020/11/,"2044"https://slate.com/human-interest/2020/11/,"2047"https://slate.com/human-interest/2020/11/,"2052"https://slate.com/human-interest/2020/11/,"2056"https://slate.com/human-interest/2020/11/,"2059"https://slate.com/human-interest/2020/11/,"2062"https://slate.com/human-interest/2020/11/,"2064"https://slate.com/human-interest/2020/11/,"2068"https://slate.com/human-interest/2020/11/,"2070"https://slate.com/human-interest/2020/11/,"2072"https://slate.com/human-interest/2020/11/,"2078"https://slate.com/human-interest/2020/11/,"2079"https://slate.com/human-interest/2020/11/,"2084"https://slate.com/human-interest/2020/11/,"2088"https://slate.com/human-interest/2020/11/,"2090"https://slate.com/human-interest/2020/11/,"2095"https://slate.com/human-interest/2020/11/,"2100"https://slate.com/human-interest/2020/11/,"2103"https://slate.com/human-interest/2020/11/,"2107"https://slate.com/human-interest/2020/11/,"2109"https://slate.com/human-interest/2020/11/,"2113"https://slate.com/human-interest/2020/11/,"2115"https://slate.com/human-interest/2020/11/,"2121"https://slate.com/human-interest/2020/11/,"2127"https://slate.com/human-interest/2020/11/,"2130"https://slate.com/human-interest/2020/11/,"2133"https://slate.com/human-interest/2020/11/,"2137"https://slate.com/human-interest/2020/11/,"2140"https://slate.com/human-interest/2020/11/,"2141"https://slate.com/human-interest/2020/11/,"2145"https://slate.com/human-interest/2020/11/,"2147"https://slate.com/human-interest/2020/11/,"2150"https://slate.com/human-interest/2020/11/,"2156"https://slate.com/human-interest/2020/11/,"2166"https://slate.com/human-interest/2020/11/,"2170"https://slate.com/human-interest/2020/11/,"2171"https://slate.com/human-interest/2020/11/,"2176"https://slate.com/human-interest/2020/11/,"2177"https://slate.com/human-interest/2020/11/,"2179"https://slate.com/human-interest/2020/11/,"2183"https://slate.com/human-interest/2020/11/,"2186"https://slate.com/human-interest/2020/11/,"2192"https://slate.com/human-interest/2020/11/,"2198"https://slate.com/human-interest/2020/11/,"2202"https://slate.com/human-interest/2020/11/,"2205"https://slate.com/human-interest/2020/11/,"2214"https://slate.com/human-interest/2020/11/,"2216"https://slate.com/human-interest/2020/11/,"2219"https://slate.com/human-interest/2020/11/,"2220"https://slate.com/human-interest/2020/11/,"2222"https://slate.com/human-interest/2020/11/,"2223"https://slate.com/human-interest/2020/11/,"2224"https://slate.com/human-interest/2020/11/,"2225"https://slate.com/human-interest/2020/11/,"2227"https://slate.com/human-interest/2020/11/,"2228"https://slate.com/human-interest/2020/11/,"2234"https://slate.com/human-interest/2020/11/,"2238"https://slate.com/human-interest/2020/11/,"2247"https://slate.com/human-interest/2020/11/,"2251"https://slate.com/human-interest/2020/11/,"2253"https://slate.com/human-interest/2020/11/,"2262"https://slate.com/human-interest/2020/11/,"2264"https://slate.com/human-interest/2020/11/,"2271"https://slate.com/human-interest/2020/11/,"2276"https://slate.com/human-interest/2020/11/,"2278"https://slate.com/human-interest/2020/11/,"2279"https://slate.com/human-interest/2020/11/,"2282"https://slate.com/human-interest/2020/11/,"2290"https://slate.com/human-interest/2020/11/,"2292"https://slate.com/human-interest/2020/11/,"2295"https://slate.com/human-interest/2020/11/,"2299"https://slate.com/human-interest/2020/11/,"2305"https://slate.com/human-interest/2020/11/,"2306"https://slate.com/human-interest/2020/11/,"2310"https://slate.com/human-interest/2020/11/,"2311"https://slate.com/human-interest/2020/11/,"2312"https://slate.com/human-interest/2020/11/,"2315"https://slate.com/human-interest/2020/11/,"2320"https://slate.com/human-interest/2020/11/,"2325"https://slate.com/human-interest/2020/11/,"2328"https://slate.com/human-interest/2020/11/,"2331"https://slate.com/human-interest/2020/11/,"2334"https://slate.com/human-interest/2020/11/,"2335"https://slate.com/human-interest/2020/11/,"2336"https://slate.com/human-interest/2020/11/,"2337"https://slate.com/human-interest/2020/11/,"2343"https://slate.com/human-interest/2020/11/,"2346"https://slate.com/human-interest/2020/11/,"2354"https://slate.com/human-interest/2020/11/,"2357"https://slate.com/human-interest/2020/11/,"2358"https://slate.com/human-interest/2020/11/,"2359"https://slate.com/human-interest/2020/11/,"2366"https://slate.com/human-interest/2020/11/,"2370"https://slate.com/human-interest/2020/11/,"2373"https://slate.com/human-interest/2020/11/,"2376"https://slate.com/human-interest/2020/11/,"2377"https://slate.com/human-interest/2020/11/,"2380"https://slate.com/human-interest/2020/11/,"2382"https://slate.com/human-interest/2020/11/,"2387"https://slate.com/human-interest/2020/11/,"2389"https://slate.com/human-interest/2020/11/,"2392"https://slate.com/human-interest/2020/11/,"2394"https://slate.com/human-interest/2020/11/,"2400"https://slate.com/human-interest/2020/11/,"2403"https://slate.com/human-interest/2020/11/,"2405"https://slate.com/human-interest/2020/11/,"2406"https://slate.com/human-interest/2020/11/,"2407"https://slate.com/human-interest/2020/11/,"2410"https://slate.com/human-interest/2020/11/,"2411"https://slate.com/human-interest/2020/11/,"2413"https://slate.com/human-interest/2020/11/,"2414"https://slate.com/human-interest/2020/11/,"2415"https://slate.com/human-interest/2020/11/,"2416"https://slate.com/human-interest/2020/11/,"2418"https://slate.com/human-interest/2020/11/,"2422"https://slate.com/human-interest/2020/11/,"2425"https://slate.com/human-interest/2020/11/,"2427"https://slate.com/human-interest/2020/11/,"2435"https://slate.com/human-interest/2020/11/,"2437"https://slate.com/human-interest/2020/11/,"2440"https://slate.com/human-interest/2020/11/,"2441"https://slate.com/human-interest/2020/11/,"2447"https://slate.com/human-interest/2020/11/,"2453"https://slate.com/human-interest/2020/11/,"2459"https://slate.com/human-interest/2020/11/,"2461"https://slate.com/human-interest/2020/11/,"2462"https://slate.com/human-interest/2020/11/,"2464"https://slate.com/human-interest/2020/11/,"2467"https://slate.com/human-interest/2020/11/,"2468"https://slate.com/human-interest/2020/11/,"2472"https://slate.com/human-interest/2020/11/,"2477"https://slate.com/human-interest/2020/11/,"2481"https://slate.com/human-interest/2020/11/,"2484"https://slate.com/human-interest/2020/11/,"2486"https://slate.com/human-interest/2020/11/,"2492"https://slate.com/human-interest/2020/11/,"2493"https://slate.com/human-interest/2020/11/,"2496"https://slate.com/human-interest/2020/11/,"2497"https://slate.com/human-interest/2020/11/,"2498"https://slate.com/human-interest/2020/11/,"2499"https://slate.com/human-interest/2020/11/,"2504"https://slate.com/human-interest/2020/11/,"2506"https://slate.com/human-interest/2020/11/,"2510"https://slate.com/human-interest/2020/11/,"2511"https://slate.com/human-interest/2020/11/,"2512"https://slate.com/human-interest/2020/11/,"2517"https://slate.com/human-interest/2020/11/,"2526"https://slate.com/human-interest/2020/11/,"2527"https://slate.com/human-interest/2020/11/,"2531"https://slate.com/human-interest/2020/11/,"2532"https://slate.com/human-interest/2020/11/,"2534"https://slate.com/human-interest/2020/11/,"2542"https://slate.com/human-interest/2020/11/,"2544"https://slate.com/human-interest/2020/11/,"2552"https://slate.com/human-interest/2020/11/,"2555"https://slate.com/human-interest/2020/11/,"2559"https://slate.com/human-interest/2020/11/,"2563"https://slate.com/human-interest/2020/11/,"2564"https://slate.com/human-interest/2020/11/,"2567"https://slate.com/human-interest/2020/11/,"2568"https://slate.com/human-interest/2020/11/,"2569"https://slate.com/human-interest/2020/11/,"2571"https://slate.com/human-interest/2020/11/,"2572"https://slate.com/human-interest/2020/11/,"2573"https://slate.com/human-interest/2020/11/,"2575"https://slate.com/human-interest/2020/11/,"2577"https://slate.com/human-interest/2020/11/,"2579"https://slate.com/human-interest/2020/11/,"2583"https://slate.com/human-interest/2020/11/,"2584"https://slate.com/human-interest/2020/11/,"2586"https://slate.com/human-interest/2020/11/,"2589"https://slate.com/human-interest/2020/11/,"2595"https://slate.com/human-interest/2020/11/,"2596"https://slate.com/human-interest/2020/11/,"2597"https://slate.com/human-interest/2020/11/,"2601"https://slate.com/human-interest/2020/11/,"2604"https://slate.com/human-interest/2020/11/,"2605"https://slate.com/human-interest/2020/11/,"2609"https://slate.com/human-interest/2020/11/,"2610"https://slate.com/human-interest/2020/11/,"2612"https://slate.com/human-interest/2020/11/,"2614"https://slate.com/human-interest/2020/11/,"2621"https://slate.com/human-interest/2020/11/,"2622"https://slate.com/human-interest/2020/11/,"2624"https://slate.com/human-interest/2020/11/,"2628"https://slate.com/human-interest/2020/11/,"2629"https://slate.com/human-interest/2020/11/,"2632"https://slate.com/human-interest/2020/11/,"2634"https://slate.com/human-interest/2020/11/,"2636"https://slate.com/human-interest/2020/11/,"2639"https://slate.com/human-interest/2020/11/,"2643"https://slate.com/human-interest/2020/11/,"2645"https://slate.com/human-interest/2020/11/,"2646"https://slate.com/human-interest/2020/11/,"2647"https://slate.com/human-interest/2020/11/,"2649"https://slate.com/human-interest/2020/11/,"2650"https://slate.com/human-interest/2020/11/,"2651"https://slate.com/human-interest/2020/11/,"2652"https://slate.com/human-interest/2020/11/,"2656"https://slate.com/human-interest/2020/11/,"2657"https://slate.com/human-interest/2020/11/,"2658"https://slate.com/human-interest/2020/11/,"2660"https://slate.com/human-interest/2020/11/,"2661"https://slate.com/human-interest/2020/11/,"2662"https://slate.com/human-interest/2020/11/,"2663"https://slate.com/human-interest/2020/11/,"2664"https://slate.com/human-interest/2020/11/,"2669"https://slate.com/human-interest/2020/11/,"2670"https://slate.com/human-interest/2020/11/,"2673"https://slate.com/human-interest/2020/11/,"2676"https://slate.com/human-interest/2020/11/,"2677"https://slate.com/human-interest/2020/11/,"2678"https://slate.com/human-interest/2020/11/,"2681"https://slate.com/human-interest/2020/11/,"2682"https://slate.com/human-interest/2020/11/,"2684"https://slate.com/human-interest/2020/11/,"2685"https://slate.com/human-interest/2020/11/,"2686"https://slate.com/human-interest/2020/11/,"2689"https://slate.com/human-interest/2020/11/,"2690"https://slate.com/human-interest/2020/11/,"2691"https://slate.com/human-interest/2020/11/,"2695"https://slate.com/human-interest/2020/11/,"2698"https://slate.com/human-interest/2020/11/,"2699"https://slate.com/human-interest/2020/11/,"2702"https://slate.com/human-interest/2020/11/,"2704"https://slate.com/human-interest/2020/11/,"2705"https://slate.com/human-interest/2020/11/,"2706"https://slate.com/human-interest/2020/11/,"2707"https://slate.com/human-interest/2020/11/,"2709"https://slate.com/human-interest/2020/11/,"2710"https://slate.com/human-interest/2020/11/,"2713"https://slate.com/human-interest/2020/11/,"2714"https://slate.com/human-interest/2020/11/,"2727"https://slate.com/human-interest/2020/11/,"2729"https://slate.com/human-interest/2020/11/,"2739"https://slate.com/human-interest/2020/11/,"2758"https://slate.com/human-interest/2020/11/,"2765"https://slate.com/human-interest/2020/11/,"2766"https://slate.com/human-interest/2020/11/,"2767"https://slate.com/human-interest/2020/11/,"2768"https://slate.com/human-interest/2020/11/,"2770"https://slate.com/human-interest/2020/11/,"2771"https://slate.com/human-interest/2020/11/,"2772"https://slate.com/human-interest/2020/11/,"2776"https://slate.com/human-interest/2020/11/,"2777"https://slate.com/human-interest/2020/11/,"2778"https://slate.com/human-interest/2020/11/,"2779"https://slate.com/human-interest/2020/11/,"2780"https://slate.com/human-interest/2020/11/,"2783"https://slate.com/human-interest/2020/11/,"2784"https://slate.com/human-interest/2020/11/,"2786"https://slate.com/human-interest/2020/11/,"2787"https://slate.com/human-interest/2020/11/,"2791"https://slate.com/human-interest/2020/11/,"2792"https://slate.com/human-interest/2020/11/,"2793"https://slate.com/human-interest/2020/11/,"2797"https://slate.com/human-interest/2020/11/,"2798"https://slate.com/human-interest/2020/11/,"2801"https://slate.com/human-interest/2020/11/,"2802"https://slate.com/human-interest/2020/11/,"2803"https://slate.com/human-interest/2020/11/,"2805"https://slate.com/human-interest/2020/11/,"2808"https://slate.com/human-interest/2020/11/,"2809"https://slate.com/human-interest/2020/11/,"2810"https://slate.com/human-interest/2020/11/,"2811"https://slate.com/human-interest/2020/11/,"2812"https://slate.com/human-interest/2020/11/,"2813"https://slate.com/human-interest/2020/11/,"2814"https://slate.com/human-interest/2020/11/,"2817"https://slate.com/human-interest/2020/11/,"2818"https://slate.com/human-interest/2020/11/,"2824"https://slate.com/human-interest/2020/11/,"2826"https://slate.com/human-interest/2020/11/,"2827"https://slate.com/human-interest/2020/11/,"2829"https://slate.com/human-interest/2020/11/,"2830"https://slate.com/human-interest/2020/11/,"2831"https://slate.com/human-interest/2020/11/,"2832"https://slate.com/human-interest/2020/11/,"2834"https://slate.com/human-interest/2020/11/,"2836"https://slate.com/human-interest/2020/11/,"2838"https://slate.com/human-interest/2020/11/,"2840"https://slate.com/human-interest/2020/11/,"2842"https://slate.com/human-interest/2020/11/,"2843"https://slate.com/human-interest/2020/11/,"2844"https://slate.com/human-interest/2020/11/,"2850"https://slate.com/human-interest/2020/11/,"2851"https://slate.com/human-interest/2020/11/,"2852"https://slate.com/human-interest/2020/11/,"2854"https://slate.com/human-interest/2020/11/,"2858"https://slate.com/human-interest/2020/11/,"2860"https://slate.com/human-interest/2020/11/,"2862"https://slate.com/human-interest/2020/11/,"2864"https://slate.com/human-interest/2020/11/,"2865"https://slate.com/human-interest/2020/11/,"2866"https://slate.com/human-interest/2020/11/,"2867"https://slate.com/human-interest/2020/11/,"2868"https://slate.com/human-interest/2020/11/,"2869"https://slate.com/human-interest/2020/11/,"2871"] }, n = { code: i, gvlid: 165, aliases: ["spotx"], supportedMediaTypes: [c.d], isBidRequestValid: function isBidRequestValid(e) { if (e && "object" !== d(e.params)) return I.logError(i + ": params is not defined or is incorrect in the bidder settings."), !1; if (!I.deepAccess(e, "mediaTypes.video")) return I.logError(i + ": mediaTypes.video is not present in the bidder settings."), !1; var t = I.deepAccess(e, "mediaTypes.video.playerSize"); if (!t || !I.isArray(t)) return I.logError(i + ": mediaTypes.video.playerSize is not defined in the bidder settings."), !1; if (!I.getBidIdParameter("channel_id", e.params)) return I.logError(i + ": channel_id is not present in bidder params"), !1; if (("outstream" == I.deepAccess(e, "mediaTypes.video.context") || "outstream" == I.deepAccess(e, "params.ad_unit")) && !I.getBidIdParameter("outstream_function", e.params)) { if (!I.getBidIdParameter("outstream_options", e.params)) return I.logError(i + ": please define outstream_options parameter or override the default SpotX outstream rendering by defining your own Outstream function using field outstream_function."), !1; if (!I.getBidIdParameter("slot", e.params.outstream_options)) return I.logError(i + ": please define parameters slot outstream_options object in the configuration."), !1; } return !0; }, buildRequests: function buildRequests(e, h) { var y = h.refererInfo.referer, b = !!y.match(/^https:/); return e.map(function (e) { var t = I.getBidIdParameter("page", e.params) ? I.getBidIdParameter("page", e.params) : P.b.getConfig("pageUrl") ? P.b.getConfig("pageUrl") : y, r = I.getBidIdParameter("channel_id", e.params), a = null, d = I.deepAccess(e, "mediaTypes.video.playerSize"), i = d[0][0], n = d[0][1], o = b || (I.getBidIdParameter("secure", e.params) ? 1 : 0), s = { sdk_name: "Prebid 1+", versionOrtb: "2.3" }; if ("" != I.getBidIdParameter("hide_skin", e.params) && (s.hide_skin = +!!I.getBidIdParameter("hide_skin", e.params)), "" != I.getBidIdParameter("ad_volume", e.params) && (s.ad_volume = I.getBidIdParameter("ad_volume", e.params)), "" != I.getBidIdParameter("ad_unit", e.params) && (s.ad_unit = I.getBidIdParameter("ad_unit", e.params)), "" != I.getBidIdParameter("outstream_options", e.params) && (s.outstream_options = I.getBidIdParameter("outstream_options", e.params)), "" != I.getBidIdParameter("outstream_function", e.params) && (s.outstream_function = I.getBidIdParameter("outstream_function", e.params)), "" != I.getBidIdParameter("custom", e.params) && (s.custom = I.getBidIdParameter("custom", e.params)), "" != I.getBidIdParameter("pre_market_bids", e.params) && I.isArray(I.getBidIdParameter("pre_market_bids", e.params))) { var p = I.getBidIdParameter("pre_market_bids", e.params); for (var m in (s.pre_market_bids = [], p)) { var u = p[m], c = ""; u.vast_url ? c="" + u.vast_url + "" : u.vast_string && (c = u.vast_string), s.pre_market_bids.push({
id: u.deal_id,
seatbid: [{
bid: [{
impid: Date.now(),
dealid: u.deal_id,
price: u.price,
adm: c
}]
}],
cur: u.currency,
ext: {
event_log: [{}]
}
});
}
}
var g = I.getBidIdParameter("mimes", e.params) || ["application/javascript"https://slate.com/human-interest/2020/11/,"video/mp4″https://slate.com/human-interest/2020/11/,"video/webm"],
_ = {
id: e.bidId,
secure: o,
video: {
w: i,
h: n,
ext: s,
mimes: g
}
};
"" != I.getBidIdParameter("price_floor", e.params) && (_.bidfloor = I.getBidIdParameter("price_floor", e.params)), "" != I.getBidIdParameter("start_delay", e.params) && (_.video.startdelay = 0 + Boolean(I.getBidIdParameter("start_delay", e.params))), "" != I.getBidIdParameter("min_duration", e.params) && (_.video.minduration = I.getBidIdParameter("min_duration", e.params)), "" != I.getBidIdParameter("max_duration", e.params) && (_.video.maxduration = I.getBidIdParameter("max_duration", e.params)), "" != I.getBidIdParameter("placement_type", e.params) && (_.video.ext.placement = I.getBidIdParameter("placement_type", e.params)), "" != I.getBidIdParameter("position", e.params) && (_.video.ext.pos = I.getBidIdParameter("position", e.params)), e.crumbs && e.crumbs.pubcid && (a = e.crumbs.pubcid);
var l = navigator.language ? "language" : "userLanguage",
v = {
id: r,
imp: _,
site: {
id: "",
page: t,
content: "content"
},
device: {
h: screen.height,
w: screen.width,
dnt: I.getDNT() ? 1 : 0,
language: navigator[l].split("-")[0],
make: navigator.vendor ? navigator.vendor : "",
ua: navigator.userAgent
},
ext: {
wrap_response: 1
}
};
I.getBidIdParameter("number_of_ads", e.params) && (v.ext.number_of_ads = I.getBidIdParameter("number_of_ads", e.params));
var f = {};
return 1 == I.getBidIdParameter("spotx_all_google_consent", e.params) && (f.consented_providers_settings = B), h && h.gdprConsent && (f.consent = h.gdprConsent.consentString, void 0 !== h.gdprConsent.gdprApplies && I.deepSetValue(v, "regs.ext.gdpr", h.gdprConsent.gdprApplies ? 1 : 0)), h && h.uspConsent && I.deepSetValue(v, "regs.ext.us_privacy", h.uspConsent), I.deepAccess(e, "userId.id5id.uid") && (f.eids = f.eids || [], f.eids.push({
source: "id5-sync.com",
uids: [{
id: e.userId.id5id.uid
}],
ext: e.userId.id5id.ext || {}
})), a && (f.fpc = a), e && e.schain && (v.source = {
ext: {
schain: e.schain
}
}), e && e.userId && e.userId.tdid && (f.eids = f.eids || [], f.eids.push({
source: "adserver.org",
uids: [{
id: e.userId.tdid,
ext: {
rtiPartner: "TDID"
}
}]
})), I.isEmpty(f) || (v.user = {
ext: f
}), {
method: "POST",
url: "https://search.spotxchange.com/openrtb/2.3/dados/" + r,
data: v,
bidRequest: h
};
});
},
interpretResponse: function interpretResponse(e, s) {
var p = [],
m = e.body;
return m && I.isArray(m.seatbid) && I._each(m.seatbid, function (e) {
I._each(e.bid, function (t) {
var e = {};
for (var r in s.bidRequest.bids) {
t.impid == s.bidRequest.bids[r].bidId && (e = s.bidRequest.bids[r]);
}
I._each(e.params.pre_market_bids, function (e) {
e.deal_id == t.id && (t.price = e.price, m.cur = e.currency);
});
var a = {
requestId: e.bidId,
currency: m.cur || "USD",
cpm: t.price,
creativeId: t.crid || "",
dealId: t.dealid || "",
ttl: 360,
netRevenue: !0,
channel_id: m.id,
cache_key: t.ext.cache_key,
vastUrl: "https://search.spotxchange.com/ad/vast.html?key=" + t.ext.cache_key,
videoCacheKey: t.ext.cache_key,
mediaType: c.d,
width: t.w,
height: t.h
};
a.meta = a.meta || {}, t && t.adomain && 0 < t.adomain.length && (a.meta.advertiserDomains = t.adomain); var d = I.deepAccess(e, "mediaTypes.video.context"), i = I.deepAccess(e, "params.ad_unit"); if ("outstream" == d || "outstream" == i) { var n = I.deepAccess(e, "mediaTypes.video.playerSize"), o = u.a.install({ id: 0, url: "//", config: { adText: "SpotX Outstream Video Ad via Prebid.js", player_width: n[0][0], player_height: n[0][1], content_page_url: I.deepAccess(s, "data.site.page"), ad_mute: +!!I.deepAccess(e, "params.ad_mute"), hide_skin: +!!I.deepAccess(e, "params.hide_skin"), outstream_options: I.deepAccess(e, "params.outstream_options"), outstream_function: I.deepAccess(e, "params.outstream_function") } }); try { o.setRender(g), o.setEventHandlers({ impression: function impression() { return I.logMessage("SpotX outstream video impression event"); }, loaded: function loaded() { return I.logMessage("SpotX outstream video loaded event"); }, ended: function ended() { I.logMessage("SpotX outstream renderer video event"); } }); } catch (e) { I.logWarn("Prebid Error calling setRender or setEve,tHandlers on renderer", e); } a.renderer = o; } p.push(a); }); }), p; } }; function g(e) { var t = function (e) { var t = I.getBidIdParameter("slot", e.renderer.config.outstream_options); I.logMessage("[SPOTX][renderer] Handle SpotX outstream renderer"); var r = window.document.createElement("script"); r.type = "text/javascript", r.src = "https://js.spotx.tv/easi/v1/" + e.channel_id + ".js"; var a = {}; a["data-spotx_channel_id"] = "" + e.channel_id, a["data-spotx_vast_url"] = "" + e.vastUrl, a["data-spotx_content_page_url"] = e.renderer.config.content_page_url, a["data-spotx_ad_unit"] = "incontent", I.logMessage("[SPOTX][renderer] Default beahavior"), I.getBidIdParameter("ad_mute", e.renderer.config.outstream_options) && (a["data-spotx_ad_mute"] = "1"), a["data-spotx_collapse"] = "0", a["data-spotx_autoplay"] = "1", a["data-spotx_blocked_autoplay_override_mode"] = "1", a["data-spotx_video_slot_can_autoplay"] = "1"; var d, i, n, o, s, p, m = I.getBidIdParameter("playersize_auto_adapt", e.renderer.config.outstream_options); m && I.isBoolean(m) && !0 === m && (e.width && I.isNumber(e.width) && e.height && I.isNumber(e.height) ? (d = e.width / e.height, i = window.document.getElementById(t).clientWidth, n = e.renderer.config.player_width, o = e.renderer.config.player_height, p = s = 0, i < n && (o = (n = i) / d), p = d <= 1 ? (s = Math.round(o * d), o) : (s = n, Math.round(n / d)), a["data-spotx_content_width"] = "" + s, a["data-spotx_content_height"] = "" + p) : I.logWarn("[SPOTX][renderer] PlayerSize auto adapt: bid.width and bid.height are incorrect")); var u = I.getBidIdParameter("custom_override", e.renderer.config.outstream_options); if (u && I.isPlainObject(u)) for (var c in (I.logMessage("[SPOTX][renderer] Custom behavior."), u)) { u.hasOwnProperty(c) && ("channel_id" === c || "vast_url" === c || "content_page_url" === c || "ad_unit" === c ? I.logWarn("[SPOTX][renderer] Custom behavior: following option cannot be overridden: " + c) : a["data-spotx_" + c] = u[c]); } for (var g in a) { a.hasOwnProperty(g) && r.setAttribute(g, a[g]); } return r; }(e); if (null != e.renderer.config.outstream_function && "function" == typeof e.renderer.config.outstream_function) e.renderer.config.outstream_function(e, t);else try { var r, a, d, i = I.getBidIdParameter("in_iframe", e.renderer.config.outstream_options); i && "IFRAME" == window.document.getElementById(i).nodeName ? (!(a = (r = window.document.getElementById(i)).contentDocument) && r.contentWindow && (a = r.contentWindow.document), a.body.appendChild(t)) : (d = I.getBidIdParameter("slot", e.renderer.config.outstream_options)) && window.document.getElementById(d) ? window.document.getElementById(d).appendChild(t) : window.document.getElementsByTagName("head")[0].appendChild(t); } catch (e) { I.logError("[SPOTX][renderer] Error:" + e.message); } } Object(a.registerBidder)(n); } }, [780]); pbjsChunk([96], { 796: function _(e, t, r) { e.exports = r(797); }, 797: function _(e, t, r) { "use strict"; Object.defineProperty(t, "__esModule", { value: !0 }), r.d(t, "spec", function () { return i; }); var n = r(1), a = r(0), p = 12, c = 11, u = 0, g = 22, i = { code: "teads", supportedMediaTypes: ["video"https://slate.com/human-interest/2020/11/,"banner"], isBidRequestValid: function isBidRequestValid(e) { var t, r, n = !1; return void 0 !== e.params && (t = s(a.getValue(e.params, "placementId")), r = s(a.getValue(e.params, "pageId")), n = t && r), n || a.logError("Teads placementId and pageId parameters are required. Bid aborted."), n; }, buildRequests: function buildRequests(e, t) { var r, n = e.map(f), i = { referrer: function (e) { var t = ""; e && e.refererInfo && e.refererInfo.referer && (t = e.refererInfo.referer); return t; }(t), pageReferrer: document.referrer, networkBandwidth: (r = window.navigator) && r.connection && 0 <= r.connection.downlink ? r.connection.downlink.toString() : "", timeToFirstByte: function (e) { var t = e.performance || e.webkitPerformance || e.msPerformance || e.mozPerformance, r = t && "function" == typeof t.getEntriesByType && "[object Function]" === Object.prototype.toString.call(t.getEntriesByType) && t.getEntriesByType("navigation")[0] && t.getEntriesByType("navigation")[0].responseStart && t.getEntriesByType("navigation")[0].requestStart && 0 < t.getEntriesByType("navigation")[0].responseStart && 0 < t.getEntriesByType("navigation")[0].requestStart && Math.round(t.getEntriesByType("navigation")[0].responseStart - t.getEntriesByType("navigation")[0].requestStart); if (r) return r.toString(); var n = t && t.timing.responseStart && t.timing.requestStart && 0 < t.timing.responseStart && 0 < t.timing.requestStart && t.timing.responseStart - t.timing.requestStart; return n ? n.toString() : ""; }(window), data: n, deviceWidth: screen.width, hb_version: "4.13.0" }; e[0].schain && (i.schain = e[0].schain); var a, s, o, d = t.gdprConsent; return t && d && (a = "boolean" == typeof d.gdprApplies, s = "string" == typeof d.consentString, o = a ? function (e, t, r) { var n = p; e ? function (e, t) { return e && 1 === t ? e.hasGlobalScope || e.hasGlobalConsent : !(!e || 2 !== t) && !e.isServiceSpecific; }(t, r) && (n = c) : n = u; return n; }(d.gdprApplies, d.vendorData, d.apiVersion) : g, i.gdpr_iab = { consent: s ? d.consentString : "", status: o, apiVersion: d.apiVersion }), t && t.uspConsent && (i.us_privacy = t.uspConsent), { method: "POST", url: "https://a.teads.tv/hb/bid-request", data: JSON.stringify(i) }; }, interpretResponse: function interpretResponse(e) { var r = []; return (e = e.body).responses && e.responses.forEach(function (e) { var t = { cpm: e.cpm, width: e.width, height: e.height, currency: e.currency, netRevenue: !0, ttl: e.ttl, ad: e.ad, requestId: e.bidId, creativeId: e.creativeId, placementId: e.placementId }; e.dealId && (t.dealId = e.dealId), r.push(t); }), r; } }; function f(e) { var t, r = {}, n = a.getValue(e.params, "placementId"), i = a.getValue(e.params, "pageId"); return r.sizes = (t = e, a.parseSizesInput(function (e) { var t = a.deepAccess(e, "mediaTypes.video.playerSize"), r = a.deepAccess(e, "mediaTypes.video.sizes"), n = a.deepAccess(e, "mediaTypes.banner.sizes"); return a.isArray(n) || a.isArray(t) || a.isArray(r) ? [n, r, t].reduce(function (t, e) { return a.isArray(e) && (a.isArray(e[0]) ? e.forEach(function (e) { t.push(e); }) : t.push(e)), t; }, []) : e.sizes; }(t))), r.bidId = a.getBidIdParameter("bidId", e), r.bidderRequestId = a.getBidIdParameter("bidderRequestId", e), r.placementId = parseInt(n, 10), r.pageId = parseInt(i, 10), r.adUnitCode = a.getBidIdParameter("adUnitCode", e), r.auctionId = a.getBidIdParameter("auctionId", e), r.transactionId = a.getBidIdParameter("transactionId", e), r; } function s(e) { return 0 < parseInt(e); } Object(n.registerBidder)(i); } }, [796]); pbjsChunk([87], { 816: function _(e, r, t) { e.exports = t(817); }, 817: function _(e, r, t) { "use strict"; Object.defineProperty(r, "__esModule", { value: !0 }), t.d(r, "tripleliftAdapterSpec", function () { return m; }); var n = t(2), i = t(1), u = t(0), a = t(3); function p() { return (p = Object.assign || function (e) { for (var r = 1; r < arguments.length; r++) { var t = arguments[r]; for (var n in t) { Object.prototype.hasOwnProperty.call(t, n) && (e[n] = t[n]); } } return e; }).apply(this, arguments); } function c(e) { return (c = "function" == typeof Symbol && "symbol" == _typeof(Symbol.iterator) ? function (e) { return _typeof(e); } : function (e) { return e && "function" == typeof Symbol && e.constructor === Symbol && e !== Symbol.prototype ? "symbol" : _typeof(e); })(e); } function d(r, e) { var t, n = Object.keys(r); return Object.getOwnPropertySymbols && (t = Object.getOwnPropertySymbols(r), e && (t = t.filter(function (e) { return Object.getOwnPropertyDescriptor(r, e).enumerable; })), n.push.apply(n, t)), n; } function s(i) { for (var e = 1; e < arguments.length; e++) { var o = null != arguments[e] ? arguments[e] : {}; e {c33c21346ff5e26ab8e0ae3d29ae4367143f0d27c235e34c392ea37decdb8bed} 2 ? d(Object(o), !0).forEach(function (e) { var r, t, n; r = i, n = o[t = e], t in r ? Object.defineProperty(r, t, { value: n, enumerable: !0, configurable: !0, writable: !0 }) : r[t] = n; }) : Object.getOwnPropertyDescriptors ? Object.defineProperties(i, Object.getOwnPropertyDescriptors(o)) : d(Object(o)).forEach(function (e) { Object.defineProperty(i, e, Object.getOwnPropertyDescriptor(o, e)); }); } return i; } function f(e) { return function (e) { if (Array.isArray(e)) return o(e); }(e) || function (e) { if ("undefined" != typeof Symbol && Symbol.iterator in Object(e)) return Array.from(e); }(e) || function (e, r) { if (!e) return; if ("string" == typeof e) return o(e, r); var t = Object.prototype.toString.call(e).slice(8, -1); "Object" === t && e.constructor && (t = e.constructor.name); if ("Map" === t || "Set" === t) return Array.from(e); if ("Arguments" === t || /^(?:Ui|I)nt(?:8|16|32)(?:Clamped)?Array$/.test(t)) return o(e, r); }(e) || function () { throw new TypeError("Invalid attempt to spread non-iterable instance.nIn order to be iterable, non-array objects must have a [Symbol.iterator]() method."); }(); } function o(e, r) { (null == r || r > e.length) && (r = e.length);
for (var t = 0, n = new Array(r); t < r; t++) { n[t] = e[t]; } return n; } var y = !0, l = null, m = { code: "triplelift", supportedMediaTypes: [n.b, n.d], isBidRequestValid: function isBidRequestValid(e) { if (e.mediaTypes.video) { var r = b(e); if (!r.w || !r.h) return !1; } return void 0 !== e.params.inventoryCode; }, buildRequests: function buildRequests(e, r) { var t, n = "https://tlx.3lift.com/header/auction?", i = function (e) { var r = {}, t = e[0].schain, n = function () { var e = {}, r = p({}, a.b.getConfig("fpd.context")), t = p({}, a.b.getConfig("fpd.user")); return g(e, r), g(e, t), e; }(); r.imp = e.map(function (e, r) { var t = { id: r, tagid: e.params.inventoryCode, floor: function (e) { var r = null; { var t; "function" == typeof e.getFloor && ("object" !== c(t = e.getFloor({ currency: "USD", mediaType: "banner", size: S(e.sizes) })) || "USD" !== t.currency || isNaN(parseFloat(t.floor)) || (r = parseFloat(t.floor))); } return null !== r ? r : e.params.floor; }(e) }; return !function (e) { if (!e.mediaTypes.video) return !1; if (!e.mediaTypes.video.context) return !1; return "instream" === e.mediaTypes.video.context.toLowerCase(); }(e) ? e.mediaTypes.banner && (t.banner = { format: S(e.sizes) }) : t.video = b(e), t; }); var i = [].concat(f(function (e) { return v(e, "tdid"https://slate.com/human-interest/2020/11/,"adserver.org"https://slate.com/human-interest/2020/11/,"TDID"); }(e)), f(function (e) { return v(e, "idl_env"https://slate.com/human-interest/2020/11/,"liveramp.com"https://slate.com/human-interest/2020/11/,"idl"); }(e)), f(function (e) { return v(e, "criteoId"https://slate.com/human-interest/2020/11/,"criteo.com"https://slate.com/human-interest/2020/11/,"criteoId"); }(e))); 0 < i.length && (r.user = { ext: { eids: i } }); var o = function (e, r) { var t = {}; u.isEmpty(e) || (t.schain = s({}, e)); u.isEmpty(r) || (t.fpd = s({}, r)); return t; }(t, n); u.isEmpty(o) || (r.ext = o); return r; }(e); return n = u.tryAppendQueryString(n, "lib"https://slate.com/human-interest/2020/11/,"prebid"), n = u.tryAppendQueryString(n, "v"https://slate.com/human-interest/2020/11/,"4.13.0"), r && r.refererInfo && (t = r.refererInfo.referer, n = u.tryAppendQueryString(n, "referrer", t)), r && r.timeout && (n = u.tryAppendQueryString(n, "tmax", r.timeout)), r && r.gdprConsent && (void 0 !== r.gdprConsent.gdprApplies && (y = r.gdprConsent.gdprApplies, n = u.tryAppendQueryString(n, "gdpr", y.toString())), void 0 !== r.gdprConsent.consentString && (l = r.gdprConsent.consentString, n = u.tryAppendQueryString(n, "cmp_cs", l))), r && r.uspConsent && (n = u.tryAppendQueryString(n, "us_privacy", r.uspConsent)), !0 === a.b.getConfig("coppa") && (n = u.tryAppendQueryString(n, "coppa", !0)), n.lastIndexOf("&") === n.length - 1 && (n = n.substring(0, n.length - 1)), u.logMessage("tlCall request built: " + n), { method: "POST", url: n, data: i, bidderRequest: r }; }, interpretResponse: function interpretResponse(e, r) { var t = r.bidderRequest; return (e.body.bids || []).map(function (e) { return function (e, r) { var t = {}, n = r.width || 1, i = r.height || 1, o = r.deal_id || "", u = r.crid || "", a = e.bids[r.imp_id]; 0 != r.cpm && r.ad && (t = { requestId: a.bidId, cpm: r.cpm, width: n, height: i, netRevenue: !0, ad: r.ad, creativeId: u, dealId: o, currency: "USD", ttl: 300, tl_source: r.tl_source, meta: {} }, a.mediaTypes.video && (t.vastXml = r.ad, t.mediaType = "video"), r.advertiser_name && (t.meta.advertiserName = r.advertiser_name)); return t; }(t, e); }); }, getUserSyncs: function getUserSyncs(e, r, t, n) { var i = function (e) { if (!e) return; if (e.iframeEnabled) return "iframe"; if (e.pixelEnabled) return "image"; }(e); if (i) { var o = "https://eb2.3lift.com/sync?"; return "image" === i && (o = u.tryAppendQueryString(o, "px", 1), o = u.tryAppendQueryString(o, "src"https://slate.com/human-interest/2020/11/,"prebid")), null !== l && (o = u.tryAppendQueryString(o, "gdpr", y), o = u.tryAppendQueryString(o, "cmp_cs", l)), n && (o = u.tryAppendQueryString(o, "us_privacy", n)), [{ type: i, url: o }]; } } }; function b(e) { var r = s(s({}, e.params.video), e.mediaTypes.video); return r.w || (r.w = r.playerSize[0][0]), r.h || (r.h = r.playerSize[0][1]), "instream" === r.context && (r.placement = 1), delete r.playerSize, r; } function g(r, t) { u.isEmpty(t) || Object.keys(t).forEach(function (e) { null != t[e] && (r[e] = t[e]); }); } function v(e, r, t, n) { return e.map((u = r, function (e) { return e && e.userId && e.userId[u]; })).filter(function (e) { return !!e; }).map((i = t, o = n, function (e) { return { source: i, uids: [{ id: e, ext: { rtiPartner: o } }] }; })); var i, o, u; } function S(e) { return e.filter(h).map(function (e) { return { w: e[0], h: e[1] }; }); } function h(e) { return 2 === e.length && "number" == typeof e[0] && "number" == typeof e[1]; } Object(i.registerBidder)(m); } }, [816]); pbjs.processQueue(); }, {}]; window.modules["via.legacy"] = [function(require,module,exports){"use strict"; DS.service("via", function () { "use strict"; // remove `via` from url, to be used after amplitude logs it to prevent users from sharing such urls function removeFromLocation() { var url = new URL(location.href); url.searchParams.delete("via"); history.replaceState(null, "", url.toString()); } // and add `via` param to any outbound links function addViaToUrl(href, via) { if (!href || href.substr(0, 1) === "#") { return href; // don't add to jumps on the current page, e.g. "Skip to main content" } var url = new URL(href); var apexDomain = new URL(location.href).hostname.split(".").slice(-2).join("."); if (url.hostname.indexOf(apexDomain) === -1) { return href; // don't add it to external links } url.searchParams.set("via", via); return url.toString(); } // keys correspond to "page_types" in editable_components.yml var PREFIXES = { article: "article", homepage: "homepage", "vertical front": "section", "rubric front": "rubric" }; var pageType; function setPageType(amplitudePageType) { pageType = PREFIXES[amplitudePageType]; } var DELIMITER = "_"; function concatVia(node, via) { var tag = node.dataset && node.dataset.via; if (tag) { via = (via.length ? tag + DELIMITER : tag) + via; } return via; } function addToClickedLinks() { document.documentElement.addEventListener("click", function (e) { var a; var via = ""; // detect link nodes and collect via directives to append to the href var node = e.target; // the element where this event originated may have been removed from the dom, e.g. in the case of the OIL CMP which disappears after you interact with it while (node && node !== e.currentTarget) { if (node.tagName === "A") { a = node; } via = concatVia(node, via); node = node.parentNode; } if (a && via) { if (pageType) { via = pageType + DELIMITER + via; } a.href = addViaToUrl(a.href, via); } }); } function addToSubmittedForms() { document.documentElement.addEventListener("submit", function (e) { var form = e.target; // collect via directives var via = ""; var node = e.target; while (node !== e.currentTarget) { via = concatVia(node, via); node = node.parentNode; } if (via) { if (pageType) { via = pageType + DELIMITER + via; } // dynamically create a hidden input for the form url var input = document.createElement("input"); input.type = "hidden"; input.name = "via"; input.value = via; form.appendChild(input); } }); } // start listening only once, when first injected addToClickedLinks(); addToSubmittedForms(); return { setPageType: setPageType, removeFromLocation: removeFromLocation }; }); }, {}]; window.modules["visibility.legacy"] = [function(require,module,exports){"use strict"; DS.service("$visibility", ["$document"https://slate.com/human-interest/2020/11/,"$window"https://slate.com/human-interest/2020/11/,"_throttle"https://slate.com/human-interest/2020/11/,"Eventify", function ($document, $window, _throttle, Eventify) { var list = [], Visible, VisibleEvent; /** * @param {number} a * @param {number} b * @returns {*} * @see https://jsperf.com/math-min-vs-if-condition-vs/8 */ function min(a, b) { return a < b ? a : b; } /** * @param {number} a * @param {number} b * @returns {*} * @see https://jsperf.com/math-min-vs-if-condition-vs/8 */ function max(a, b) { return a > b ? a : b;
}
/**
* Fast loop through watched elements
*/
function onScroll() {
list.forEach(updateVisibility);
}
/**
* updates seen property
* @param {Visble} item
* @param {{}} evt
* @fires Visible#shown
* @fires Visible#hidden
*/
function updateSeen(item, evt) {
var px = evt.visiblePx,
percent = evt.visiblePercent; // if some pixels are visible and we're greater/equal to threshold
if (px && percent >= item.shownThreshold && !item.seen) {
item.seen = true;
setTimeout(function () {
item.trigger("shown", new VisibleEvent("shown", evt));
}, 15); // if no pixels or percent is less than threshold
} else if ((!px || percent < item.hiddenThreshold) && item.seen) { item.seen = false; setTimeout(function () { item.trigger("hidden", new VisibleEvent("hidden", evt)); }, 15); } } /** * sets preload property * @param {Visible} item * @param {{}} evt * @param {Number} innerHeight * @fires Visible#preload */ function updatePreload(item, evt, innerHeight) { if (!item.preload && item.preloadThreshhold && shouldBePreloaded(evt.target, evt.rect, item.preloadThreshhold, innerHeight)) { item.preload = true; setTimeout(function () { item.trigger("preload", new VisibleEvent("preload", evt)); }, 15); } } /** * Trigger events * @param {Visible} item */ function updateVisibility(item) { var rect = item.el.getBoundingClientRect(), innerHeight = $window.innerHeight || $document.documentElement.clientHeight, px = getVerticallyVisiblePixels(rect, innerHeight), percent = px / (rect.height || innerHeight), evt = { target: item.el, rect: rect, visiblePx: px, visiblePercent: percent }; updateSeen(item, evt); updatePreload(item, evt, innerHeight); } /** * Return normalized viewport height * @return {number} */ function getViewportHeight() { return $window.innerHeight || $document.documentElement.clientHeight || $document.body.clientHeight; } /** * Return normalized viewport width * @return {number} */ function getViewportWidth() { return $window.innerWidth || $document.documentElement.clientWidth || $document.body.clientWidth; } /** * make sure an element isn't hidden by styles or etc * @param {Element} el * @return {Boolean} */ function isElementNotHidden(el) { return el && el.offsetParent !== null && !el.getAttribute("hidden") && getComputedStyle(el).display !== "none" && getComputedStyle(el).visibility !== "hidden"; } /** * Apparently the fastest way... * @param {Element} el * @returns {boolean} * @example if (!$visibility.isElementInViewport(el)) { ... } */ function isElementInViewport(el) { var rect = el.getBoundingClientRect(); return rect.top >= 0 && rect.left >= 0 && rect.bottom <= ($window.innerHeight || $document.documentElement.clientHeight) && rect.right <= ($window.innerWidth || $document.documentElement.clientWidth); } /** * @param {Element} el * @param {ClientRect} rect * @param {Number} preloadThreshhold * @param {Number} innerHeight * @return {Boolean} */ function shouldBePreloaded(el, rect, preloadThreshhold, innerHeight) { return rect.top <= innerHeight + preloadThreshhold && isElementNotHidden(el); } /** * Create a one-dimensional spacial hash of x * @param {number} x * @param {number} stepSize * @param {number} optimalK * @param {number} base * @return {number} */ function getLinearSpacialHash(x, stepSize, optimalK, base) { var index = Math.floor(x / (stepSize || 1)), remainder = x {c33c21346ff5e26ab8e0ae3d29ae4367143f0d27c235e34c392ea37decdb8bed} stepSize, result = index.toString(base); if (optimalK > 1) {
result += getLinearSpacialHash(remainder, Math.floor(stepSize / base), optimalK – 1, base);
}
return result;
}
/**
* @param {ClientRect} rect
* @param {number} innerHeight
* @returns {number}
*/
function getVerticallyVisiblePixels(rect, innerHeight) {
return min(innerHeight, max(rect.bottom, 0)) – min(max(rect.top, 0), innerHeight);
}
/**
* Get offset of element relative to entire page
*
* @param {Element} el
* @returns {{left: number, top: number}}
* @see https://jsperf.com/offset-vs-getboundingclientrect/7
*/
function getPageOffset(el) {
var offsetLeft = el.offsetLeft,
offsetTop = el.offsetTop;
while (el = el.offsetParent) {
offsetLeft += el.offsetLeft;
offsetTop += el.offsetTop;
}
return {
left: offsetLeft,
top: offsetTop
};
}
/**
* Create a new Visible class to observe when elements enter and leave the viewport
*
* Call destroy function to stop listening (this is until we have better support for watching for Node Removal)
* @param {Element} el
* @param {{shownThreshold: number, hiddenThreshold: number}} [options]
* @class
* @example this.visible = new $visibility.Visible(el);
*/
Visible = function Visible(el, options) {
options = options || {};
this.el = el;
this.seen = false;
this.preload = false;
this.preloadThreshhold = options && options.preloadThreshhold || 0;
this.shownThreshold = options && options.shownThreshold || 0;
this.hiddenThreshold = options && min(options.shownThreshold, options.hiddenThreshold) || 0;
list.push(this);
updateVisibility(this); // set immediately to visible or not
};
Visible.prototype = {
/**
* Stop triggering.
*/
destroy: function destroy() {
// remove from list
list.splice(list.indexOf(this), 1);
}
/**
* @name Visible#on
* @function
* @param {'shown'|'hidden'} e EventName
* @param {function} cb Callback
*/
/**
* @name Visible#trigger
* @function
* @param {'shown'|'hidden'} e
* @param {{}}
*/
};
Eventify.enable(Visible.prototype);
VisibleEvent = function VisibleEvent(type, options) {
var _this = this;
this.type = type;
Object.keys(options).forEach(function (key) {
_this[key] = options[key];
});
}; // listen for scroll events (throttled)
$document.addEventListener("scroll", _throttle(onScroll, 200)); // public
this.getPageOffset = getPageOffset;
this.getLinearSpacialHash = getLinearSpacialHash;
this.getVerticallyVisiblePixels = getVerticallyVisiblePixels;
this.getViewportHeight = getViewportHeight;
this.getViewportWidth = getViewportWidth;
this.isElementNotHidden = isElementNotHidden;
this.isElementInViewport = isElementInViewport;
this.Visible = Visible;
}]);
}, {}];
require=(function e(t,n,r){function s(o,u){if(!n[o]){if(!t[o]){var a=typeof require=="function"&&require;if(!u&&a)return a(o,!0);if(i)return i(o,!0);var f=new Error("Cannot find module '"+o+"'");throw f.code="MODULE_NOT_FOUND",f}var l=n[o]={exports:{}};t[o][0].call(l.exports,function(e){var n=t[o][1][e];return s(n?n:e)},l,l.exports,e,t,n,r)}return n[o].exports}var i=typeof require=="function"&&require;for(var o=0;o= o.length) return { done: true }; return { done: false, value: o[i++] }; }, e: function e(_e) { throw _e; }, f: F }; } throw new TypeError("Invalid attempt to iterate non-iterable instance.nIn order to be iterable, non-array objects must have a [Symbol.iterator]() method."); } var normalCompletion = true, didErr = false, err; return { s: function s() { it = o[Symbol.iterator](); }, n: function n() { var step = it.next(); normalCompletion = step.done; return step; }, e: function e(_e2) { didErr = true; err = _e2; }, f: function f() { try { if (!normalCompletion && it.return != null) it.return(); } finally { if (didErr) throw err; } } }; }
function _unsupportedIterableToArray(o, minLen) { if (!o) return; if (typeof o === "string") return _arrayLikeToArray(o, minLen); var n = Object.prototype.toString.call(o).slice(8, -1); if (n === "Object" && o.constructor) n = o.constructor.name; if (n === "Map" || n === "Set") return Array.from(o); if (n === "Arguments" || /^(?:Ui|I)nt(?:8|16|32)(?:Clamped)?Array$/.test(n)) return _arrayLikeToArray(o, minLen); }
function _arrayLikeToArray(arr, len) { if (len == null || len > arr.length) len = arr.length; for (var i = 0, arr2 = new Array(len); i < len; i++) { arr2[i] = arr[i]; } return arr2; } function mountLegacyServices() { Object.keys(window.modules).filter(function (key) { return typeof key === 'string' && key.match(/.legacy$/); }).forEach(function (key) { return window.require(key); }); } function tryToMount(fn, el, name) { try { fn(el); // init the controller } catch (e) { var elementTag = el.outerHTML.slice(0, el.outerHTML.indexOf(el.innerHTML)); console.error("Error initializing controller for "".concat(name, "" on "").concat(elementTag, """), e); } } /** * mount client.js component controllers */ function mountComponentModules() { Object.keys(window.modules).filter(function (key) { return typeof key === 'string' && key.match(/.client$/); }).forEach(function (key) { var controllerFn = window.require(key); if (typeof controllerFn === 'function') { var name = key.replace('.client"https://slate.com/human-interest/2020/11/,"'), instancesSelector = "[data-uri*="_components/".concat(name, "/"]"), defaultSelector = "[data-uri$="_components".concat(name, ""]"), instances = document.querySelectorAll(instancesSelector), defaults = document.querySelectorAll(defaultSelector); var _iterator = _createForOfIteratorHelper(instances), _step; try { for (_iterator.s(); !(_step = _iterator.n()).done;) { var el = _step.value; tryToMount(controllerFn, el, name); } } catch (err) { _iterator.e(err); } finally { _iterator.f(); } var _iterator2 = _createForOfIteratorHelper(defaults), _step2; try { for (_iterator2.s(); !(_step2 = _iterator2.n()).done;) { var _el = _step2.value; tryToMount(controllerFn, _el, name); } } catch (err) { _iterator2.e(err); } finally { _iterator2.f(); } } }); } // Make sure that a `window.process.env.NODE_ENV` is available in the client for any dependencies, // services, or components that could require it // note: the `` value is swapped for the actual environment variable in /lib/cmd/compile/scripts.js window.process = window.process || {}; window.process.env = window.process.env || {}; if (!window.process.env.NODE_ENV) { window.process.env.NODE_ENV = ''; } // note: legacy controllers that require legacy services (e.g. dollar-slice) must // wait for DOMContentLoaded to initialize themselves, as the files themselves must be mounted first mountLegacyServices(); mountComponentModules(); // ]]