A study assessing consumer attitudes towards healthier meat products is looking to find some missing pieces of the puzzle in hybrid food offerings.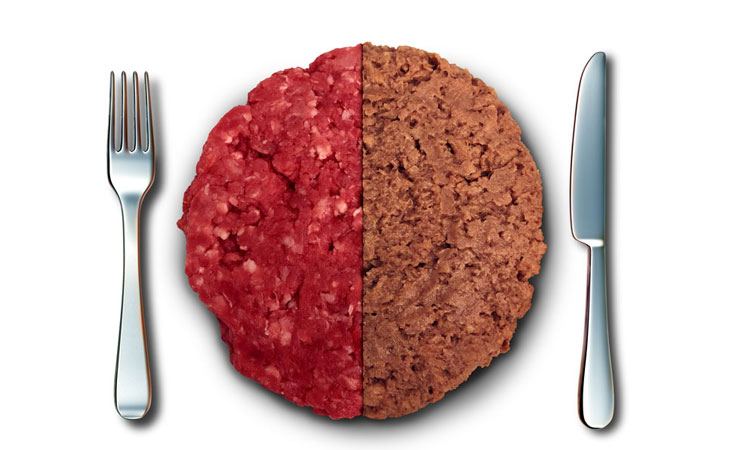 There is an increased interest in flexitarianism in the UK.1 In the market, a plethora of plant-based foods are being launched, while meat products are seeing a stagnation of sales.
According to Mintel, sales of bacon, sausages, burgers and coated poultry in the UK are forecast to increase by just one percent in the next five years.2 Volumes are expected to be held back by people reducing their consumption of processed meats and by the increased availability of meat-free substitutes.
Although there is an interest in lowering meat consumption, changing diet is not an easy task. To achieve a partial substitution of animal proteins in the diet with more sustainable plant proteins, long term dietary transitions should be established rather than short phases.3 Other studies have found that effective dietary changes can be created when new practices are not too different from consumers' previous behaviour.4
Are hybrid foods the answer?
Hybrid foods (which blend animal ingredients with plant-based ones) could be a useful tool in diet change, helping to bridge the gap between the two markets. Such hybrids are most commonly represented by meat products, but recently have extended to also include dairy. For example, US‐based Live Real Farms has launched the first line of beverages that contain a blend of fresh milk and plant-based drinks.5
A study on 11,399 American adults in the US showed that five out of six people who became vegan or vegetarian eventually went back to eating meat.6 As such, the authors suggest we should encourage the majority of the population, rather than a smaller sample, to decrease their meat consumption, rather than give up meat completely.
Hybrid meat offerings could be considered as a sort of transition product; a food that still tastes, looks and has the texture of meat, but at the same time, has an increased content of plant-based ingredients. It can also be associated with positive health claims such as 'one of your five a day' or 'a source of fibre'. These products might be suitable for those consumers who want to try something different and/or lower their meat consumption, but are not yet ready to move to meat-free alternatives.
Hybrid meat products have not been in the market for a long time. Aldi, the first retailer to launch a flexitarian burger made with beef and beans, did not have much success. It was attacked on social media by a vegan who claimed that "you either eat meat or you don't" and resulted in negative press.7
Related topics
Analysis, Food & Drink, Health & Nutrition, Ingredients, New product development (NPD), Plant based, Product Development, Proteins & alternative proteins, Research & development, retail, Sustainability, The consumer