Members of Reddit's widely-popular r/AmITheA**hole subreddit were quick to defend one user after she said her boyfriend accused her of "tricking" him into eating vegan meals.
In a viral post that has received nearly 10,000 comments and more than 3,800 comments, u/TheElderAgrippina explained that she has been dating her boyfriend for three-and-a-half months. Including an explanation of their first dinner date, u/TheElderAgrippina said that she is vegan, and that her boyfriend had always eaten completely-vegan meals when they ate at her apartment.
But the Redditor's boyfriend had no idea.
After eating vegan lasagna for Christmas dinner, the couple was watching a cooking show featuring a contestant who used "fake meat" in a dish they prepared. The Redditor said her boyfriend was appalled, and "commented how he hated when dishes pretended to be meat when it was plant based and it was deceptive and gross and he would never eat that."
Bewildered, u/TheElderAgrippina said that when she told her boyfriend that he had eaten multiple meals with "fake meat," he was immediately enraged.
"He got really mad," she explained. "He accused me of tricking him into eating something he found disgusting and 'forcing' my diet on him."
Since 2014, between 1 and 6 percent of Americans reported that they were vegan. Only 1 percent of the American population labeled themselves vegan in 2014, according to Plant Proteins Co. That figure leaped to 6 percent in 2017 and in the years since, has shifted up and down in single-percent increments.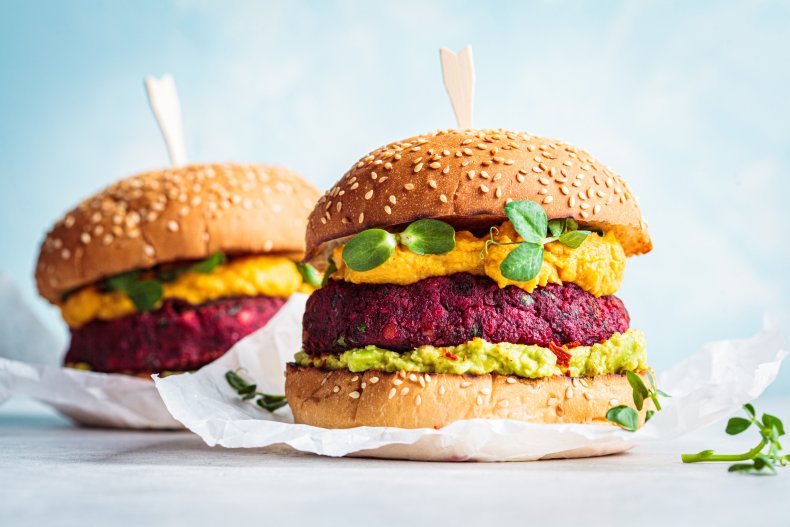 While the Harris Poll (conducted on behalf of The Vegetarian Resource Group) showed that only 2 percent of the population labeled themselves vegan in 2019, there has been an explosion in production and consumption of plant-based products in the last half-decade.
The Vegan Society reports that, since introducing The Vegan Trademark in 1990, over 57,000 plant-based products from more than 2,500 companies have been registered globally, including 18,000 food and drink items. And in 2019 alone, The Vegan Society registered 14,262 products with The Vegan Trademark, a 49 percent increase from 2018.
However, despite growing access to plant-based products, many people, like the original poster's boyfriend, are resistant to the incorporation of vegan foods and potential meat replacements.
Following her boyfriend's explosive reaction to eating vegan lasagna, he left the apartment and according to u/TheElderAgrippina, "he wrote a few paragraphs about how betrayed he felt" via text.
"He said that he hoped I understood how disappointed he felt that I would tamper with his food like that, and that something like this was a serious betrayal of his trust. He said I should have disclosed that none of the food I ever made contained meat," she wrote.
The Redditor said she told her boyfriend it wasn't something she should apologize for, and said he was "being stupid and childish." She also explained that this "fake meat" fight was the first of their relationship and that it was unlike her boyfriend to react this way, but other Redditors called him out in the viral thread's comment section.
In the post's top comment, that has received 19.6K votes itself, u/SmallSacrifice blasted the original poster's boyfriend and said his justifications for being upset were invalid.
"[Not the a**hole]. He's dumb…seriously, is he lacking in intelligence in other areas? You stated you were vegan so of course you weren't going to cook and eat meat dishes with him," they wrote. "It isn't at all the same as him tricking you into eating meat."
Redditors u/Maskydoo and u/Allaboutbird both speculated that u/TheElderAgrippina's boyfriend was embarrassed he never noticed he was eating plant-based meals.
"He got caught being wrong and rather than admit it he chooses to deflect and blame you," u/Maskydoo wrote.
"This," u/Allaboutbird added. "He's embarrassed so he's lashing out."
In a comment upvoted 6.8K times, u/SonuvaGunderson was exasperated at the behavior, and encouraged OP to consider separating from her boyfriend.
"I hate this kind of thing. He ate and enjoyed the food… UNTIL he learned there was no meat," they wrote. "Give me a break."
"[Not the a**hole]. Time for a new boyfriend who shows just a bit more maturity than a 10 year old," u/SonuvaGunderson concluded.