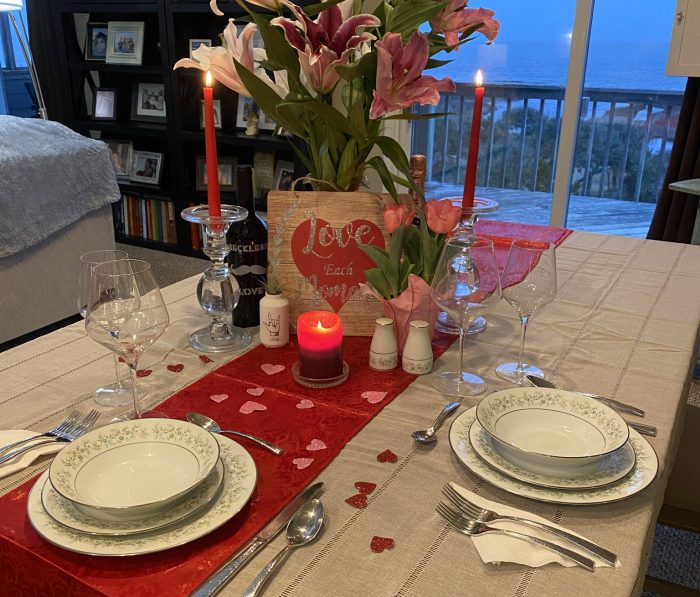 Valentine's Day, like all of our holidays over the past year, will be celebrated at home.  Forrest and Jennifer Paddock have created a romantic dinner for two that will send you running for groceries so you can reproduce it.  That is certainly my plan!
The Paddocks, who have lived in Buxton since 2003, have been involved in the food and hospitality industry on Hatteras Island for many years.
I credit them with introducing me to some of my favorite and most well-used kitchen equipment and some very lovely serving pieces.
I first met them when one of my favorite "hobbies" was shopping in their gourmet food and wine shop in Hatteras village, The Salty Gourmet, and I felt a deep sense of loss when it closed.
Forrest started working in kitchens while in high school, and attended culinary school in Texas at the Art Institute of Houston.  He worked as a chef for twenty years prior to becoming a Sales Consultant for Sysco, "the global leader in selling, marketing, and distributing food and non-food products." We have all seen their trucks at local restaurants!
Jennifer, who is a talented stylist, has worked in hospitality and lodging and event planning.  She is currently the General Manager at Shore Details, a property management firm on the island where she is respected as "a voice you'll come to know and trust."
They both enjoy cooking at home for family and friends, and are looking forward to getting back to it more regularly post COVID-19!
I am pleased to highlight their talents in my column, and hope you will give their recipes a try!
Valentine's Dinner for Two Menu:
Everything is made to be shared for two.
The appetizer, soup, and dessert are made ahead of time to keep things easy.
Roasted Beet & Herbed Boursin Cheese Bruschetta
Spicy Shrimp, Crab, and Andouille Sausage Gumbo
Seared Scallops over Arugula Salad with Toasted Pistachio Lemon Dressing
Pan-Roasted Ribeye Steak for Two with Caramelized Shallot Butter and Pomegranate Glazed Vegetables
Vanilla Bean Crème Brule
Roasted Beet & Herbed Boursin Cheese Bruschetta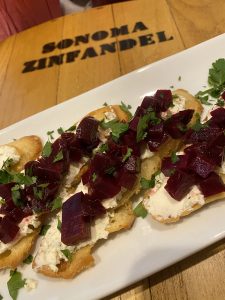 Ingredients:
Crusty Baguette
Olive oil
Herb Boursin Cheese
Beets
Balsamic Vinaigrette Dressing
Parsley
Step 1:
Preheat oven to 375 degrees. Cut the baguette on a bias. Toss the baguette slices with olive oil. Place slices on a sheet pan and bake until golden brown. Flip the slices over and toast the other side. Let them cool.
Step 2:
Wash the beets and toss with olive oil. Place the beets in a baking dish and cover with foil. Roast in the oven until a knife can pierce the skin without resistance, Remove from the oven and cool slightly. While still warm peel the skins, they will slip right off. Dice the cooled beets and toss with balsamic dressing to coat.
Step 3:
Let the boursin cheese come to room temp. Spread the cheese over the top of the toasted baguette Top each of them with the diced beets and a sprinkle of fresh parsley
Seared Scallops over Arugula Salad with Toasted Pistachio Lemon Dressing
Ingredients:
4 tablespoon olive oil
3 cups arugula
1 tablespoon lemon juice
1 teaspoon Dijon mustard
1 teaspoon honey
half teaspoon fresh thyme
half cup chopped toasted pistachios
sliced red onion
sliced red pepper
1/2 lb. Dry Packed Seas Scallop
Salt & pepper
Step 1:
Place the lemon juice, mustard, honey into the salad bowl and stir. Slowly add 3 tablespoons olive oil while whipping to emulsify the dressing. Add the pistachios, onion, pepper, and arugula. Toss the salad to coat the greens evenly.
Step 2:
In a sauté pan over high heat add the remaining tablespoon olive oil. Pat the scallops dry and season with salt and pepper. Add the scallops to the pan and do not move until a nice brown crust has formed. Flip the scallops and cook for 30 seconds longer.
Step 3:
Place the salad on the plate and surround with the seared scallops. Top with any additional dressing.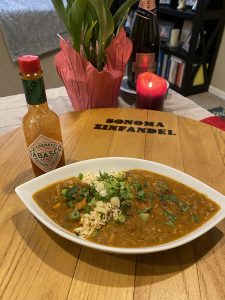 Spicy Shrimp, Crab, and Andouille Sausage Gumbo
Ingredients:
3 tablespoons vegetable oil
1 lb. diced smoked sausage
2 cups diced onion
1 cup diced celery
1 cup diced green pepper
1 cup diced red pepper
5 cup flour
1 cup butter
1 can Rotel tomatoes
1 can tomato paste
1 lb. chopped okra
2 tablespoons each – Creole seasoning, Old Bay, ground pepper, salt, garlic powder, onion powder, smoked paprika
2 teaspoons each – basil, oregano, thyme, crushed red pepper
2 bay leaves
3-4 quarts seafood stock
1 lb. crab meat
1 lb. bay scallops
2-3 lb. shrimp
Tabasco to taste
Step 1:
Add vegetable oil to a large stockpot. Cook the smoked sausage until browned. Remove and set side, leave the drippings in the pot. Sauté the vegetables in the reserved drippings. When they are softened and beginning to color remove and set aside.
Step 2:
Add the butter to the reserved drippings in the stockpot. When the butter has melted add the flour and stir to completely incorporate. Cook the roux slowly over medium heat until it takes on the color of peanut butter. Be careful to keep stirring so it doesn't burn. Add the reserved sausage, vegetables, Rotel, and tomato paste to the roux. Add the okra and cook until the slime has cooked out.
Step 3:
Add all of the seasonings to the pot, stir to incorporate. Add the stock and stir to fully incorporate all of the roux. Bring the mixture up to a boil and reduce the heat to a simmer. Simmer the gumbo for 30 minutes. Add the crab and simmer for another 30 minutes. Add the shrimp and scallop and cook until they are cooked through.
Step 4:
Serve the gumbo with rice and top with fresh chopped parsley and green onion. Add Tabasco to taste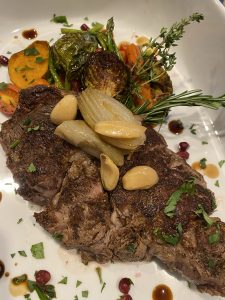 Pan-Roasted Ribeye Steak for Two with Caramelized Shallot Butter
Ingredients:
3 peeled shallots
6 garlic cloves
.5 cup olive oil
18- 24 oz. ribeye
salt and pepper
fresh rosemary, thyme, and parsley
Step 1:
Place the peeled shallots and garlic cloves in a small saucepan and cover with olive oil. Place over medium heat and simmer until the garlic is caramel colored and the shallot are caramelized
Step 2:
Season the ribeye generously with salt and pepper on both sides. Sear the steak over medium-high heat until a nice crust forms. Flip the steak and repeat.
Step 3:
Add the caramelized garlic and shallots to the pan with the ribeye. Turn the heat to low and toss in the herbs and butter. Baste the ribeye with the melted butter until it reaches your desired level of doneness.
Step 4:
Remove the ribeye and set on a serving platter. Top with herbed butter and caramelized vegetables.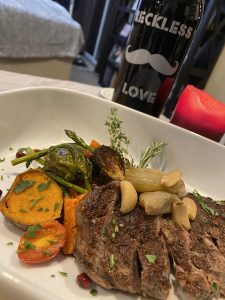 Pomegranate Glazed Vegetables
Ingredients:
2 Carrots
12 Brussel sprouts
1 Sweet potato
12 Asparagus
12 Grape tomatoes
2 tablespoons Balsamic vinegar
2 tablespoons olive oil
1 tablespoon pomegranate molasses
Step 1:
Peel and cut the carrots into batons, half the Brussel sprouts, peel and cut the sweet potatoes into .5in rounds. Toss them with vinegar, oil, and molasses. Place the veggies on a sheet pan and roast in a 375-degree oven until al dente
Step 2:
Toss the asparagus and grape tomatoes with the remaining marinade and add them to the pan of roasted veggies. Finish roasting until the asparagus is soft and the tomatoes blister.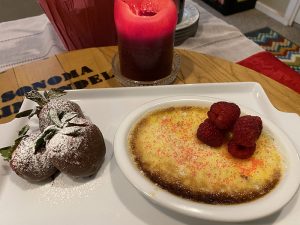 Vanilla Bean Crème Brulee
Ingredients:
2 cups heavy cream or half-and-half
1 vanilla bean, split lengthwise, or 1 teaspoon vanilla extract
⅛ teaspoon salt
5 egg yolks
½ cup sugar, more for topping
Step 1:
Heat oven to 325 degrees. In a saucepan, combine cream, vanilla bean and salt and cook over low heat just until hot. Let sit for a few minutes, then discard vanilla bean. (If using vanilla extract, add it now.)
Step 2:
In a bowl, beat yolks and sugar together until light. Stir about a quarter of the cream into this mixture, then pour sugar-egg mixture into cream and stir. Pour into four 6-ounce ramekins and place ramekins in a baking dish; fill the dish with boiling water halfway up the sides of the dishes. Bake for 30 to 40 minutes, or until centers are barely set. Cool completely. Refrigerate for several hours and up to a couple of days.
Step 3:
When ready to serve, top each custard with about a teaspoon of sugar in a thin layer. Place ramekins in a broiler 2 to 3 inches from heat source. Turn on broiler. Cook until sugar melts and browns or even blackens a bit, about 5 minutes. Serve within two hours.