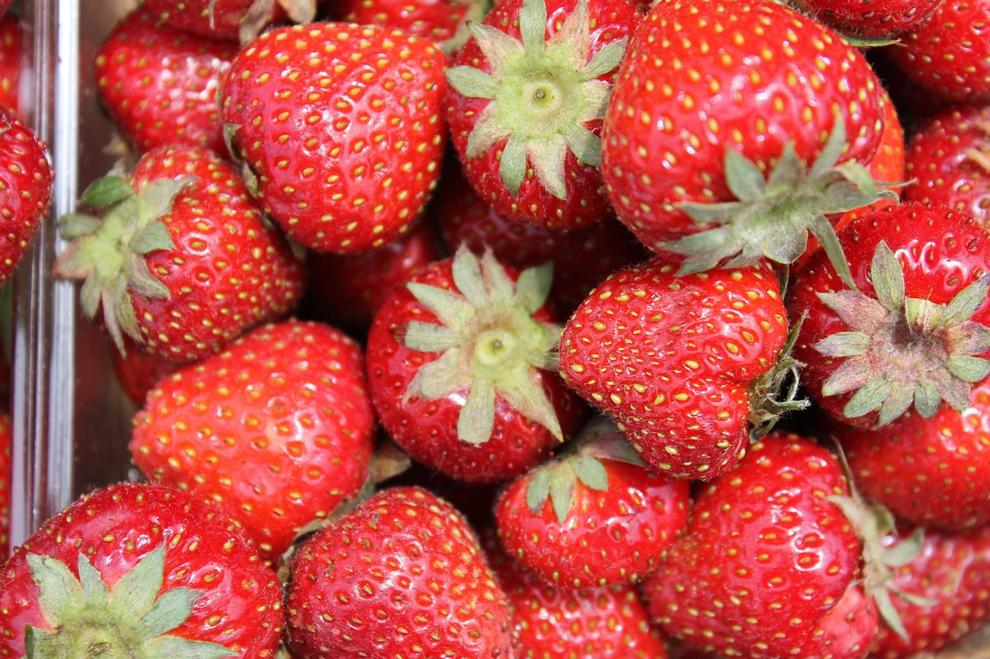 LICK CREEK — Some consider Memorial Day to be the unofficial start of summer. Berry lovers, however, look to the strawberry harvest instead.
The bright red delights are either available or will soon be ready in many patches throughout the Midwest. Growers here boast that fruit grown in home gardens or in small commercial patches are superior in many ways to that trucked in from California.
"These are really good this year," said Allison Teas as she offered flats of strawberries in a mobile store. "They're sweet and juicy."
Mark Gingerich said the cool temperatures delayed the start of harvest at his Iowa City, Iowa, farm.
"They're a little bit behind where they might normally be, but they're really liking the wet weather we've had," Gingerich said. "Usually first week of June is when things start going. It might be a little bit later this year."
His farm is strictly a U-pick operation. Many pick-your-own fruit businesses have experienced fewer customers over the past few decades, but he still gets a good turnout when the berries are ripe.
"We just started three or four years ago. Things have been pretty consistent over the past few years," he said. "But the old-timers tell me people aren't doing as much as they used to. The ones who do come out for the experience. They bring the kids and take home some strawberries."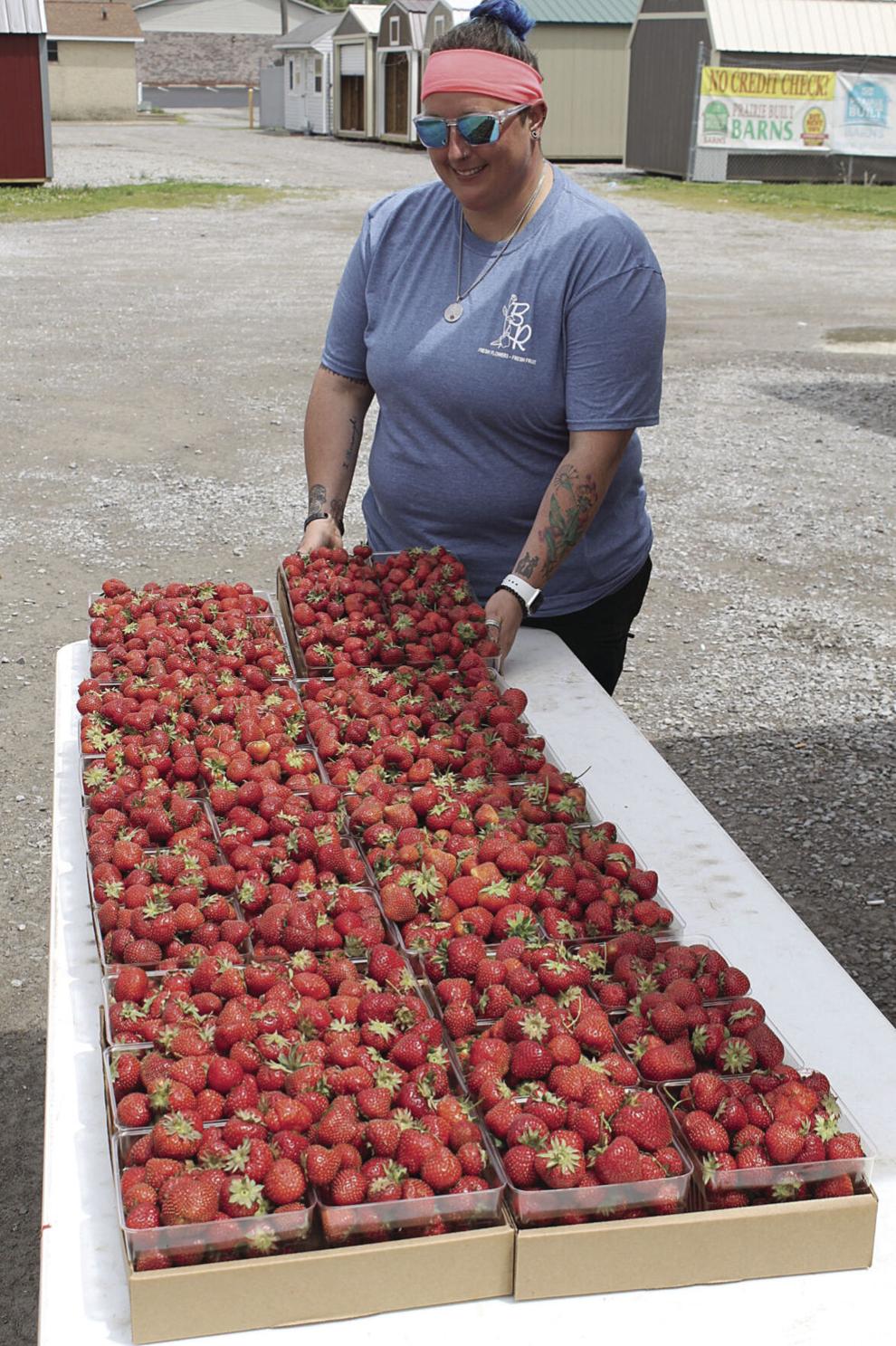 Strawberries are the perfect sweet snack. But they can also be used in a multitude of recipes, from pancakes, deserts, pies and even in glazes for main meat dishes. Strawberry shortcake is a classic. They are also excellent as jams, jellies and preserves.
Locally grown strawberries may not look as impressive as those grown in California, but the proof, as they say, is in the tasting.
"I tell people that ours are smaller. If they want big ones, go to Walmart and you can get them there," Gingerich said. "But these are best."
Strawberry crisp
5 cups fresh strawberries, hulled and quartered
1/4 cup sugar
1 teaspoon vanilla extract
3 tablespoons cornstarch
1 cup all-purpose flour
3/4 cup old-fashioned oats
2/3 cup granulated white sugar
2/3 cup packed brown sugar
1/2 teaspoon teaspoon salt
3/4 teaspoon cinnamon
1/2 cup (1 stick) butter, melted
Preheat oven to 350 degrees. Grease a deep-dish pie plate or large baking dish with butter or cooking spray and set aside. Combine the chopped strawberries and sugar in a large bowl and mix until the strawberries fully absorb the sugar. Add in the cornstarch and vanilla extract and stir until all of the strawberries are evenly coated. Pour into the prepared baking dish.
In a separate medium-size bowl, combine the flour, oats, brown sugar, granulated sugar, salt and cinnamon. Pour in the melted butter and stir well until well coated and crumbly. Sprinkle the crumb mixture evenly over the top of the strawberries. Bake in the preheated oven for 35 to 40 minutes until fruit is bubbly and topping is golden brown. Allow to cool slightly before serving. Serve warm with vanilla ice cream on top.
Strawberry balsamic chicken
4 boneless, skinless chicken breasts
1 cup balsamic vinegar, divided
Salt and pepper
1 pint fresh strawberries, hulled and roughly chopped
4 ounces fresh mozzarella ball (or shredded mozzarella), roughly chopped
1/4 cup chopped fresh basil
Preheat oven to 400 degrees. Combine chicken breasts and half cup of the vinegar in a plastic bag and refrigerate for at least five minutes, or up to 5 hours. When ready to cook, place chicken in a baking dish and pour the remaining vinegar on top.
Season chicken generously with salt and pepper. Bake for 30 minutes, or until chicken is cooked through and no longer pink inside. Meanwhile, bring the remaining half cup of vinegar to a boil in a small saucepan over medium-high heat. Reduce heat to medium-low and simmer for about 10 minutes, or until reduced by half. Remove and set aside.
In a small bowl, stir together strawberries, mozzarella and basil to make a caprese topping. When the chicken is ready, transfer to serving dishes. Top with the strawberry caprese topping, then drizzle with the reduced balsamic vinegar.
Strawberries and cream pancakes
2 cups pancake mix
2 large eggs
2 cups milk
2 tablespoons light brown sugar
1 cup strawberries
4 ounces cream cheese, softened
1 cup powdered sugar
1 teaspoon vanilla
4 tablespoons milk
Add the pancake mix, eggs, milk and brown sugar into a large mixing bowl. Stir until combined. Add the strawberries and fold into the batter. Cook pancakes on a skillet over low heat.
For the glaze, mix ingredients in a small bowl and stir until smooth and creamy. Add milk or powdered sugar as need to get desired consistency. Top cakes with glaze and serve.
Strawberry frozen yogurt
4 cups frozen strawberries
3 tablespoons agave nectar or honey
1/2 cup plain yogurt
1 tablespoon lemon juice
Add berries and other ingredients to food processor. Process until creamy, about five minutes. Serve immediately or store in airtight container in the freezer for up to a month.
Strawberry facts
Cultivation of strawberries began in Europe in the 1300s, but the berry became popular in the early 1900s in California.
There is a legend that strawberries were named in the 19th century by English children who picked the fruit, strung them on grass straws and sold them as "straws of berries." Another theory is that the name was derived from the practice of placing straw around the growing berry plants to protect the ripening fruit. But the most widely held view is that the name strawberry was derived from the berries that are "strewn" about on the plants, and the name "strewn berry" eventually morphed into "strawberry."
The strawberry belongs to the genus Fragraria in the rose family, along with apples and plums. The name of the scientific classification was derived from the Old Latin word for fragrant. The modern Italian word for strawberry is still fragola.
Very berry or not? The strawberry is not classified by botanists as a true berry. True berries, such as blueberries and cranberries, have seeds inside. The strawberry, however has its dry, yellow "seeds" on the outside (each of which is actually considered a separate fruit).
Native American Indians called strawberries "heart-seed berries" and pounded them into their traditional cornmeal bread. Discovering the great taste of the Native Americans' bread, colonists decided to create their own version, which became an American favorite that we all know and love: strawberry shortcake.
Strawberries should be enjoyed shortly after picking (or purchasing). They do not continue ripen after they are picked and last only a couple of days in the refrigerator.
One cup of strawberries contains only about 50 calories.
The strawberry plant adapts to wide variety of soil conditions, but does not tolerate drought well, and the berries quickly rot if the weather is rainy. For this reason, the plants are usually grown on raised beds through plastic mulch.
You can easily freeze berries that you cannot use right away — just wash, cut the hulls off and pop them into a zip-type plastic bag, removing as much air as possible. The berries will keep for many months frozen without air.
The English and French used the beautiful heart-shaped berries to landscape their gardens. In 14th-century France, Charles V ordered 1,200 strawberry plants to be grown in the Royal Gardens of the Louvre.
Strawberries have long been associated with love and flirtation. At wedding breakfasts in provincial France, newlyweds traditionally were served a soup of thinned sour cream, strawberries, borage and powdered sugar.
On the average, there are 200 tiny seeds in every strawberry.
Fresh juice from sieved strawberry pulp has a cooling effect on feverish patients. For a cooling and purifying drink, either pour water on crushed berries or chop the berries roughly and whirl in a blender with a little water.
As part of the five-a-day program suggested by the American Cancer Institute, strawberries can play a part in helping you to reduce the risk of cancer or heart disease.
Strawberry juice combined with honey will reduce inflammation or sunburn. Rub the mixture thoroughly into the skin before rinsing off with warm water and lemon juice.