With garba beats, dandiya ras and the fasting season, Navratri 2022 will arrive with its festivities on September 26 and will end with Dussehra on October 5 this year. Literally translating to 'nine nights' (nava + ratri), Navratri is observed to honor Goddess Durga or Ambe Maa, and is one of the most cherished Hindu festivals. In this post, I have shared a signature collection of Navratri Recipes. The list features both the most popular Navratri Fast Recipes or Vrat Recipes as well as lesser known or unusual ones too.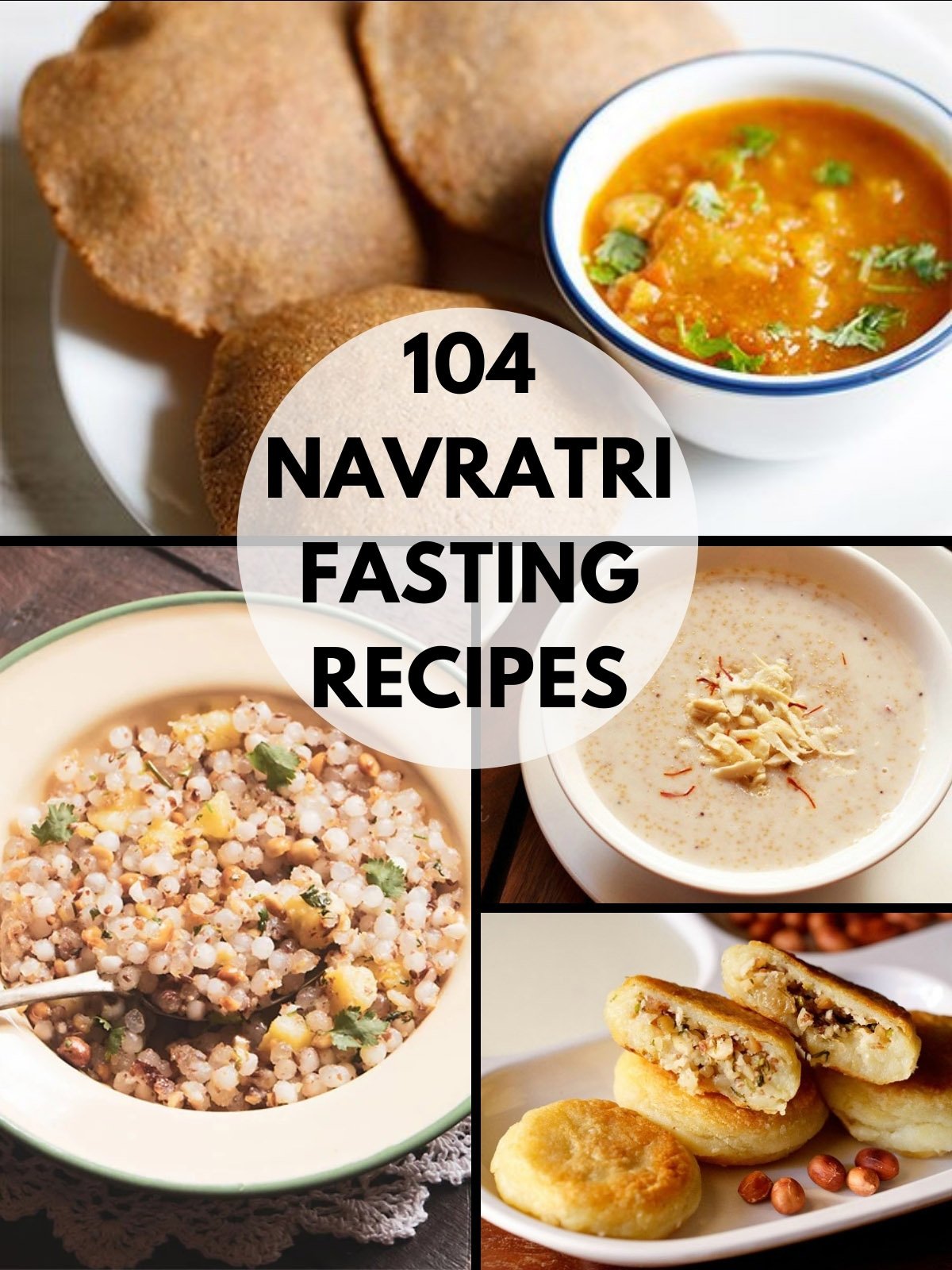 There are many ways this pious festival is celebrated throughout the vast expanse of the Indian subcontinent. There's a unique way dedicated to each region. There are also 4 types of Navratri, resulting from the seasonal variations. Sharada Navratri that falls after monsoon is the most important and grand one.
About Navratri Festival
Navratri is one of the most celebrated festivals at my home as well. As a devi bhakt myself, I not only spend these 9 days and nights offering my prayers in the worship of Maa Durga, but also observe the ritual of fasting. And it is not just during these 9 days, for me, not a single day goes without remembering the Mother Goddess.
Navratri festival is celebrated with the same joy, enthusiasm and adoration all over India. Although, people belonging to different parts of the country have their own special way of paying homage to the divine powers of Goddess Durga.
Another important feature of Navratri festival are the fasts or vrats that comes along. The Navratri Recipes that I have shared in this post are definitely a must try. If fasting, this complied list of Navratri Fast Recipes will be of great help to you.
People in North and West India religiously keep these fasts, whereas festivities of Durga Puja may not necessarily mean fasting for the people of Bengal and other parts of Eastern India.
The same goes for South Indians, who may not strictly observe fasting. But definitely prepare food without the addition of onion and garlic during this time. People in South India also worship deities and make sundals or sweets to offer as prasadam. Golu, a lovely display of deities' idols, dolls and animal figures is set up in many homes during Navratri festival.
Navratri Festival in India
From North to South and East to West, here's how Navratri festival is celebrated pan India:
West Bengal, Orissa, Assam: The most popular festival, Durga Puja (celebrating victory of Durga over demon Mahishasura) officially begins on the 6th day of Navratri and is observed with full fervour in the last 4 days in these regions. Glittering pandals, dhunuchi naach by the dhakis and delicious bhog are some of the common sightings during these days. Shindur khaila by married women on the day of idol immersion marks the end.  
Maharashtra: Navratri signifies 'new beginnings' for Maharashtrians. So, this is the time when property is purchased and business deals are made. Married women apply haldi and kumkum on the foreheads of their female friends in a ceremony called 'saumangalyam' and gift them betel nuts, betel leaves and coconut.
Gujarat: Devotees worship Maa Ambe and fast for these 9 days. Evenings are marked by an aarti with a garbi (an earthen pot with diyas signifying source of life), following which traditional dance forms like dandiya and garba are performed by men and women.
Punjab, Uttar Pradesh, Bihar: Fasting for first 7 days with jagrans or singing religious songs every night. Fasts are broken on the 8th or 9th day in a ceremony called 'kanjika' where 9 young girls (representing Goddess Durga's 9 forms) and a boy (representing Bhairav God) are worshipped. They are honoured with gifts, food – halwa, chana, puri and money.
Himachal Pradesh: Here, the 10th day as 'Kullu Dussehra' marks the beginning of the celebration, when the festival ends in other states. This day signifies the return of Lord Rama to Ayodhya. Nati (a form of dance), food and music mark the festivities.
Karnataka: Known as 'nadahabba,' Navratri in Karnataka till today is celebrated in the same way it used to be, back in 1610 in the Vijayanagara dynasty. The final day is marked by rituals that include procession of elephants on streets, fairs and exhibitions all over the state.
Tamil Nadu: Goddesses Durga, Saraswati and Laxmi are worshipped during these 9 days. Evenings are reserved for friends and family with exchange of gifts. The exciting ritual is that of Bomma Golu/Bommai Kolu – a temporary staircase of 9 stairs representing 9 nights which is decorated with dolls/idols of goddesses, that are passed on from generation to generation!
Andhra Pradesh: Here, the 9 days are celebrated as 'Bathukamma Panduga,' dedicated to Maa Gauri, the goddess of womanhood. Women adorning new sarees and jewellery make a flower stack with seasonal flowers and perform a puja. This stack is then immersed on the last day.
Kerala: Navratri in Kerala is dedicated to education and new beginnings. Books and musical instruments are placed in front of Maa Saraswati during the last 3 days and are worshipped.
About Navratri Fasting
In India, fasting rules varies from community to community. It is always better to check with your family members and elders before deciding the menu. If you plan to keep fast during Navratri festival, then do check this list of Navratri Fasting Food and Rules.
Here, I have shared some basic and some Navratri Special Recipes that are usually consumed during this festival. These Navratri Fast Recipes are usually quick and easy to make.
Even if you feel that some of the recipes have long procedures, you just have to follow them properly which makes the making of the dish quite simple. As onions, garlic and many other spices and herbs are not allowed during these fasting days, you really don't have to get yourself to chopping and prepping these.  
Keeping all these things in mind, I will also repeat once again that you must skip or alter the ingredients according the traditions followed in your own family. Most of the Navratri Fast Recipes in this curation are without onion and garlic, but some may have cereal flours.
In such cases, you can substitute cornflour or gram flour with special vrat flours like water chestnut flour (singhare ka atta), buckwheat flour (kuttu ka atta), arrowroot flour or potato starch. Also, remember to use edible rock salt (sendha namak) in recipes where I have not added it.
More on Navratri Fasting
Navratri Recipes, especially the Navratri Fast Recipes are not only quick to prepare, but also easy to digest. Hence, this festival is a good time to purify or detoxify your body and mind, and get connected to Durga Maa and your inner conscience, through the route of divinity.
A thing particular to North India is that people in that side of the country only consume certain ingredients comprising of flours and grains during these 9 days of fasting. These are:
Flours and grains: Kuttu ka atta (buckwheat flour), rajgira atta (amaranth flour) and rajgira (amaranth grains), sama ke chawal ka atta (barnyard millet flour) and vrat ke chawal (barnyard millet), singhare ka atta (water chestnut flour) and arrowroot flour
Sabudana (sago)
Peanuts
Nuts and dry fruits
Rock salt (sendha namak)
Spice and herbs may vary. Some that are generally used are black pepper, green chilies and ginger.
My list of Navratri Recipes or Navratri Fast Recipes has North Indian as well as South Indian recipes in it. It is divided course wise with the mention of flours, cereals or grains as well. I am sure that with this list, you can easily prep and plan your fasting menu for the Navratri festival season.
Navratri Recipes
Listed below are 104 of my top Navratri Fast Recipes, ranging from meals that can be served for lunch or dinner to snacks and sweets. Some of these snacks can also be made for breakfast. Do eat light if possible and drink lots of water to stay hydrated. If possible, also include fruits or fruit juices in your fasting diet.
Lunch & Dinner
I have categorized the lunch and dinner meals into various breads or grain-based dishes as well as curries, gravies and sides. The breads' list consists both of flatbreads and fried breads.
Grains & Breads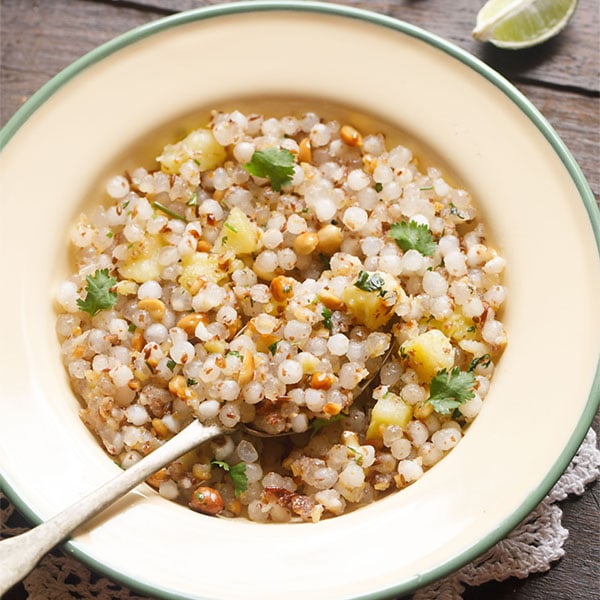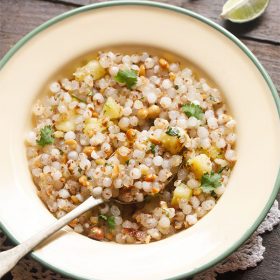 Moderate
25 mins
Sabudana ki khichdi is a delicious dish of tapioca pearls (sago) made with potatoes, peanuts and usually had during Hindu fasting days like Navratri, Ekadashi, mahashivratri. It is also a gluten free recipe. In this recipe post, you will get many tips and suggestions to make the best non-sticky sabudana khichdi.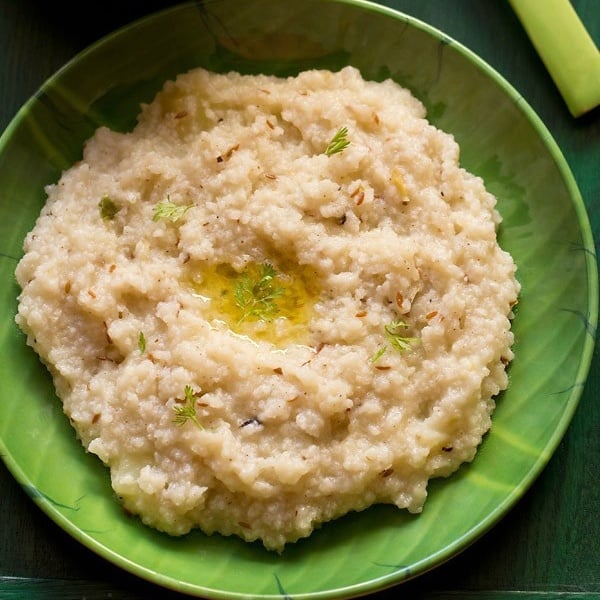 1 hr 35 mins
Samvat rice khichdi recipe – savory porridge made with barnyard millet and potatoes.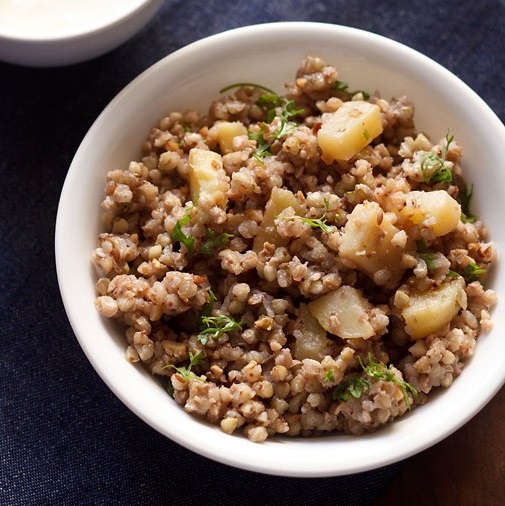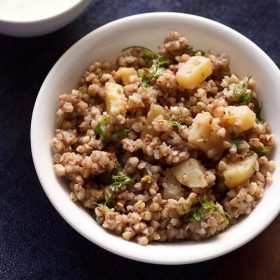 Moderate
30 mins
Buckwheat Khichdi is easy to prepare khichdi with buckwheat groats (kuttu), potatoes and peanuts for Navratri fasting. Wholesome super food.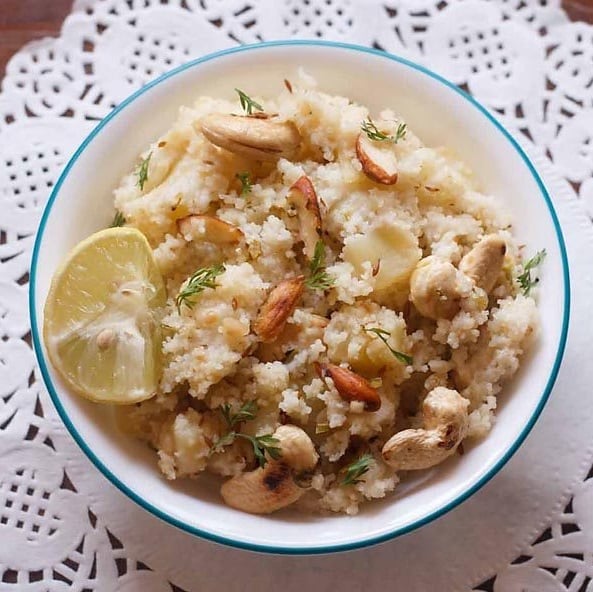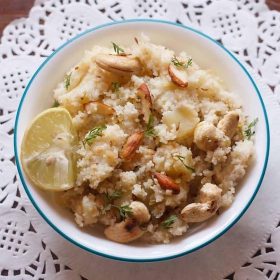 45 mins
Vrat ke chawal ka pulao or samvat pulao is a simple and easy pulao made for fasting days.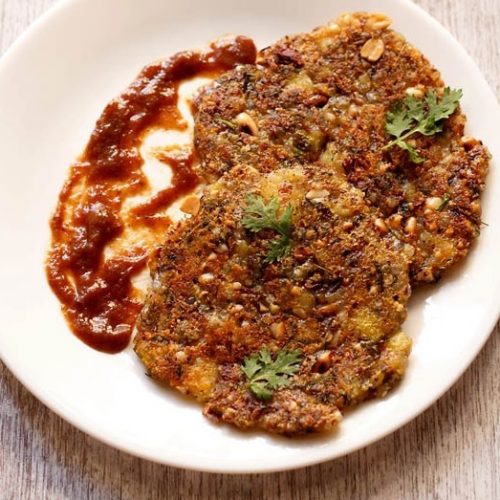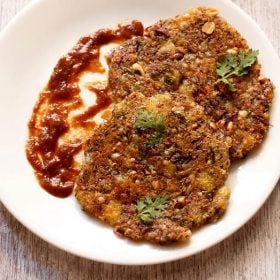 Moderate
8 hrs 30 mins
Sabudana thalipeeth are crisp and soft pancakes made with tapioca pearls, mashed potatoes, ground peanuts and spices. They are also called as Upvasache Thalipeeth in Marathi language and can also be referred to as Sabudana roti.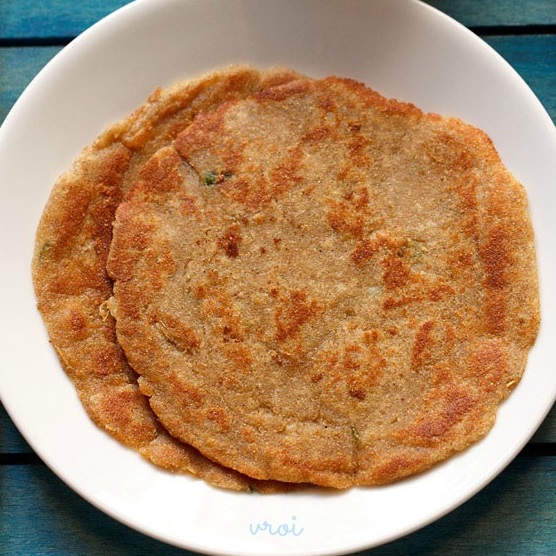 Moderate
40 mins
Rajgira roti or rajgira paratha is a healthy gluten-free flatbread made with rajgira atta or amaranth flour for Hindu fasting days.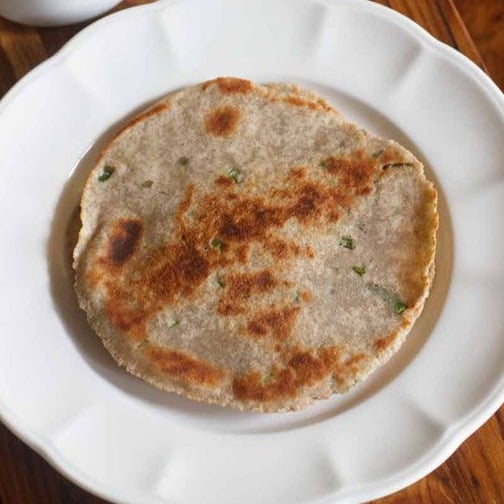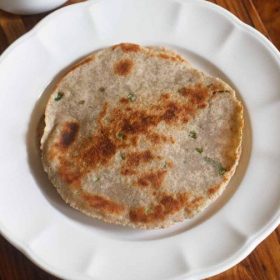 Moderate
40 mins
Kuttu ki roti or paratha are gluten free flatbreads made with buckwheat flour and mashed potatoes. These healthy flatbreads are usually made during the Navratri fasting period in India.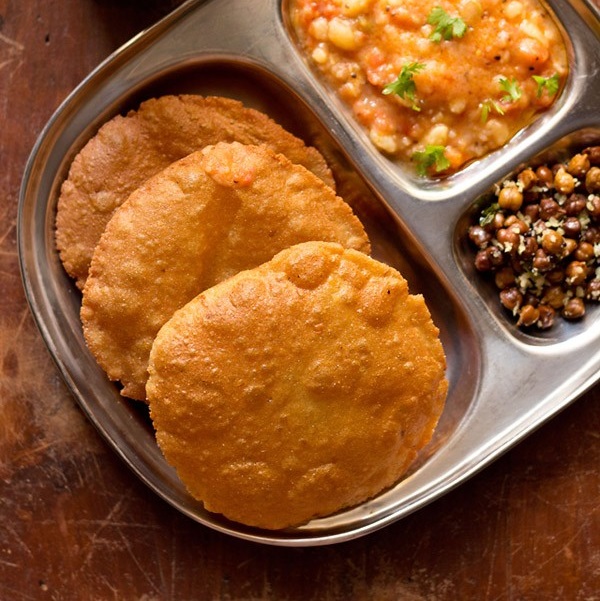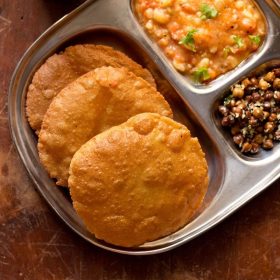 Difficult
50 mins
Singhare ki poori is a delicious Indian fry made with water chestnut flour, mashed potatoes, edible rock salt and a few spices.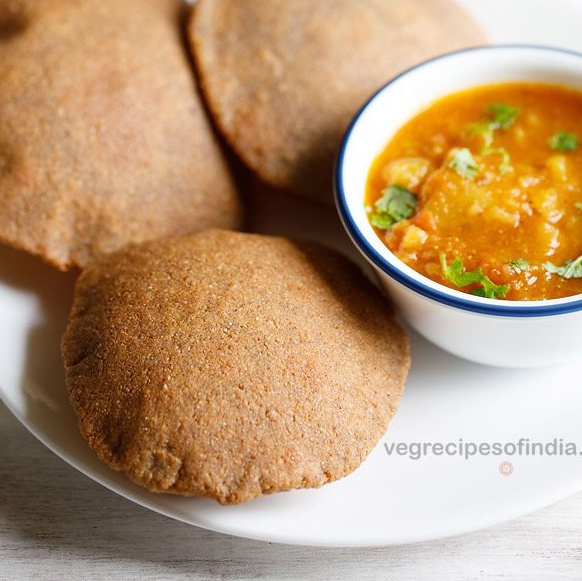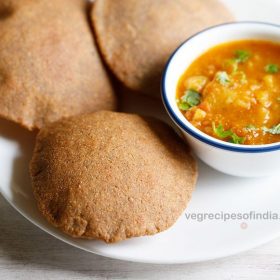 30 mins
Kuttu ke atte ki puri are crisp and tasty Indian fry bread made with buckwheat flour for religious fasting or vrat.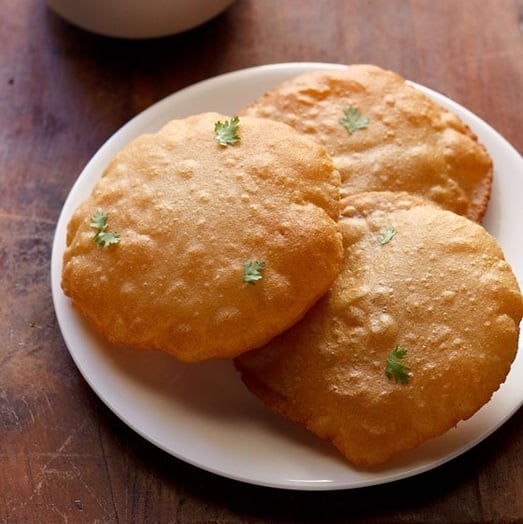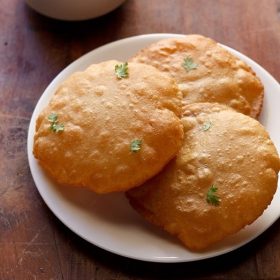 50 mins
Rajgira poori or amaranth poori is fried puffed breads made from amaranth flour & boiled mashed potatoes.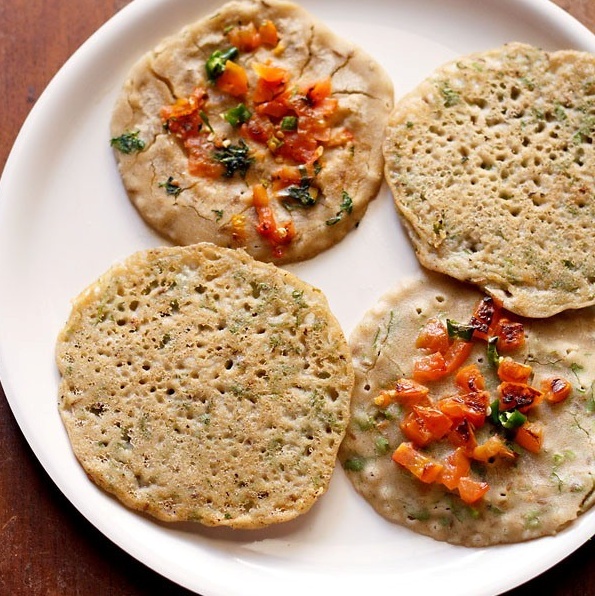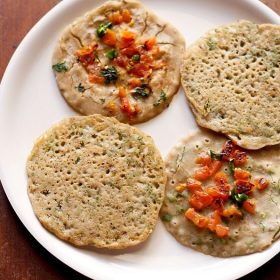 25 mins
These Vrat ke uttapam are made from sama ke chawal or vrat ke chawal flour (barnyard millet flour).
Curries, Gravies & Veg Sides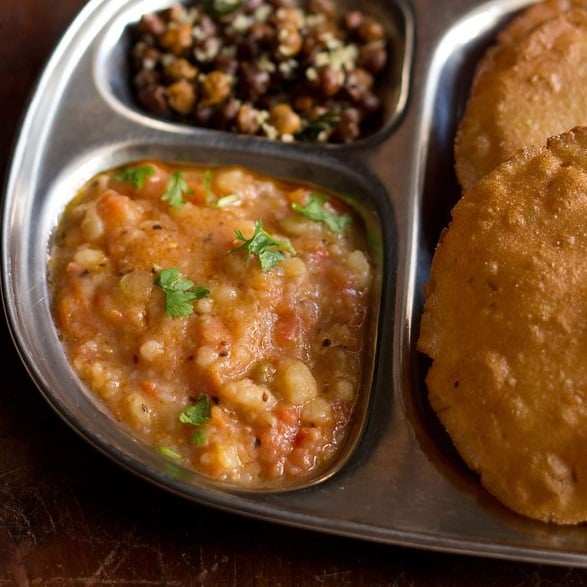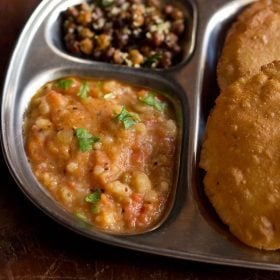 30 mins
Vrat wale aloo or vrat ke aloo recipe – crumbled potato recipe for fasting without onion-garlic.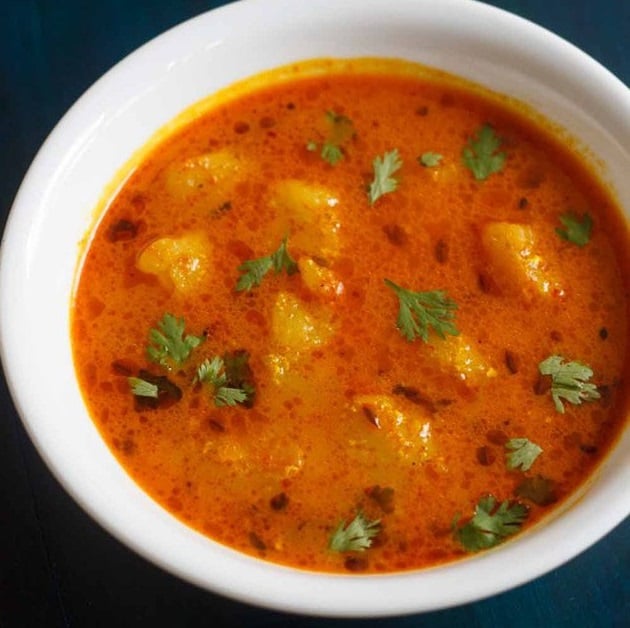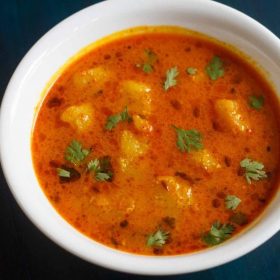 28 mins
This Dahi aloo for Navratri fasting is a light curry made from potatoes and yogurt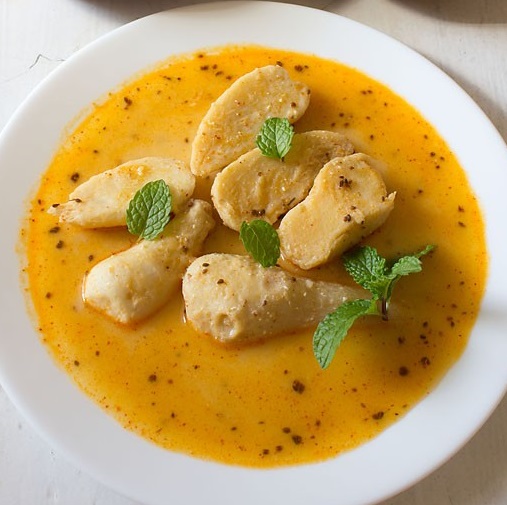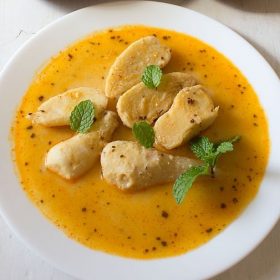 45 mins
Dahi arbi recipe – colocasia-taro roots in a thin yogurt gravy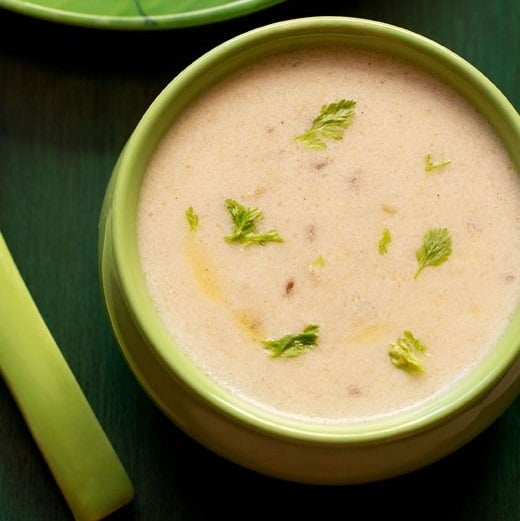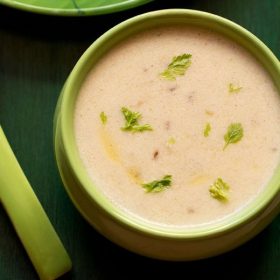 15 mins
Easy and quick to prepare rajgira kadhi for Navratri fasting or upwas.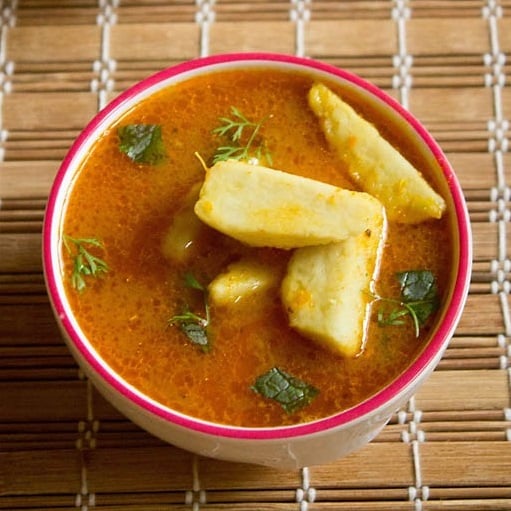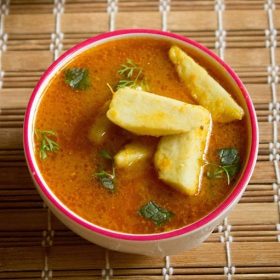 35 mins
Arbi curry or arbi masala recipe is a light North Indian curry made with colocasia or taro root.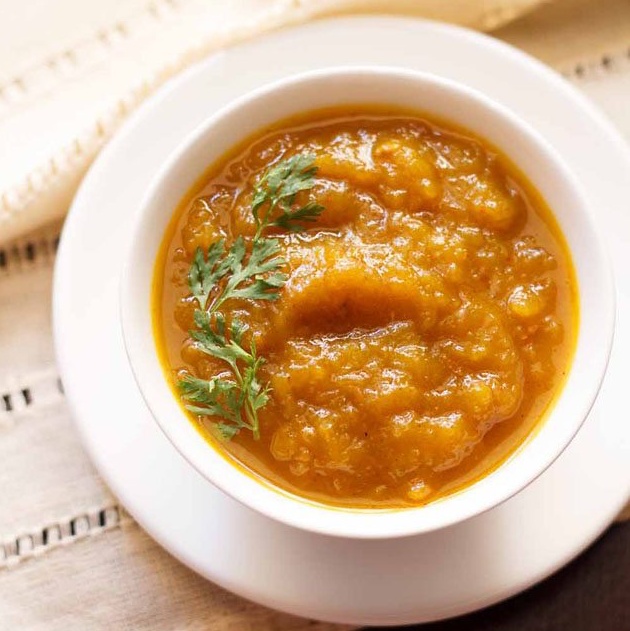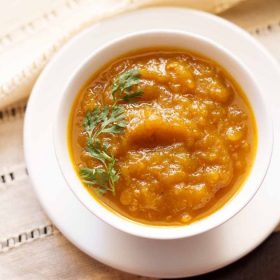 Moderate
35 mins
Kaddu ki sabji is an easy and delicious vegan pumpkin recipe made with yellow pumpkin, whole spices and herbs. This is a satvik recipe made without onions and garlic.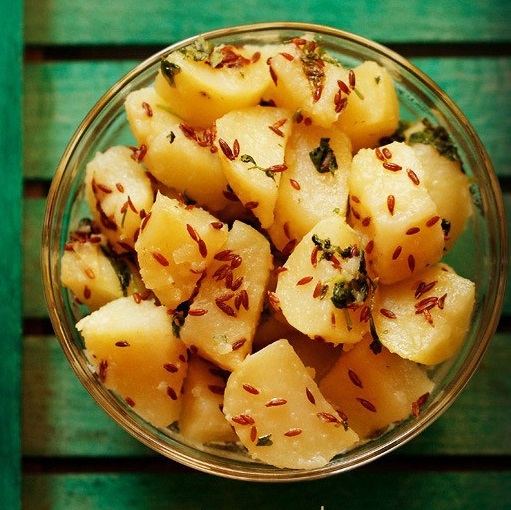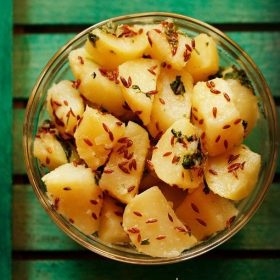 20 mins
Simple and easy jeera aloo for fasting or Navratri vrat.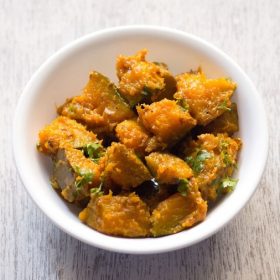 40 mins
Mildly spiced sweet and sour pumpkin dry curry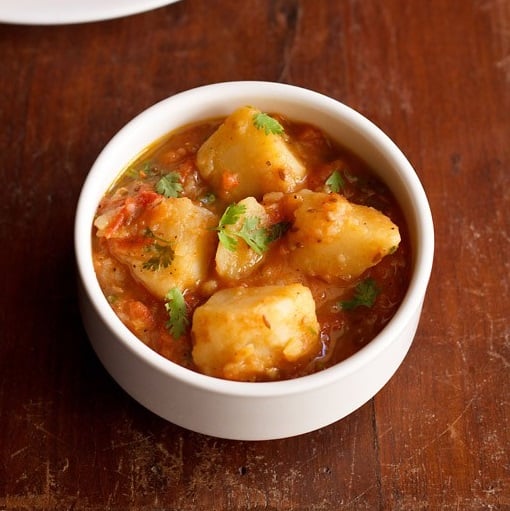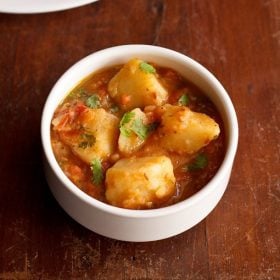 30 mins
Aloo tamatar ki sabzi recipe is easy lightly spiced curry made with potatoes and tomatoes.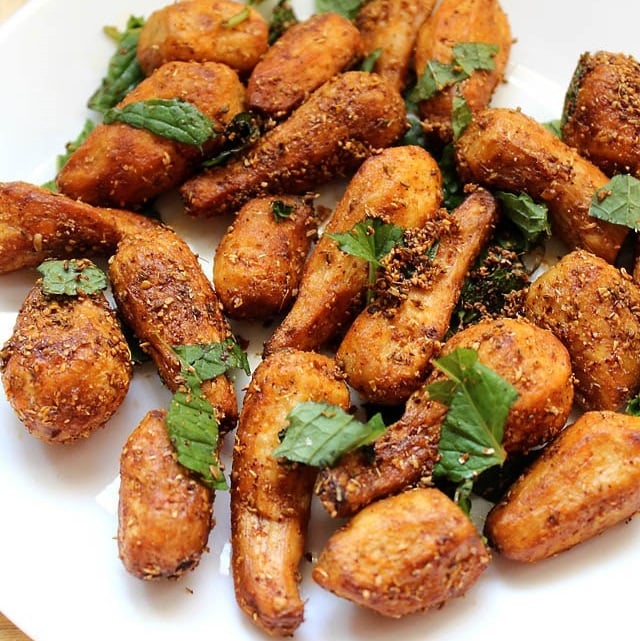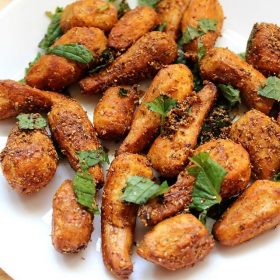 1 hr
Crisp, fried and tasty spiced arbi recipe.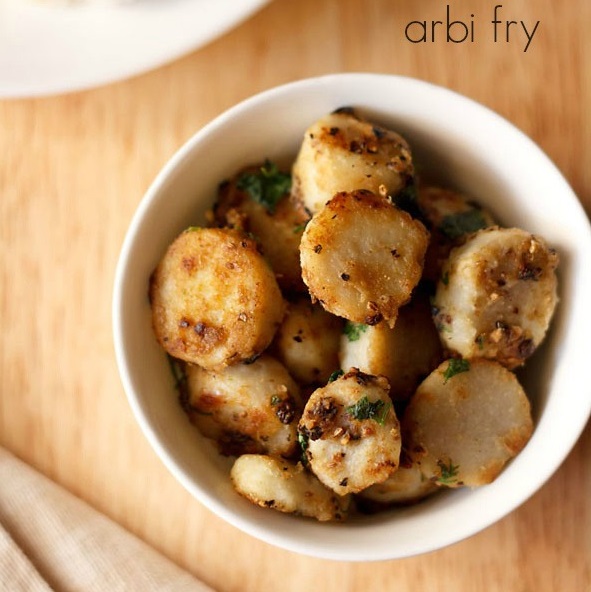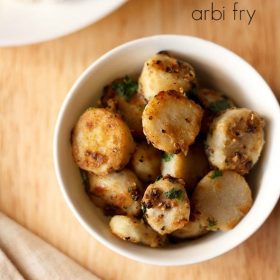 32 mins
Spiced colocasia or taro roots fry for Navratri fasting.
Breakfast or Snacks
Here I have listed recipes that you can make for breakfast or snacks. Some of them are fried. For healthier versions, use an appe (paniyaram) pan to make these or air-fry or bake these.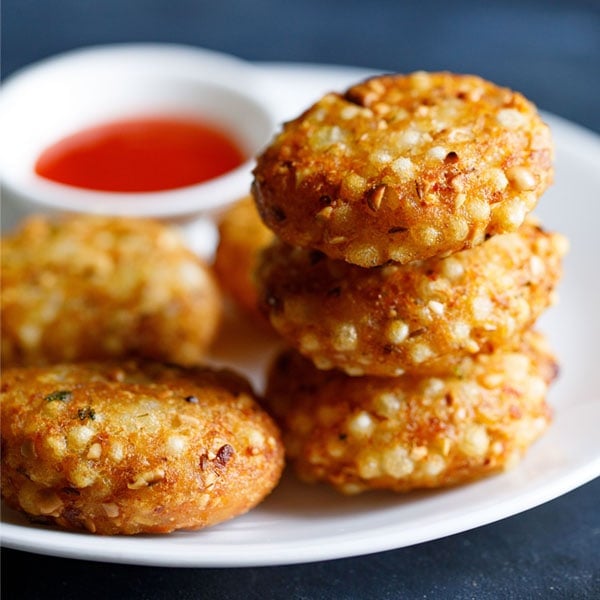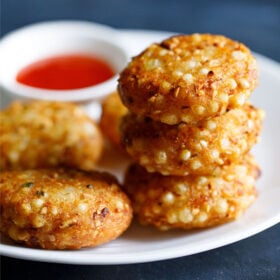 Moderate
5 hrs 30 mins
Sabudana Vada is a popular savory deep fried snack made during Hindu fasting days, featuring tapioca pearls (sago), potatoes, peanuts and herbs. They are naturally gluten-free and vegan. This fool proof sabudana vada recipe gives you a super delicious crispy vada with a soft and light interior.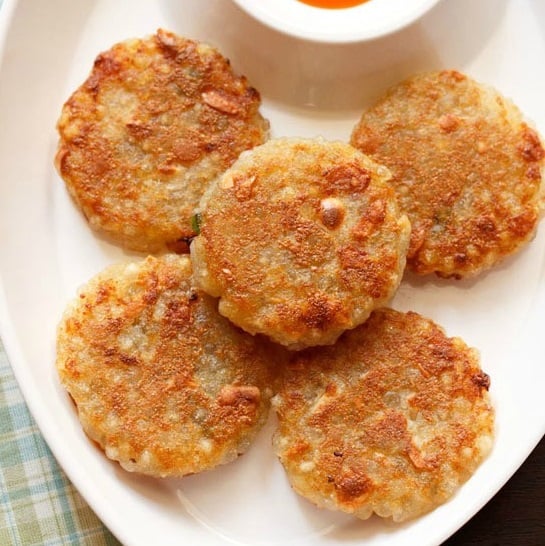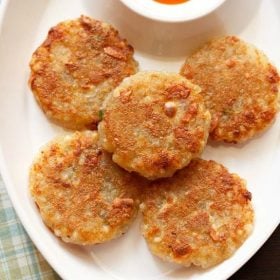 Easy
5 hrs 20 mins
Sabudana tikki also known as sabudana cutlet are pan-fried thin patties made with tapioca pearls, mashed potatoes and spices. These crispy patties make for a delicious snack that will get over in no time.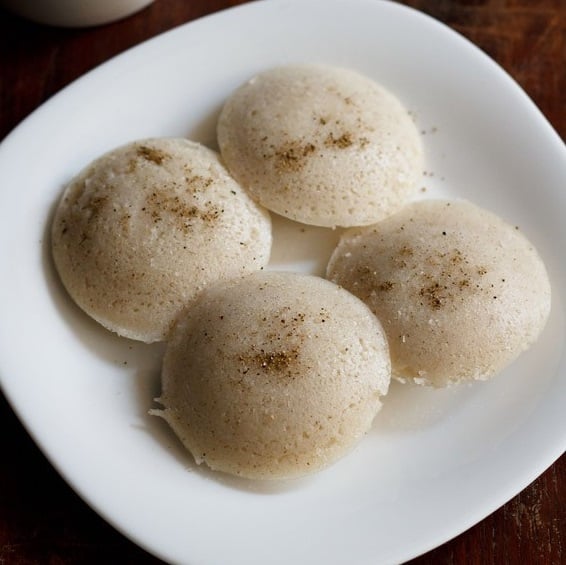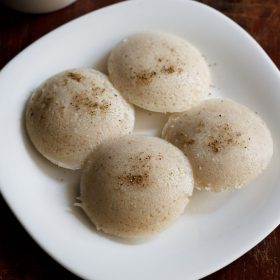 9 hrs 10 mins
Vrat ki idli recipe – idli made without rice which you can make for fasting or for regular days too.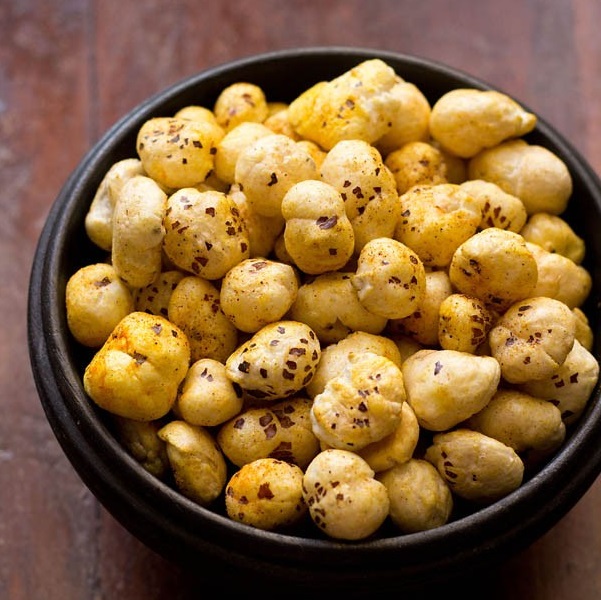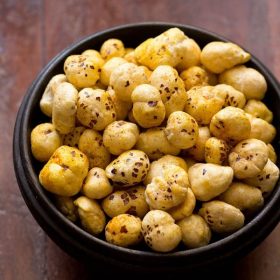 Easy
10 mins
Healthy snack made with roasted makhana, phool makhana or foxnuts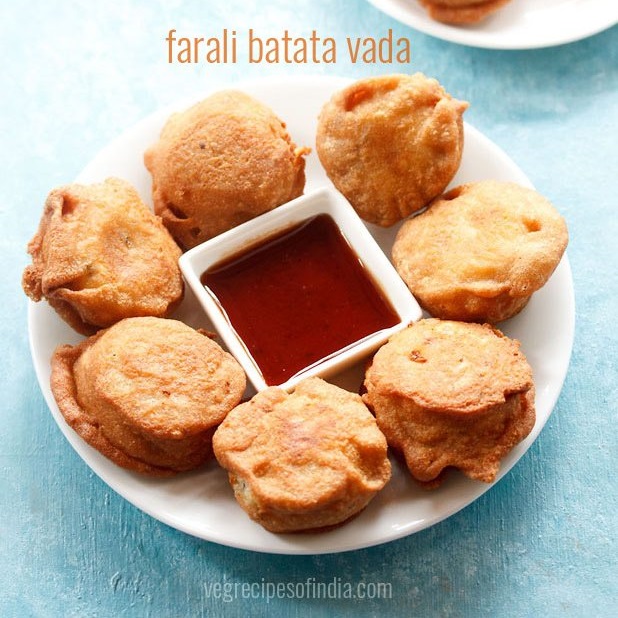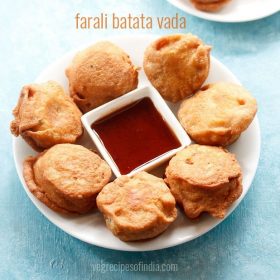 40 mins
Farali batata vada is a delicious snack of potato vadas or potato bonda made for fasting or vrat.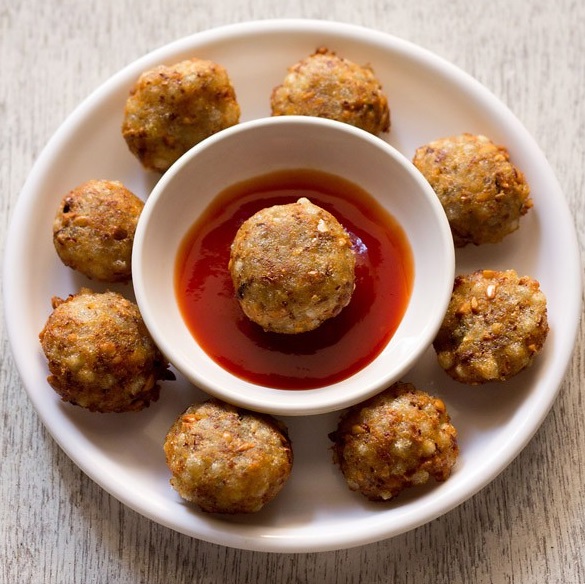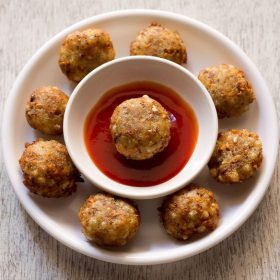 Moderate
8 hrs 20 mins
These Sabudana pakora made for fasting or vrat are crisp, golden fritters made from tapioca pearls, mashed potatoes and roasted crushed peanuts.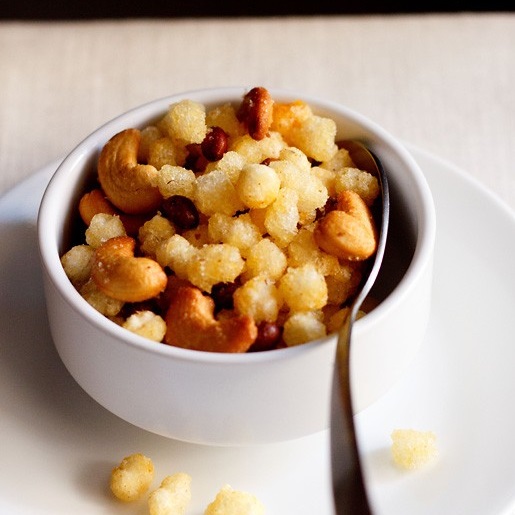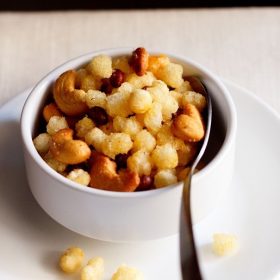 30 mins
Nylon sabudana chivda recipe – crispy and tasty fasting snack made from nylon sabudana & dry fruits for the Navratri fasts.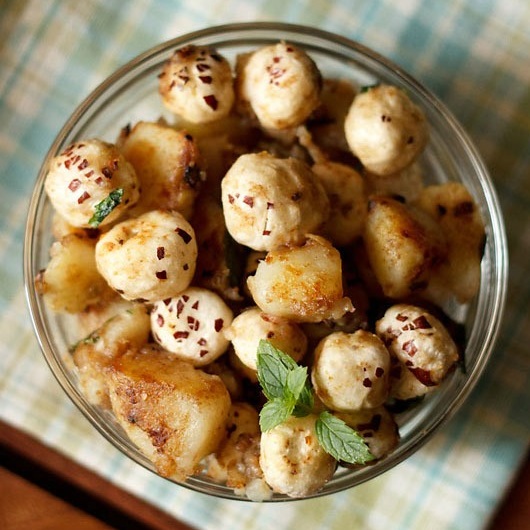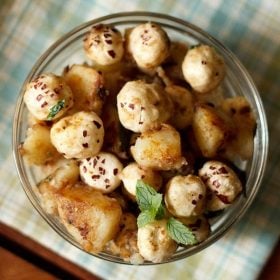 23 mins
Aloo makhana is an easy snack recipe for Navratri made with boiled potatoes, phool makhana (foxnuts) and spices.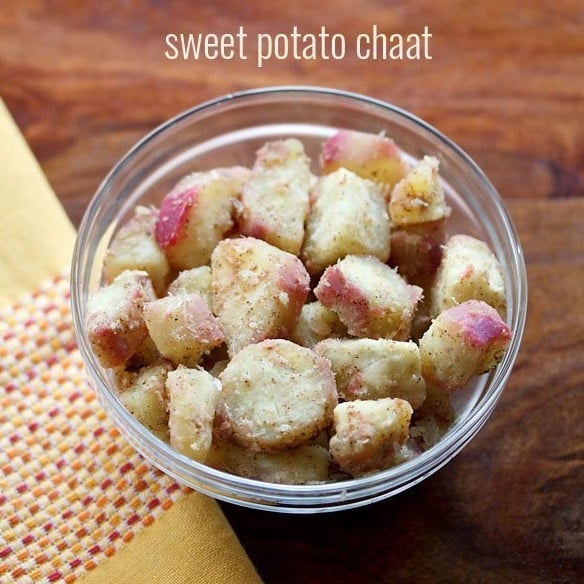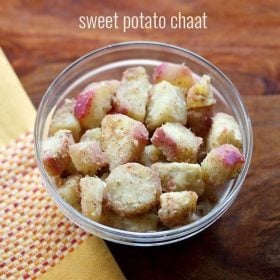 15 mins
Sweet potato chaat is one of the easiest to prepare chaat recipe with sweet potatoes or shakarkandi.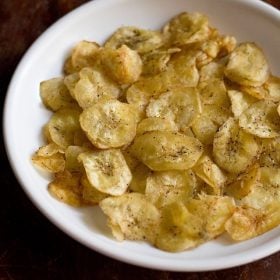 40 mins
These are easy and simple homemade tasty banana chips made from raw unripe bananas.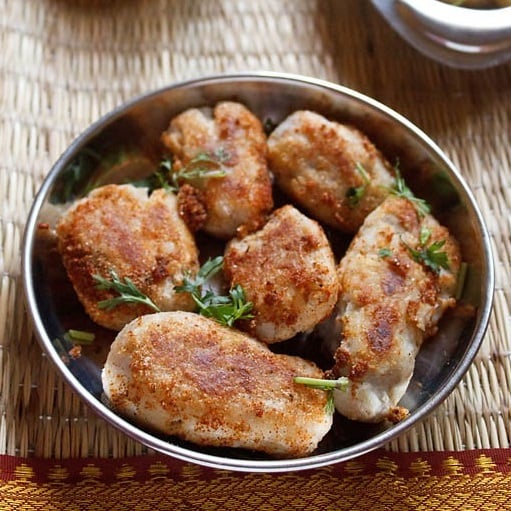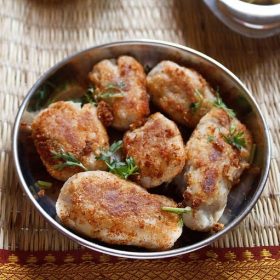 30 mins
Arbi cutlet recipe – spiced crispy pan fried arbi or colocasia roots. Vegan & gluten free recipe.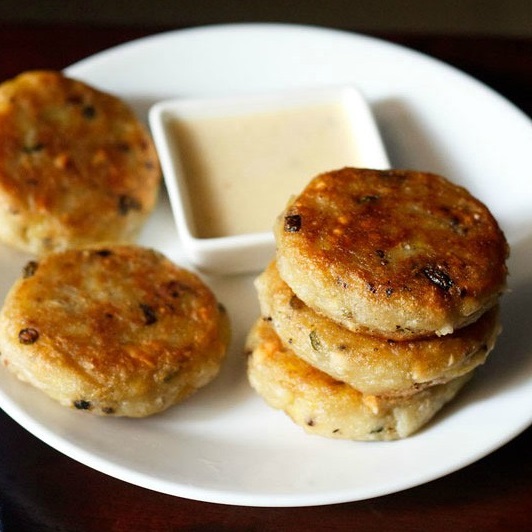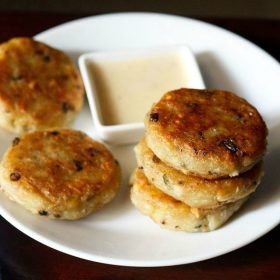 30 mins
Crisp, spiced pan fried patties made with raw unripe bananas. Navratri fasting recipe.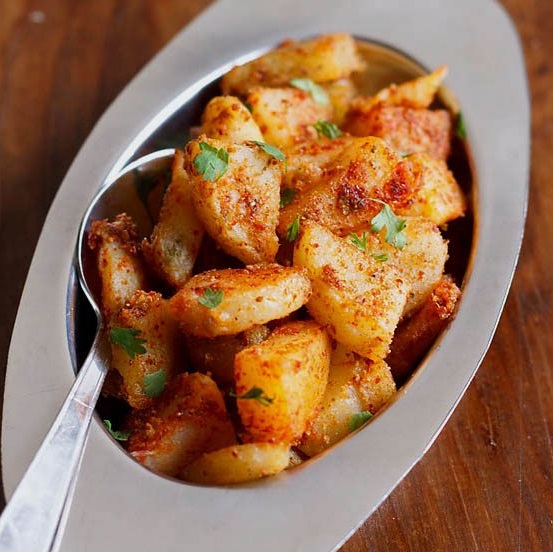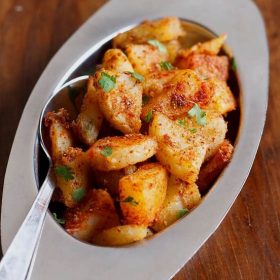 30 mins
Aloo chaat recipe – little spicy, tangy and crispy potato chaat.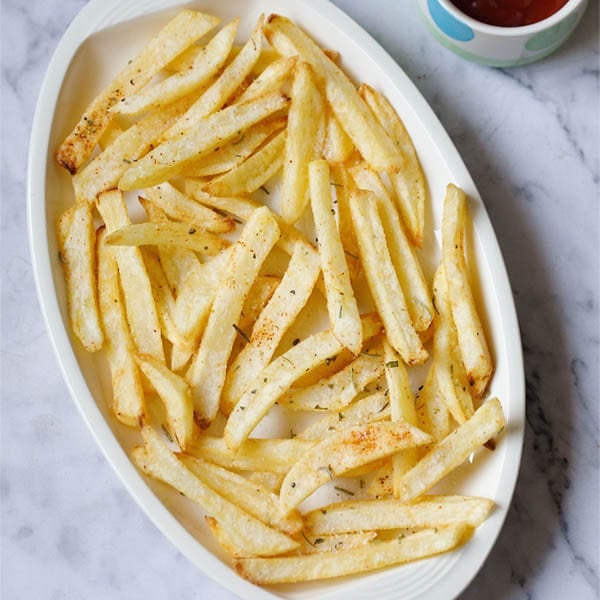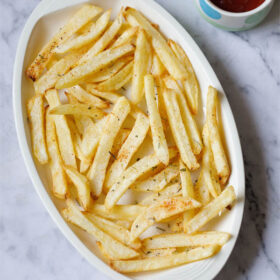 Moderate
30 mins
Perfectly salted French Fries that are crispy on the outside, soft on the inside. Make these homemade french fries or finger chips recipe easily with a few techniques and customize it with your favorite herbs and spices or toppings.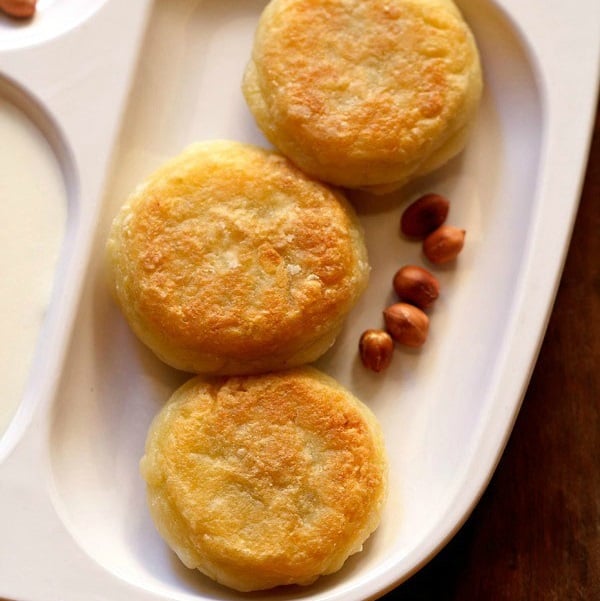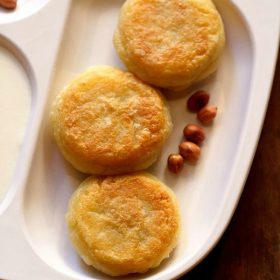 Moderate
1 hr
Farali pattice is an easy snack of crispy and tasty patties made with potatoes and stuffed with a sweet filling of coconut, nuts and raisins. This dish is from the Gujarati cuisine that is made during fast or upvas.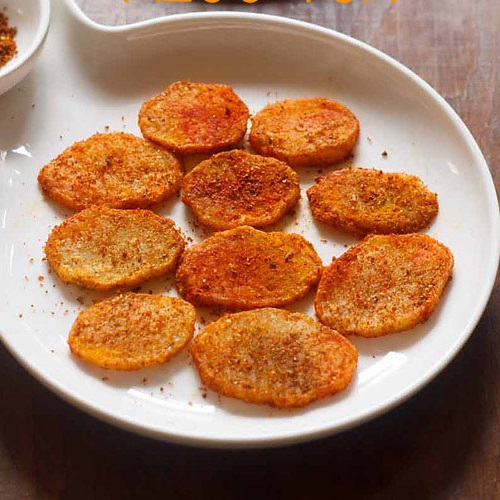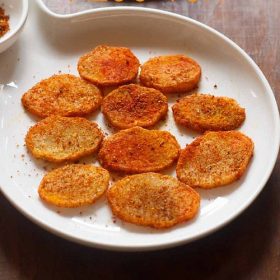 Moderate
25 mins
Aloo tuk is a popular Sindhi snack of crispy, fried and spiced potato slices. The potato slices are double fried to make them extra crispy. This dish makes for a good tea time snack or a side dish with your favorite North Indian meal.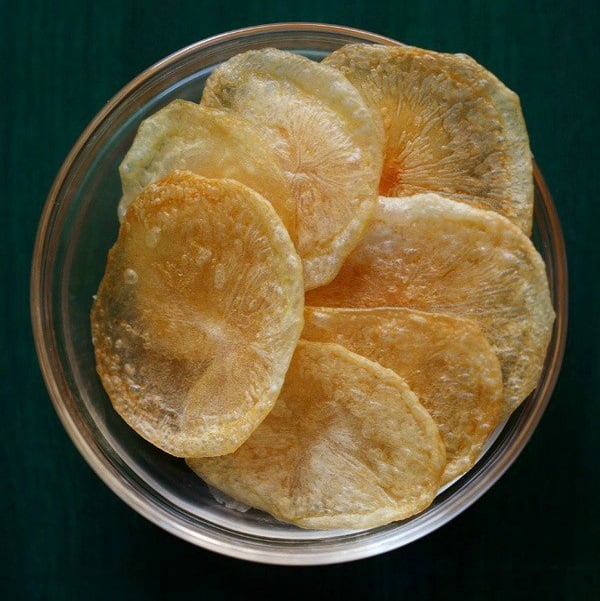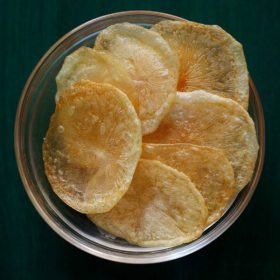 Easy
40 mins
These homemade baked potato chips are crisp as well as delicious.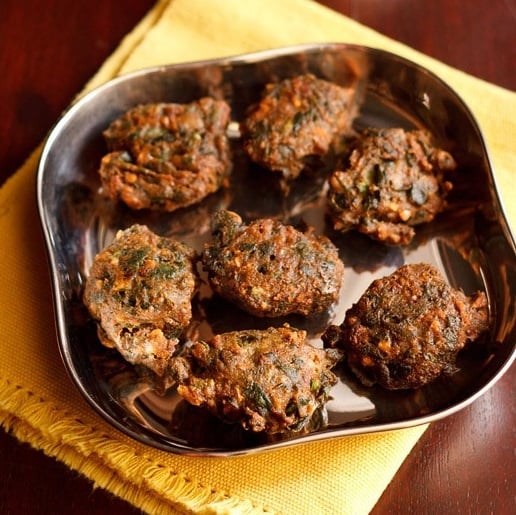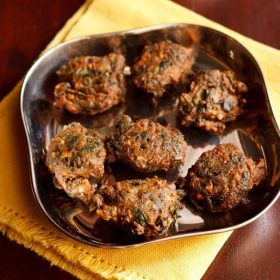 30 mins
Vrat ke palak pakore recipe – spinach fritters made during fasting with buckwheat flour and spinach.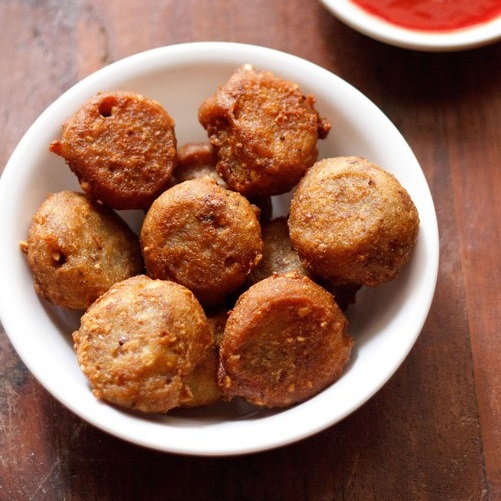 50 mins
Vrat ke pakore or kuttu pakoras – deep fried fritters made with buckwheat flour and mashed potatoes, roasted peanuts and dry pomegranate powder.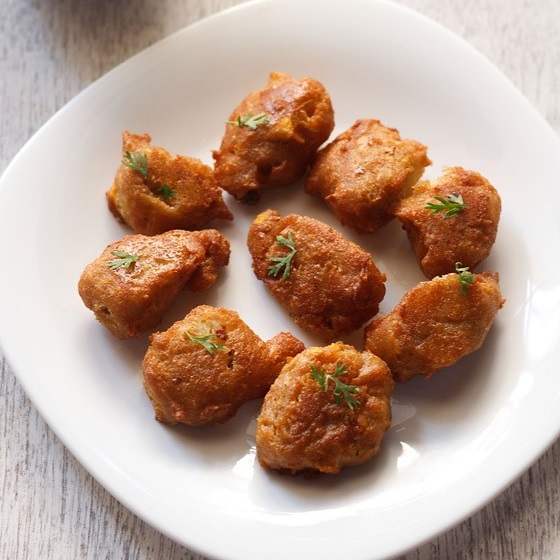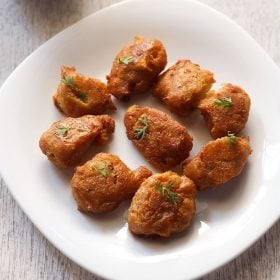 40 mins
Kaddu pakora or pumpkin fritters made for fasting or religious vrat.
Chutney & Raita
These chutneys and raitas not only act as the perfect accompaniment with the main course or snacks, but also suffice as topping or dipping sauces. Listed below are such Navratri Fast Recipes.
Chutneys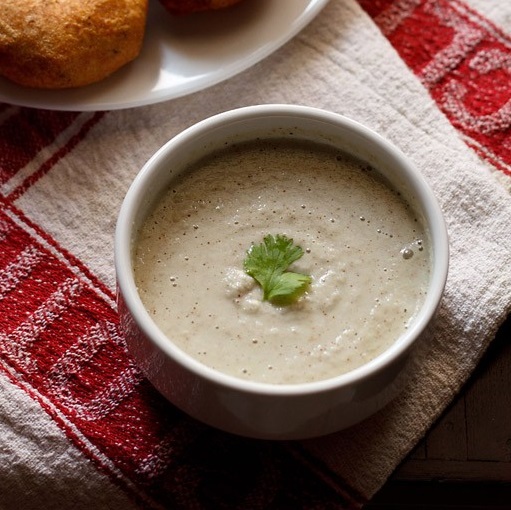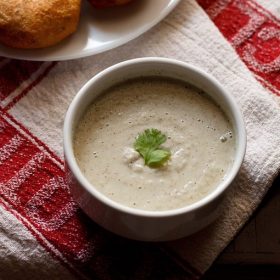 10 mins
A no onion no garlic coconut chutney made simple and easy with just three ingredients.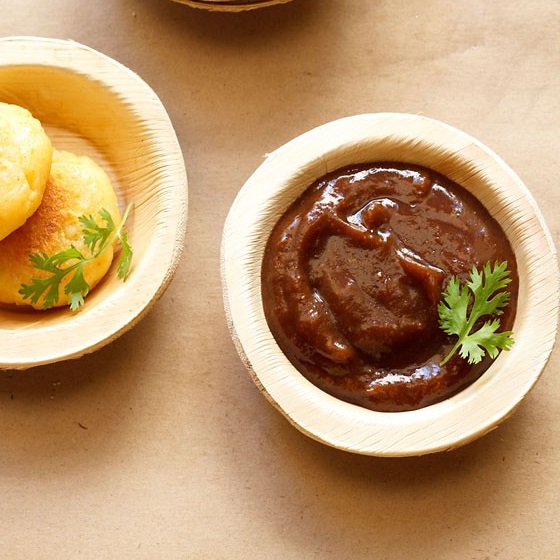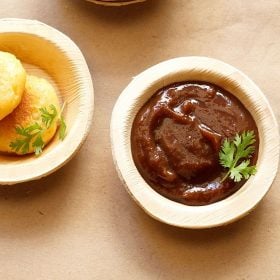 Easy
21 mins
Tamarind Dates chutney recipe for chaat snacks. Thus sweet tangy gooey chutney made with tamarind, dates and jaggery goes well with Indian chaat snacks.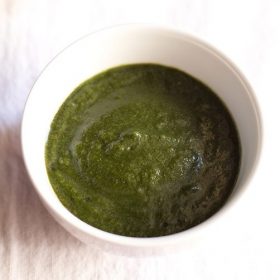 5 mins
Phalahari chutney recipe is a green chutney made for fasting or vrat with coriander leaves.
Raitas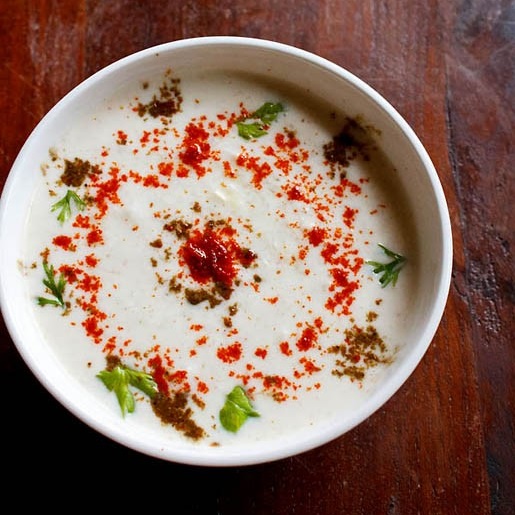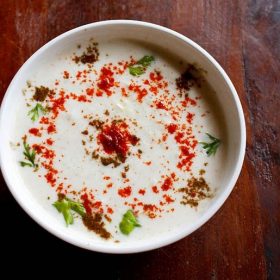 Easy
5 mins
Cucumber raita is a popular savory raita dip made with cucumber and curd (yogurt). This simple, refreshing, cooling cucumber raita recipe comes together in 5 minutes.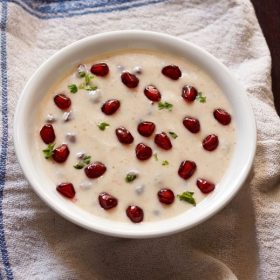 10 mins
Pomegranate raita is a sweet raita made with fresh pomegranates and spiced with roasted cumin powder, black pepper and chaat masala.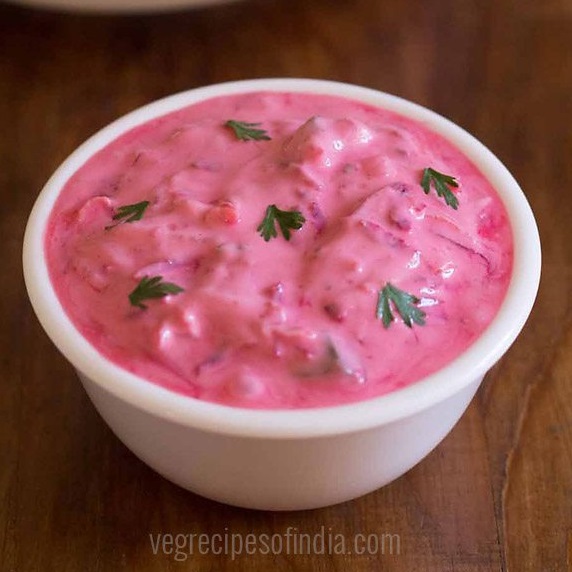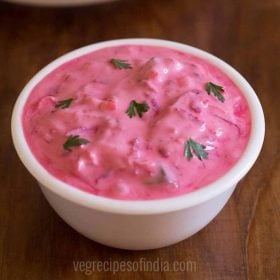 Easy
20 mins
Beetroot Raita is a colorful, vibrant raita or yogurt dip made with healthy beets, onions, bell pepper, carrots, spices and curd (yogurt). It pairs nicely with most Indian meals.
Sweets & Desserts
Can an Indian meal be ever complete without a sweet? Not really. So, in this section, you will find some easy-peasy sweets and desserts that can be made during Navratri festival, and can also be offered to Goddess Durga. This list is categorized into kheer, halwa, ladoo and fruit-based recipes.
Kheer Recipes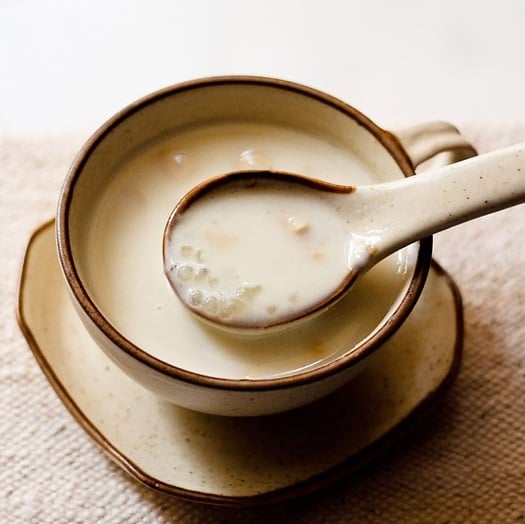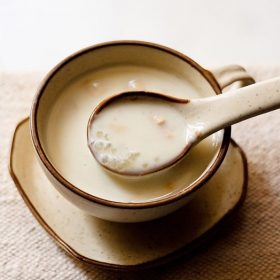 Easy
35 mins
Sabudana kheer is a sweet pudding made with tapioca pearls or sabudana, milk and sugar.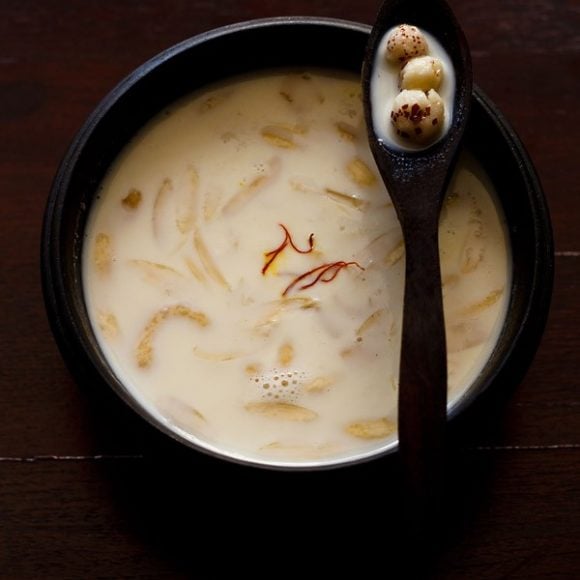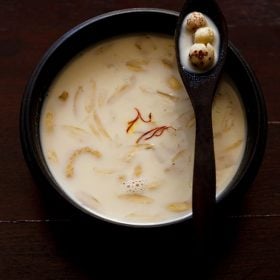 Moderate
35 mins
Makhane ki kheer is a sweet dessert pudding made with Makhana (foxnuts), milk, ghee, sugar and dry fruits. This is an easy and popular sweet that is often made during Hindu fasting days.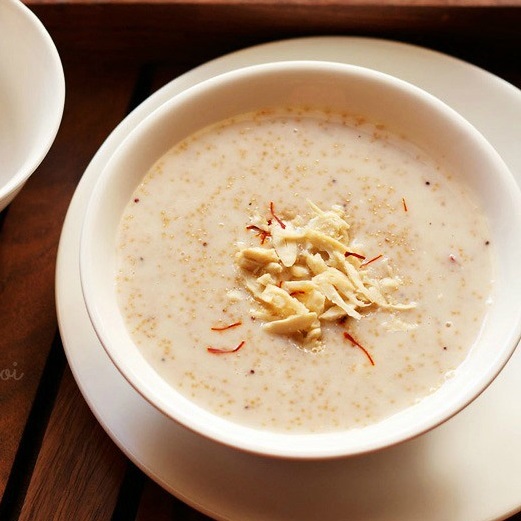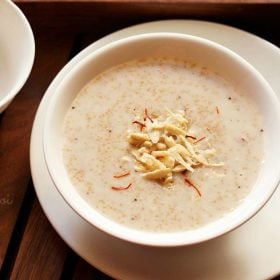 20 mins
Rajgira kheer is a simple easy dessert pudding made with amaranth grains. Navratri recipe.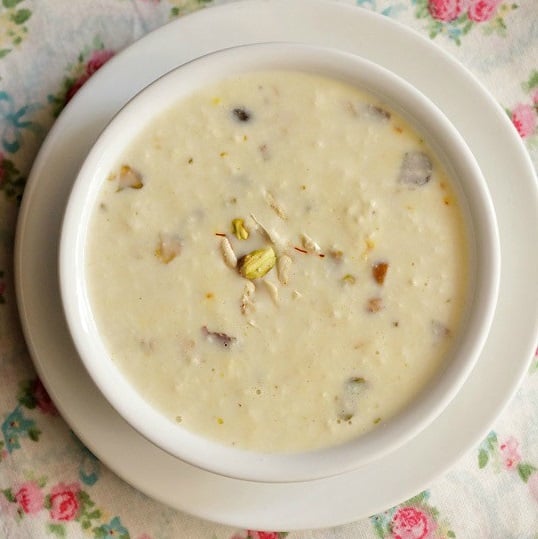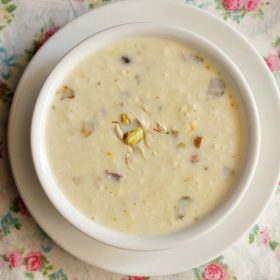 Easy
25 mins
Paneer kheer recipe is a quick and easy Indian cottage cheese kheer for the festive season. Ready in less than 25 minutes.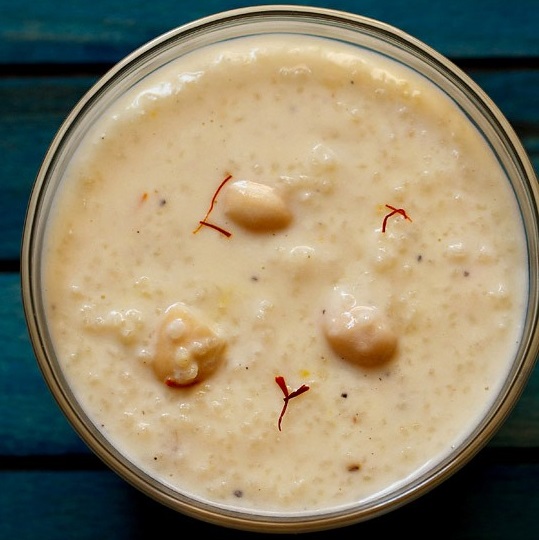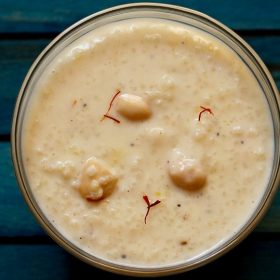 1 hr 30 mins
Vrat ke chawal ka kheer or samvat rice kheer is a creamy kheer made with samvat rice or barnyard millet.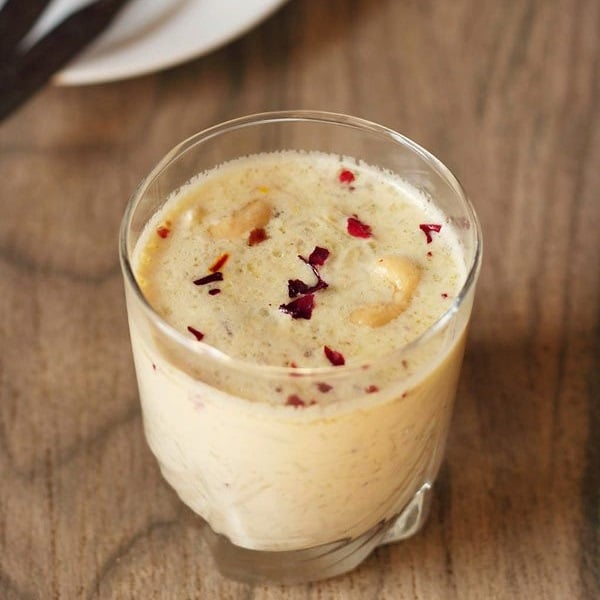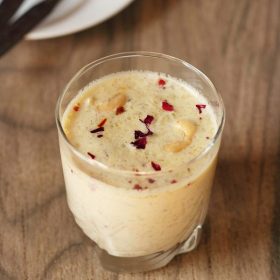 30 mins
Delicious kheer made with bottle gourd or opo squash.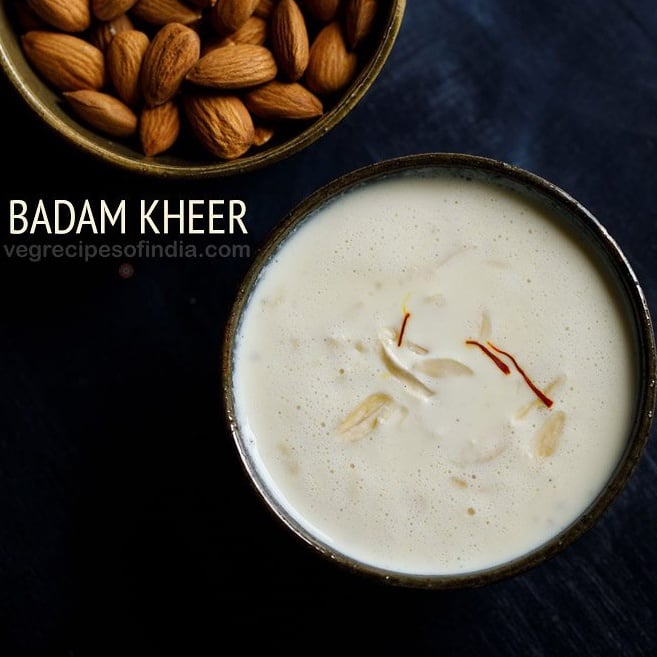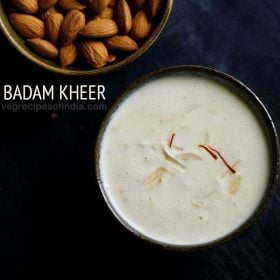 50 mins
Badam kheer or almond payasam is a delicious creamy kheer made with blanched almond paste, milk and saffron.
Halwa Recipes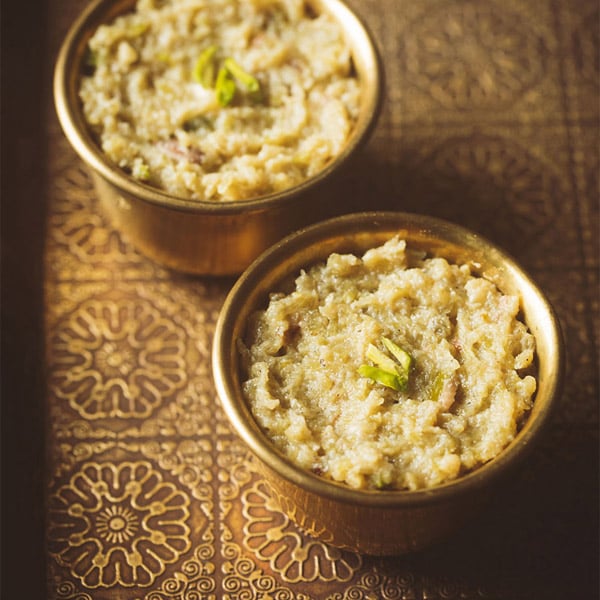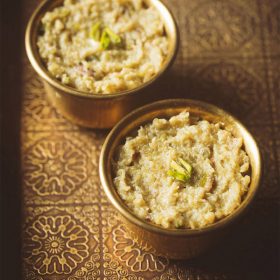 Moderate
1 hr
Lauki halwa is also called as dudhi halwa. It is a rich Indian sweet made with bottle gourd (opo squash), milk, sugar and ghee. The method of making lauki halwa is similar to making gajar halwa. Making lauki halwa is easy but takes some time. This is a slow cooked halwa and what you get after minutes of slow cooking is super deliciousness.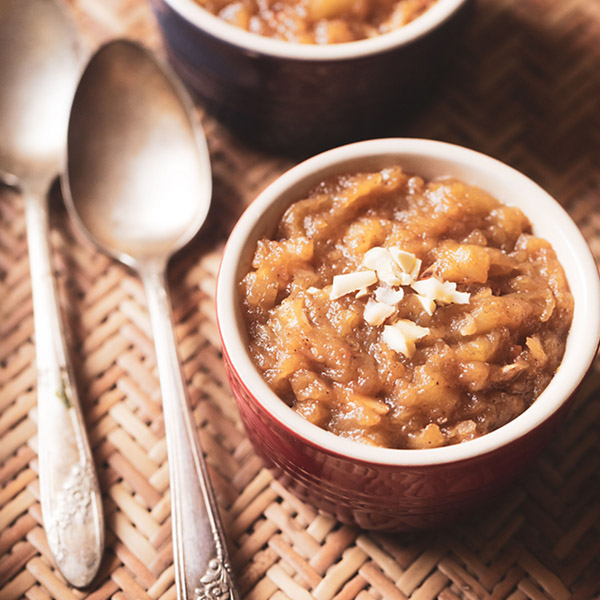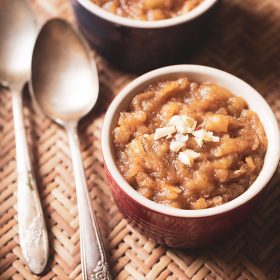 Moderate
45 mins
Apple halwa recipe made with apples, sugar, cinnamon and vanilla. Apple halwa is a delicious halwa that is easy to make. This apple halwa does not use sooji (rava), milk, khoya or milk powder. Just apples, sugar (optional) and ghee. Flavorings and nuts of your choice can be added to the halwa.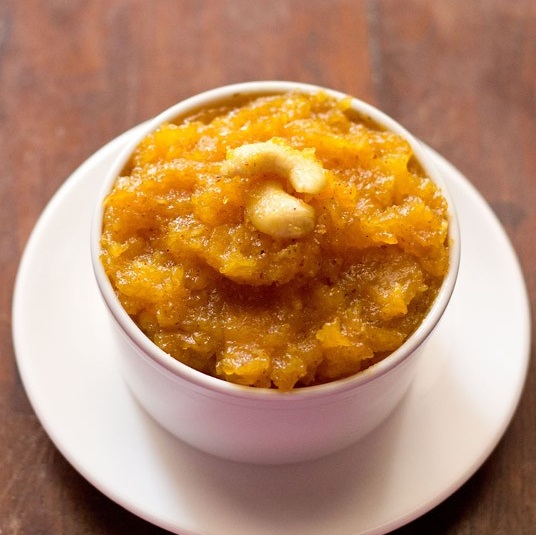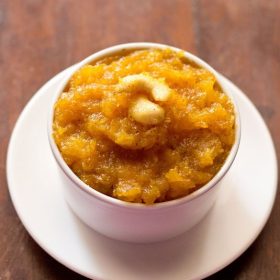 Moderate
50 mins
Papaya Halwa is a Indian sweet or dessert made with papaya. This Papaya Sweet is prepared by slow-cooking semi-ripe papaya, sugar and almond powder in oil. With hints of lovely cardamom, it makes for tasty dessert to end your meals with.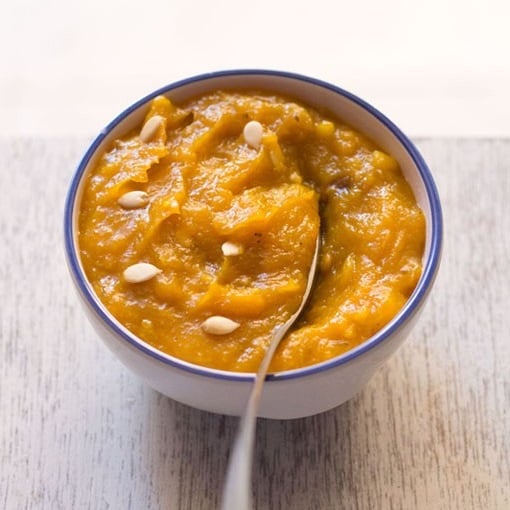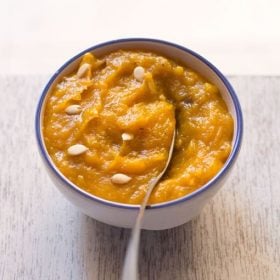 40 mins
Pumpkin halwa is a sweet pudding made with pumpkin along with cardamom, melon seeds and dry fruits.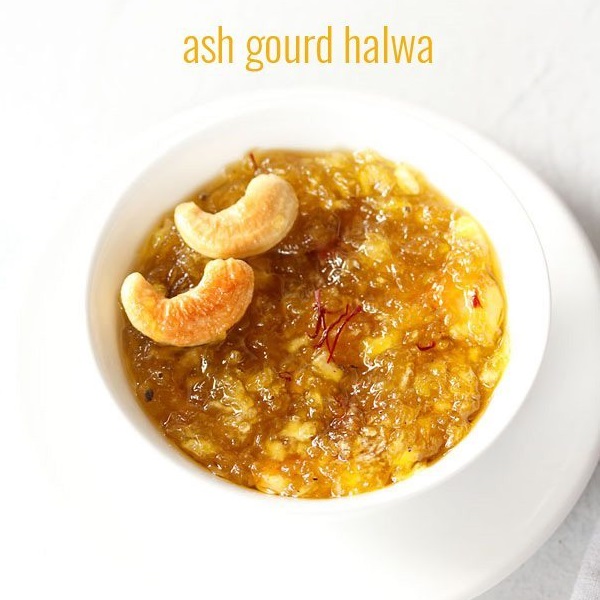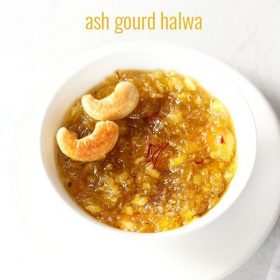 40 mins
ash gourd halwa or kashi halwa or dumroot halwa is a delicious halwa made with ash gourd or white pumpkin.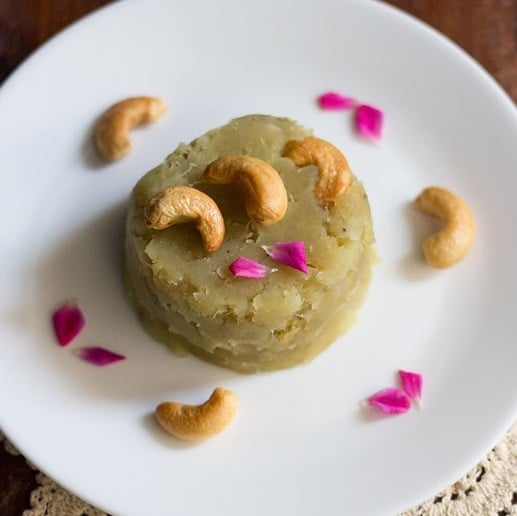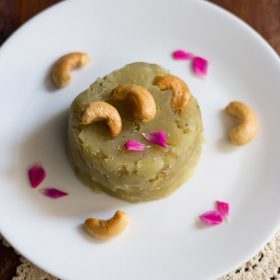 Moderate
40 mins
Sweet Potato Halwa also called Shakarkandi ka Halwa in Hindi is a delicious Indian sweet made with boiled and mashed sweet potatoes and scented with cardamom, saffron.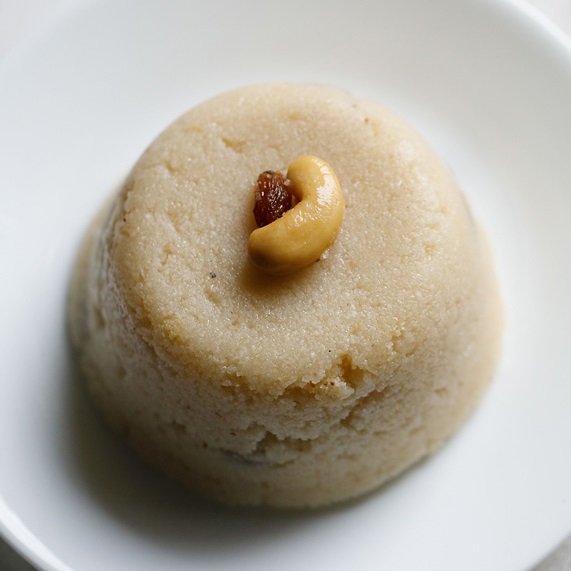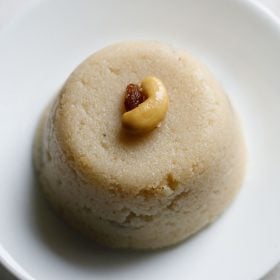 25 mins
Swang ke chawal ka halwa or vrat ka halwa recipe – a delicious halwa made with sama ke chawal (barnyard millet) which can be had during any fasting occasion like Navratri, Ekadashi, mahashivratri and chaturthi.
Ladoo Recipes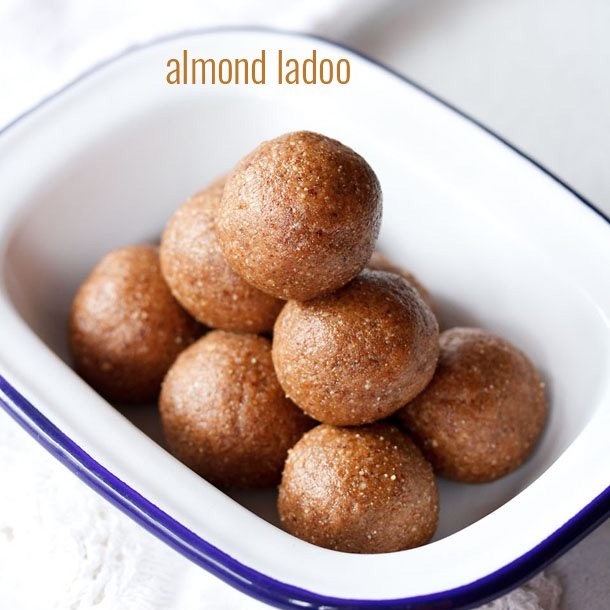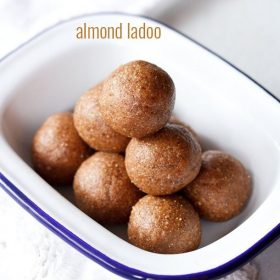 10 mins
Badam laddu are quick, easy and tasty ladoos made with almonds, jaggery and raisins.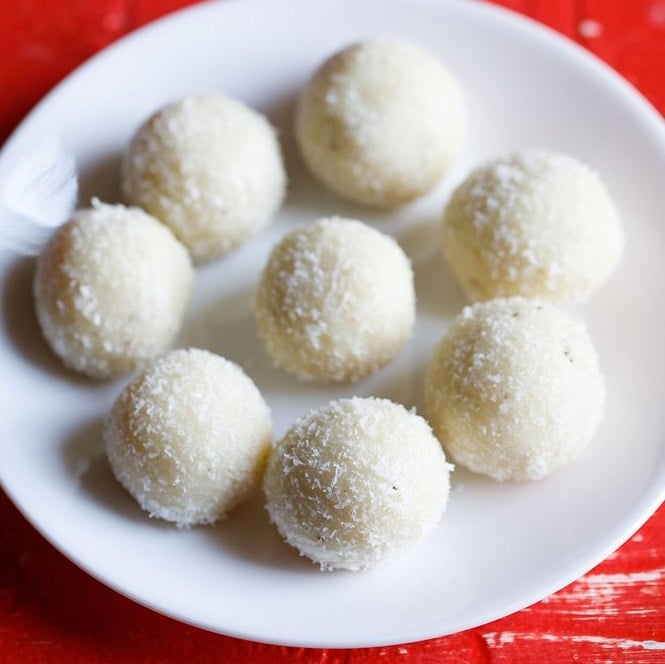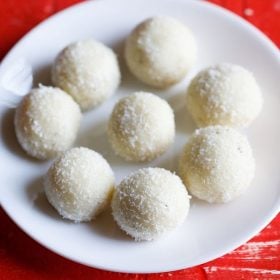 Moderate
15 mins
Make coconut ladoo with three recipes. The first one is a quick 3 ingredient recipe made with fresh coconut, milkmaid and cardamom powder. The second recipe has 2 ingredients – desiccated coconut and condensed milk. The third recipe is made with desiccated coconut and sugar.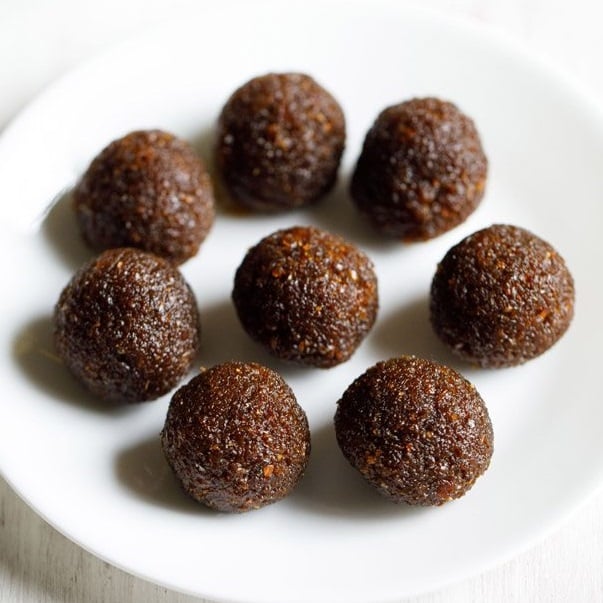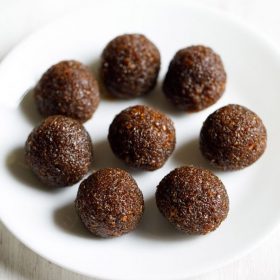 Easy
15 mins
Narkel Naru is a traditional sweet ladoo made with jaggery and coconut from the Bengali cuisine. These rustic ladoo can be sweetened with date palm jaggery or regular sugarcane jaggery or sugar.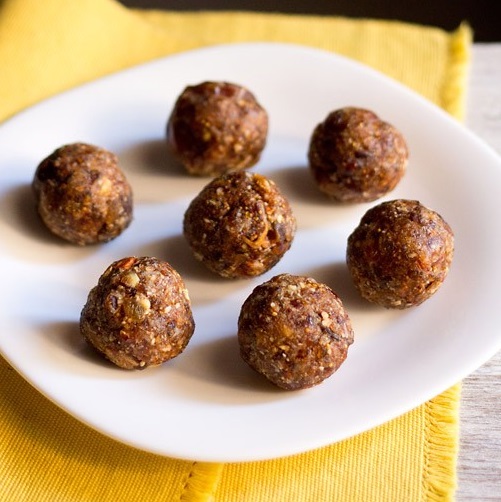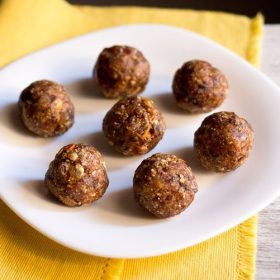 Easy
20 mins
Easy Dry fruits laddu recipe without any added sugar or fats like ghee or oil. Packed with nutrients, good fats and fibre, these energy balls are made with dates, figs and various nuts. Dry fruit laddu recipe gets done quickly and comes together under 20 minutes.
Fruit Desserts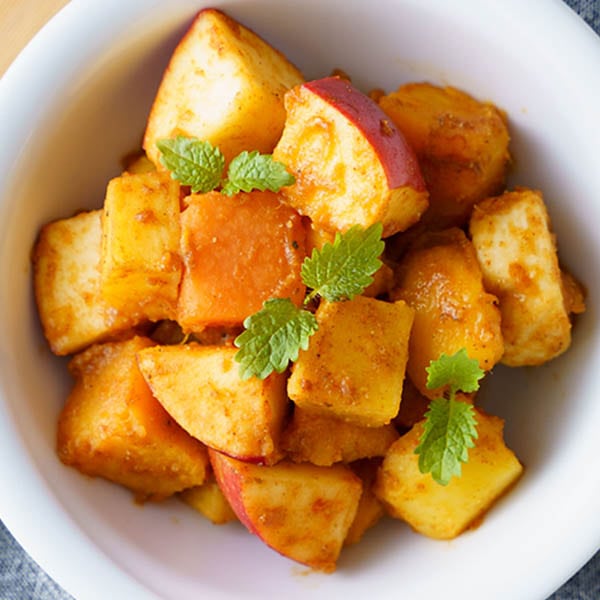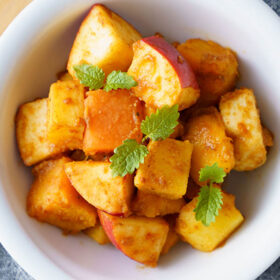 Easy
30 mins
This Delhi style tasty fruit chaat is spiced, savory, sweet and tangy. Fruit chaat is made of a mix of fresh seasonal fruits and tubers like potatoes and sweet potatoes.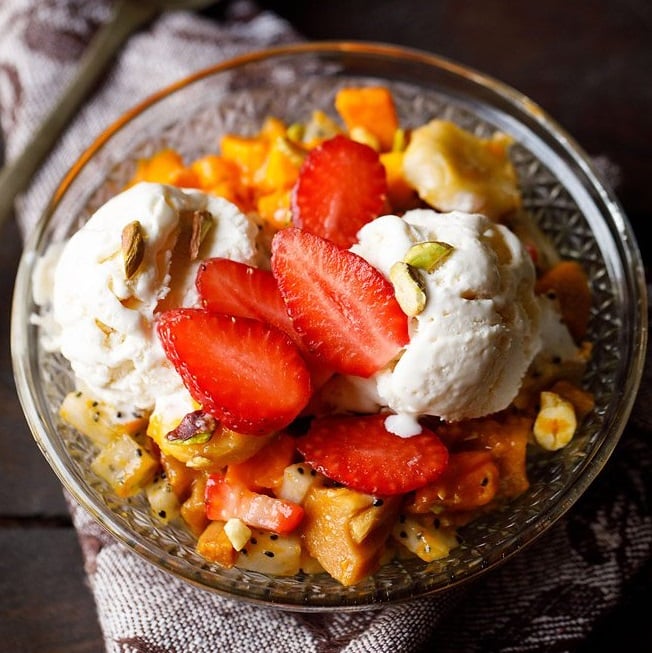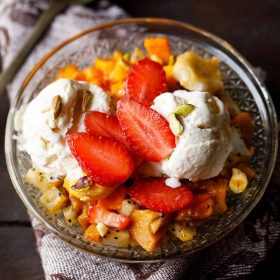 Easy
15 mins
This easy summer Fruit Salad With Ice Cream is a mix of various fruits and nuts served with dollops of vanilla ice cream. Really an easy and delicious dessert recipe.
Beverages
All fruits can be consumed during fasting in Navratri festival. So, use any fruit or a combination of fruits to prepare juices, smoothies or shakes. Milk and milk products can also be considered as Navratri Recipes.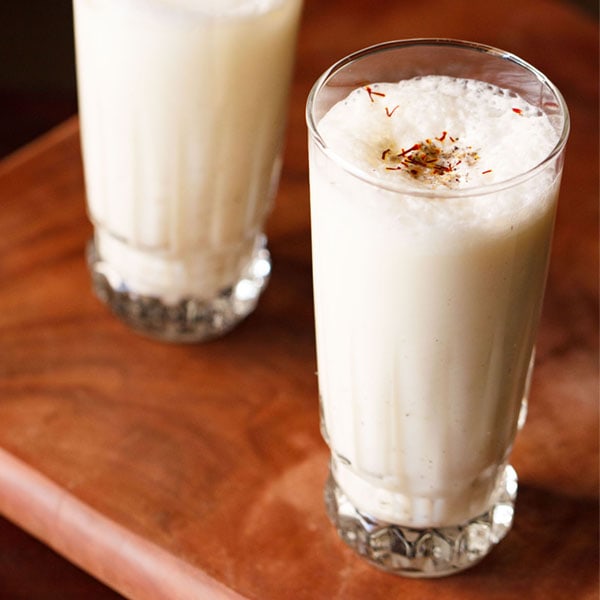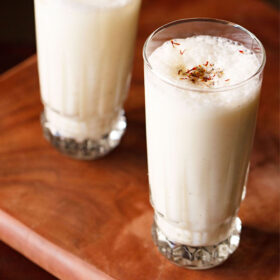 Easy
10 mins
Lassi is a cooling, refreshing, probiotic drink perfect for the warm summer months. Popular in Punjab and North India, there are many variations of this sweet lassi recipe. Find three easy, energizing and flavorful lassi recipe variations.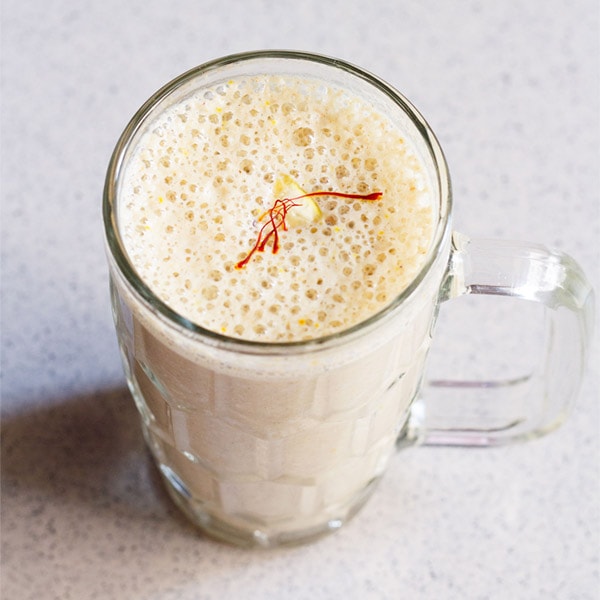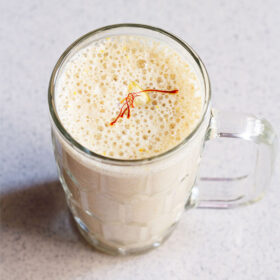 Easy
35 mins
Healthy, refreshing, and energy-boosting, this dry fruit milkshake recipe is the perfect beverage to give you a quick boost throughout the day! It includes dried fruits, nuts, and plant-based milk making it a great gluten-free and vegan option.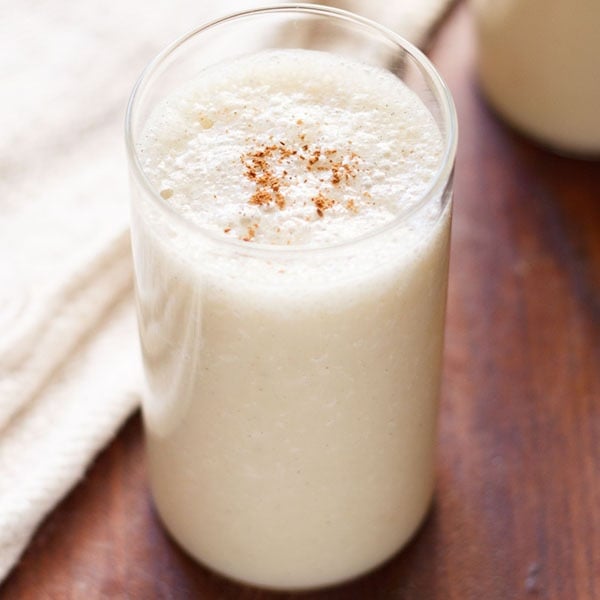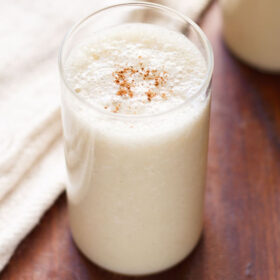 Easy
10 mins
This banana milkshake recipe includes sweet bananas and coconut milk for a rich and creamy consistency that everyone (especially kids) will love. Plus we add a bit of vanilla and cinnamon for an extra delicious drink.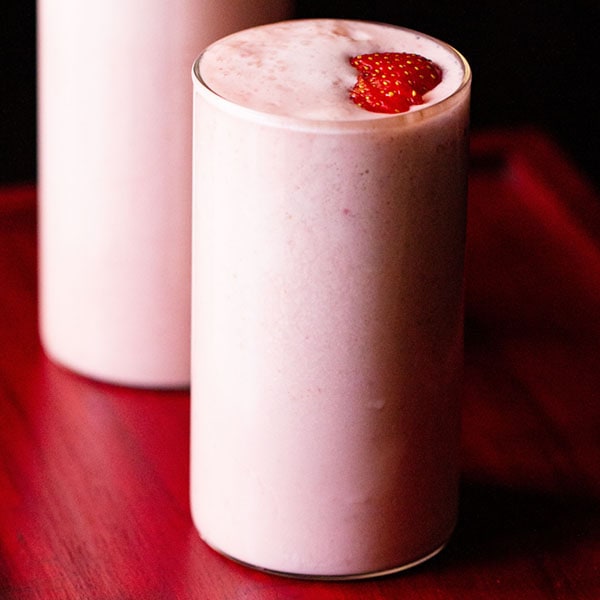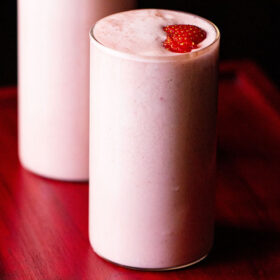 Easy
10 mins
A sweet and refreshing strawberry shake is the perfect drink for summer. Here I share with you two different but equally delicious ways to make my favorite strawberry milkshake recipe – a classic shake prepared with milk, and a plant-based vegan version made with almond milk.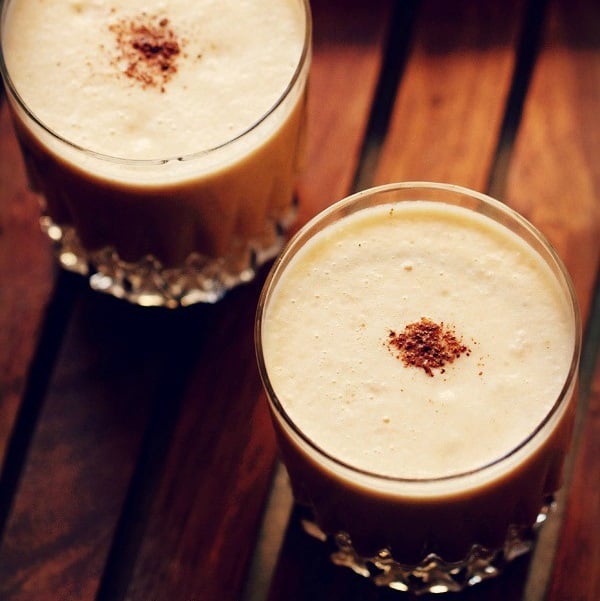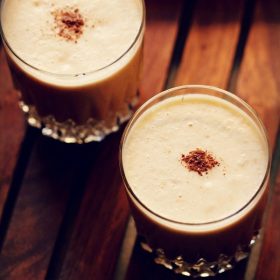 Easy
15 mins
Apple milkshake is a quick and easy beverage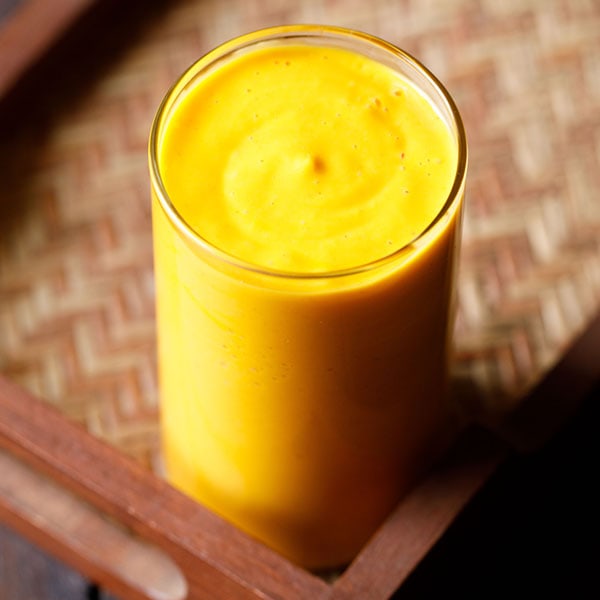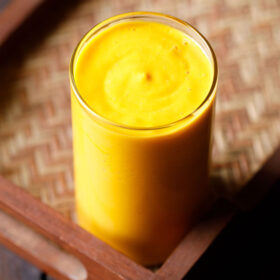 Easy
10 mins
Bright and refreshing mango smoothies are easy to make as a healthy breakfast or sweet snack. Here I share with you 5 unique mango smoothie recipes. There are versions with yogurt, oats, additional fresh fruits, and even almonds – give them all a try and discover your favorite and healthy mango smoothie recipe.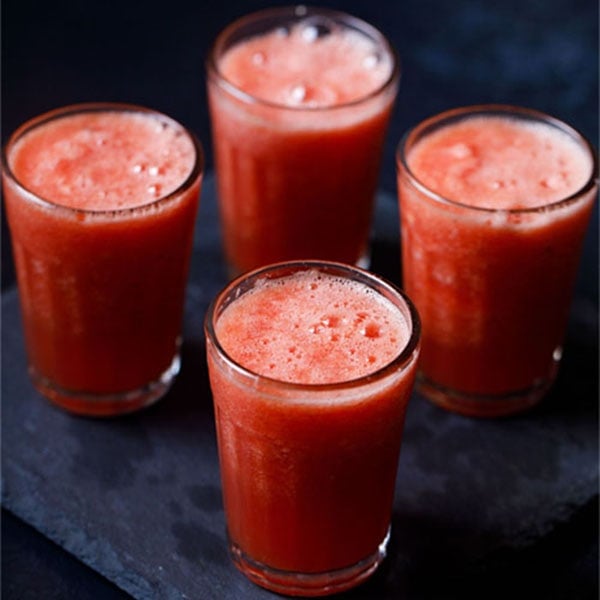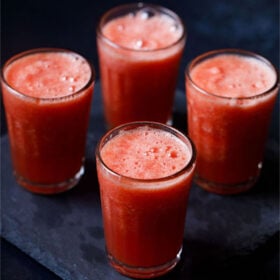 Easy
20 mins
Refreshing, healthy and cooling Watermelon Juice to quench your thirst on a hot summery day. Learn to make three different versions of this healthy, all natural drink recipe.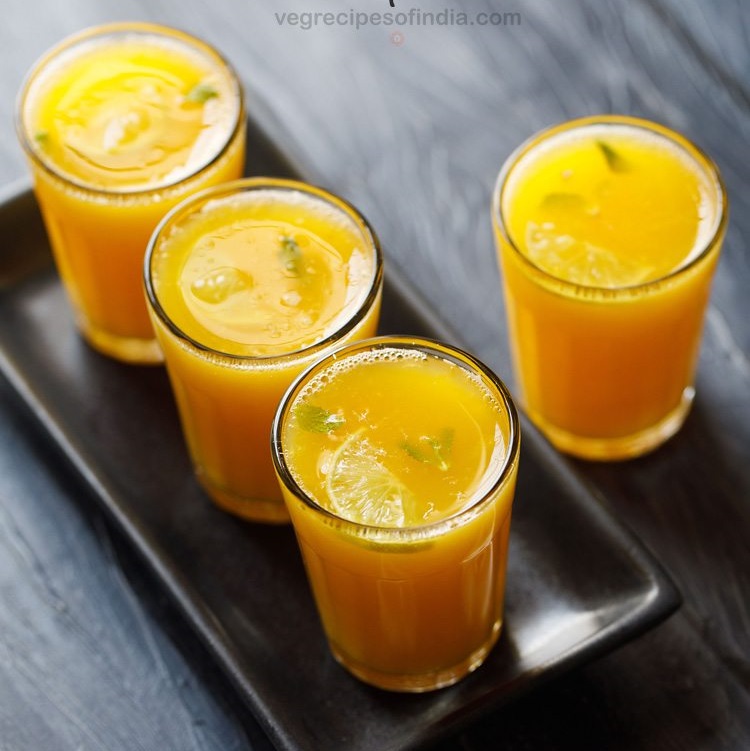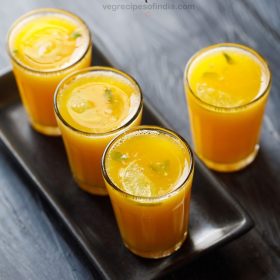 Easy
15 mins
Sweet, refreshing, and free of any artificial ingredients, this Fruit Punch recipe is a favorite with kids and adults alike. Learn how to make Fruit Punch Mocktail drink at home in just 15 minutes with this simple, versatile, and delicious recipe!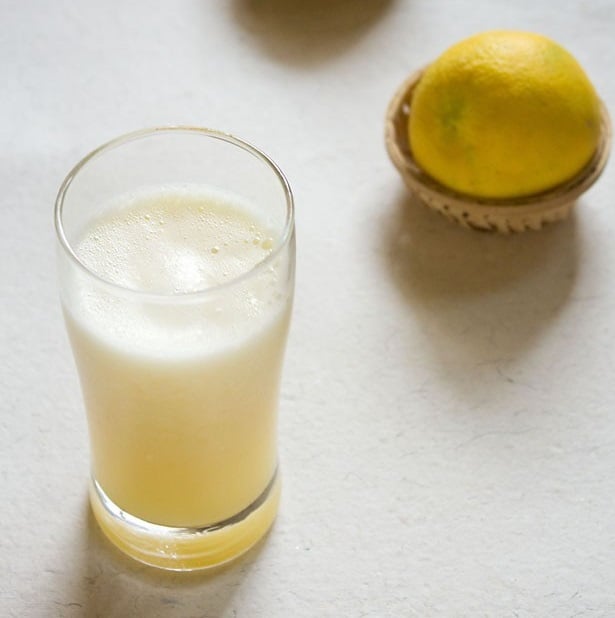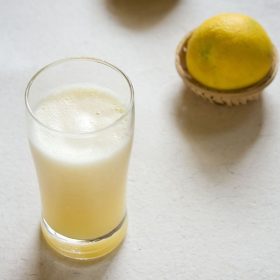 15 mins
Refreshing sweet lime juice or mosambi juice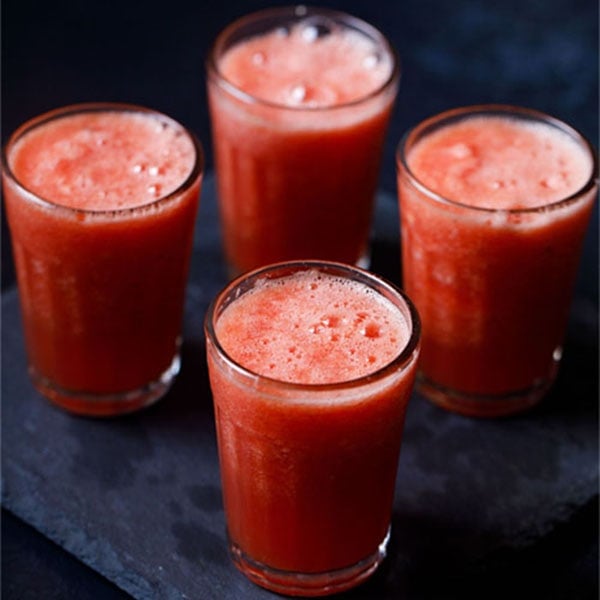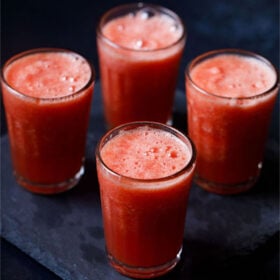 Easy
20 mins
Refreshing, healthy and cooling Watermelon Juice to quench your thirst on a hot summery day. Learn to make three different versions of this healthy, all natural drink recipe.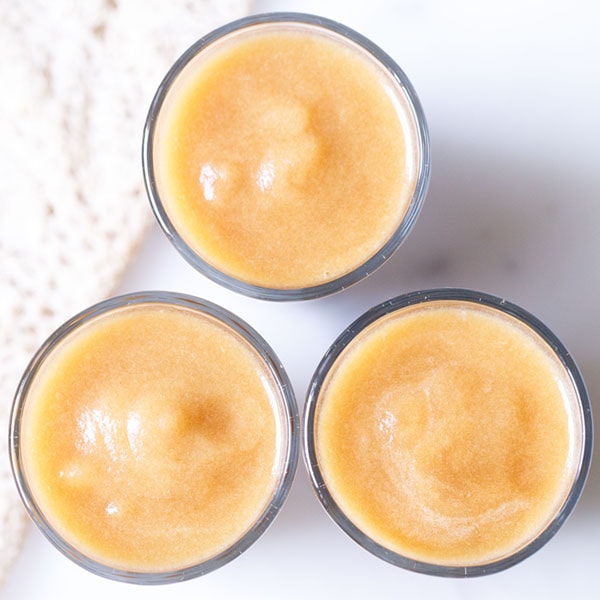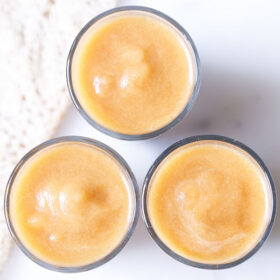 Easy
10 mins
If you love the idea of making your own homemade juices but don't have a juicer, this is a post for you! Here I'll show you how to make healthy apple juice in a blender. As an added bonus, I've included two easy recipes – simple, everyday classic apple juice and a vibrant, tangy pomegranate apple juice.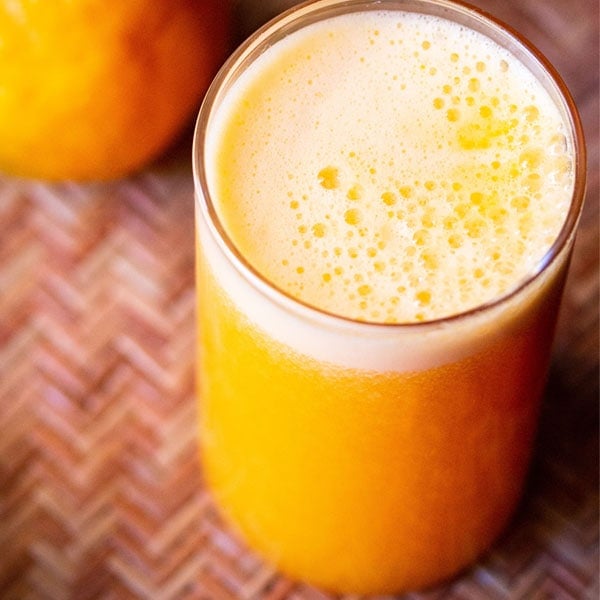 Easy
15 mins
Bright and sweet orange juice is delicious to enjoy on its own for a healthy beverage, or include in your favorite drink recipes. I share making this fresh orange juice in a blender which is so easy.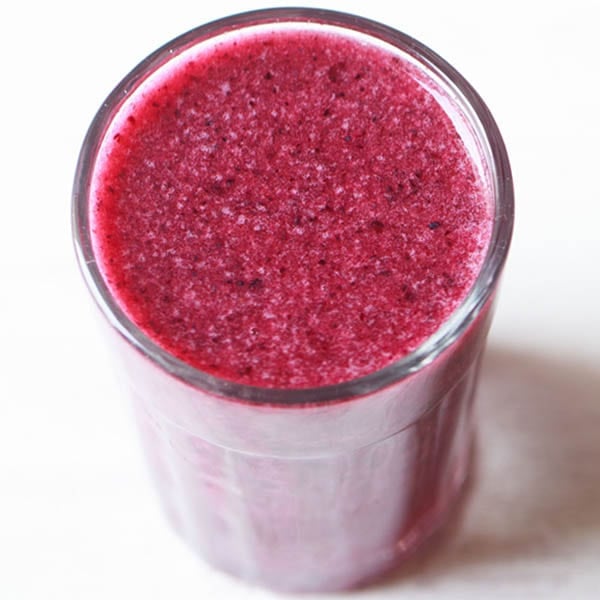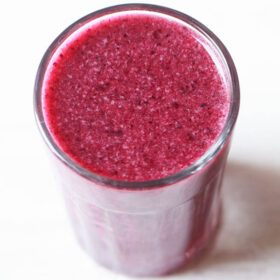 Easy
20 mins
The bright and flavorful Blueberry Juice is deliciously refreshing, full of nutrients and made with just 4 basic ingredients.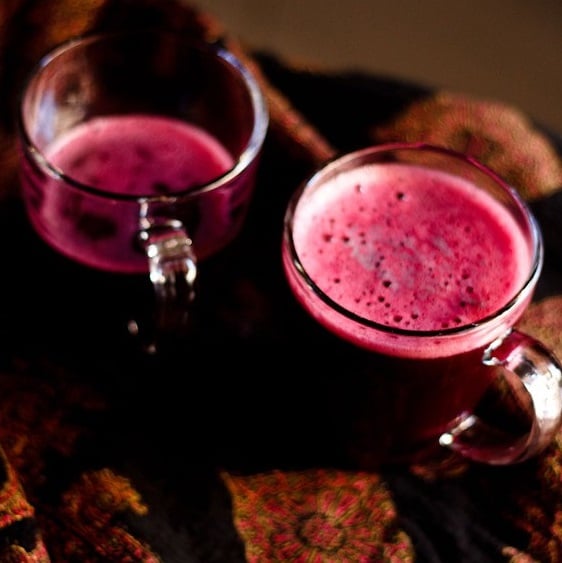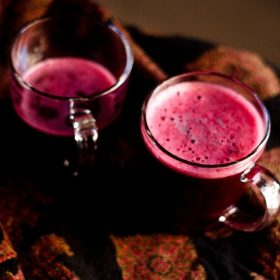 Easy
15 mins
Grape Juice recipe made with just a few ingredients and in a blender. This Grape Juice recipe gets done in a jiffy if you have rinsed and prepped the grapes.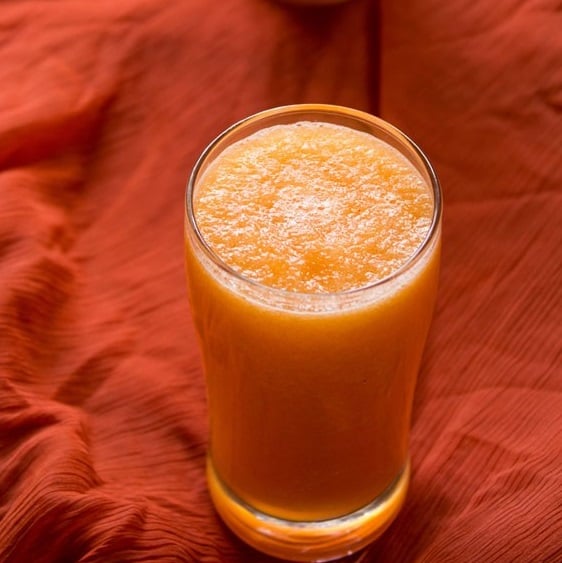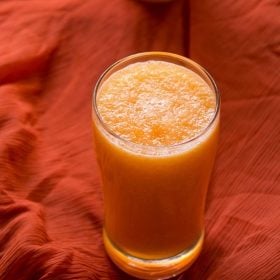 Easy
15 mins
This easy recipe for making Musk Melon Juice (a.k.a. Cantaloupe Juice) for a sweet, refreshing warm-weather beverage that you're sure to love.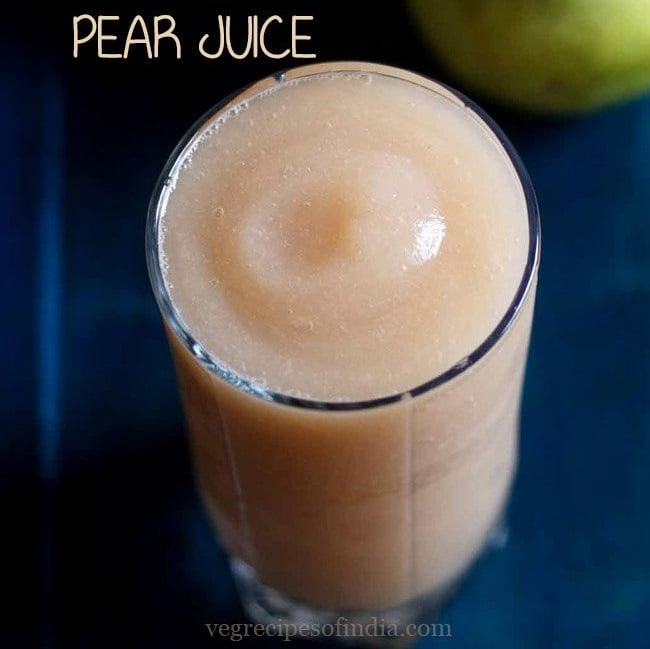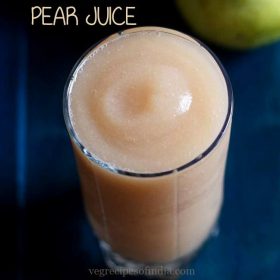 Easy
10 mins
Refreshing and energizing pear juice recipe.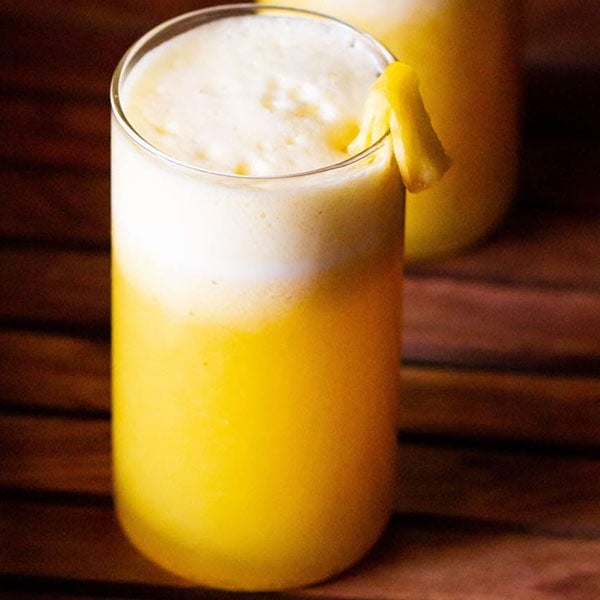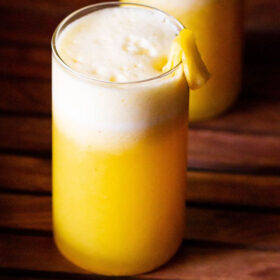 Moderate
15 mins
This pineapple juice is a refreshing juice made from fresh pineapple and flavored with black salt and roasted cumin powder.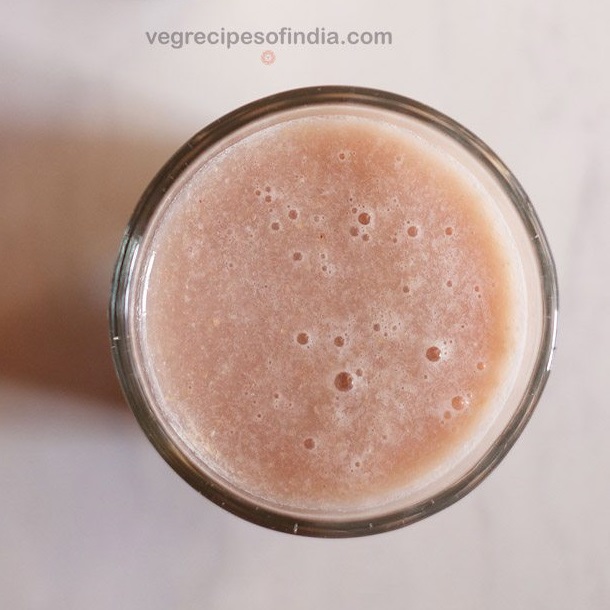 Easy
15 mins
Pomegranate juice recipe with step by step photos – one of the healthy juices made with pomegranate or anar.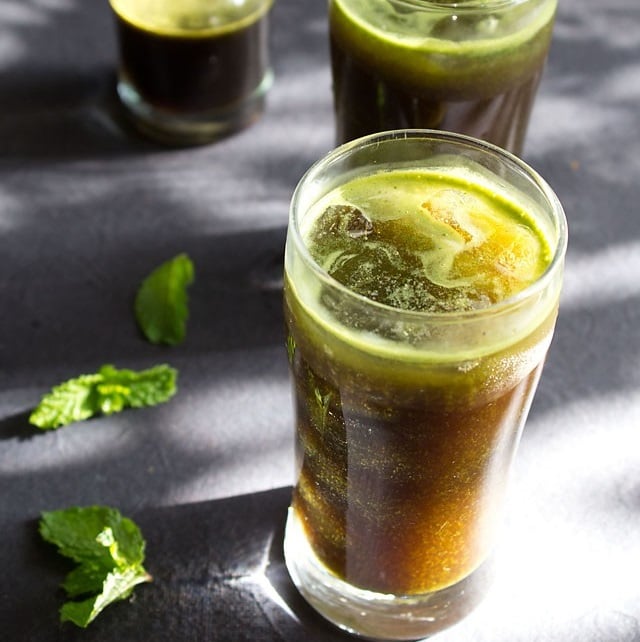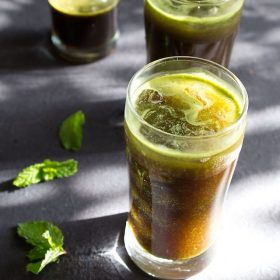 Easy
10 mins
Mint Juice or Pudina Juice is a healthy and refreshing drink for summers made from fresh mint leaves and lemon.
South Indian Navratri Recipes
When compared to North Indian Navratri Fast Recipes, fasting food that is made in South India is quite different. Usually all grains, vegetables and cereals are used to make it. But they still don't have any onion or garlic in them.
Listed below are some no onion, no garlic recipes which are popular during Navratri festival in southern parts of India. However, a crucial point to remember here is, you should not consider these as true vrat or fasting recipes. Avoid making these if you want to observe a North Indian style of fast.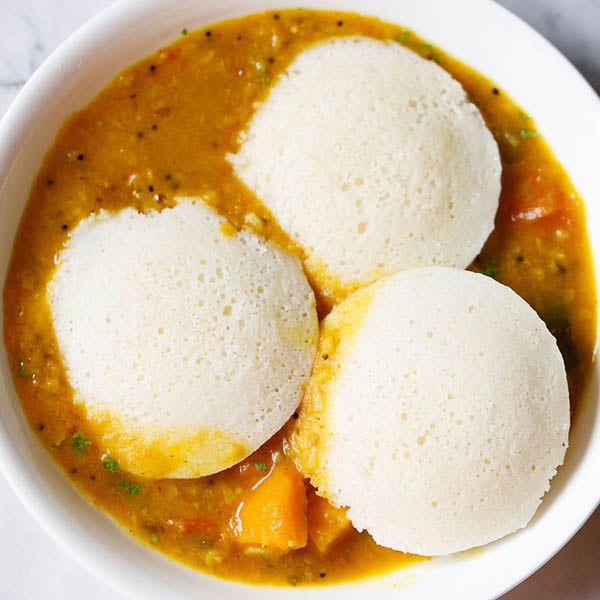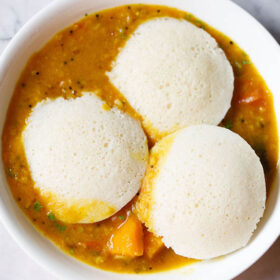 Moderate
9 hrs 25 mins
Idli recipe with lots of tips and suggestions so that you can make soft and fluffy idli easily. This idli recipe post also details the method of making idli batter. It is a popular Indian breakfast which is filling as well as nutritious.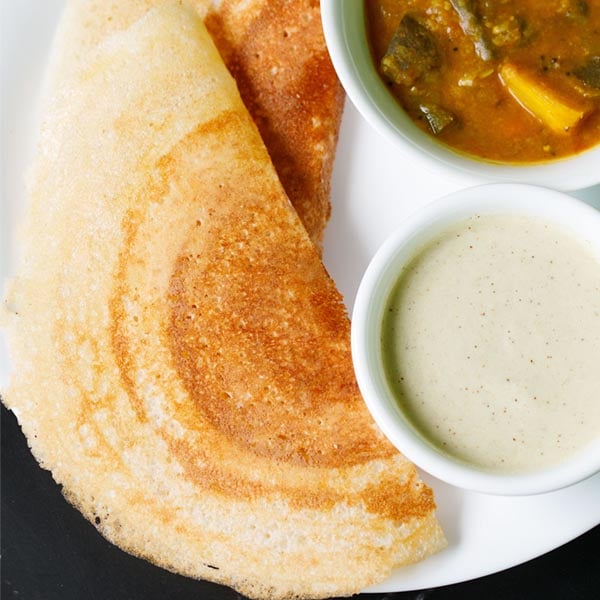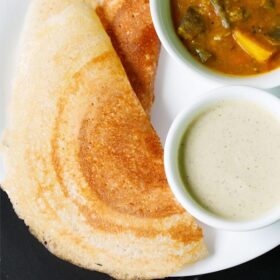 Moderate
9 hrs 30 mins
This is a plain dosa or sada dosa recipe which is a famous breakfast or snack both in India as well as outside India. Dosa is basically a healthy crepe made from ground rice and lentil batter which has been fermented.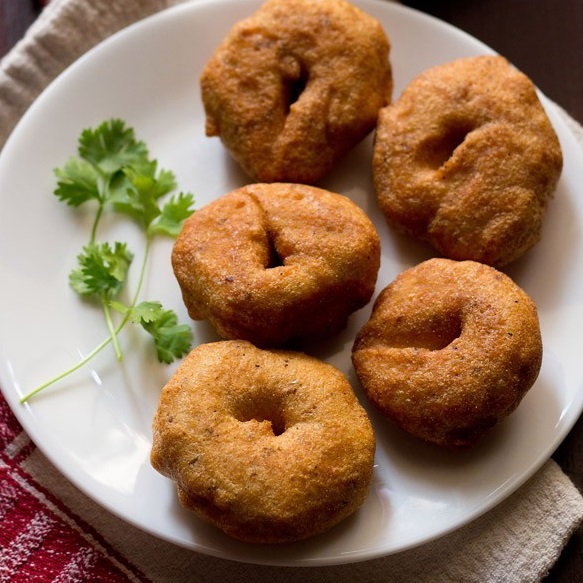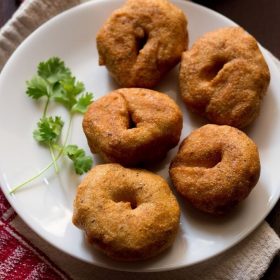 9 hrs 30 mins
These Uddina Vada are crisp and tasty fried black grams donuts shaped fritters. A popular South Indian snack.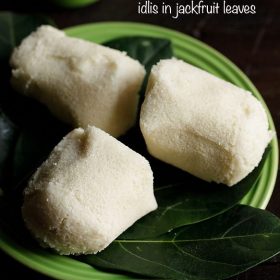 9 hrs 15 mins
Kotte kadubu are super soft aromatic idlis made in jackfruit leaves cup. In Konkani language, these idlis are known as hittu or khotte. Steaming in jackfruit leaves give the idlis the flavor and aroma of the jackfruit leaves.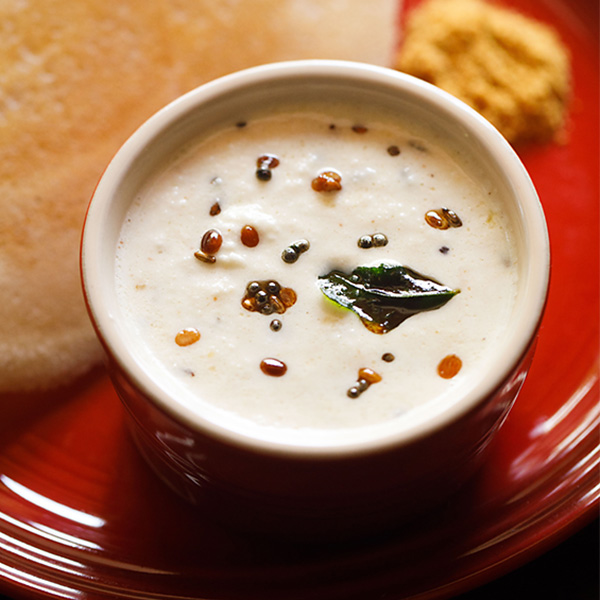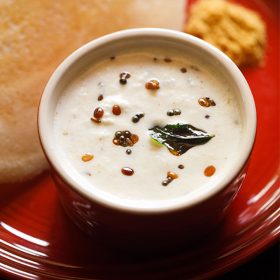 Moderate
15 mins
Coconut chutney is a side dish that is served with idli, dosa, vada and pongal. This coconut chutney recipe is an easy and simple recipe versatile enough to go with any Indian snack.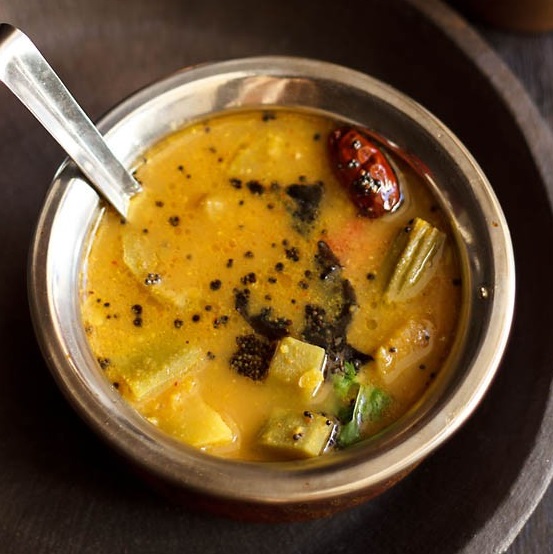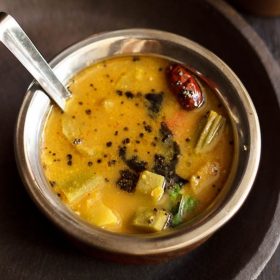 Moderate
50 mins
Udupi Sambar is a spiced, slightly sweet and tangy sambar made with pigeon pea lentils, mixed vegetables, tamarind and freshly ground udupi sambar masala paste.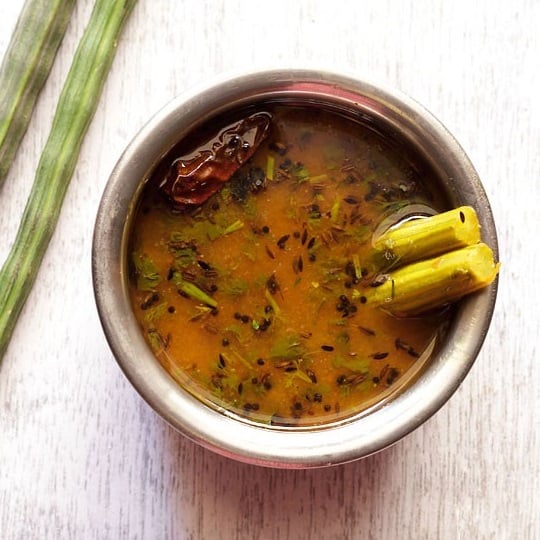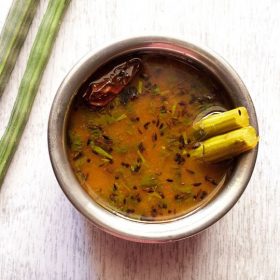 50 mins
Drumstick rasam is a tangy version of rasam made with drumsticks.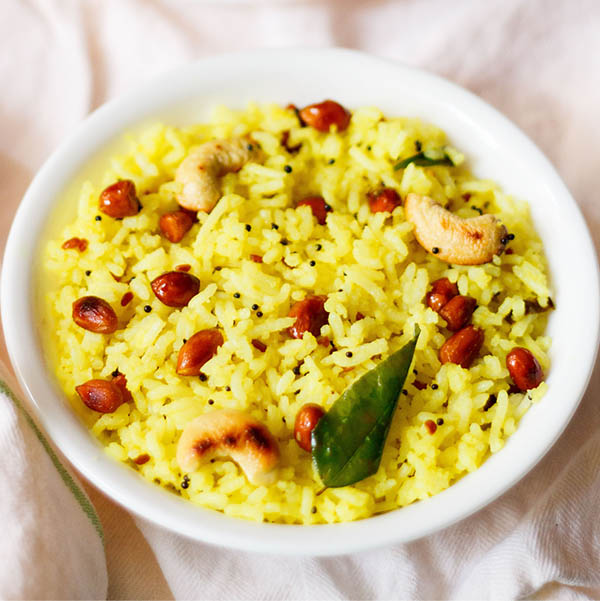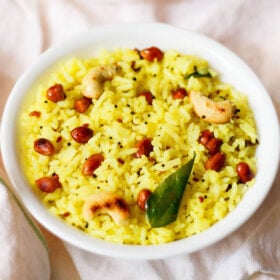 Easy
25 mins
Lemon Rice also known as chitranna or nimmakaya pulihora is a crunchy, flavorful and tangy rice dish that is easy to make and tastes so good.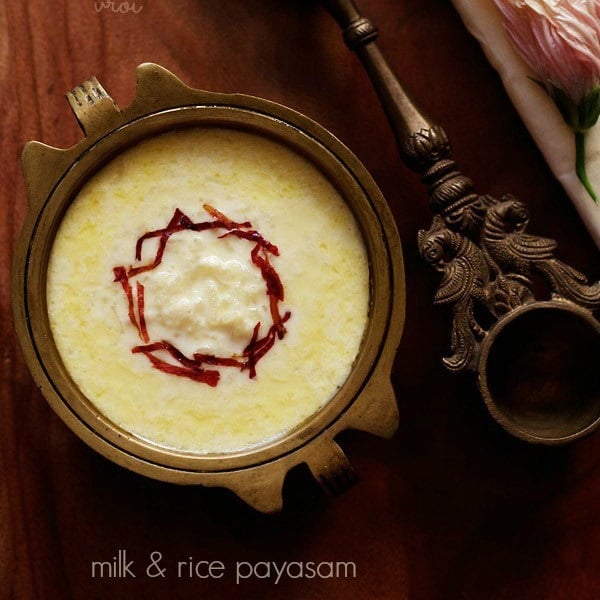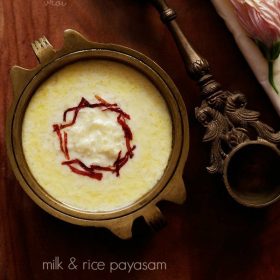 Moderate
1 hr
Paal Payasam is a simple South Indian variant of a slow cooked rice pudding made with only 4 ingredients. This recipe is of a typical Tamil style Rice Payasam that is creamy and delicious.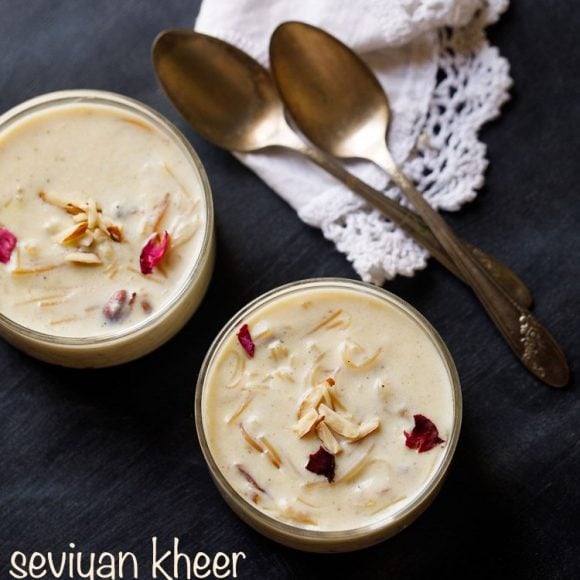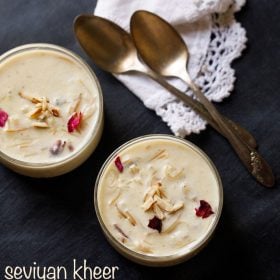 Easy
20 mins
This creamy seviyan kheer is a North Indian sweet made with wheat vermicelli, milk, sugar, dry fruits and flavored with spices. This incredibly easy recipe of semiya kheer comes together in 20 minutes and makes for an excellent dessert or sweet.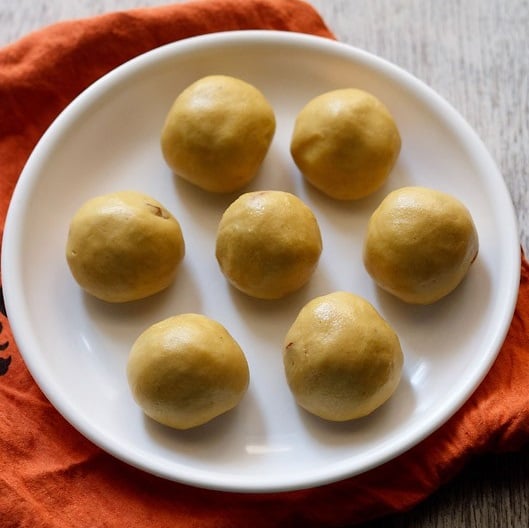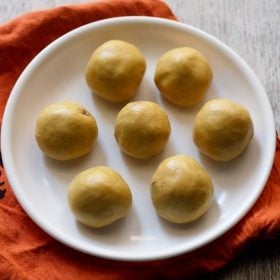 Easy
12 mins
Maladu or maa laddu (pottukadalai ladoo) is quick South Indian recipe of ladoo made from roasted gram or roasted chana dal. Maladu is made with just 3 main ingredients – roasted gram flour, ghee and sugar.
Sundal Recipes
South Indian sundals are dry preparations made with a variety of legumes, lentils or pulses like moong beans, Bengal gram, black eyed beans, peanuts, sweet corn, etc.
Both common during Navratri as well as Ganesh Chaturthi. Each type of sundal is more or less prepared in the same way. They might just have some minor variations in the recipes.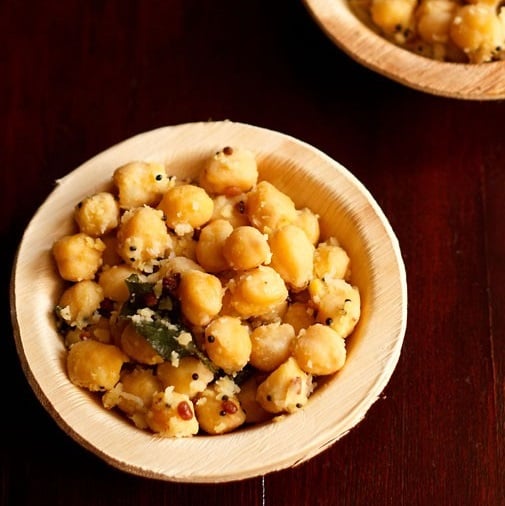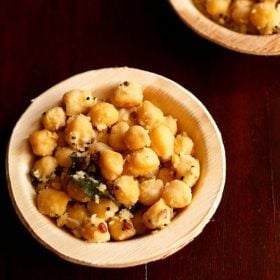 Moderate
35 mins
Sundal is a stir-fried dish made with different types of lentils, legumes even grains from the cuisine of Tamil Nadu. This Channa Sundal has white chickpeas, spices and a good dose of freshly grated coconut. This dish is vegan and quite healthy too.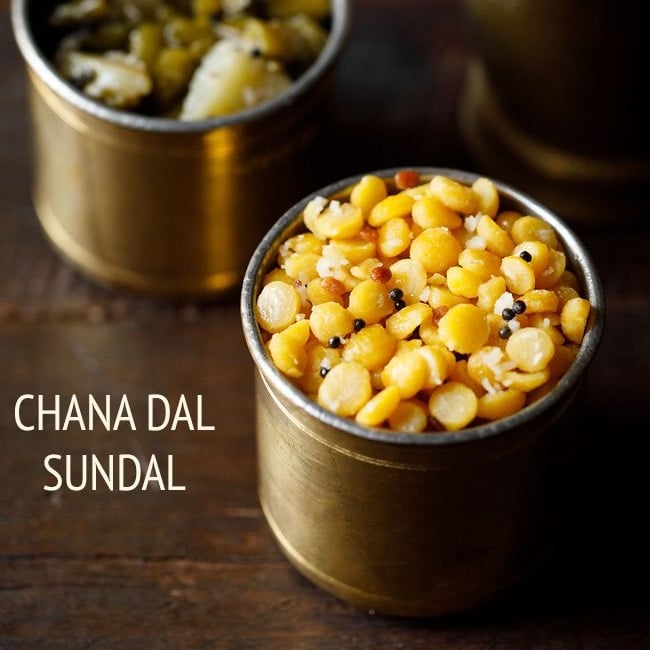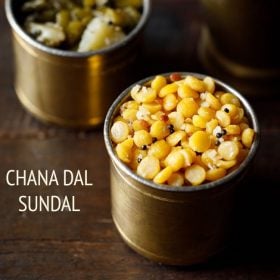 1 hr 35 mins
Chana dal sundal is tempered & sautéed dry dish made with cooked chana dal, few spices and fresh coconut. Chana dal sundal is also called as kadalai paruppu sundal where 'kadalai paruppu' is the tamil word for chana dal.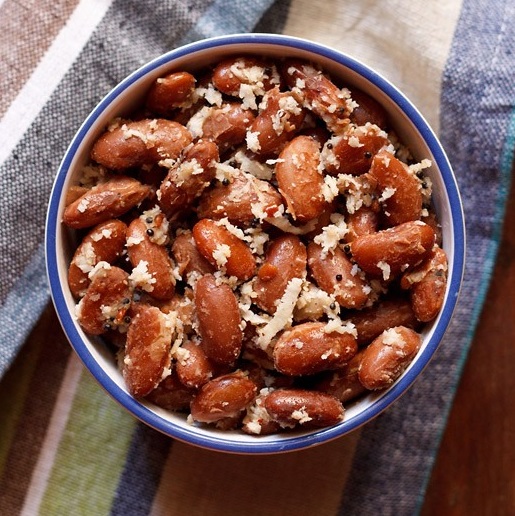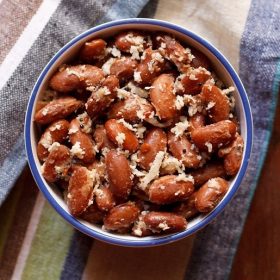 Moderate
8 hrs 35 mins
Rajma sundal is a South Indian recipe of a no onion no garlic sautéed kidney beans with spices and coconut.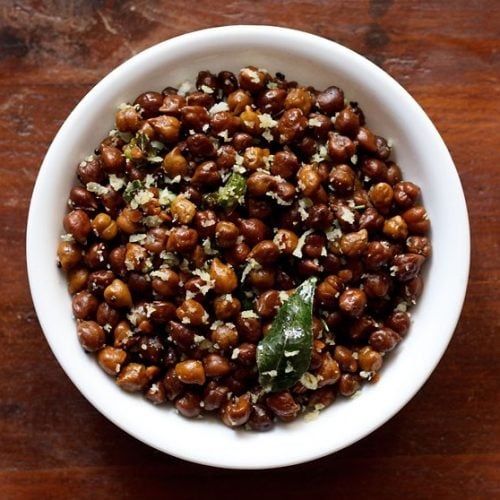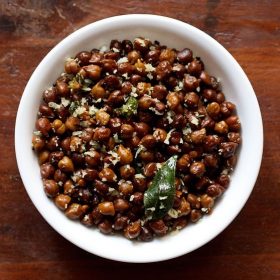 Moderate
8 hrs 35 mins
Black Channa Sundal also known as Kondakadalai Sundal is a South Indian recipe of a sautéed dry dish made with black chickpeas, herbs, spices and coconut.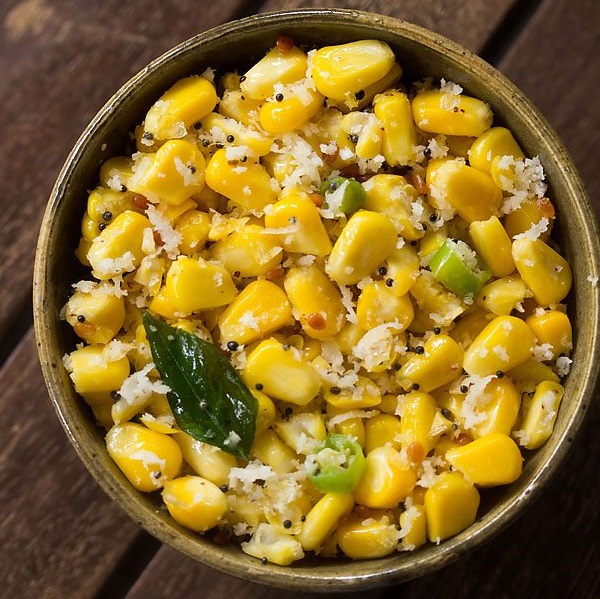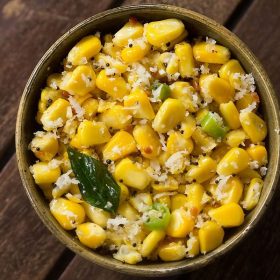 20 mins
Easy recipe of South Indian sweet corn sundal. sundals are South Indian based dishes made with a variety of legumes and is prepared during Ganesh Chaturthi or Navratri festival.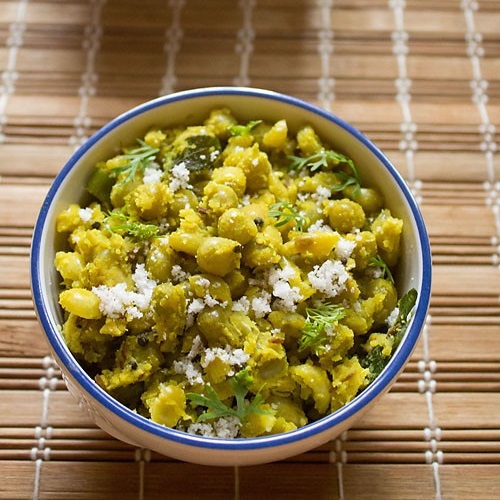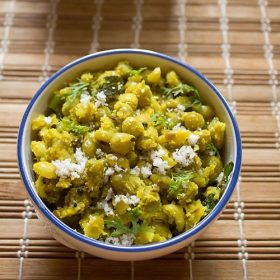 Easy
8 hrs 30 mins
Pattani Sundal is a South Indian preparation made with dried green peas that are cooked first and tempered with spices, herbs and later finished with fresh coconut.
This Navratri Recipes post from the archives first published in October 2013 has been republished and updated on 16 September 2022.