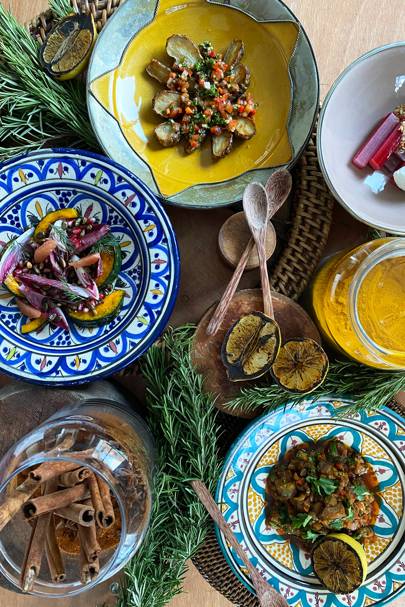 Anyone who's frequented the London party circuit in recent years (remember parties?) will likely have sampled the delights of Rocket Food – a luxury catering company favoured by glamorous clients like F1, Burberry and the Royal Academy of Arts. But when the events circuit ground to a halt amid the pandemic, Rocket's passionate team pivoted to create an entirely new experience for fans to enjoy at home.
A series of live fortnightly cook-alongs with a different culinary destination for each instalment, A Cook's Tour takes all the hassle out of making a spectacular meal. The ingredients are prepared at Rocket's kitchens in Battersea, then delivered pre-portioned to your door. With easy shortcuts like incredible spice pastes and marinades cutting down the time and effort, it's fun and accessible for cooking aficionados and novices alike.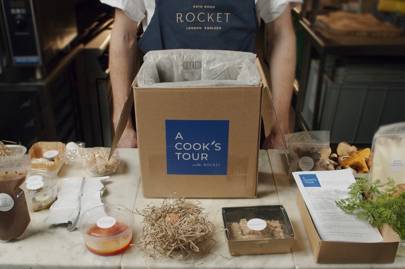 The spectacular London restaurants offering delivery right now
Your box of ingredients arrives on the day, beautifully presented and with each component clearly labelled, accompanied by clear written instructions. Guests also receive an email with all the necessary info and a link to the YouTube livestream. Then, come 7.30pm, you simply tune in to join Rocket's Executive Chef Ryan Stafford and Director Charlie Grant Peterkin, who talk you through preparing your meal. The whole process is slick and efficient, yet entertaining too, with Charlie and Ryan sharing insights into that week's destination and local food culture. It's an inclusive, interactive experience, with the live chat function meaning guests can ask questions throughout if they're in need of some extra guidance.
Each carefully-curated menu consists of multiple courses; the most recent session, 'Temples of Balinese Cuisine', included tempting dishes like BBQ almond and coconut satay, shrimp leaf tacos with grilled lime aioli, and Ryan's take on the famed Indonesian dish, Nasi Goreng – plus punchy Indonesian gin and tonics by Drinksfusion. In just one hour or so you'll have whipped up a spectacular, restaurant-quality meal that's an impressive union of presentation and taste, complete with cheffy flourishes like flavourful sauces and pretty garnishes. A deeply satisfying, rewarding experience, it will leave you with a newfound sense of confidence in your cooking abilities.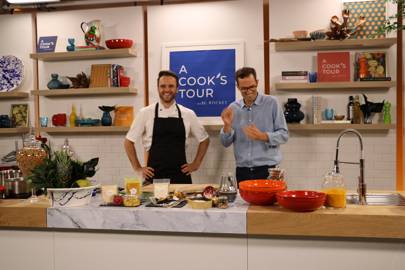 The best DIY restaurant-style meal delivery kits
Charlie tells Tatler that while it's been heartbreaking to see the hospitality industry suffer so much during the pandemic, A Cook's Tour has offered a welcome boost of morale. It has allowed Rocket to continue to do what it loves – feeding people exceptional food, made from high-quality, sustainable ingredients – as well as helping the company support many of its incredible artisan suppliers. And it's been an uplifting experience for guests who join the Tour too, with Charlie relating that it's proved popular with everyone from couples planning a special lockdown date night, to family members separated by the pandemic, who can cook and eat the same meal and feel connected.
For those feeling the itch of wanderlust and looking for an enjoyable way to spend yet another gloomy evening at home, A Cook's Tour is the perfect solution. Each cook-along costs £60 for two people, plus an additional optional wine pairing Ochosen by Rocket's Marketing Manager and resident oenophile, Lottie Levy). With upcoming Tours including 'Indigenous Outback', 'Korean Street Food' and 'A Night at the Medina' (the first fully-vegan menu), it's the perfect treat for yourself or a gift for a loved one – there are even vouchers available so that recipients can choose which session they want to join.
Find out more at acookstour.co.uk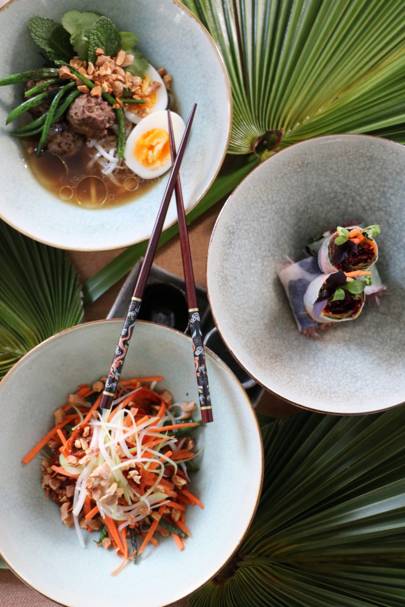 Christmas with the Middletons: Carole shares her festive plans
More from Tatler