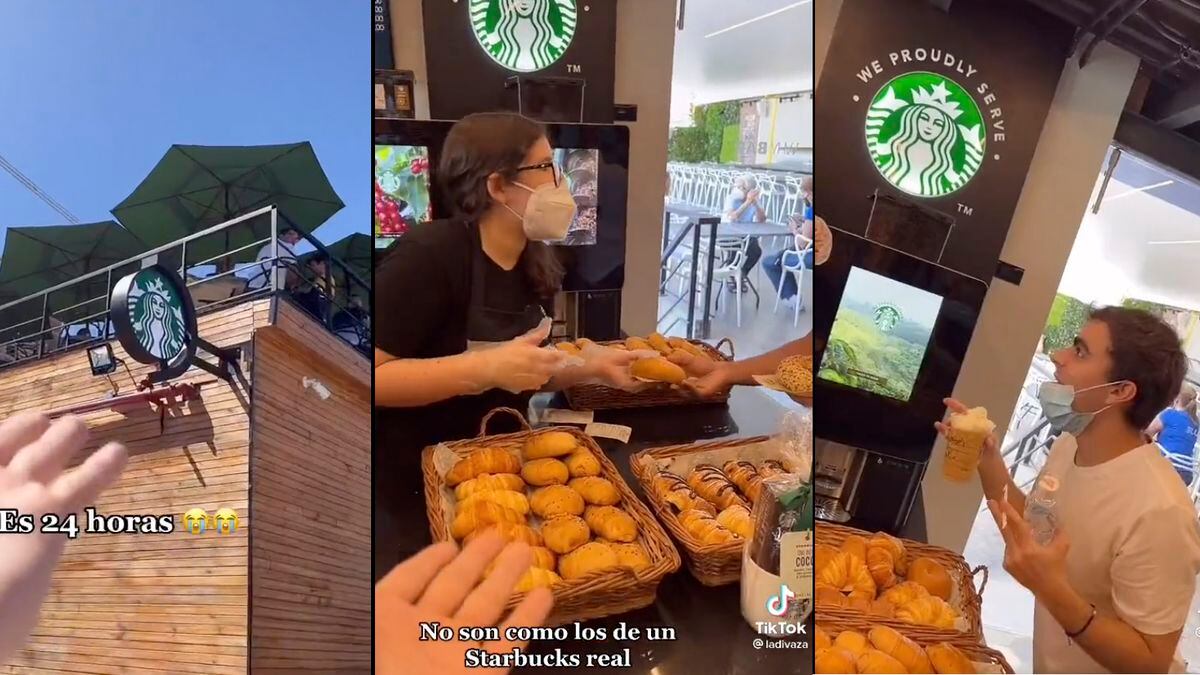 Opening of Starbucks coffee shop in Venezuela causes furor on social media, but turns out to be all froth | USA
Trending tiktokers have rushed to confirm the news: Starbucks has opened in Caracas and those who can afford it are getting in line. A Frappuccino with caramel costs $7. In fact, Starbucks Caracas offers more or less the same beverages as any of the 30,000 Starbucks that can now be found in 78 countries – only the Caracas branch is all froth.
Still, there has been a week of commotion on social networks following the opening of this supposed Starbucks branch that bears the well-known logo of the California company's two-tailed siren outside and the name "We Proudly Serve." The illusion, at least, is there, and locals in Caracas can imagine for a moment that they are Anne Hathaway in The Devil Wears Prada, running with cups of coffee through, if not New York, then Las Mercedes shopping complex.
In this part of eastern Caracas, a Yeet! supermarket harbors what appears to be the international café. The lonely neighboring high-rise office buildings are now surrounded by buzz. But this mirage of an economic recovery in an oil country whose economy has been contracting for the past eight years immediately raised suspicions.
It was initially said to be part of the We Proudly Serve program that the brand manages through Nestlé in order to market its products. But that explanation did not stand up to scrutiny. Nestlé Venezuela and Starbucks in the US issued statements in which they disassociated themselves from the new Caracas coffee shop, explaining that the program does not operate in Venezuela. No matter. Those who visit the coffee shop continue to drink their coffee in a cup emblazoned with the Starbucks logo, and their name scrawled in marker pen.
The statement has, however, forced George Nieves, listed as CEO of Yeet! to acknowledge that although they use the Starbucks logo and its products, they are not an official Starbucks store, as the company does not operate as a franchise. "We were only trying to make the shopping experience in the store more enjoyable and fun by opening the coffee shop," he admitted in an interview with local news site, El Nacional. The Yeet! website describes the company's founders as a group of young entrepreneurs whose aim is "to bring an international shopping experience to Venezuela."
This business objective may seem paradoxical in a country that is being subjected to sanctions, is being diplomatically corralled, and which has reduced its flight connections with the outside world to a minimum – and that was before the pandemic. Moreover, after 20 years of Chavism, more than 90% of its population live below the poverty line and more than six million Venezuelans have emigrated.
As yet there seems to be little debate over the improper use of a brand name. Other businesses have emerged in the last year imitating international brands and using similar logos, names, typography and packaging with little heed paid to the intellectual property issue. Anyone who buys a box of Zucaritas or Corn Flakes made in Venezuela since 2019 will be consuming an imitation. When Kellogg's left Venezuela, the government took over its facilities and continued producing its cereals, despite the company's objections.
The black economy
The de facto dollarization of the country accounts for 70% of transactions and has boosted the economy of grocery stores and supermarkets that take advantage of imports that are free from tariffs as well as sanitary controls, a policy rubber stamped by the country's president, Nicolás Maduro, despite the fact domestic production is in ruins. The dollars that are undermining the local bolivar currency in Venezuela have various origins: the repatriation of capital, remittances from private exports, money laundering, and what is generated by the sale of oil, gold and scrap metal that obliquely funds the government.
Companies such as Ecoanalítica estimate that a growing black or illicit economy already accounts for 20% of GDP and has begun to create bubbles of growth and employment, some of which are given a boost by concessions on expropriated goods and bankrupt public companies, and by opaque transactions that are conducted with the kind of confidentiality facilitated by the anti-blockade law passed at the beginning of 2021 by the new parliament. Far from putting pressure on the government, sanctions imposed by Washington have simply allowed the country's underground economy to boom.
After the worst years of shortages and the economy contracting as a result of the controls imposed by Bolivarian socialism, the opening of supermarkets has become big news in Venezuela. In early December, a so-called Amazon Depot also began selling goods from an unknown source in downtown Caracas using the Amazon logo. Again, lines formed. In recent months, the opening of several food and electronic equipment stores have had the same impact.
Although the contraction of Venezuela's economy will be relatively more moderate this year and hyperinflation appears to be coming under control, the basis of the new economy also brings with it a significant degree of inequality. A Venezuelan pensioner or civil servant will not be able to afford an imitation Frappuccino, or even a simple coffee.
The economic recovery has, however, given the surviving private sector some respite and even allowed it to register growth, the benefits of which could trickle down and reduce some of the social tension generated by the economic crisis. Those who receive at least some of their income in dollars have had their purchasing power boosted, offering them, if not the Venezuelan majority, the promise of a better year ahead.