If you're thinking about going plant-based (or have been for a while), you're in good company. About a third of U.S. adults are very interested in a vegetarian diet and 28 percent feel the same about trying vegan foods, according to Datassential Insights.
The explosion of plant-based products on the market has made it easier than ever to transition to eating more plant-based. But just like with a regular carnivore diet, you want to avoid making highly processed foods a mainstay in your diet.
Are You Getting Enough Fruits and Veggies?

Track the number of fruits and vegetables you eat every day by logging your meals on the MyPlate app. Download now to fine-tune your diet today!
A healthy plant-based diet is one centered around whole, minimally processed foods, like whole grains, fruit, vegetables, nuts, seeds and beans, but there's always room to enjoy a meat-free burger or dairy-free ice cream cone — it's about balance and finding a way of eating that is sustainable for you.
So if you're looking to eat fewer animal products, save this plant-based diet grocery list and shop these healthy foods for your home.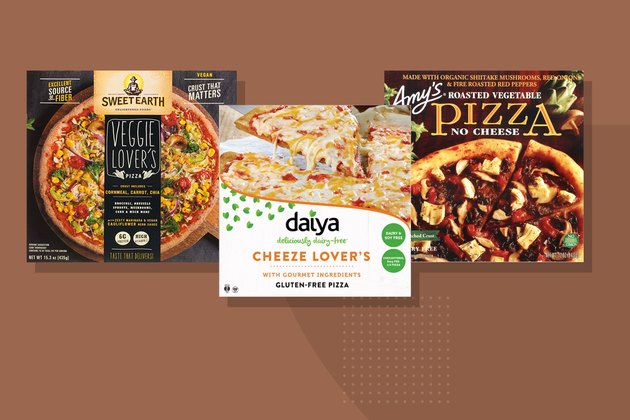 If you could only eat one food for the rest of your life what would it be? If you answered pizza, you're not alone. Pizza is the top pick, according to a 2019 survey conducted by The Harris Poll.
But if you're plant-based, vegan or dairy-free, there are plenty of pizza options available. If you're looking for a plant-based version with cheese, we're fans of the Sweet Earth Foods pizza line, especially their Veggie Lovers pie.
Another delicious option is from Daiya, one of the OG vegan cheese manufacturers. They have gluten-free and vegetable crust options and toppings include Meatless Pepperoni With Jalapeno, Italian Herbs & Cheeze, Mediterranean, Supreme, Margherita, Fire-Roasted Vegetable, Mushroom & Roasted Garlic.
If you want a cheese-less version, nothing beats Amy's Roasted Vegetable Pizza.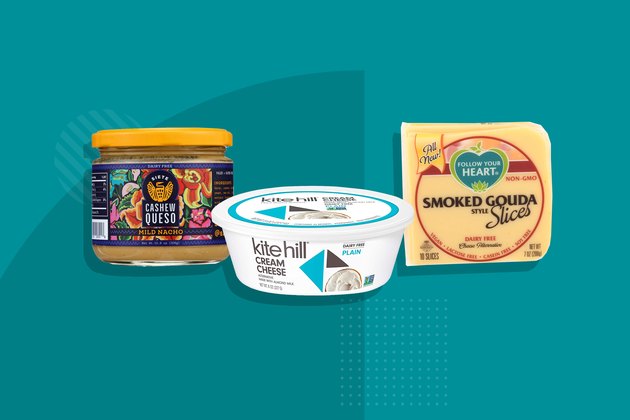 If you've been plant-based for a while, then you know vegan cheese has come a long way. What once was barely palatable, dairy-free cheese now has some delicious options ranging from cream cheese, to sliced or shredded, to queso, or even artisanal cheeses to include in a cheese platter.
Kite Hill is our top choice when it comes to soft cheeses like cream cheese and ricotta. As an almond-based cheese, the flavor is top-notch.
If you're looking for a good sliced or shredded option that melts like cheese, consider Follow Your Heart. Their line of cheeses don't have the protein found in traditional cheese, but on the plus side, they're lower in saturated fat.
Finally, if it's queso you're after, reach for Siete's Cashew Queso. In fact, you might prefer it over regular queso — it's that good.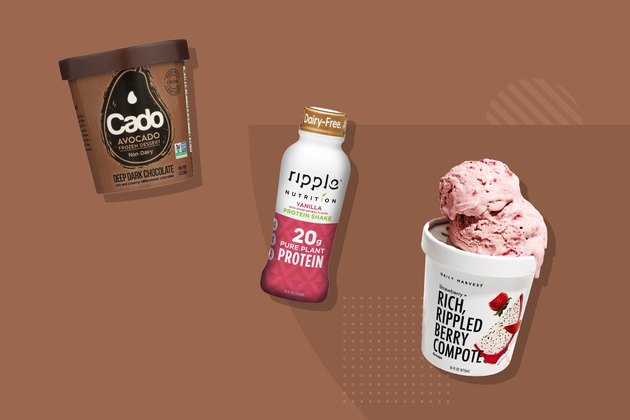 If you've scanned the frozen dessert section as of late, then you know there's no shortage of vegan options. But ice cream is a tough one to get right when you consider the creamy texture, smooth sweetness and satisfying bites.
Ripple plant-based ice cream is a great add to your next grocery haul. Coconut oil is used to help give it the creamy texture that you typically get from dairy-based ingredients. It's available in Chocolate, Vanilla, Mint Chocolate Chip, Cinnamon Churro (so good!) and Cookies & Cream.
We all know there's a strong affinity for avocados but they can be finicky. Cado ice cream brings the avocado without the fuss. It's lower in sugar with 12 grams of added sugar per serving.
Another top pick is Daily Harvest Scoops. You'd be hard-pressed to find another "nice cream" that tastes like actual ice cream and with such a stellar ingredient list. The strawberry flavor, for instance, contains organic coconut cream, organic strawberry puree, organic maple syrup, organic dragon fruit, organic raspberry pulp, water, organic lemon juice, vanilla bean powder Himalayan sea salt and probiotics.
Brands We Love
Daily Harvest Scoops ($8.99 per pint on Daily Harvest)
Ripple Non-Dairy Ice Cream ($23.99 per 4-pack on Ripple)
Cado Non-Dairy Avocado Frozen Dessert ($5.99 per pint at Target)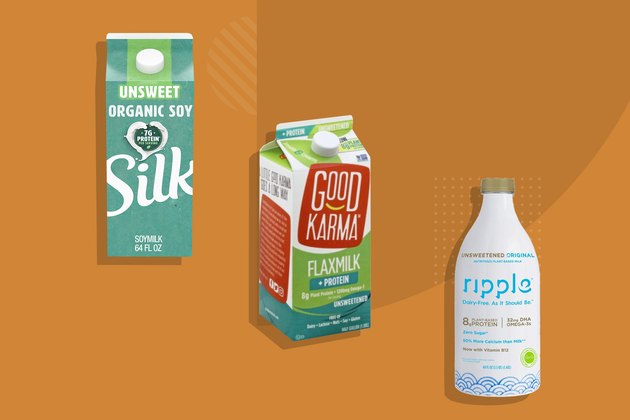 Non-dairy milk alternatives are nothing new, although the variety has certainly grown over the past decade. While these alternatives offer options and flexibility for those who are lactose intolerant or following a plant-based diet, most don't compare nutritionally to cow's milk.
One of the major missing components is protein. A cup of low-fat milk has 8 grams of protein. In comparison, almond milk and coconut milk contain about 1 gram of protein. If getting enough protein is a concern, consider soy milk like Silk's Organic Unsweetened, or a pea protein-based milk like Ripple. They provide 7 and 8 grams of protein, respectively.
Good Karma Flaxmilk is another great option. They have two products with pea protein added which provides 8 grams of protein. Another major plus is the 1,200 milligrams of omega-3s per serving. Regardless of the one you choose, always look for "unsweetened" to help limit the amount of added sugar in your diet.
Similar to the vegan cheese dilemma, we went years without an overwhelmingly palatable dairy-free yogurt — until recently.
Siggi's new coconut-based yogurts surpass all expectations when it comes to flavor, and unlike other non-dairy yogurts, they're high in protein, providing about 10 grams per serving. Lack of protein is commonplace in the vegan yogurt category, but Siggi's solves this problem by adding pea protein.
The Coconut Collaborative is another favorite with four coconut-based yogurts. They're creamy, satisfying and come without an artificial aftertaste — a common problem with other vegan options. They're also remarkably low in sugar — the fruit-flavored varieties have about 6 grams each. Coconut is high in saturated fat so you want to make sure you're balancing your intake throughout the day.
Lavva is a unique plant-based yogurt because its sourced not from coconuts, almonds or soy but from the pili nut. The yogurts contain probiotics like many other options but they also include plant-based prebiotics, which are fuel for probiotics. The yogurt is sweet yet free of added sugars or sugar alternatives.
Brands We Love
Siggi's ($1.99 each on Amazon)
The Coconut Collaborative ($2.59 per 4-pack at Target)
Lavva ($28.44 per 12-pack on FreshDirect)
If you enjoy the taste of meat, don't let the fear of missing out on burgers keep you from going plant-based or even vegan.
Our top pick is Beyond Meat. Their burgers are pink in the middle thanks to the beet extract used. Their patties are comparable to the Impossible Burger with 20 grams of protein and 5 grams of saturated fat per serving.
We also love Meatless Farm. They have burgers, ground meat and sausage patties and links. They're burgers provide 21 grams of protein and 5 grams of saturated fat as well.
Dr. Praeger's Perfect Burger is another strong contender. The nutrition composition is similar to the others but they include beets, sweet potatoes, butternut squash, carrots, oat fiber and fruit and vegetable juice.
Like many of these other processed foods, you'll want to enjoy beef alternatives in moderation.
Brands We Love
Beyond Meat Burger ($3.99 for 2 burgers on Instacart)
Meatless Farm ($5.99 for 2 burgers on Amazon)
Dr. Praeger's Perfect Burger ($4.99 for 2 burgers on FreshDirect)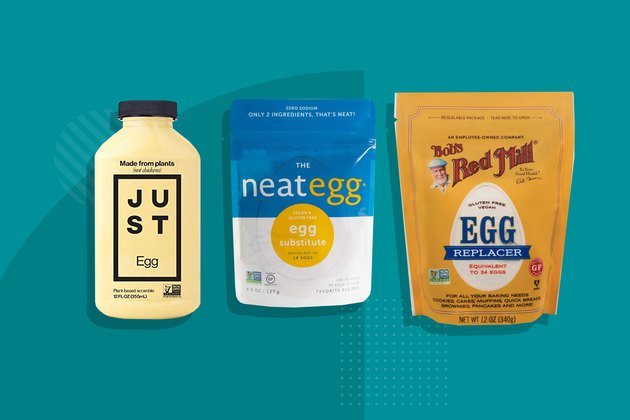 We know how to replace an egg with plant-based options when cooking and baking, but what about when you want just scrambled eggs or an egg sandwich?
JUST Foods has solved this problem by using mung bean to replicate the flavor and texture of cooked eggs. Each serving has 7 grams of protein — that's about the same amount you'll find in one large egg. JUST Foods has "folded" eggs, which you can pop in the toaster and then throw on a breakfast sandwich. The other option is a liquid version, perfect for scrambled eggs or an omelet.
The Neat Egg substitute won't work for a scramble but is perfect for baking muffins, cakes and cookies. The ingredients list is super simple: chia seeds and garbanzo beans.
Bob's Red Mill Egg Replacer is a similar product — it's not meant for omelets but works well to meet your baking needs. The ingredients include: potato starch, tapioca flour, baking soda and psyllium husk fiber.
There are plenty of plant-based recipes replicating tuna salad that you can make at home, but sometimes, you want it to be as convenient as simply opening a can of tuna.
That's why we love Good Catch. They have three flavors of plant-based tuna — Plain, Mediterranean and Oil & Herbs — all available in convenient pouches. The fish-free tuna is still high in protein, providing 14 grams per pouch, from pea protein, soy, chickpeas, lentils, and faba and navy beans. Algae oil is added for omega-3 fatty acids — each pouch has 350 milligrams.
Loma Linda Tuno is a more cost-friendly option and is available in cans and pounches in the following flavors: Sea Salt, Sriracha, Lemon Pepper, Thai Sweet Chili and Sesame Ginger.
Sophie's specializes in plant-based seafood, think: vegan smoked salmon and crab cakes. The base of their "toona" includes pea protein and pea starch.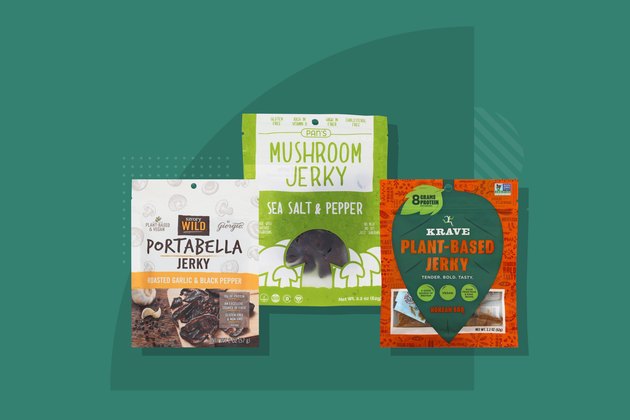 Just as there are a variety of animal-based jerky options — beef, pork, turkey, fish — the same goes for plant-based. Coconut, soy protein, mushrooms and even kelp are some common sources for vegan jerkies.
When it comes to flavor and nutrition, Pan's Mushroom Jerky makes the top of our list. Compared to most other options, the ingredient list is primarily made up of whole foods and spices. The Original flavor includes dried shiitake mushrooms, water, avocado oil, organic coconut sugar, Himalayan pink salt and organic chia seeds. It has a rich umami flavor and the texture is satisfying.
Krave's plant-based line of jerky comes in two flavors: Korean BBQ and Smoked Chipotle. The jerky is made out of faba bean and pea protein.
Another top pick is Savory Wild Portabella Mushroom Jerky. It has a rich umami flavor and a fairly limited ingredients list (as far as jerkies go). Jerky tends to be high in sodium, so watch your portions.