Editor's Note: The Red & Black received a complimentary Garnish & Gather meal kit for review purposes.
Meal kit services and home delivery options have seen soaring interest during a time when people have been confined indoors. This is, in part, the reason why Atlanta native Emily Golub decided to expand her meal kit company, Garnish & Gather, to include delivery service in Athens.
"With the focus on supporting the local food scene in Athens and how strong the food and farmers market scene is … we've definitely seen great traction with those types of communities here in Atlanta," Golub said. "And I think that it'll translate really easily to Athens and that folks will really, really love what we have to offer."
As someone who's never subscribed to a meal-kit delivery service before, I was curious to see if Garnish & Gather lives up to its messaging. After receiving and cooking my own meal from Garnish & Gather — and as a college student on a budget — I would consider taking advantage of the company's grocery delivery options rather than the meal kits. While the ingredients were fresh, there were missing flavors. But overall, the delivery, packaging and possibilities for add-ons make these meal kits worth the price. 
The company promises chef-designed recipes using Georgia-grown — or at least Southeastern — ingredients, shipped right to your door. Along with the expansion to Athens and neighboring counties, Golub said she plans to work with a new array of local chefs and farmers. 
The idea was launched in 2012 out of Golub's desire to get more people in touch with farmer's market products and expand upon the idea of community-supported agriculture subscriptions, which allow people to get produce weekly from participating vendors. Essentially, Garnish & Gather bypasses the final step of actually deciding what to cook with locally sourced ingredients while still providing an opportunity to know your farmers and producers. The meal kits also rotate weekly adding an element of surprise for subscribers.
My meal kit arrived on a Monday — the only day Garnish & Gather does delivery service, although pickup is available as well. Because I ordered a dinner of "Blackened Trout with Creamy Remoulade, Green Beans and Toasted Brown Rice," packaging and refrigeration were of utmost importance for three of the four major ingredients. No issues there.
My meal kit would have normally cost $28 — it was a meal for two — while one meal for four costs $50. Add-ons range in the $20-30 price range, and weekly subscribers get discounts on orders.
What I really liked upon first glance was the personalization of the meal kit. At the bottom of the recipe, all of the local farmers are listed with their corresponding meal-kit ingredients. At the top, you can see which contributing chef designed the recipe. I think it's important to note that only three ingredients in my meal were given an origin story — the trout, the spices and the green beans — which left me to wonder who made the remoulade and where the included lemon and onion came from.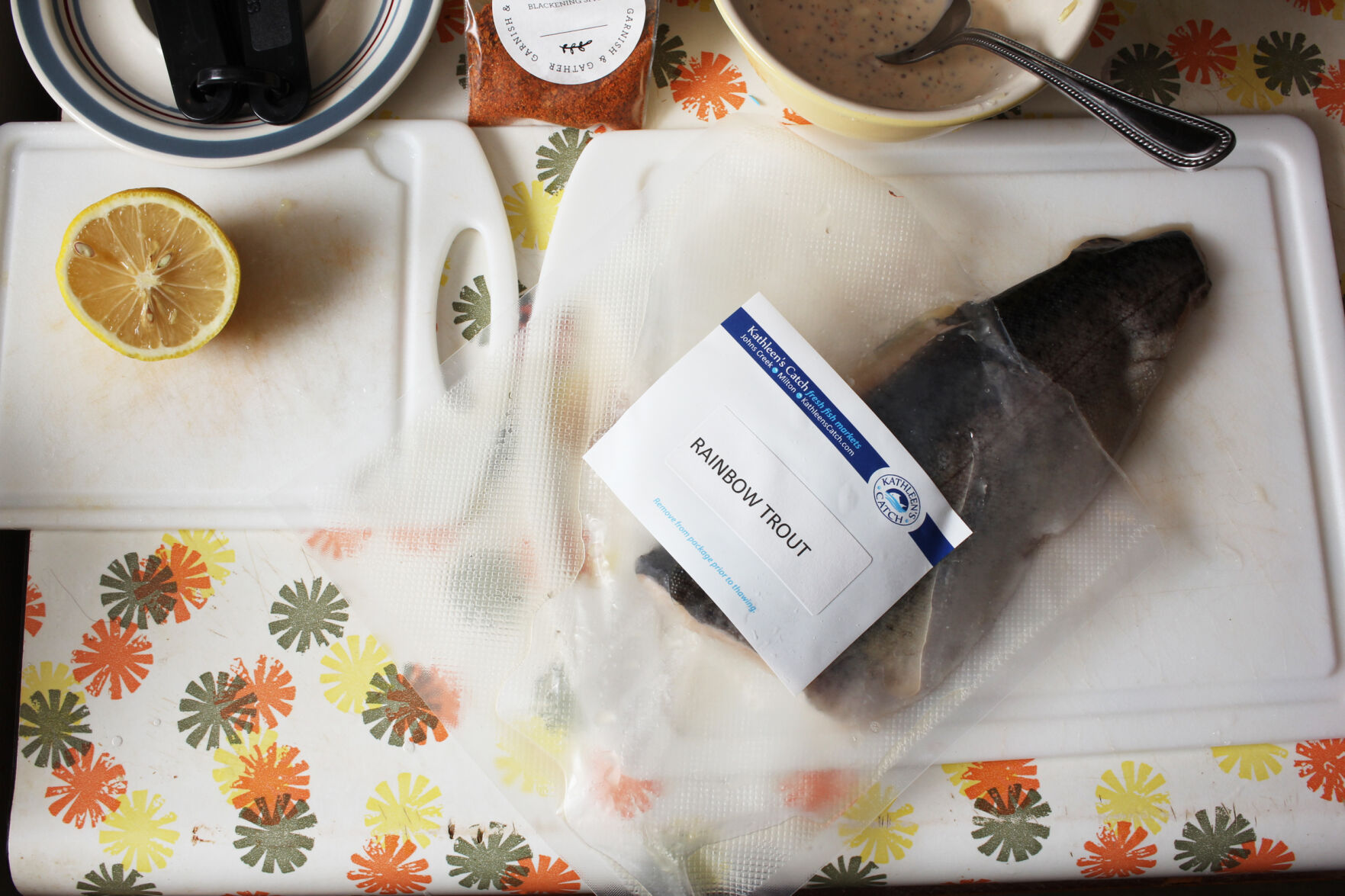 Like most meal kit companies, Garnish & Gather only requires a few at-home ingredients for a successful meal — oil, salt, pepper and cookware. The directions for my meal were straightforward and easy to follow, with a fun fact included about how remoulade originated in France and how the concept was altered to be used in Creole dishes. This tidbit did leave me wanting a po'boy, though.
Although I waited until Wednesday night to cook my meal, all of the ingredients seemed fresh enough. The trout — my biggest concern — was perfectly fine, while the remoulade seemed to have gotten a bit leaky.
Overall, my meal took about 30 minutes to make, which is the same amount of time I would normally spend on a home-cooked meal.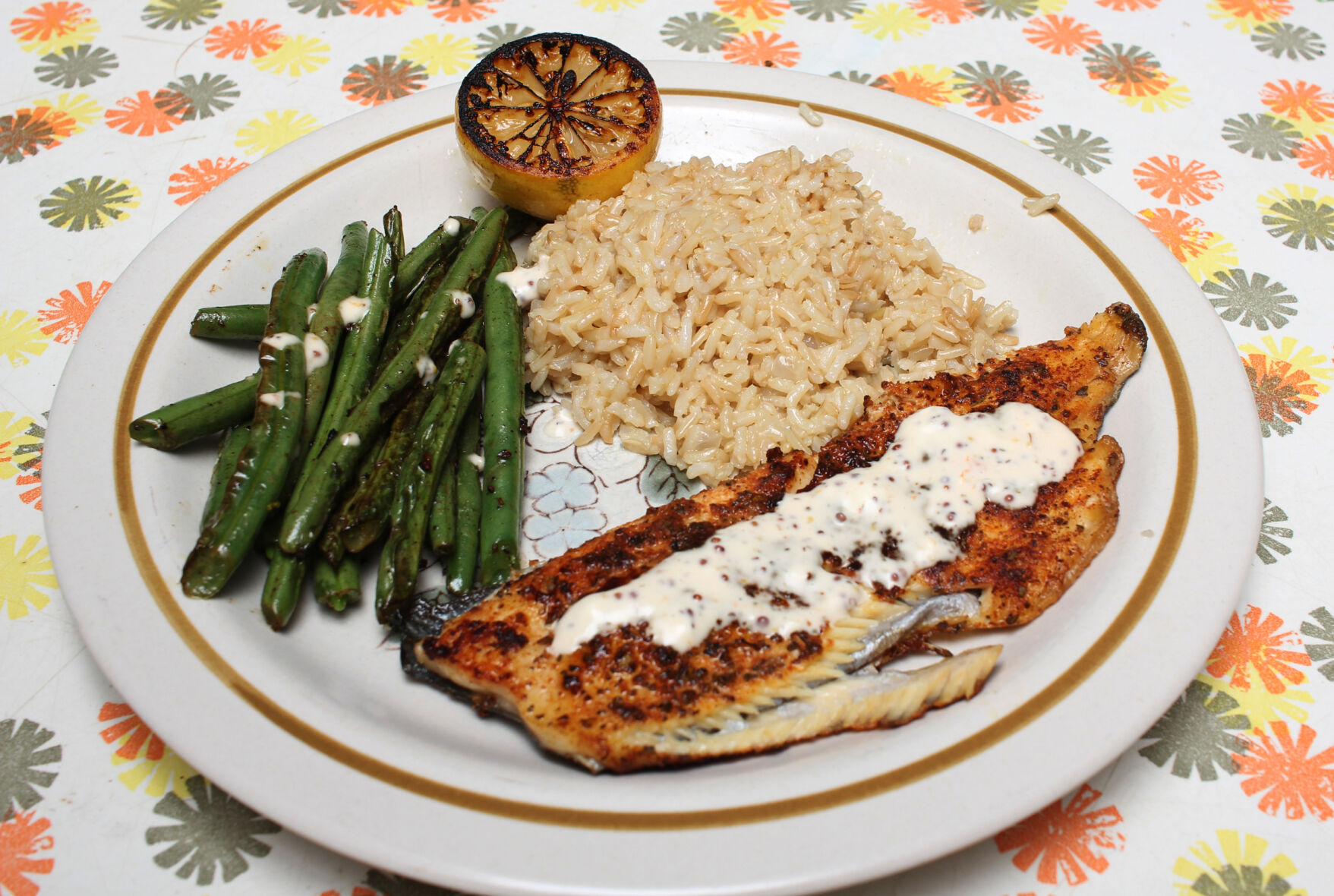 The end result was yummy. The blackened trout seasoning definitely added a flavor I wouldn't have normally created on my own, and the somewhat-crunchy brown rice inspired me to cook rice differently from now on. The remoulade met my expectations. If Garnish & Gather wanted me to feel like I was eating local, they succeeded. The green beans were crunchy, and the flavors were homey.
Meal kits have a very specific place in this world. But during a time where lots of people either can't or don't want to leave their homes, I think the criteria is met for meal kits to succeed as both a fun experience and a delightful dinner plan. Garnish & Gather ups the ante with their transparency, and the overall experience with the company, delivery and recipe was very pleasant.
I don't necessarily recommend Garnish & Gather for people in a time crunch. Rather, it works best for a date night with oneself or another person, a family dinner or to impress guests. However, Garnish & Gather also offers grocery delivery, spotlighting local produce, sourdough starter, beef hot dogs, a lovely little local fruit frangipane, and other snacks and pantry items. It's these additional services that set Garnish & Gather apart from the competition.