Even though slow cookers are super convenient any time of year, there's something about the fall and winter that makes us want to pull out this effort-saving gadget.
For the most part, there is little to no prep work involved and you can plop all the ingredients in the pot, set the timer and go about your day. It's a great solution to having dinner ready in time when you have a busy, non-stop workweek. And what's even more satisfying after a long day of work and deadlines? Indulging in comfort food, of course.
1. Crock Pot Mac and Cheese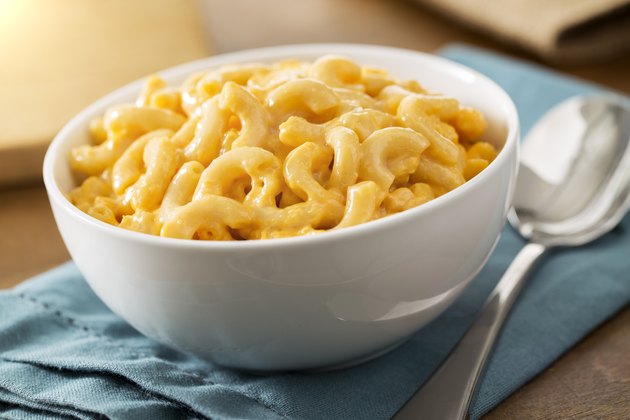 ​Calories:​ 493 calories
​Protein:​ 26 grams
Macaroni and cheese is a childhood favorite that never gets old. This recipe calls for cooking the noodles in broth for extra flavor. "Since most of us get plenty of sodium in our diets, opting for low-sodium options when cooking with broth or stock is always a good idea," Harbstreet says. She also suggest experimenting with reduced-fat or skim milk to reduce calories and fat content even more. If you're serving this as a meal, try tossing in small broccoli florets or cauliflower to get in some veggies.
​Calories:​ 302 calories
​Protein:​ 21 grams
"Pork is a good source of protein and an excellent source of thiamin, niacin, phosphorus and vitamin B6," Harbstreet says. And by cooking your ribs in a slow cooker, you're guaranteed tender, fall-off-the-bone meat that is succulent and juicy. To make this into a well-balanced meal, try serving with a side of vegetables and a whole grain like brown rice or quinoa.
3. Slow Cooker French Onion Soup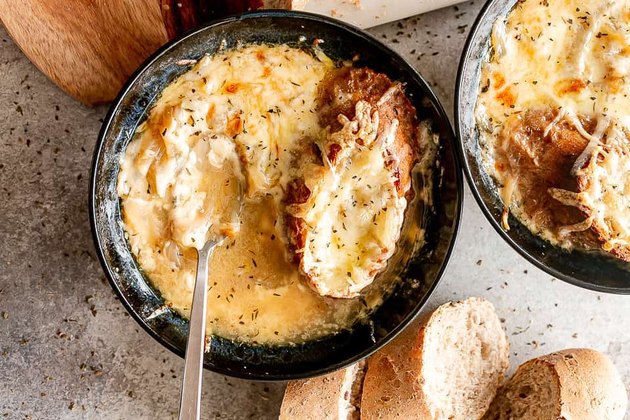 ​Calories:​ 468 calories
​Protein:​ 18 grams
There is so much to love about this soup and the truth is, it can be customized to be even lower in calories if that's what you're after. Harbstreet says soups are a filling and savory option when you're craving comfort food because they can truly fill you up. This warm bowl of cheesy, onion-y goodness pairs perfectly as a first course for any meal or it can be used as the main dish itself when paired with a side salad or vegetable-rich sandwich.
4. Crockpot Philly Cheesesteaks
​Calories:​ 301 calories
​Protein:​ not listed
When it comes to steak, the key is choosing a cut that is on the leaner side to avoid excess calories and saturated fat. Harbstreet says this recipe does just that and allows you to enjoy the beefy flavor without loads of fat. "If you don't have buns, you can try serving these open-faced style with your favorite bread," she suggests. And if you want to go low-carb, you can place this hot and cheesy beef and peppers on top of a bed of greens.
5. Mom's Slow Cooker Beef Stew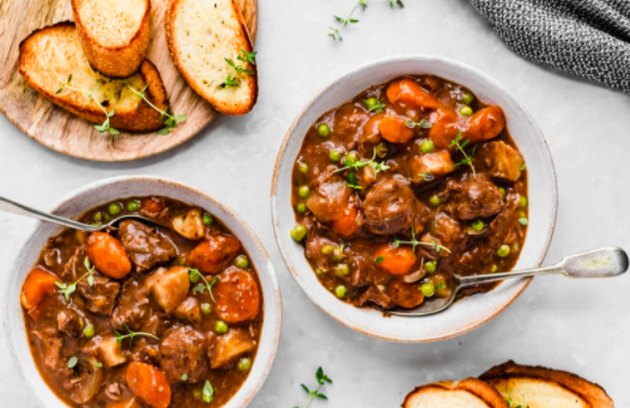 ​Calories:​ 410 calories
​Protein:​ 39.6 grams
There's something about a slow cooker stew that screams "eat me!" come the cold-weather seasons. "This recipe doesn't skimp on veggies with the classic potato, carrot, onion and peas included," Harbstreet says. If you want to make it even more veggie-full, she suggests adding mushrooms or bell peppers. You can serve this hearty stew over a bed of brown rice or mashed cauliflower.
6. Slow Cooker Pulled Pork
​Calories:​ 239 calories
​Protein:​ 39 grams
The possibilities are endless with this tender pulled pork. You can add it onto a sandwich, salad or tacos. Harbstreet says her top choice is to serve it barbecue-style over a fresh green salad. The best part is that this is truly a dump-and-go meal so it's perfect for busy days.
7. Slow Cooker Spaghetti and Meatballs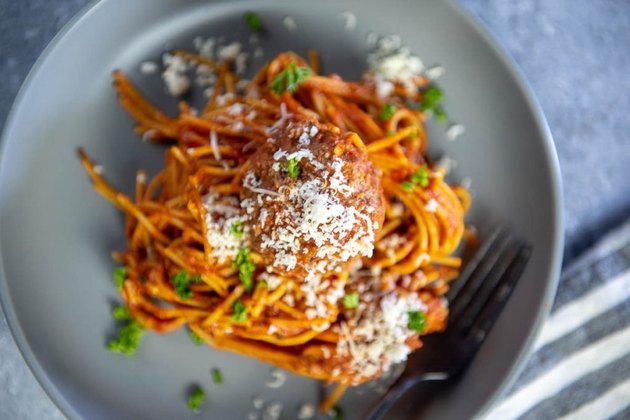 ​Calories:​ 359 calories
​Protein:​ 27 grams
If you're looking for a family crowd-pleaser, you can't go wrong with spaghetti and meatballs. You can make simple swaps like using whole-grain pasta instead of white pasta and opting for lean ground turkey or chicken instead of beef. Harbstreet recommends boosting the fiber by using oats as the meatball binder instead of breadcrumbs. You can even sneak in bite-sized veggies like mushrooms, spinach, zucchini or eggplant to increase the vitamins in this dish.