Starbucks has opened a three-story, 23,000-square-foot Reserve brand store in New York City's globally iconic Empire State Building.
The multidimensional Starbucks retail destination includes numerous on-site dining options, multiple bars, a coffee experience lounge and custom artwork throughout that reinforces the brand within the Art Deco building.
Representing the Starbucks Reserve brand, the Empire State Building location is not technically a Starbucks Reserve Roastery, which in New York is another 23,000-square-foot shrine to craft and brand that opened at 9th Avenue and 15th Street in 2018.
Though not a roasting facility, the new retail center is certainly a King Kong-sized celebration of coffee and consumerism, occupying a building that has stood for decades to represent American ingenuity, engineering and style.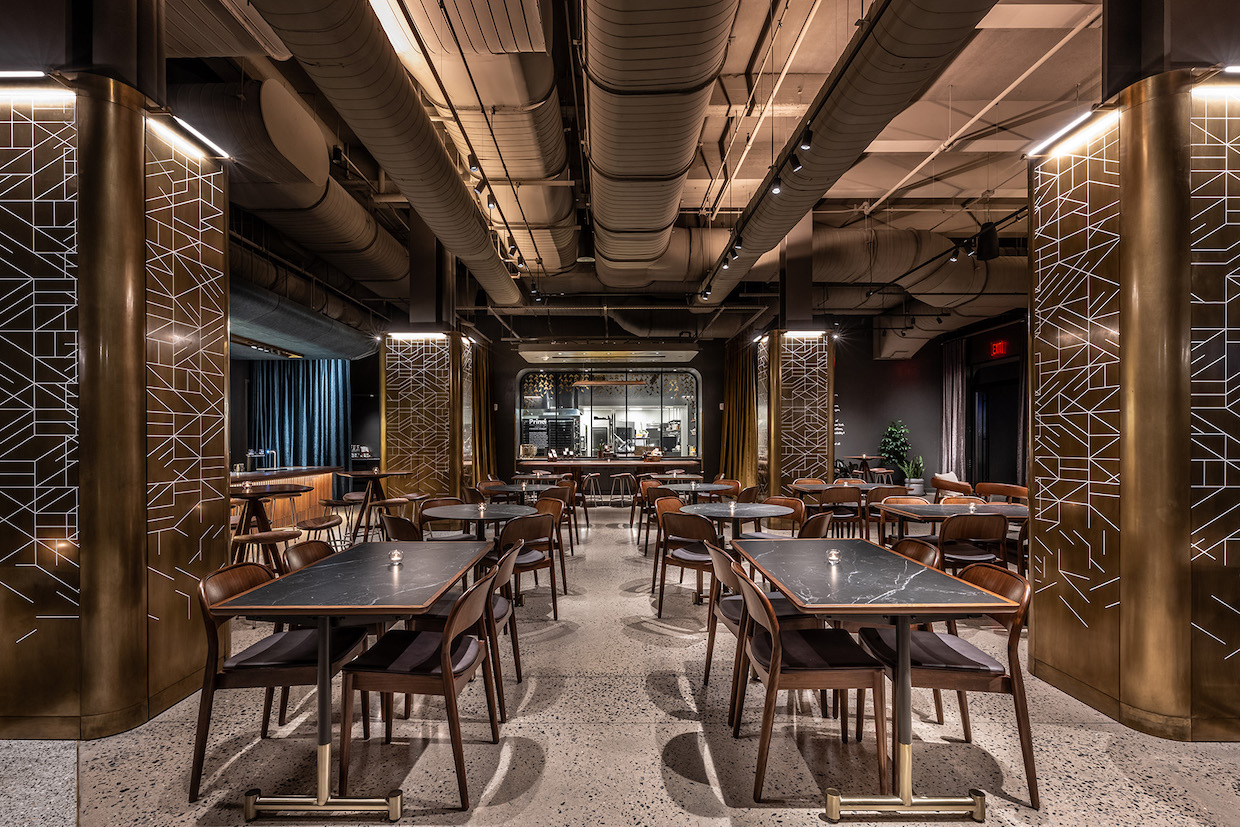 The Experience Lounge area.
From a Fifth Avenue entrance with a vintage aluminum Art Deco-style "Starbucks Reserve" sign, guests can enter the first floor lobby, featuring new art pieces commissioned by Starbucks.
Level one of the Reserve bar dedicates a large retail area to grab-and-go coffee drinks and baked goods from the Italian brand Princi, in which Starbucks is an investor and licensee. 
A colorful mural depicting contributions from women in coffee, created by Brooklyn artist Dana Tanamachi, ties the first floor to the concourse below and the second level above.
The concourse level was designed to offer immersive coffee experiences, including workshops and guided tasting fights. Among the vast network of artwork throughout the level — which includes the "Innovation Lounge" and "Experience Bar" — is a 25-foot siren mural designed by Brooklyn artist Marcos Chin.
The second level, meanwhile, features a full-service restaurant and bar, with coffee-related interpretations of the building's existing Art Deco styling.
"The space is layered with shades of sultry rich green, shimmering gold touches and a mural with a central gilded figure of a coffee farmer," Starbucks said in an announcement of the opening. "The ceiling of this space has gold textured paint, echoing the hand-painted gold leaf ceiling from the historic lobby. Patterns dance throughout and an abstracted coffee origin landscape graces a private lounge at the back of the bar. These patterns were created by Seattle-based artist Gabe Armagost and combine elements of Starbucks, New York City and the Empire State Building."
Starbucks has opened six Reserve Roastery locations globally and three flagship Reserve bar locations in the United States.
The Seattle-based company currently owns and operates approximately 9,000 U.S. store locations, hundreds of which have elected union representation over the past year. The company has been charged on numerous occasions by the National Labor Relations Board in recent weeks of engaging in union-busting activities.
---
Does your coffee business have news to share? Let DCN's editors know here. 
More From DCN