We're ordering a lot more takeout these days, but we are cooking up a storm at home too. Yes, we've been looking to our dear, semi-regular Pandemic Pantry series where we drop a Cattleack Barbeque slaw recipe here and senior editor Kathy Wise's black bean primer there. But sometimes you want to crack open a hefty cookbook, thumb through the pages to see where (or if) inspiration strikes. That's what we're doing today: exploring some of the Texas cookbooks—many with a DFW connection—that are helping us get excited about diving into the kitchen, where we're spending quite a bit of time these days. 
You Have Food at Home by Gabrielle McBay
The Texas-born chef has lived and worked in Dallas for years before decamping to L.A. this spring. Before she departed for the West Coast, though, she left behind a cookbook made for quarantine cooking (indeed, she created it during the stay-at-home order). Missing that weekend brunch? McBay has an entire chapter on it, which includes a recipe for Fruity Pebble–coated French toast. 
The Homesick Texan by Lisa Fain
If, like McBay, you've left the Lone Start state then you may very well be missing some Texas cooking. Then you, too, will find comfort in Lisa Fain's recipes from her first cookbook (she also has one on queso alone—it's fittingly dubbed Queso! With an exclamation point). 
The Jemima Code by Toni Tipton-Martin
It could certainly be argued that The Jemima Code is more than a cookbook. It is a history lesson in American cuisine, then and now. Published by UT Press, this James Beard award-winning cookbook highlights African American cooks' contribution to America's food culture through rare early nineteenth century recipes and modern recipes alike.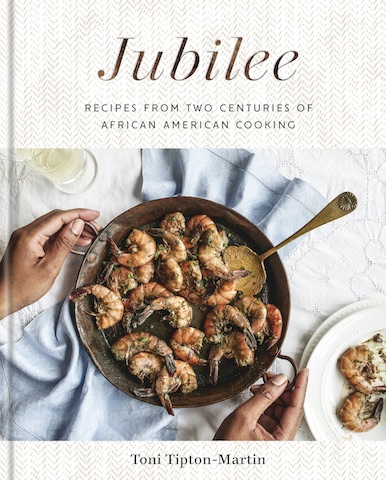 Jubilee by Toni Tipton-Martin
Yes, another Toni Tipton-Martin banger, but this time with a more contemporary food lens. The look and feel of the book is likewise modern, with bright and lovely imagery by Dallas-based writer-baker-photographer Jemelle Guy of Chocolate for Basil.
Black Girl Baking by Jemelle Guy
And if you love Jemelle Guy's food photography, wait until you dip into the Dallas-based baker's own cookbook filled with wholesome, soulful baking recipes.
Texas Q: 100 Recipes For the Very Best Barbecue From the Lone Star State, All Smoke-Cooked to Perfection by Cheryl Alters Jamison 
It's a mouthful of a title, much like the food her recipes make. Cheryl Alters Jamison is no stranger to the cookbook world. She and her husband, Bill Jamison, have written dozens of cookbooks together. While Santa Fe is home for them today, Dallas is where the cookbook author began building her cooking expertise. And in her latest tome, Jamison traces barbecue's evolution in the last 25 years through 100 updated recipes.
Bam's Vegan Summertime by Brandon Waller
Brandon Waller is the voice and creative force behind Bam's Vegan food truck. The thing you should know about his Bam's Vegan's e-cookbooks is that you will want to make the cashew sour cream and then be inclined to slather it on everything. The first book includes his summertime vegan grilling recipes. The second collection, Love Has Rules, offers recipes to woo a beloved with chocolatey red velvet waffles and cascading vegan mascarpone; angel-hair carbonara with vegan bacon and cashew "Parmesan." And the most recent is Short Sunday, which explores his photography and musings on philosophy and life. It all swirls together: community, destiny, and food are one.
The Dallas Junior League Cookbook
There are nearly 300 Junior League organizations, and many leagues—aside from volunteerism—are known for their classic cookbooks that hold recipes passed down through families generation after generation. They reflect regional cuisine and prove that vintage recipes are truly timeless.
Tex-Mex by Ford Fry and Jessica Dupuy
Tex-Mex opens to a spread that sets the tone: a glorious battered, fried chile relleno, sprinkled with cotija cheese and set against a fiery crimson sauce that is the color of chile de arbol. Chapters cover breakfast, tacos, enchiladas, tamales, seafood, drinks, and desserts—migas and chilaquiles to charro beans, pickled jalapenos, and horchata. There are recipes for taco fillings from carne guisado to beef picadillo. Note for the nerdy: As far as classic Tex-Mex history goes, there is a reference to El Fenix for its "guacamole salad" and the debt that we owe El Chico's Café for pico de gallo, which found its inception in El Chico's pico frio (who knew?).
The Tex-Mex Cookbook: A history in recipes and photos by Robb Walsh
Food writer Robb Walsh spins history, prose, and recipes together in this historical look at Tex-Mex. Walsh talks crispy tacos, the rise of cumin of garlic and cumin, plus the origins of the frozen margarita. It's as hunger-inducing as it is thought-provoking.
Truly Texas Mexican: A Native Culinary Heritage in Recipes by Adán Medrano
Another one for the history buff–cooks among us, Adán Medrano's cookbook delves into the culinary history of the border region encompassing parts of Texas and Mexico before the border existed. Oh, plus, 100 recipes too—it's not history class. Recipes are interwoven with Medrano's own family heritage which of course make dishes not only flavorful, but personal as well. His newest cookbook, Don't Count the Tortillas, is perfect for the greener home cook's foray into Mexican cooking.